Memory Monitor
Memory Monitor will show the usage of memory & CPU, temperature, and the running applications. To free some memory, you can choose some applications and click Close button to terminate the selected applications in bulk.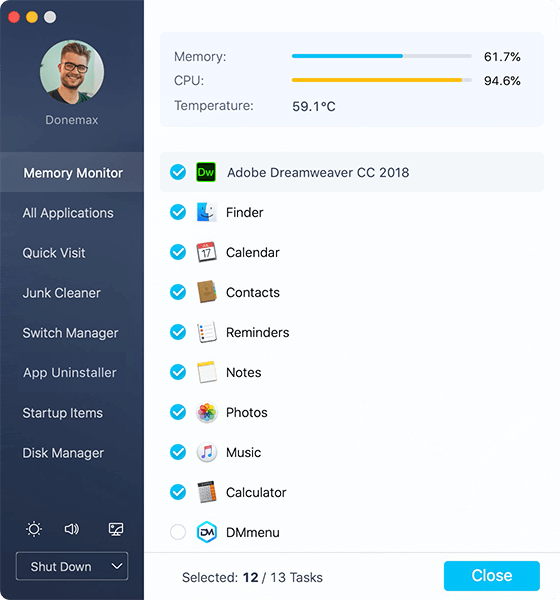 All Applications
The software will show all the applications on the Mac. You can easily launch a application from the list by a click. Also, you can search the wanted application by enter partial or full name simply.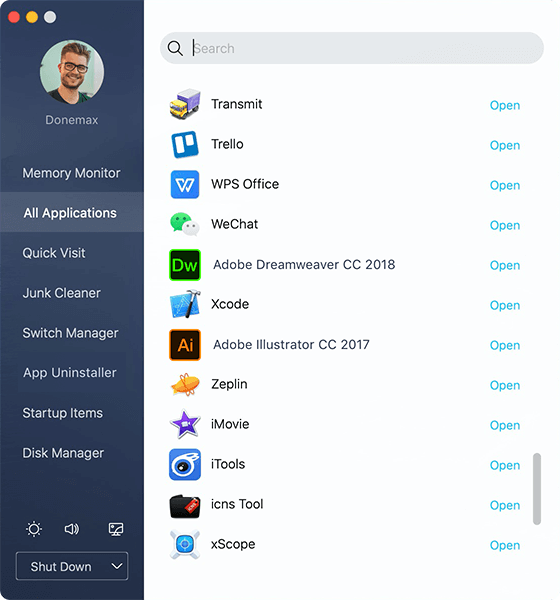 Quick Visit
This option provide a quick access to the commonly used location, applications, and settings, including Back to Desktop, My Documents, System reference, Disk Utility, and so on. You can click an item to access or run it directly.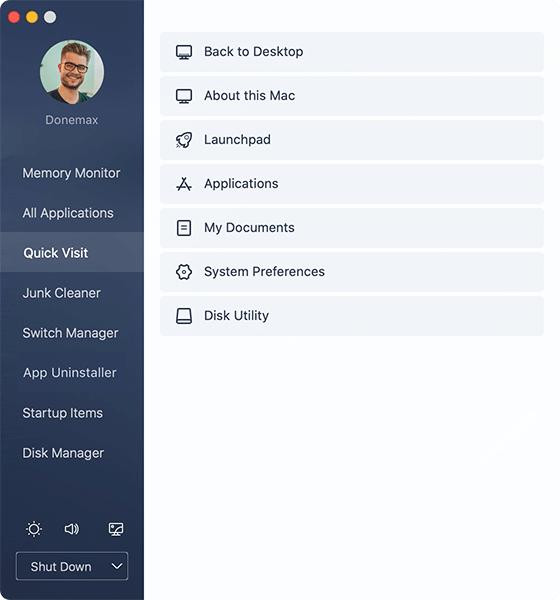 Junk Cleaner
If there are too many downloaded files in the Download folder, you can choose to clean it up directly in a single click. Also, you can choose to empty Trash bin here. Then you can remove some useless data to make more free space available.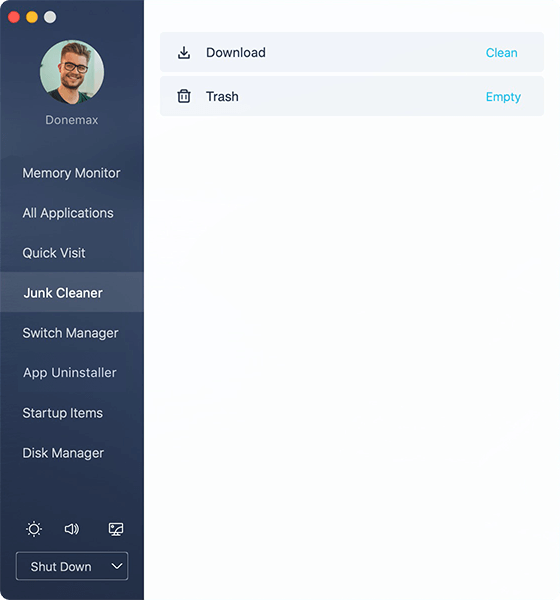 Switch Manager
There are many switches in Mac system. However, the switches are located in different places for users to turn on/off. It's hard for users to find the switches manually. This option is to help Mac users to manage the switches in one place.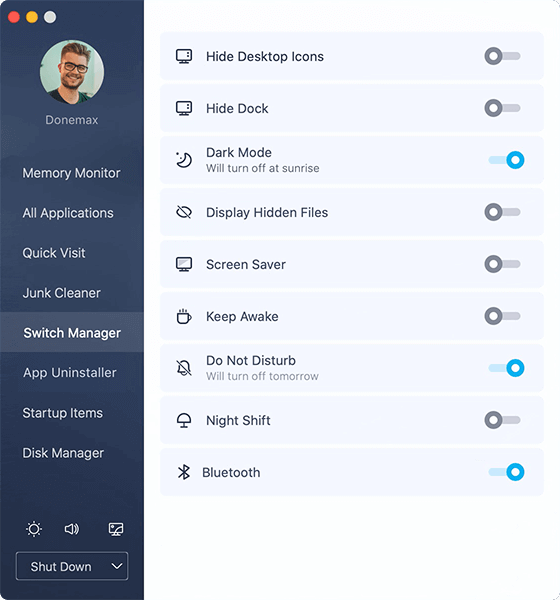 App Uninstaller
If you don't know how to uninstall applications on Mac, this function will help you do the job easily. Just select the applications that you want to uninstall and then click the Uninstall button directly. Then it can easily uninstall all the selected applications from your Mac machine.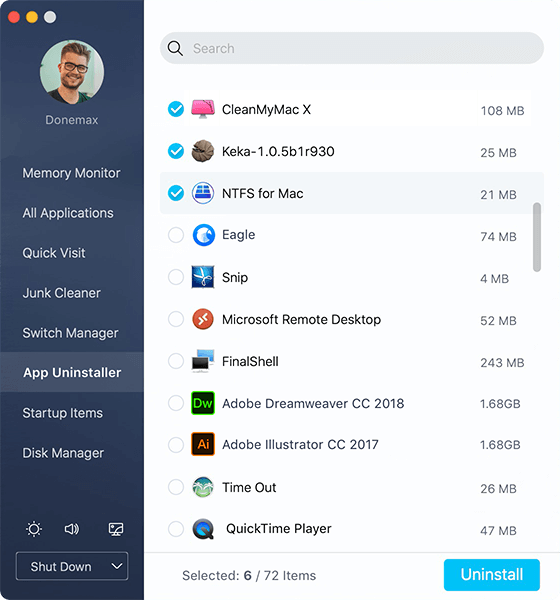 Startup Items
If there are too many applications set to start while system boot up, it will be a heavy burden for the system and make it take more time to boot. You can try to remove or add some startup items at your own needs.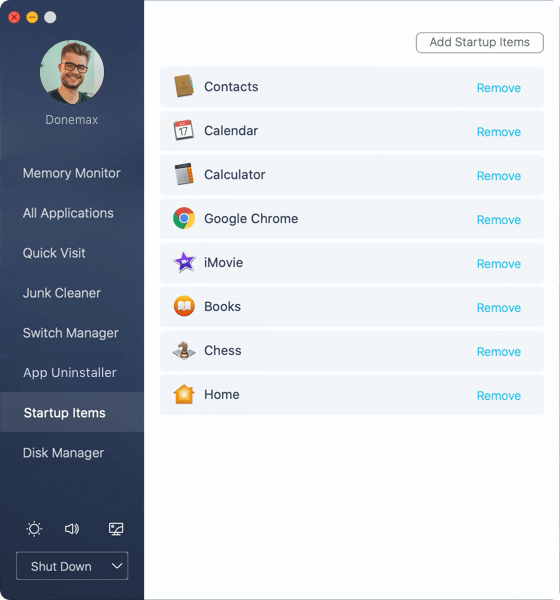 Disk Manager
In this function, the software provide 3 options for users to manger the disk on Mac: Rename, format and Eject (only for removable drives).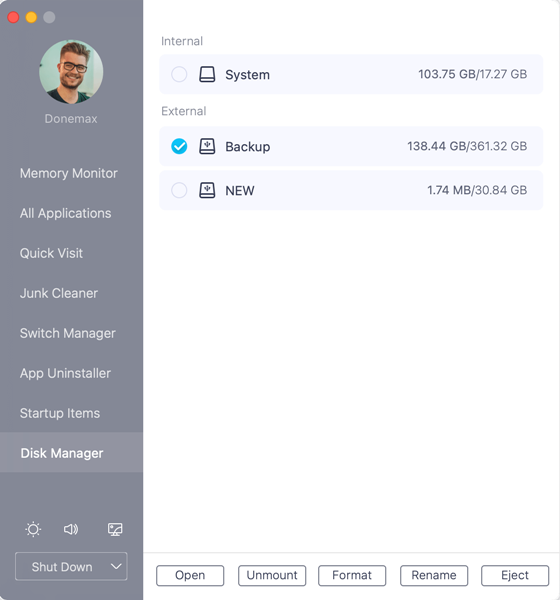 Other tools
You can also change the brightness, volume and screen saver in the Applications. Also, it provides 3 options for power manager: Shut Down, Sleep, Restart.
If you have any further queries about the software and/or the user guide, please feel free to contact us.
---
What's new in version 1.6?
Improve performance in macOS 12.
Fix a few bugs.