Powerful switches on Mac with easy control

Monitor Memory & speed up your Mac by 1-click

Open the app and folder you needed quickly

Uninstall applications and remove all leftovers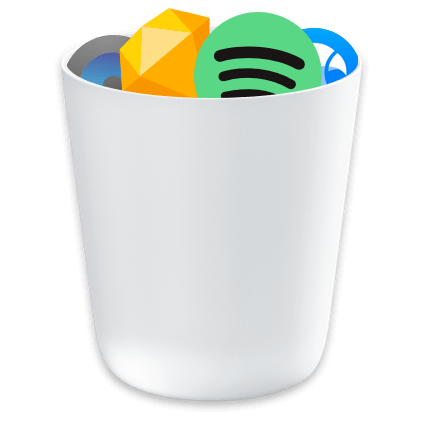 Manage Your Mac with 8+ Powerful Tools
A smart, intuitive and efficient menubar app for macOS to easily access to a few important switches and optimize your Mac. You can switch to dark mode, enable Bluetooth connection, hide desktop icons, manage, monitor and optimize your Mac memory, manage startup items, hard disk or external drive, uninstall applications, and clean up junks, etc.
Monitor System Memory & Speed Up Your Mac by 1-Click
Memory Monitor can help you check the system memory and CPU usage, and monitor the temperature of your Mac. If the apps you open on your Mac runs out of the memory, it may slow your Mac down. With DMmenu, you can speed up your Mac by closing all useless tasks and applications by only 1-click.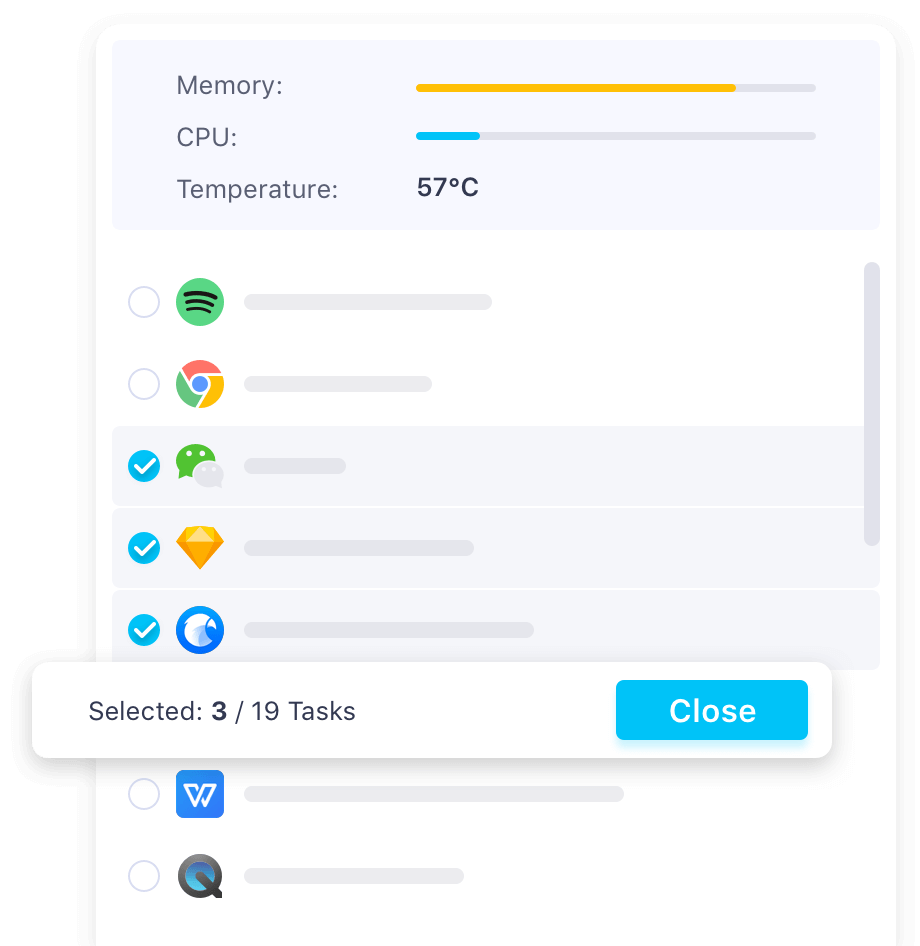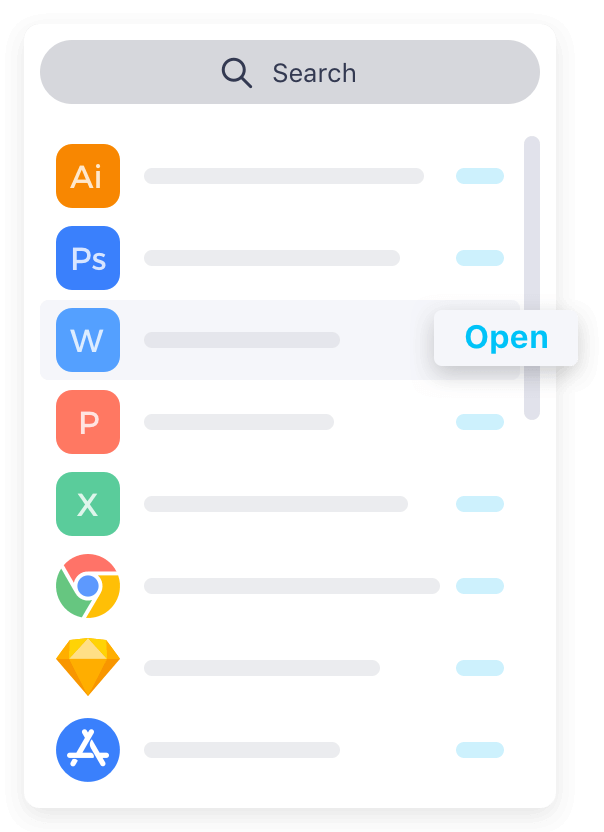 Open the App You Want Quickly
Just like the Windows start menu, DMmenu for Mac lists all applications on your Mac, you can quickly find and open the application you want to use.
Visit Frequently Used Location or Documents with Ease
Quickly visit Desktop, Disk Utility, Launchpad, My Documents, and System Preferences, etc. via the Quick Visit menu.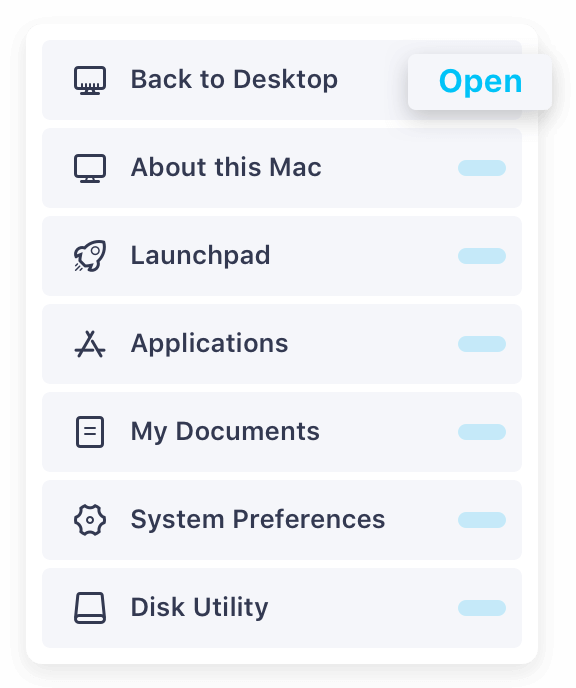 Manage All Powerful Switches from One Place
Hide Desktop Icons

Hide all desktop items by 1click.

Hide Dock

Hide the dock on the screen.

Dark Mode

Enable dark mode on your Mac.

Display Hidden Files

Show all hidden files on your Mac.

Screen Saver

Enter screen saver.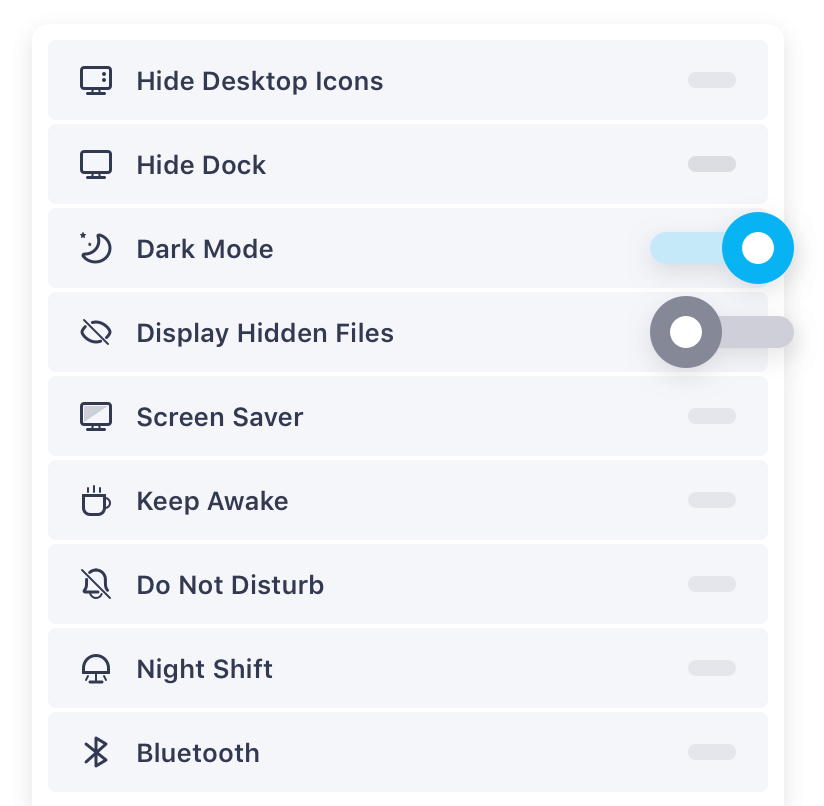 Keep Awake

Keep your Mac away from sleeping.

Do Not Disturb

Disable notifications on Mac.

Night Shift

Enter night mode by 1 click.

Bluetooth

Enable bluetooth connection.
More Powerful Tools You Will Need
DMmenu offers excellent tools to help you optimize your Mac and manage disk drive.
Junk Cleaner
Quickly delete useless files and items in Download and Trash bin.
Uninstaller
Uninstall unwanted applications and remove all related files.
Startup Items Manager
Add or remove startup items.
Disk Manager
Manage disk: mount, repair, format, rename or eject hard drive.
Choose Your Version of Donemax DMmenu
Donemax DMmenu Yearly
Start from $9.95
License for 2 Macs
Speed Up Your Mac by 1-Click
1 Year Free Upgrades
1 Year Free Tech Support
Most Choice
Donemax DMmenu Lifetime
$19.95
License for 2 Macs
Speed Up Your Mac by 1-Click
Free Lifetime Upgrades
Free Lifetime Tech Support
Donemax DMmenu Team
$69.95
License for 10 Macs
Speed Up Your Mac by 1-Click
Free Lifetime Upgrades
Free Lifetime Tech Support
Our Customers Say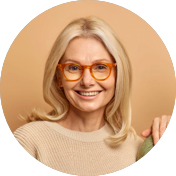 LisaUpdated on Nov. 15, 2022
It is very useful tool for newbie users. Like Windows start menu, it helps manage apps, tasks, and more on Mac, a great application.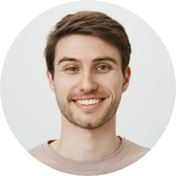 PaulUpdated on Oct. 11, 2022
I have been using DMmenu for 1 month. I would like to recommend it to all my Mac friends. It has so many tools and very easy to use.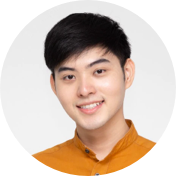 KevinUpdated on May 2, 2022
My Mac is slow...thanks to DMmenu for Mac, I can find the reason why my Mac is running slow, and boost it in just a few clicks. Great tool.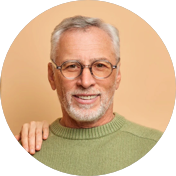 BillUpdated on Jan 20, 2022
It's the best start menu I ever used on Mac. You can have a try with this. Highly recommended!
Tech Specification
Donemax DMmenu for Mac is fully compatible with Lates macOS
Mac OS:
macOS 14 Sonoma, macOS 13 Ventura, macOS 12 Monterey, macOS 11 Big Sur, macOS 10.15 Catalina, macOS 10.14 Mojave, macOS 10.13 High Sierra, macOS 10.12 Sierra, Mac OS X 10.9 ~ 10.11
---
File System:
APFS, HFS/HFS+
Monitor and Speed Up for Virtually Any Mac
Mac:
MacBook, MacBook Air, MacBook Pro, iMac, Mac Mini/Mac Pro, Mac Studio, Mac Server.
The following environment is required to install Donemax DMmenu
Disk Space:
at least 60 MB
CPU:
At least 1GHz
Donemax DMmenu for Mac Guide and Tips
So what are you waiting for?
Explore More Donemax Products

10 Million
Over 10 Million Dowloads

30 Days
Money-back Guarantee

100% Secure
100% Secure 256-bit SSL

Free
Free Technical Support