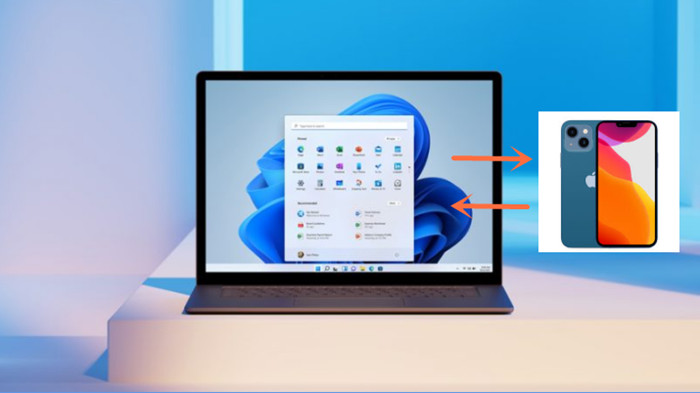 Occasionally, you'll want to move data between your iPhone and a Windows 11 computer. Due to the limitations of Apple, you may not be able to transmit the data directly. Fortunately, you can transfer data between an iPhone and a Windows 11 PC with the help of some free software.
Well, iPhones are known for their high-quality cameras. Adding to the complication is that if you've taken stunning photos on your iPhone and want to transfer them to your Windows 11 PC, the procedure of doing so is a little more complicated.
When iPhones and PCs were much less compatible, moving images between them was a lengthy process. On the other hand, this paradigm has long ago altered when it comes to sharing photos. All of the issues of the past have been resolved and are no longer relevant.
It's easy to transfer your data using the software. It's as straightforward as connecting your iPhone to a Windows 11 PC. Just open the program and begin importing and exporting any data on your iPhone or PC.
Method 1: Transfer Data between iPhone and Windows 11 PC with DMtrans
DMtrans is a very easy-to-use iOS data transfer program which can help you transfer data among iOS devices and computers. With this program, you can easily transfer data between iPhone and Windows 11 PC.
DMtrans - iOS data transfer software
Easily edit (delete, move, organize) iPhone data on Windows 11 PC.
Quickly move data from iPhone to your Windows 11 PC.
Quickly import data from Windows 11 PC to your iPhone.
Just download and install this program on your Windows 11 PC. Then connect your iPhone to your computer. This software can help you transfer images, videos, music files, messages and more between iPhone and Windows 11 PC. For example, you can follow the steps below to export photos from your iPhone to your Windows 11 PC.
Step 1. Open DMtrans, choose "Photos", then select the photos which will be exported to your Windows 11 PC.
Step 2. Click "Export" to export these photos to your Windows 11 PC. You also can click "Import" to import photos from your Windows 11 PC to your iPhone.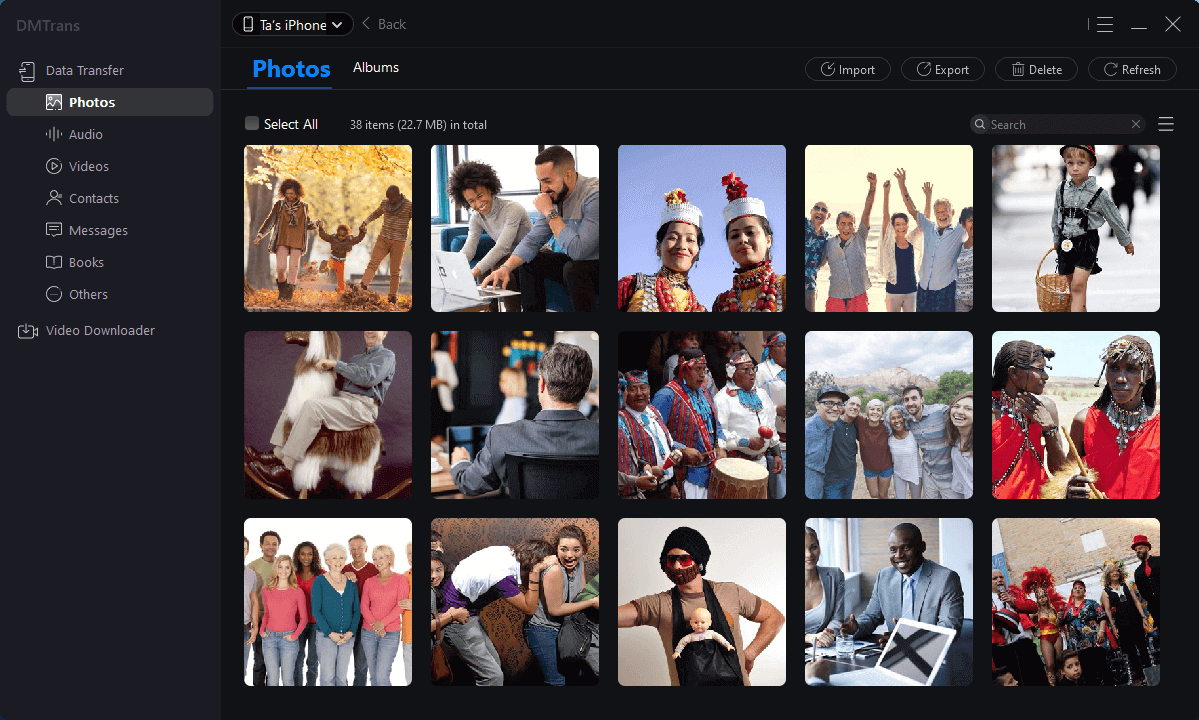 Method 2: Use iCloud to Transfer Files
It is possible to move data between an iPhone and almost any other operating system, including Windows, using Apple's iCloud service. Uploading and downloading files is all that's required for this. You indeed receive 5GB of storage on the free iCloud plan, but it's not enough. For larger file transfers, and iCloud premium subscription is required.
Use of the cloud to upload large files is not recommended for those on limited data plans since it may rapidly deplete your data limit. It is feasible to transfer data between iOS devices and PCs using cloud storage services like Google Drive, Dropbox, and OneDrive.
I. Transfer Files From Your iPhone To Your PC
On your iPhone, open the Files app.
Locate the files you wish to move to your PC and select them.
You may copy specific files with a long press and touch of Copy. A three-dot menu item called "Select" may be used to copy many files at once. Paste the copied files into the app's iCloud Drive. As a result, your files have been saved to your iCloud Drive.
Use iCloud.com or the iCloud Drive for Windows software to download the files to your PC.
The iCloud Photographs feature must be enabled in Settings > Photo > iCloud Photos before photos from your iPhone may be synced to your PC. The photographs in your library will be synced to iCloud. Afterward, you may save them to your computer and access them from there.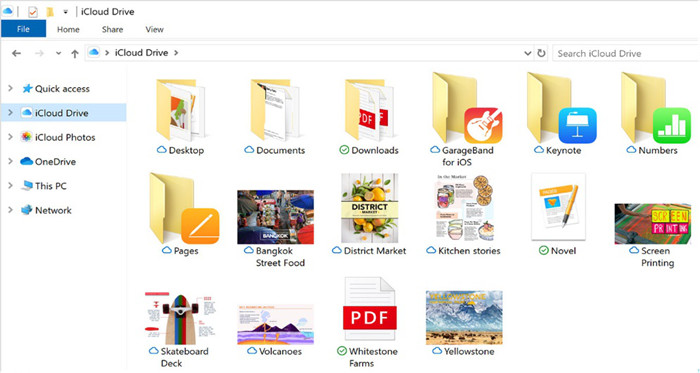 II. Transfer Files From PC To Your iPhone
To use iCloud Drive, you may either go to iCloud.com or utilize the iCloud for Windows program.
After checking in to iCloud.com, browse to iCloud Drive, and you'll see all of your existing folders. You may either create a new folder in iCloud Drive or upload files to the storage's root.
Simply drag & drop or click the upload icon to get started. You may now view the files you've just uploaded to iCloud Drive from any of your other devices.
To get the files to your iPhone, open the Files app and choose iCloud Drive.
You may now choose the files and transfer them to your iPhone's internal storage.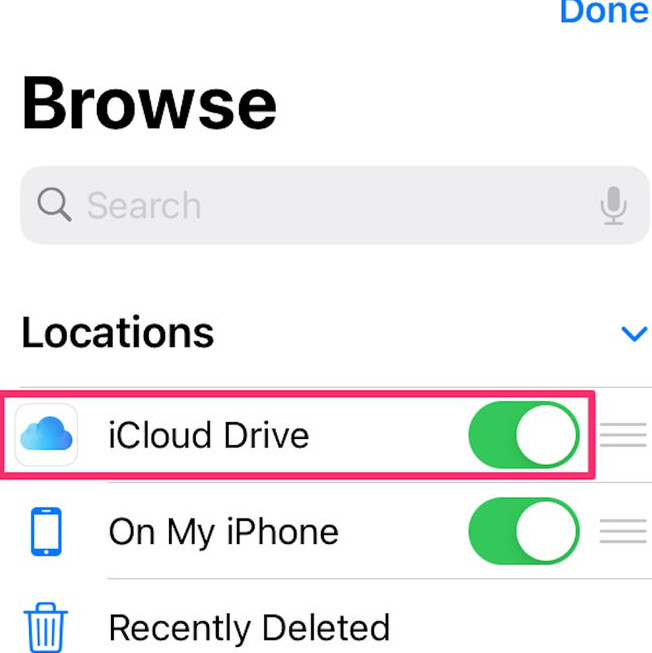 Instead of choosing iCloud Drive, go to the iCloud site and click on Photos. It will launch iCloud Images, where you may then upload as many photos from your PC as you want. On your iPhone, make sure that the iCloud Photos option is enabled, and the images you've just uploaded will display right away.
Method 3: iPhone to PC Using iTunes
To transfer things like photographs from an iPhone to a computer, you'll need to use iTunes, which contains some processes that facilitate sharing the contents. To save or extract files from your iOS devices, you'll need to do this. Even if you don't have the devices with you, you can still access them on your computer.
Make sure you have the most latest version of iTunes installed. On your PC, all you have to do is open iTunes.
To connect your iPhone to your computer, you'll need a USB cord at this point.
You can see the icon in the mobile photo on the left side of the window. The Device icon may be found by clicking on it.
Finally, you're ready to go on to the next step. It takes you to a new window, where you may choose from various alternatives on the left-hand side. Make sure you select "Photo".
The next step is to sync the photographs, which you can do by clicking on the "sync" option. If the pictures are already in your iCloud library, you have already synced them. As a result, synchronization is not required.
If you want to synchronize your images, you must choose a folder to save them all. If you need to synchronize folders and subfolders, the subfolders will display first on your device as albums.
If you'd want to include video, you may do so by selecting the "Include Videos" button. There's no need to bother with it. Once you've completed the task, press the apply button once.
It's simple to move files from an iPhone to a Windows 11 computer using the techniques shown above. We strongly recommend DMtrans, this program can help you easily transfer data between iPhone and Windows 11 PC. This software is very easy-to-use and can be used transfer data among PCs, iOS devices, external devices, etc.