People might often want to transfer photos between iPhone and Mac or PC. Therefore, it is necessary to know how to transfer photos from PC to iPhone and vice versa so that you can freely share photos between devices.
There are two valuable ways to share photos from an iPhone to a computer. One uses the USB connection to realize the transfer, and the other uses wireless transmission. The wireless transmission depends on the external network environment, and many restrictions exist. In this article, we will mainly introduce how to transfer photos from iPhone to the computer using a USB connection:
Method 1: Use DMTrans iPhone Photo Transfer Software
We recommend one of the best iPhone transfer tools to move pictures to your iPhone: DMTrans. This tool can quickly transfer photos, videos, and other files from Windows computer to iPhone 13 via USB cable /12/11/X. It has the following advantages that make it suitable for various needs such as,
Easy-to-use: DMTrans has an intuitive interface. Anyone can easily handle data transfer between PC and iPhone, like transferring iPhone contacts, import data from old iPhone to new iPhone, etc.
Fast transfer speed: DMTrans offers you the fastest transfer speed compared to other tools. Thousands of photos can be transferred to your PC or iPhone in minutes.
Supports the transfer of multiple file types: In addition to photos, this tool also supports the import and export of multiple files such as videos, contacts, music, e-books, etc.
Selective and preview transfer: If you don't want to send all the photos, you can select the photos you need to transfer.
Fully Compatible with iOS: Supports all iOS devices, including iPhone 13/12/11/X/8/7/6s, iPad 8/Air 4. It also supports the latest iOS system; Windows and platforms and Mac platforms are available and Compatible with good support.
Next, follow the steps below to transfer photos from computer to iPhone quickly.
1. Download DMTrans and connect your iPhone to your PC with a USB cable.
2. Select the photo subcategory and click the import button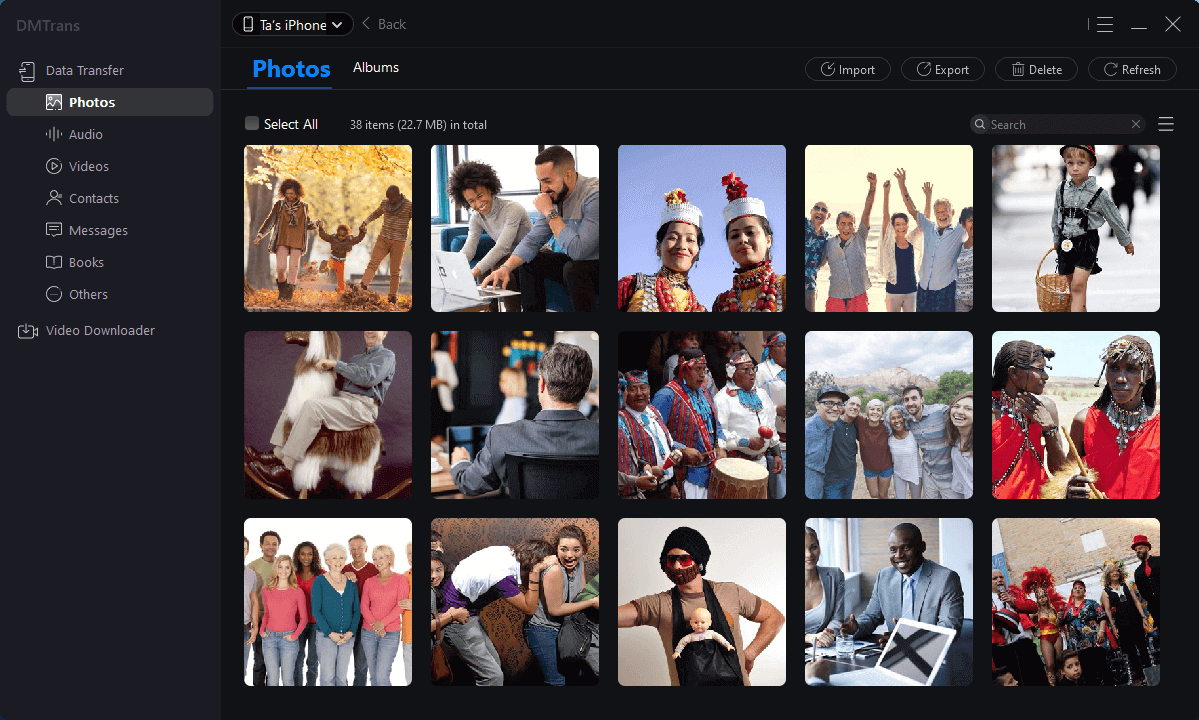 3. Click the Import button, and select the photos to be imported in the pop-up selection box: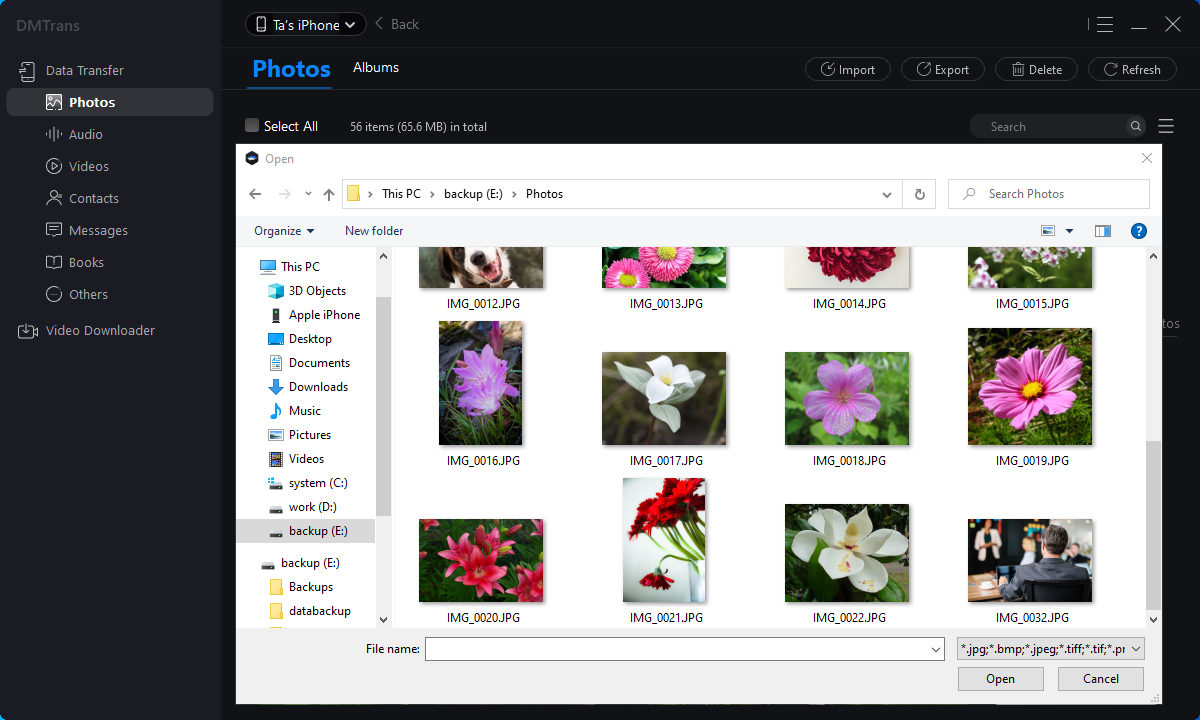 4. Wait for the execution to complete.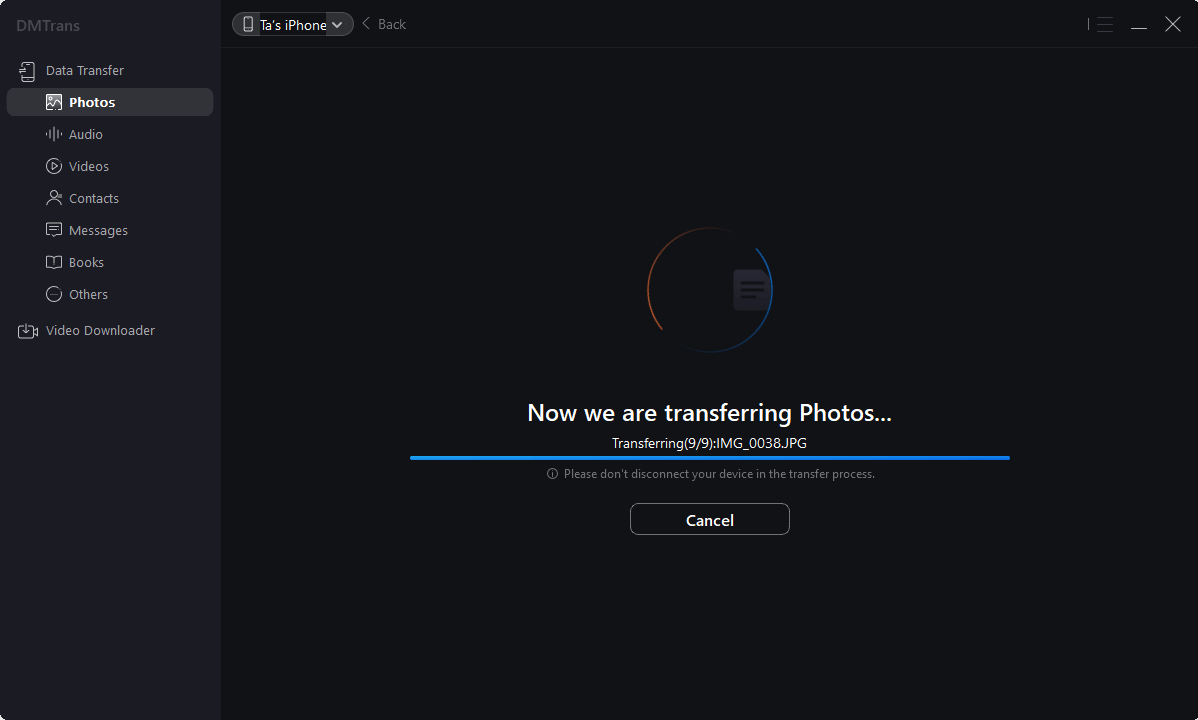 :
Method 2: Sync Photos from PC to iPhone Using iTunes
Using iTunes to transfer photos from a computer to an iPhone is the default way to copy photos from a PC to an iOS device. iTunes only supports transferring folders, not moving specific photos. Also, you need to disable iCloud Photos before using this method. Here's how: Go to Settings > [your profile] > iCloud > iCloud Photos and disable this option.
Sync photos from computer to iPhone using iTunes:
Step 1. Connect your iPhone to your PC with a USB cable. Run iTunes if it doesn't open automatically.
Step 2. Click the Devices tab and select Photos.
Step 3. Check "Sync Photos" and click the box next to "Copy Photos From."
Step 4. Click "Choose Folder..." and select the folder containing the photos you want to transfer.
Step 5. Click Apply to start syncing photos from your computer to your iPhone or iPad.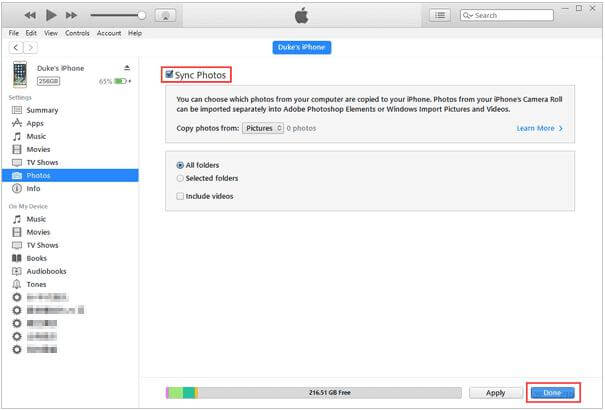 Now you know how to copy photos from PC to iPhone using iTunes. Another thing you should know is that this method won't work if iCloud Photos is enabled on your iPhone. Therefore, to transfer photos from PC to iPhone using iTunes, you should turn off iCloud Photos on your iOS device.
Conclusion
There are two main ways to transfer photos from computer to iPhone (or iPad): wired transmission and wireless transmission. Today we mainly introduce two wired transmission methods. The main advantage of wired transmission is that the transmission is fast, and the scene is simple. I hope this guide will help you to easily manager iPhone.