Are you looking for a BCWipe activation key for free? The software is professional but a little expensive for some users. So you may want to get a free activation key. However, the software is not free and you have to pay for it. Also, it's complex for some users who are not skillful enough. Don't worry, we suggest you the best BCWipe alternative – Donemax Data Eraser.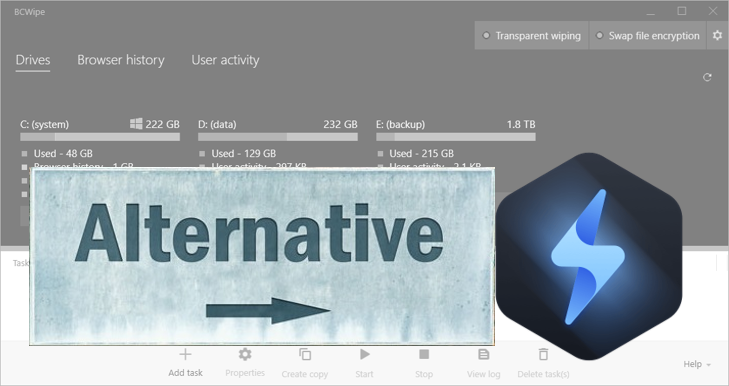 Why choose Donemax Data Eraser?
As a professional data wiping software, Donemax Data Eraser can also help you wipe data permanently and effectively. If you a looking for an alternative to BCWipe, this software should be a good choice. Also, you can download the software to have a try first.
The software offers the same main functions to wipe data in different situations. With the best price, the software can also do the job that the other expensive software offers. Here are the reasons for you to choose this reliable data erasure software.
1. The software easy to use. Without complex settings and interactions, the software is very intuitive. Even a novice can easily handle the software to wipe data from your hard drive, SSD, memory card, or USB flash drive. You can just follow the wizard-style interface step by step to erase data.
2. Professional and effective. Although the software is very simple, please don't worry about the quality of the software. It is equipped with advanced data algorithms, like HMG Infosec Standard 5, Baseline, DOD 5220.22-M, U.S. Army AR380-19, Peter Gutmann's algorithm.
Also, the software works well to wipe different types of files on your drive. You can use the software to wipe graphics, audio files, videos, documents, or any other files.
3. Competitive price. The software is cheap enough and could be affordable for many users. When compared to BCWipe, you will find the software is really cost-effective. You can purchase professional software at a cheap price, and it's able to help you securely wipe data and avoid data recovery.
---
Wipe data permanently with 3 modes
The software Donemax Data Eraser offers 3 modes to wipe data on your drive. It's very easy for users to choose and use for different purposes. We will introduce the 3 modes in detail and help you understand the software clearly. Then you can use the software to wipe data easily and effectively.
Mode 1. Shred Files.
The first option is used to delete specified files or folders permanently. You can choose the files or folders that you want to shred manually. Then it will only shred and wipe the selected files/folders from your drive.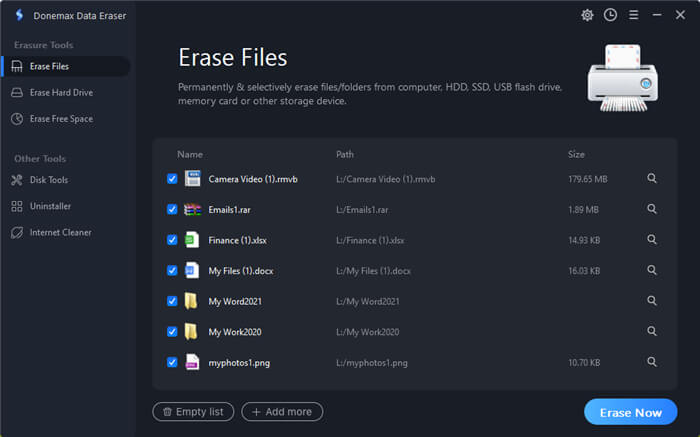 Mode 2. Erase Hard Drive.
With this mode, you can erase an entire drive directly. It's able to wipe all the existing files or deleted/lost data on the drive. It's very useful if you want to wipe a drive or device before you sell, donate, or abandon it.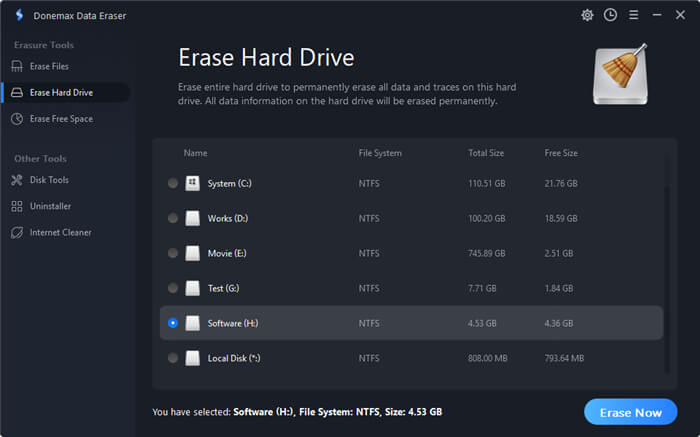 Mode 3. Erase Free Space.
If you delete some files on a drive, the deleted files will not be wiped permanently from the drive mostly. It's able to recover the deleted files in such a case. If you want to delete the files completely and avoid data recovery, you can use the mode to wipe the free space to ensure the deleted files will be erased permanently.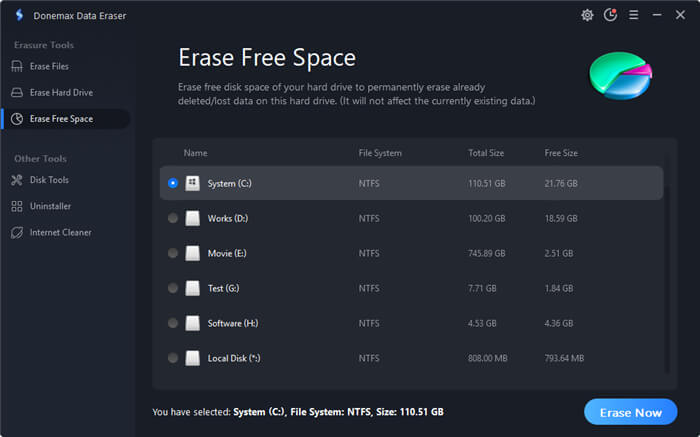 More features available in the software
There are some other tools available in the software. The features can help you do more works to help you solve some issues on your computer.
Disk tools: There software can also help you repair issues of your hard drove. For example, if there are issues with the partition table, file system, or the drive becomes inaccessible, you can choose the drive in the software and choose the option Repair to fix the issues on the drive. Also, it can help you format a hard drive easily.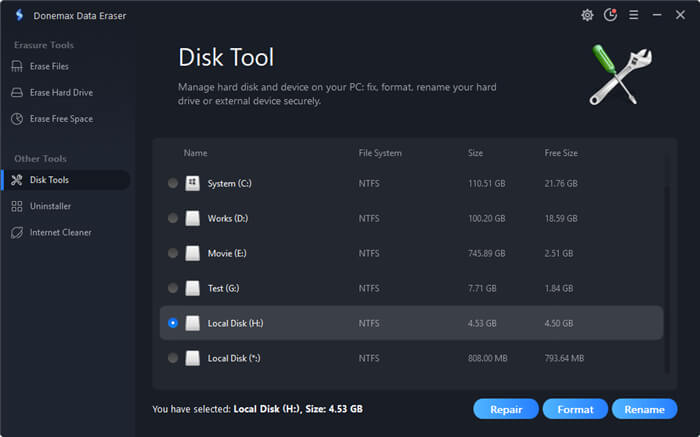 Uninstaller: If there are some unwanted applications on the drive and occupy too much space, you can use the software to help you uninstall these applications. It can remove multiple programs at a time to release the space quickly.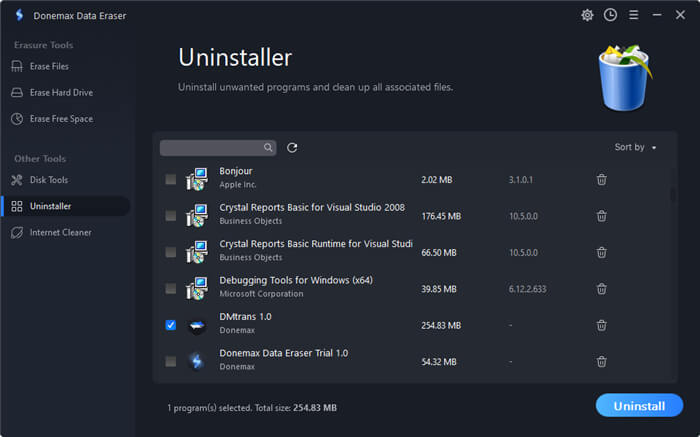 Internet Cleaner: After using the browser for a long time, there will be too much data produced. You can use the software to remove the cache, browsing history, cookies, sessions, download history, saved passwords, and other data.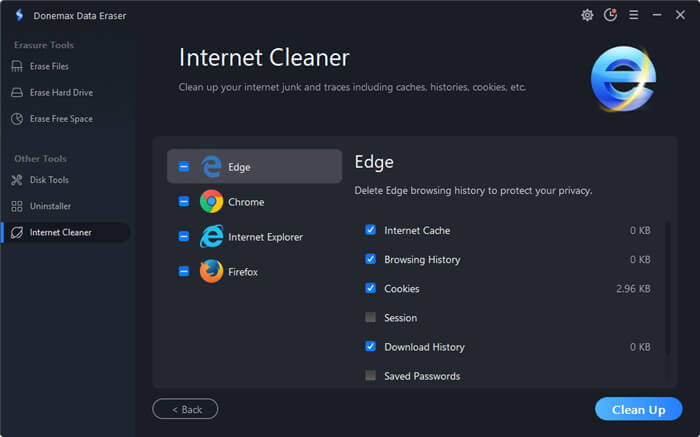 As the best alternative to BCWipe, Donemax Data Eraser can be used to wipe data permanently and avoid data recovery. It's also a simple tool that can wipe data more easily. If you want a reliable, but simple and affordable solution for data wiping, this software should be the best choice for you.