CAD files are important for designers. They are also confidential files for some business users. To avoid data leakage, it's critical to shred the CAD files from your drive once the drive is not needed or you need to replace your device. To avoid the CAD files be recovered from the drive by others, like hackers, it's necessary to wipe the files permanently.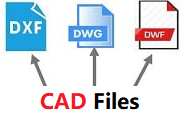 How to permanently delete CAD files? To ensure the CAD files be deleted and shredded completely, the common operations cannot do the job. For example, if you simply delete the CAD files and empty the recycle bin, the files will not be removed permanently. Also, the CAD files can be recovered even you format the drive where the files were located.
Effective method to shred CAD drawings
You will not want to share some of your data on the computer or drive. For example, personal information, password, important files from work, and so on. You may think the files are gone once you remove them into recycle bin and empty it. Not quite, the deleted files are still recoverable in such a case. If the data was not overwritten or damaged, it's very simple to retrieve the files by anyone.
Should you need to shred CAD drawing permanently, we suggest you use a professional data wiping tool. With data erasure software, you can remove and wipe the selected files completely. It will use advanced data wipe algorithms to erase the files and ensure the wiped files will not be recoverable anymore.
Data wiping tool can help you overwrite or destruct the files in some professional ways. It's able to remove sensitive data completely by using the selected patterns. Also, professional data wiping software also be very safe to use. It will only wipe the selected files or drive. It will not do further damage to your other data or drive on your machine.
Simple guide to shred CAD files
Here we will show you how to shred CAD drawings with the software Donemax Data Eraser. You can use different methods to shred the CAD files with the tool. It's very easy to wipe data with this software. We will show you the simple tutorial here to help you shred files with this application.
First, please download and install the software on your computer. Here is the download available for the software.
Then you can run the software and choose a proper mode to shred CAD files based on your own needs. Here we will show you the 3 modes in detail.
Method 1. Shred individual and existing CAD files.
If you just want to delete some specified CAD drawing from your drive or computer, you can choose the mode "Erase Files". In this mode, you are able to choose the existing files to shred directly. It will be very fast if you only want to shred existed and individual files/folders.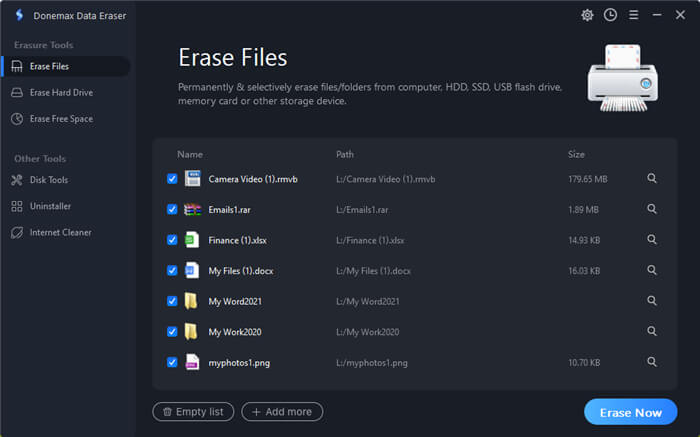 Method 2. Wipe hard drive to erase all CAD files.
To wipe all the CAD files on a drive, you can choose to wipe the entire drive directly. Please change to the mode "Erase Hard Drive", choose the correct drive and click "Erase Now" button to wipe all the files on the drive.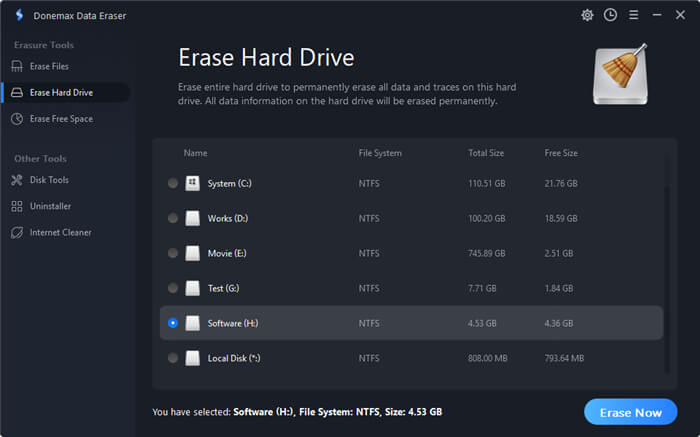 Method 3. Shred and wipe deleted/lost CAD files.
At last, if you have deleted some CAD files in Windows explorer but want to ensure these deleted files will not be recovered, you can choose the last mode. By using this mode, it can help you wipe all the deleted/lost data on the free space of your drive.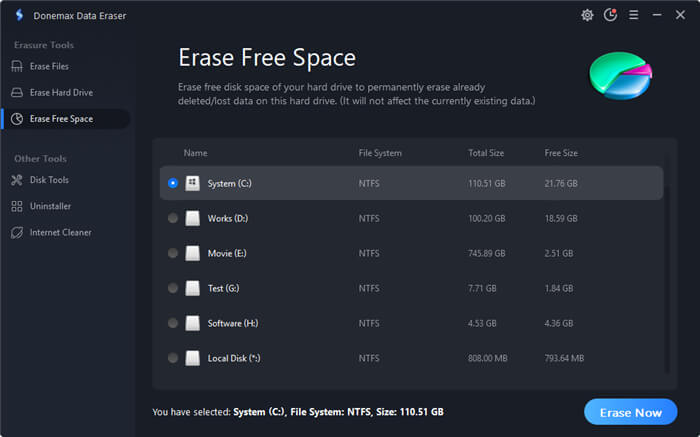 Note: As the data wiped by the software will not be recoverable, please ensure to choose the correct files or drive to wipe. Also, if you want to replace an old drive or machine, please back up your data first before you wipe the data on the old device.
Please note that Donemax Data Eraser can also shred any other type of files on your machine, including pictures, videos, audio files, financial data, documents, etc. What's more, you can shred files or wipe data on the drive that can be supported on PC. If you need to wipe data on NTFS, FAT32, or other formats of HDD, SSD, memory card, or USB flash drive, this software is able to help you.