WD My Passport external hard drives are lightweight, compact, and user-friendly; they also come in various capacities to meet your specific data storage requirements. They are convenient for transporting and storing numerous files, including movies, songs, and documents. If you find your WD My Passport is read-only on your Mac, follow this guide to fix it without losing any data.
PAGE CONTENT:
As an external storage device or for data backup, they are linked to a computer via a USB cable. Unfortunately, several Mac users have noticed that their WD My Passport external hard drives have turned read-only. It's irritating since they can't change the files on the hard drives because of this problem.
The WD My Passport drive mysteriously becomes inaccessible when connected to a Mac. Is there any way to stop Mac from reading WD My Passport as read-only? Let's keep going and find out more!
Mac WD My Passport "Read-Only": Causes and fixes:
The Western Digital My Passport on your Mac, could become read-only for various reasons. Your WD hard disk is probably formatted under the non-standard New Technology File System (NTFS).
Most recent Windows machines support NTFS, Microsoft's proprietary file system.
Some other OSes, including Linux, support it if the right drivers and software are present.
Unfortunately, the NTFS-formatted WD external hard drive is read-only on macOS. The Mac can read but not write to my Passport disk.
If you have a WD external hard drive and run into this problem, all you need to do is open Disk Utility and see if the file system is NTFS. Most external hard drives use the NTFS file system, which is designed for use with Microsoft Windows. It is not a Mac-friendly file system.
If you connect a drive formatted in the NTFS file system to a Mac, you can only read the files on the disk and make copies. So, you won't be able to add new information to your WD external hard drive if it uses the NTFS file system. Where do we start fixing this? To get started, do what I say.
Fix can't write to WD My Passport drive on my Mac?
If your WD My Passport drive displays as ready-only on Mac, you can attempt to reformat it to make it Mac-compatible; however, doing so may result in losing all data on the drive.
The simplest way to enable Mac OS X to read and write to the WD My Passport NTFS drive is to install a third-party WD NTFS driver. Here, we will use Donemax NTFS for Mac as an illustration.
If you're using an NTFS drive on macOS and need read/write access, Donemax NTFS for Mac is the professional NTFS driver for Mac you need.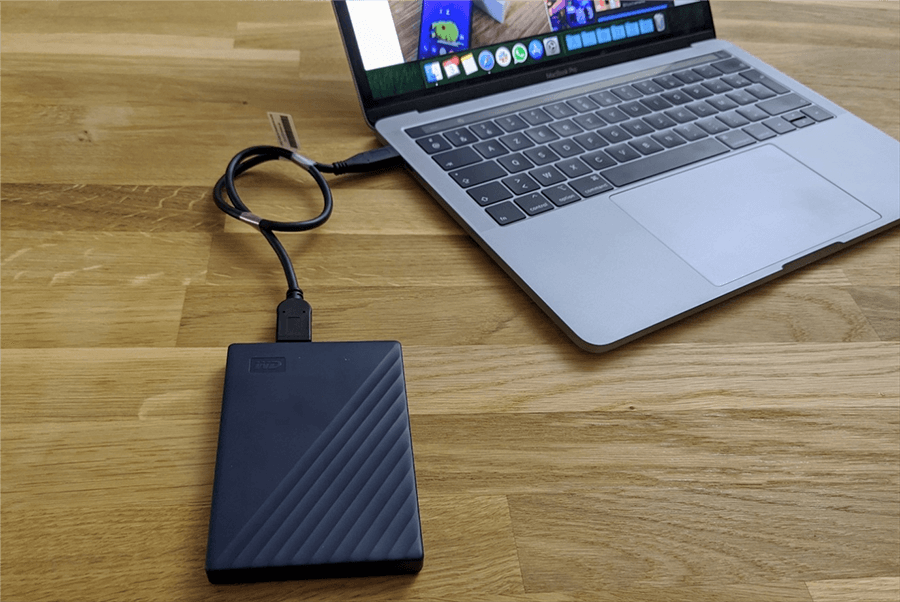 You may grant yourself write access to a WD My Passport drive formatted in NTFS in just three simple actions.
Step 1. First, get Microsoft NTFS for Mac by Donemax and install it on a Mac running macOS 10.13 or later.
Step 2. Connect the WD My Passport drive to your Mac with the proper connector, then launch Donemax NTFS for Mac.
Step 3. Find WD My Passport and click on Enable Writable button. Your WD My Passport drive becomes Read-write and is ready to be written to.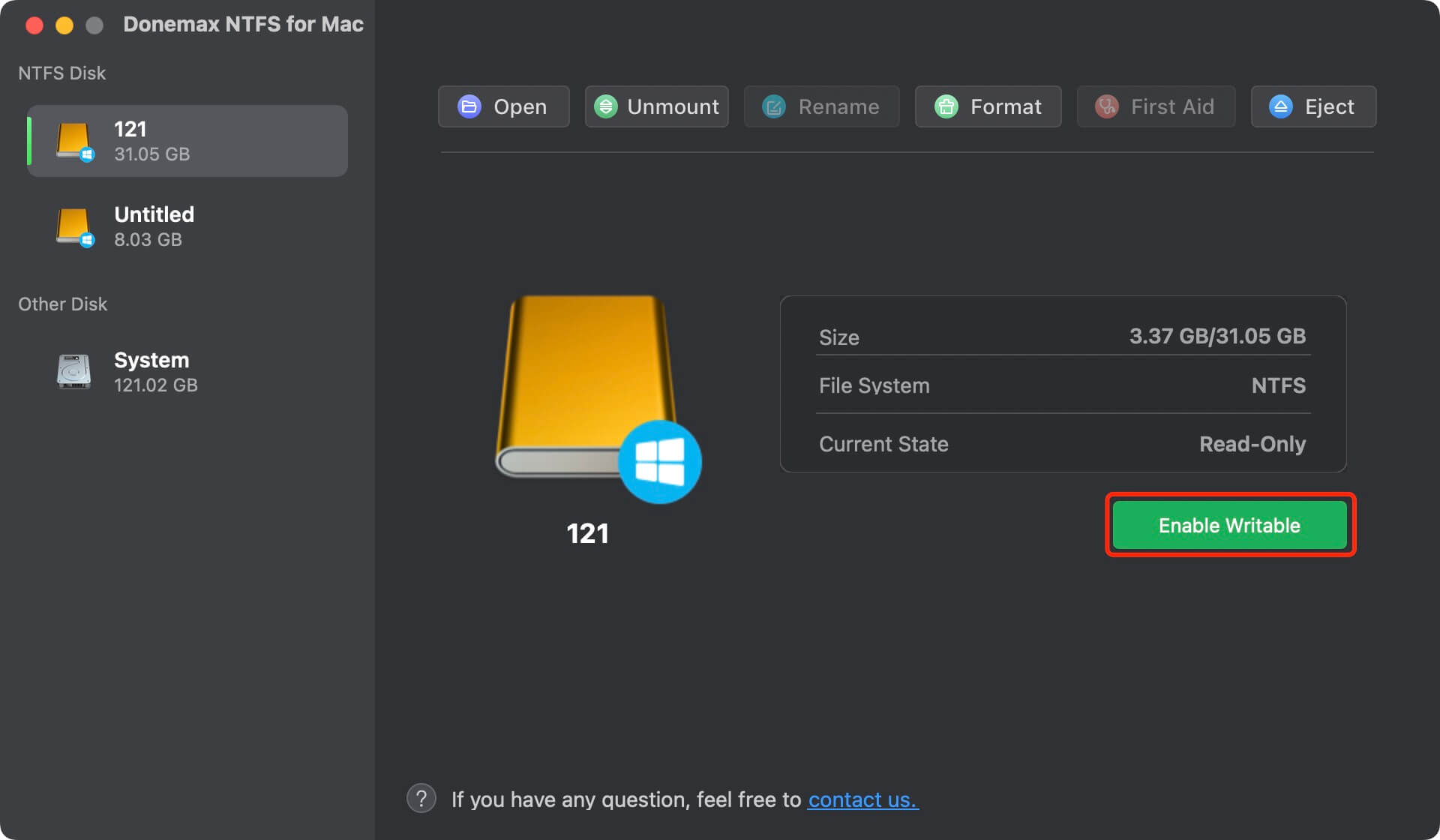 It's also possible that your WD My Passport drive is formatted as read-only in the Mac system. Incorrect permission settings on a WD My Passport hard drive can prevent you from changing the disk in the future. Changing the permissions on your WD disk will allow you to write to it.
Change read-only permission on WD My Passport
If the write protection on a WD My Passport drive is enabled, the Mac will prevent you from accessing the external HDD. As a result, enabling WD My Passport write support on a Mac requires modifying the system to disregard permissions.
The first thing you need to do is connect your WD My Passport disk to your Mac.
Second, locate the WD My Passport icon on your Mac's desktop. Right-click it, and then select Get Info.
If prompted, type in the password.
Select "Don't track changes to who owns this volume."
Then, select "Apply to enclosed items" from the settings menu.
When prompted, select "OK" to confirm the action.
Pick "Read & Write" from the "Read Only" option in the Privileges table.
You should now be able to access the WD My Passport in both read and write capacities.
FAQs about fixing WD My Passport is Read-only on Mac
Conclusion:
The issue with WD passport external hard drives being read-only on a Mac is not exclusive to that brand. A Mac computer can restrict writing to any external hard disk. It's fairly uncommon for other well-known brands of external hard drives, such as Seagate, Samsung, Toshiba, etc., to get the same complaint.
The post is useful whenever a Mac user experiences a read-only disk issue. You should use Donemax Data Recovery to retrieve lost information from a WD My Passport hard disk if you have formatted it.
Learn More:
Donemax Data Recovery for Mac is a powerful and easy-to-use data recovery software and it is pretty simple to use. With this software, you can recover lost data from a formatted or erased WD My Passport drive on Mac, learn more >>

Contributing Writer
Lucien is a writer and a chief programmer of Donemax software who has worked in the company for 5+ years. He has written much of the content on the site and devotes to providing troubleshooting and solution for Windows and Mac users including disk cloning, data recovery, migration, eraser, error fixes.

Editor in chief
In order to effectively solve the problems for our customers, every article and troubleshooting solution published on our website has been strictly tested and practiced. Our editors love researching and using computers and testing software, and are willing to help computer users with their problems