Want to make a complete copy of all areas of your PC's hard disk drive or other storage device? I think you need a reliable bit copy software to make sure the operation successful. It is very important to have a reliable bit copy software which is not only efficient and reliable but also easy to operate. With so many options available, it can be overwhelming to choose the best bit copy software. That's why we have done the research for you and compiled a list of the top options for Windows users. In this article, we will discuss the features and benefits of the top 3 bit copy software, helping you make an informed decision for all your file copying needs.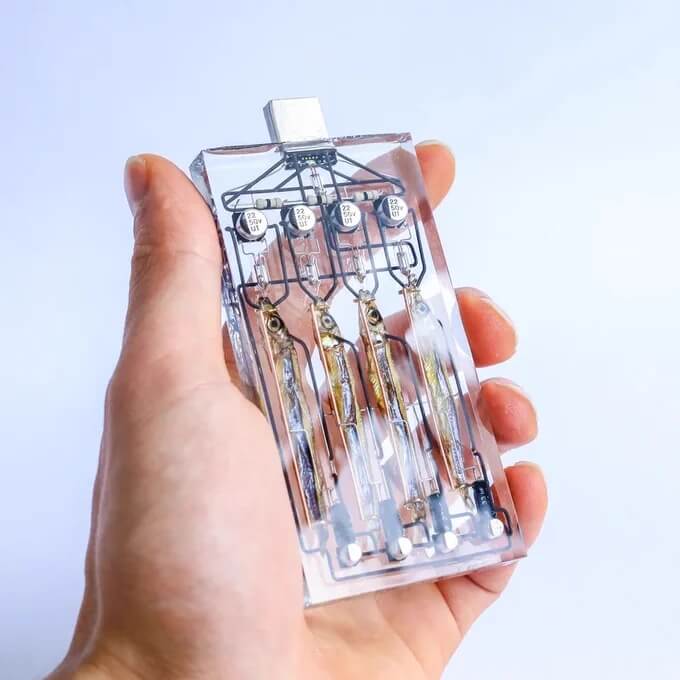 What is bit copy software?
Bit copy means to copy bit by bit, in that allows for the duplication and replication of digital data at the bit level, which enables users to create exact replicas, or "bit copies," of files, folders, partitions, or even entire storage devices.
And bit copy software is used to complete the whole progress. The primary purpose of bit copy software is to ensure data integrity and security during the copying process. By creating an exact duplicate of the original data, including all bits and bytes, this software guarantees that no information is lost or altered during the transfer.
Bit copy software can be particularly useful in scenarios where data needs to be backed up, recovered, or transferred between different storage devices. It offers a reliable and efficient solution for professionals working with sensitive information, such as IT administrators, forensic investigators, or individuals dealing with large volumes of data.
Top 3 free and safe bit copy software for Windows
Bit copy software plays a crucial role in ensuring accurate data replication and secure file transfers. Its versatility and advanced features make it an essential tool for professionals who rely on precise duplication and preservation of digital information. But there are so many different brands of bit copy software, which one is the best? Don't worry, in this part, we will introduce 3 best bit copy software for you to choose.
#1 Clonezilla
Clonezilla is a reliable and widely recognized software that enables users to create, backup, and restore disk or partition images. Known for its powerful features and user-friendly interface, Clonezilla ensures data integrity throughout the copying process. This software is compatible with various file systems and offers a wide range of customization options, making it suitable for both novice and experienced users.
Features of Clonezilla:
Pros
Multi-system - It supports a ton of file systems (including FAT32, NTFS, HFS+, UFS, NetBSD, OpenBSD, xfs, jfs, btrfs, f2fs, nilfs2 and even LVM2). There's an unattended mode and multicast support built-in, as well as the ability to reinstall the Grub bootloader.
Devices supported - Clonezilla might be the single most powerful disk copy tool available that doesn't have a price tag. And if you're looking to clone multiple machines quickly, Clonezilla SE can clone 40 machines at once.
Boot by USB - Clonezilla supports launching via USB, so if you want to use Clonezilla, there is no need to download it on your computer, but launch it directly via USB.
Cons
Unfriendly Interface-Clonezilla's interface is not very user-friendly, first of all, it's hard to see at a glance how disk cloning is supposed to be done, and it's also a bit outdated in terms of its interface.
No direct download-Clonezilla is not a direct download from the website like most other bit copy software, on the contrary, if you want to download Clonezilla on your operating system, it might be a bit of a hassle.
Donemax Disk Clone is a reliable software that can be used for bit-by-bit disk cloning. It allows you to create an exact copy of a disk or partition, including all the files, applications, and settings. With its user-friendly interface and robust functionality, Donemax enables users to create accurate disk images, clone drives, and even perform incremental backups.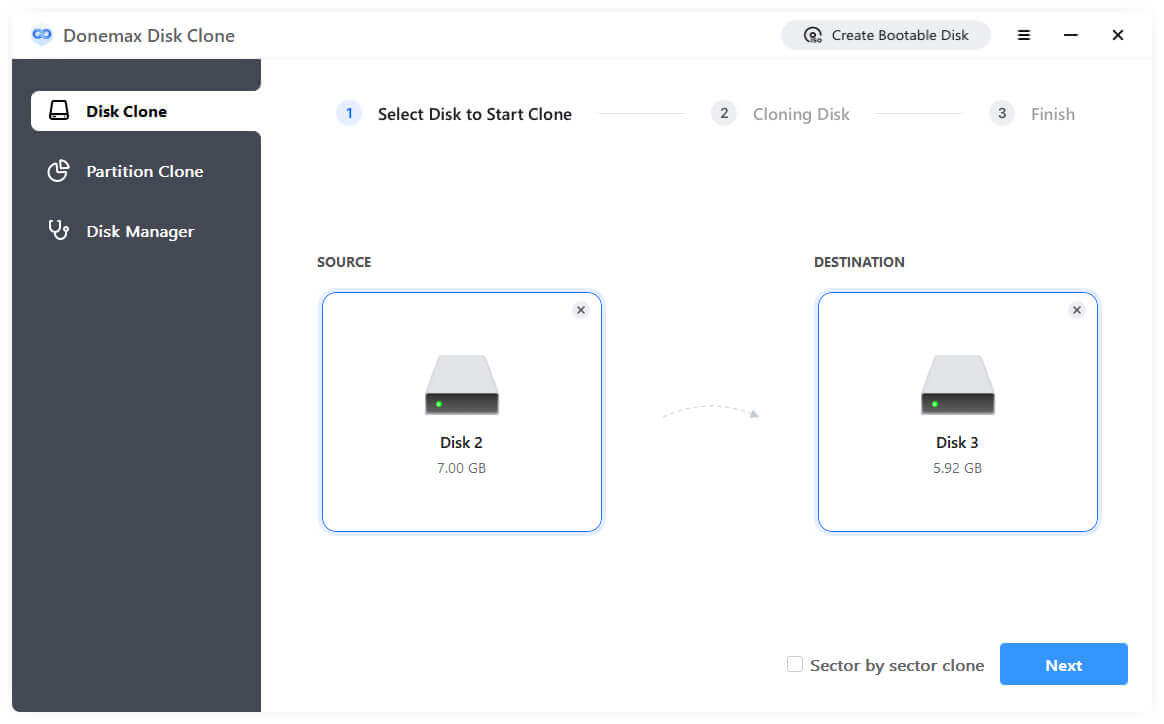 Features of Donemax Disk Clone:
Pros
Sector-by-sector clone -This function allows users to clone all sectors on the source disk to the destination disk, including the unused sectors, ensuring an exact replica of the original disk.
Easy-to-use interface - The software provides a user-friendly interface that guides users through the cloning process step-by-step, making it accessible for both novice and advanced users.
Fast cloning speed - Donemax Disk Clone utilizes advanced disk cloning technology to ensure fast and efficient cloning, minimizing downtime during the migration or upgrade process.
Cons
Need to pay-Donemax Disk Clone allows you to try some of its features for free, but if you want unlimited disk cloning, data backup, etc., you'll need to pay to use it.
#3 EaseUS Disk Copy
EaseUS Disk Copy is another reputable choice for Windows users looking for free and safe bit copy software. With its intuitive interface and comprehensive functionality, this software allows for easy duplication of entire disks or individual partitions. EaseUS Disk Copy is highly regarded for its reliability, speed, and ability to create bootable disks.
Features of EaseUS Disk Copy:
Pros
System migration - Users can easily migrate their operating system, applications, and files from one computer to another without reinstalling everything.
Backup data - EaseUS Disk Copy allows you to back up your computer's important data on a cloud drive or external disk to prevent data loss or theft.
Support for different storage devices--EaseUS Disk Copy supports cloning to various storage devices, including HDDs, SSDs, USB drives, external hard drives, and network drives.
Cons
Low speed - Although EaseUS Disk Copy is very powerful, the overall running speed is slow and it will take a long time if you want to backup your disk data.
Not secure - Although EaseUS Disk Copy is able to perform multiple backups, there is no guarantee that the backed up data can be opened properly, and sometimes the backed up data may be corrupted.
FAQs about bit copy
Regular file copying involves reading the file data and writing it to another location, potentially applying compression or encryption during the process. Bit copy, however, directly copies the binary data without any modification, preserving the exact structure and content of the original file.
There are several tools available for performing bit copy, but among all the bit copy tool, I recommend Donemac Disk Clone Most. As a disk expert, it is dedicated to help users solve disk problem safely and fastly, also for bit copy.
Bit copy can generally be used for all types of storage devices, including hard drives, solid-state drives (SSDs), USB drives, memory cards, and optical media. However, the specific tool or method used for bit copying may vary depending on the type of device.
Final Words
In conclusion, bit copy software offers a reliable and efficient solution for data backup, recovery, and system cloning. With its advanced features and capabilities, it simplifies the process of creating exact replicas of drives or partitions. Among all the 3 bit copy software, I recommend Donemax Disk Clone most, because its powerful bit copy function and high-level data protection. Whether you are an individual user or a business owner, having Donemax Disk Clone in your toolkit provides peace of mind knowing that your important files and documents are securely backed up. Download now and have a try.
Related Articles

Contributing Writer
Maria is one of the senior writers & editors of Donemax who lives and works in Sydney, Australia. She loves PC, Mac and Internet Technology. She has 6 years of writing articles about data recovery on PC/Mac, disk cloning solution, data eraser and computer OS optimization, etc. She is also interested in testing various software and digital products.

Editor in chief
In order to effectively solve the problems for our customers, every article and troubleshooting solution published on our website has been strictly tested and practiced. Our editors love researching and using computers and testing software, and are willing to help computer users with their problems