Introduction
More and more users upgrade their boot drives to SSDs for faster booting up and reading & writing speed. In this page, you will learn how to clone or migrate HDD to SSD without reinstalling Windows OS and programs, and make it bootable.
SSDs (Solid-State Drives) perform much better than HDDs with their newer and more modern technology. In need of cloning HDD to SSD, we will discuss it from following 4 parts:
Part 1: Why do I need to clone HDD to SSD?
SSDs have many advantages...so if you want to replace an old HDD with a new SSD, it is reasonable. You may also need to move all contents from the HDD to the new SSD. The best way to move all contents from a HDD to an SSD is disk cloning in Windows 11/10/8/7, or macOS. Here is why to upgrade a HDD to an SSD.
Advantages of SSDs over HDDs
SSDs have faster reading and writing speed than HDDs. It means system and program boot times are greatly reduced and file transferring is much quicker.
SSDs are more durable. They have no any physical components, so it is not affected by external traumas.
SSDs use less energy than HDDs. Unlike HDDs, there is no any moving parts in involved in SSDs, so they generally consume less power.
SSDs make less noise.
SSDs weigh less than HDDs.
SSDs have no time delay for the mechanical rotation or head positioning activities that HDDs have.
Part 2. Preparations for cloning HDD to SSD
In the beginning of cloning HDD to SSD, please make sure you have the following preparations:
A new SSD. The SSD can be smaller than the hdd, but please make sure the SSD capacity should be big enough to fit the space used on the hdd.
Install the SSD to the computer.
Check the partition style of the SSD if it is in accordance with HDD. If not, please convert GPT disk to MBR or vice versa with Disk Management.
Backup the data on SSD if they are important. Cloning HDD to SSD will wipe all the data on the destination SSD.
A reliable disk clonling software supports to clone HDD to SSD.
Part 3. How to clone HDD to SSD without reinstalling Windows?
Donemax Disk Clone is one of the best disk cloning software to help you securely and easily clone a HDD to an SSD without reinstalling your Windows OS and programs. It also ensures you to boot from the cloned SSD successfully. Just Download this professional SSD disk cloning software, and follow the steps below.
Step 1. Download and install it to your computer. Donemax Disk Clone is fully compatible with Windows 11, 10, 8, 7, Vista, Server and macOS.
Step 2. Make sure the SSD and HDD are connected to your computer. And there should be enough disk space on the SSD to save the cloned data of HDD.
Step 3. Run Donemax Disk Clone and select Disk Clone to clone an entire HDD to your SSD.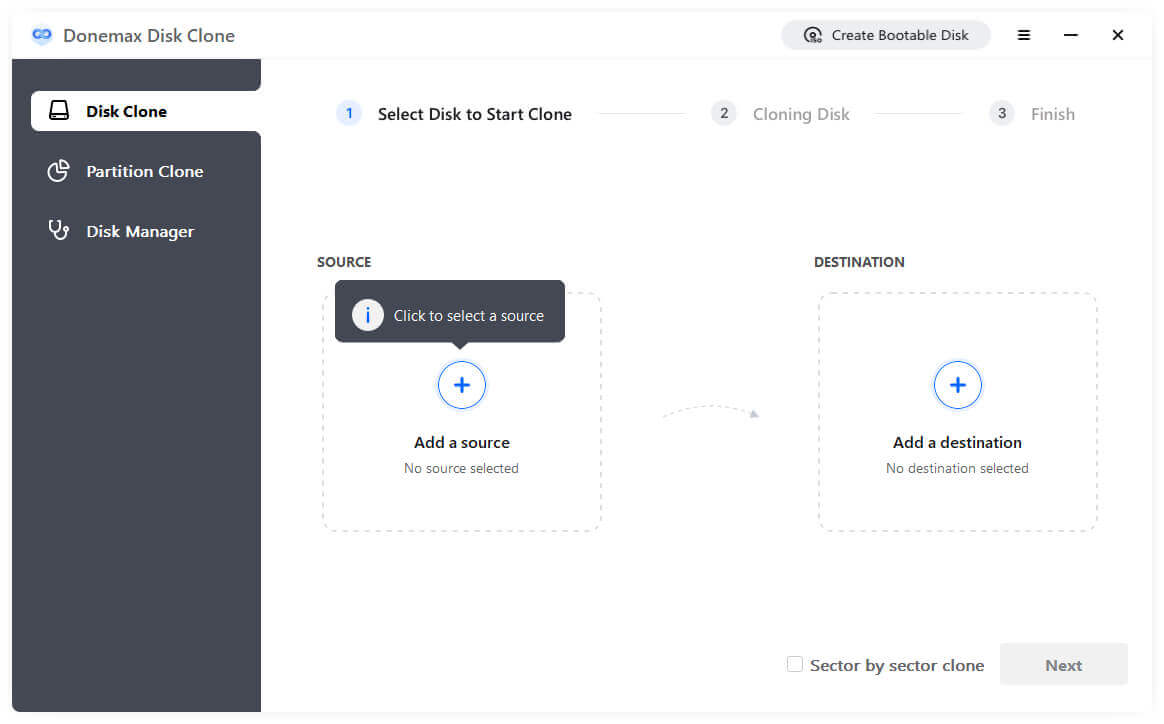 Step 4. Select the HDD as the source disk, then select the SSD as the destination disk. click Next to clone the HDD to the SSD.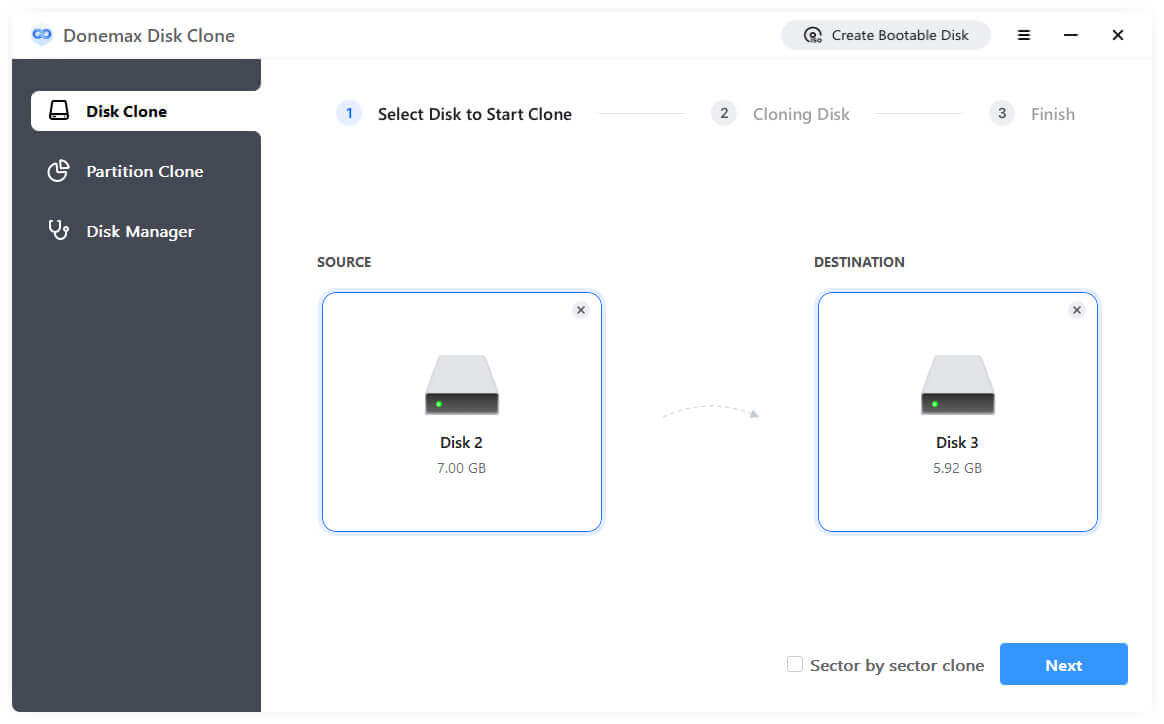 Step 5. Edit the disk layout and the destination disk is SSD, please tick the box 'check the option if the target is SSD'.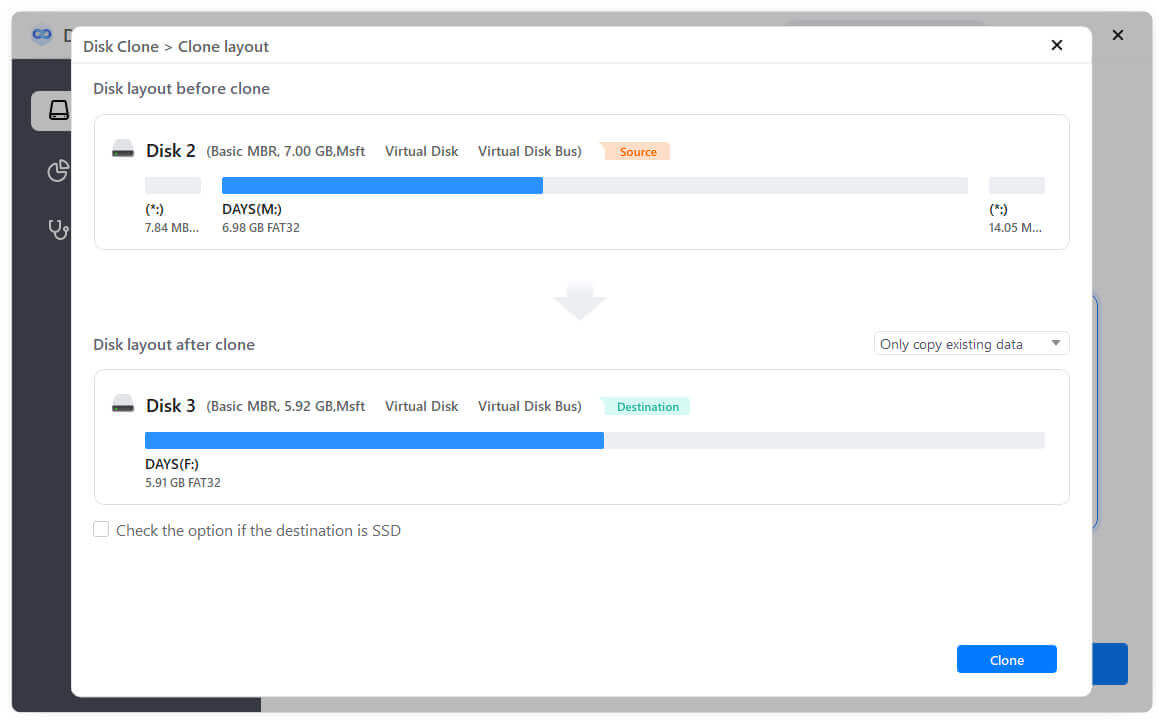 Step 6. Click Clone to clone the HDD to the SSD. Once the process gets finished, you can check the cloned data on the SSD.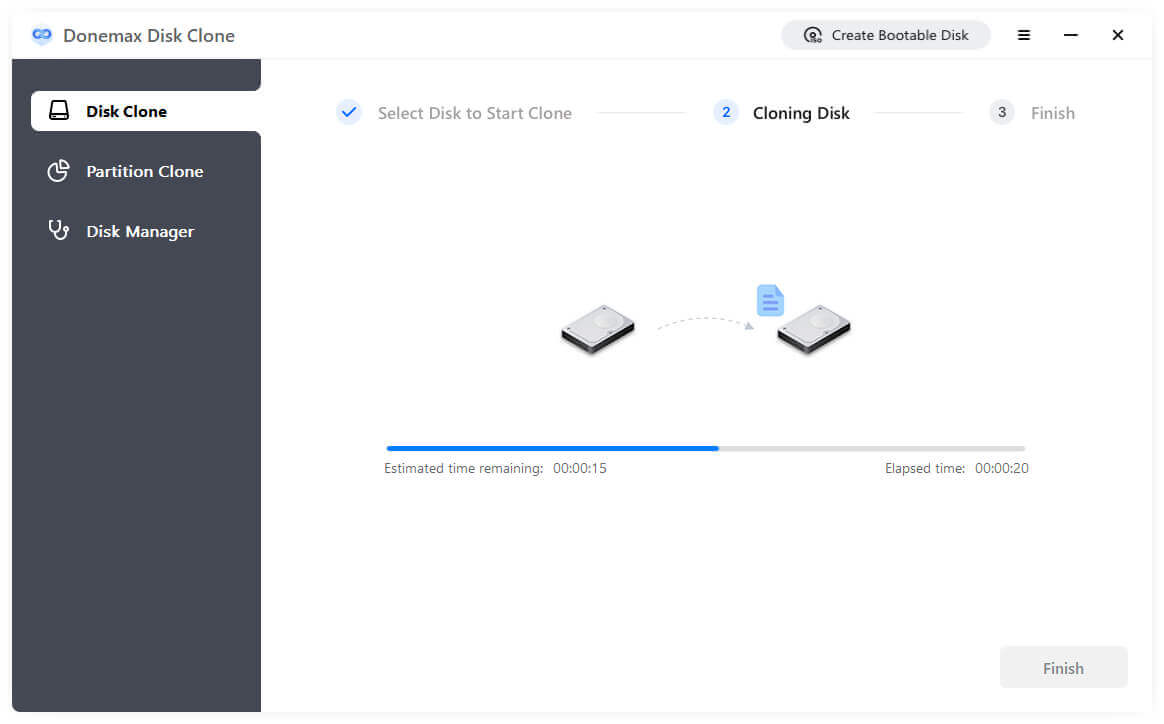 ▶️ Video about Cloning HDD to SSD
The following video demonstrates the detailed steps about how to clone HDD to SSD in Windows Vista/7/8/10/11.
https://www.youtube.com/watch?v=0nD2tXWCTxA
Part 4. Clone HDD to SSD FAQs
To clone a HDD to an SSD in Windows follow the steps:
Conenect the SSD to your PC.
Download and install Donemax Disk Clone on your computer
Launch the software and select disk clone
Select the hdd as source and the SSD as destination
Click "Next" to apply cloning
And then the hdd will be cloned to the SSD.
Change the boot order to SSD if you are cloning the boot HDD.
To install a new SSD to your computer as following: open the case cover of your PC > plug the SSD and connect it to a spare SATA connector on the motherboard with a SATA cable > Reassemble the PC and then SSD is installed.
Yes, if SSD is large enough to hold all the data on the hdd. It is possible to clone a 1TB HDD to a 500GB SSD if the SSD's capacity is larger than the used space of the source HDD. That's to say, if the hdd is used less than 500GB, you can freely clone a 1TB HDD to a 500GB SSD with Donemax Disk Clone.
Yes, you can clone the entire boot drive to a new SSD with a professional disk clone software like Donemax disk clone. To ensure you boot from SSD successfully, you'd better choose 'Disk Clone' to copy all the boot files from HDD to SSD.
Conclusion
If you want to upgrade your HDD to an advanced SSD, you can choose a method to help you copy all data from the HDD to SSD. You can copy documents from HDD and paste to the HDD manually. However, it takes long time and it will failed to boot if you just copy the data of the boot drive to SSD manually. Donemax Disk Clone is still the safest way to move all your data and system to your SSD without reinstalling Windows OS.

Contributing Writer
Coco has been a writer and a chief programmer at Donemax software since 2018. Over 10 years of experience of writing troubleshooting articles in the software industry, she is passionate about programming and loves to providing solutions to Windows and Mac users. Also she enjoys music and palying tennis in her free time.

Editor in chief
In order to effectively solve the problems for our customers, every article and troubleshooting solution published on our website has been strictly tested and practiced. Our editors love researching and using computers and testing software, and are willing to help computer users with their problems