iTunes is one of the methods to mange iPhone data. Users can use this app to sync, back up and restore with iTunes. However, there are some limitations to manage or transfer the data with iTunes. Also, it's hard to transfer the data between the computer and iPhone, or between different iOS devices. So it's hard to transfer iPhone data flexibly with the software. Also, there are too many options and settings in iTunes. What's more, the interface and interaction of iTunes are very complex.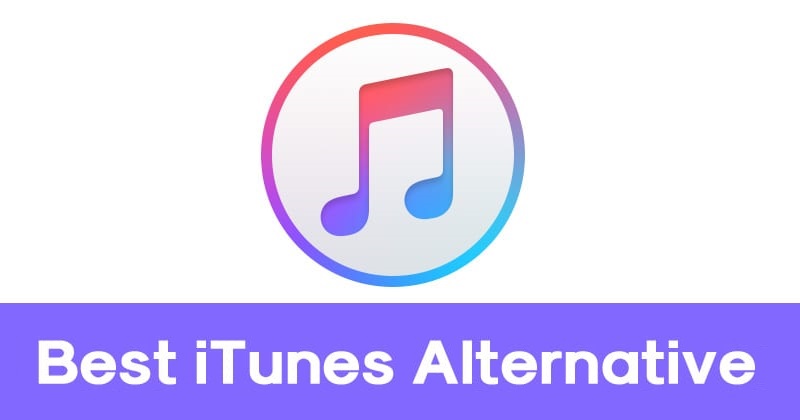 Also, iTunes will be outdated and not supported. How to mange iPhone data without iTunes? If you want to manage the iPhone data or other iOS data more easily without using iTunes, we suggest you download and use the best iOS data transfer/mange software DMtrans.
What can DMtrans do?
Don't like iTunes, DMtrans is tiny and clean. With this software, you can mange and transfer data easily. It's very simple to use without complex operations or other redundant functions. You can use this software to do the wanted job clearly.
With this software, you can manage and transfer data with ease. For example, you can use this application to remove, edit, add data directly on iPhone or other iOS devices. Also, you can transfer data to the iPhone, or transfer data from iPhone to another iOS device or computer.
Different type of items are supported by the software. You can use it to manage/transfer photos, videos, music, contacts, messages, books, podcats, voicemail on iPhone. Also, you can create new contacts, playlist in the software directly. And it's able to add music to specified playlist.
At last, the software provide the download option. You can use it to download media files, including videos, music. It's able to download media files from different websites. You can download the files to the local machine or download it to the iPhone directly.
How to transfer/manage data with DMtrans?
To mange your iPhone data easily with this software, we will show you a simple guide here. It can help you manage iPhone data effectively on your computer. For example, we will introduce you about how to transfer/deleted/add/edit data with this software.
Add new items to iPhone on computer.
With the software, you are able to add play list or contacts to your iPhone directly on computer. Also, you can add music to the specified playlist.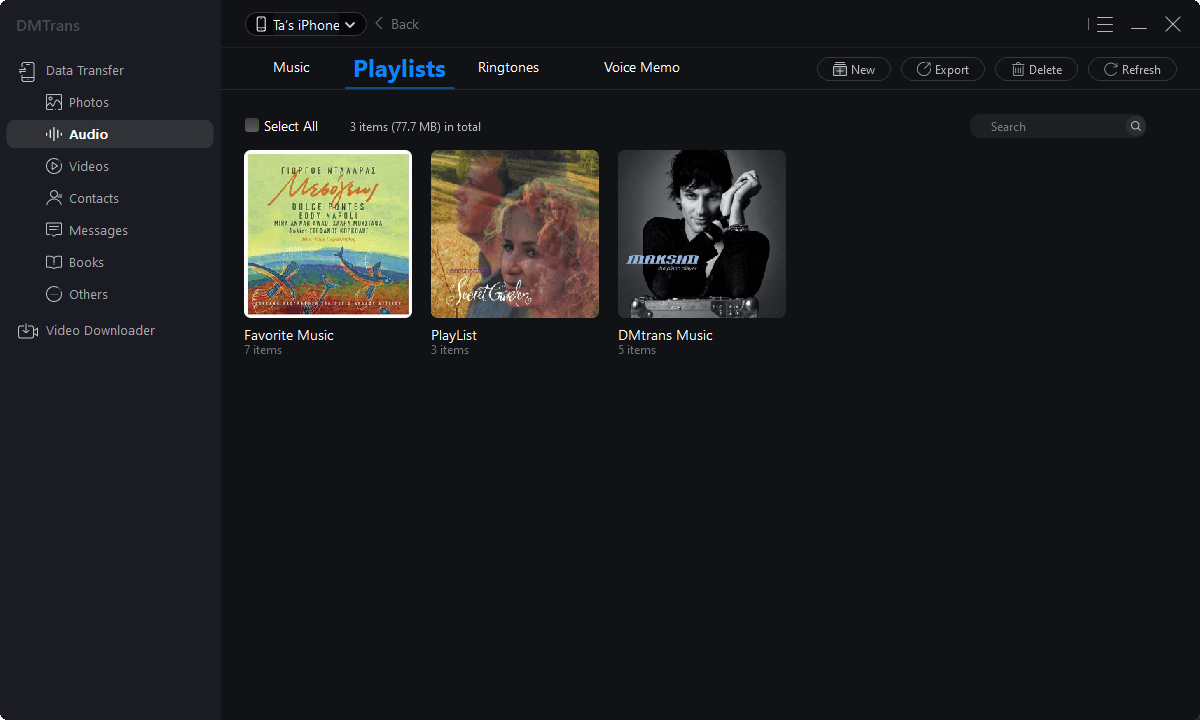 Delete items from iPhone on computer.
The software can also remove some items from your iPhone.You can change to a specified category and choose the items that you want to remove. Then please click the "Delete" button to continue and remove the files directly.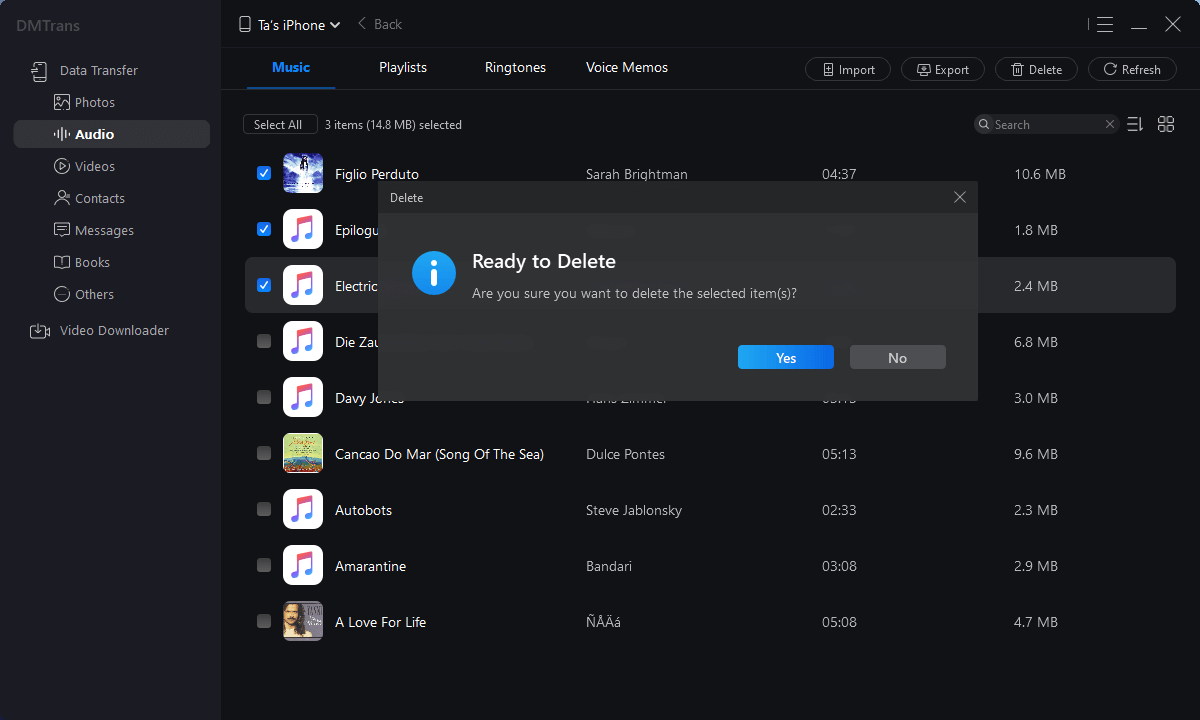 Transfer data with the software.
The best function of the software is for data transfer. You can choose to transfer data from the current iPhone to the computer or another iOS device. If you want to transfer data from the computer to the iPhone directly, the software can also help you. You can select the items that you want to transfer and then click the Transfer button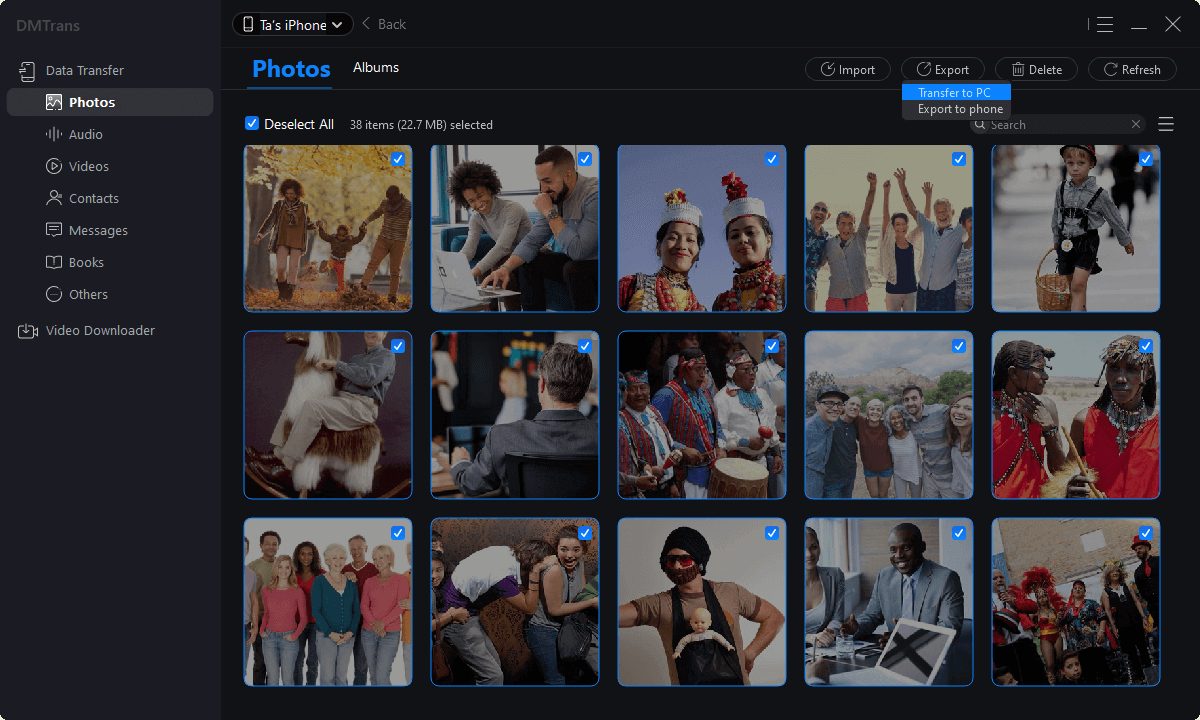 Edit iPhone items on computer.
The software can also edit some existing items such as contacts. You can edit the information of a contacts easily in the software on computer.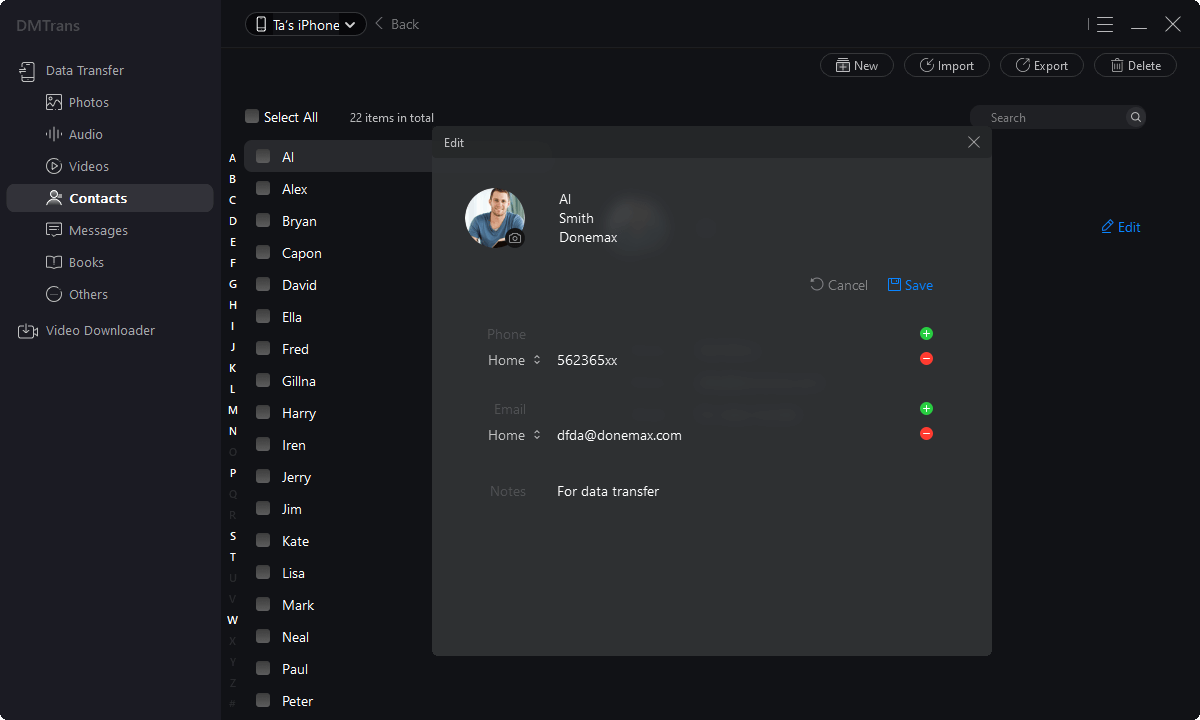 Download media files from the software.
If you want to download videos/music files with the software, you can choose "Video Downloader". Please check and select a specified destination. Then enter link of a page and click the "Download" button. The software will then download the video or music from the page you entered.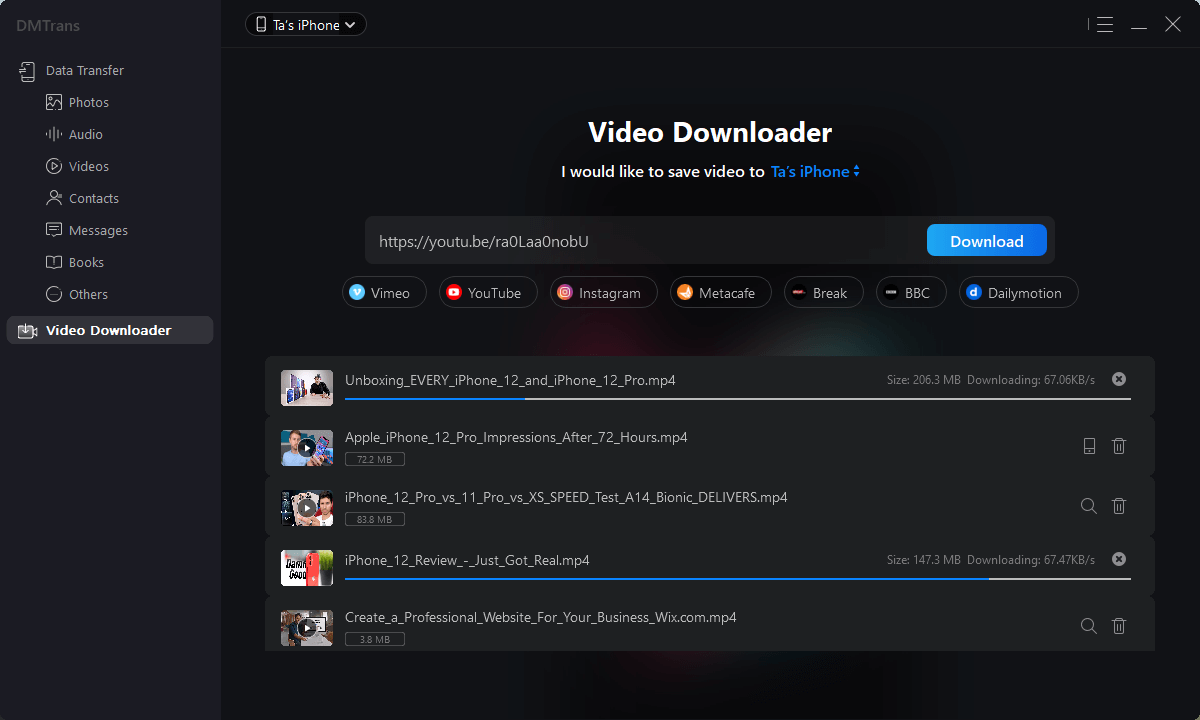 If you want to manage or transfer data on iPad, iPhone, iPod touch on your computer, you can download and use this software DMtrans to help you. It's able to help you transfer data effectively and fast.