The new iPhone 14 is about to be released, and I'm going to replace my old iPhone. But I'm worried about my contacts, it's important to me, and I don't want to lose them. Is there any way to help me sync the contacts from the old iPhone to the new iPhone 14 safely?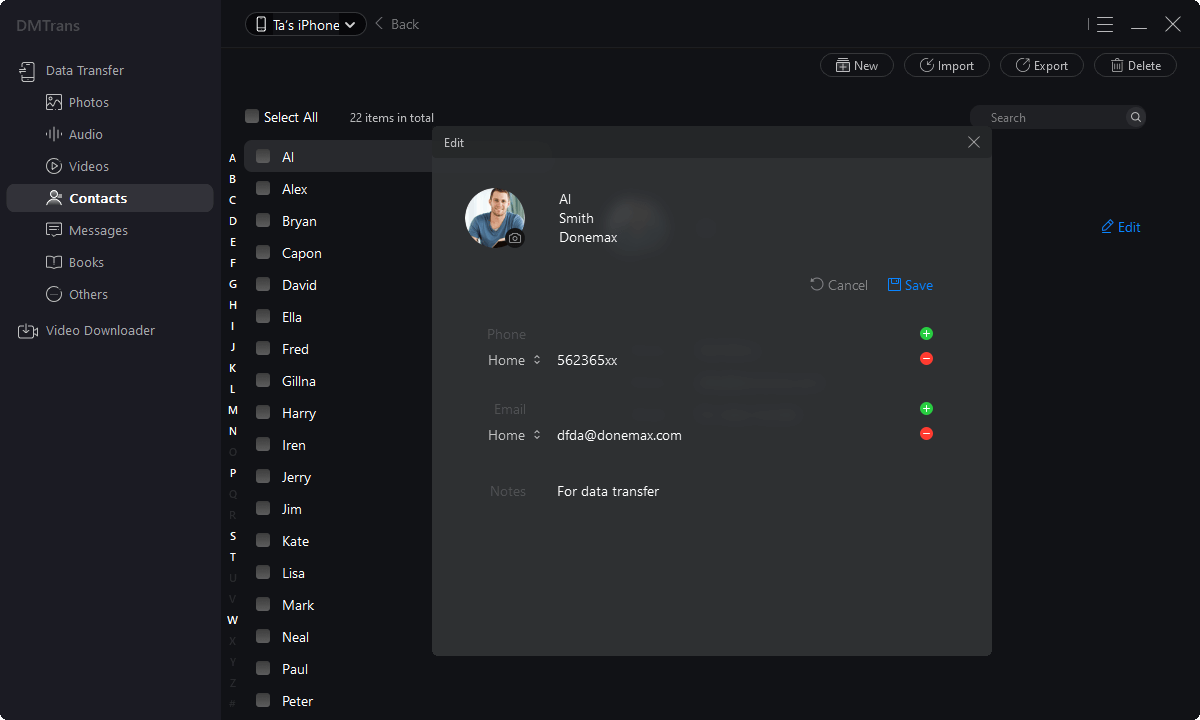 If you are looking for a reliable and fast way to clone iPhone, you should try DMtrans. It can transfer all your important files directly from one device to another. As an efficient and secure iPhone data transfer tool, DMtrans can import essential data such as photos, contacts, messages, audio, and video files, and also is a media downloader to download your favorite videos and music to your iPhone /iPad/iPod. The best thing is that DMtrans can clone your data and won't affect the data on the original iPhone.
Full-Features iPhone Contacts Transfer Tool
We'll demonstrate how to transfer to walk you through the software as an example. (The picture is taken as an example, the operation steps are the same)
Step 1. First, check if your iPhone 14 is connected to your computer. Installing the program on your PC is as easy as downloading it.
Step 2. Launch the program and select the Contacts option from the menu. You can try transferring contacts between iPhone 14 and old iPhone by visiting this page.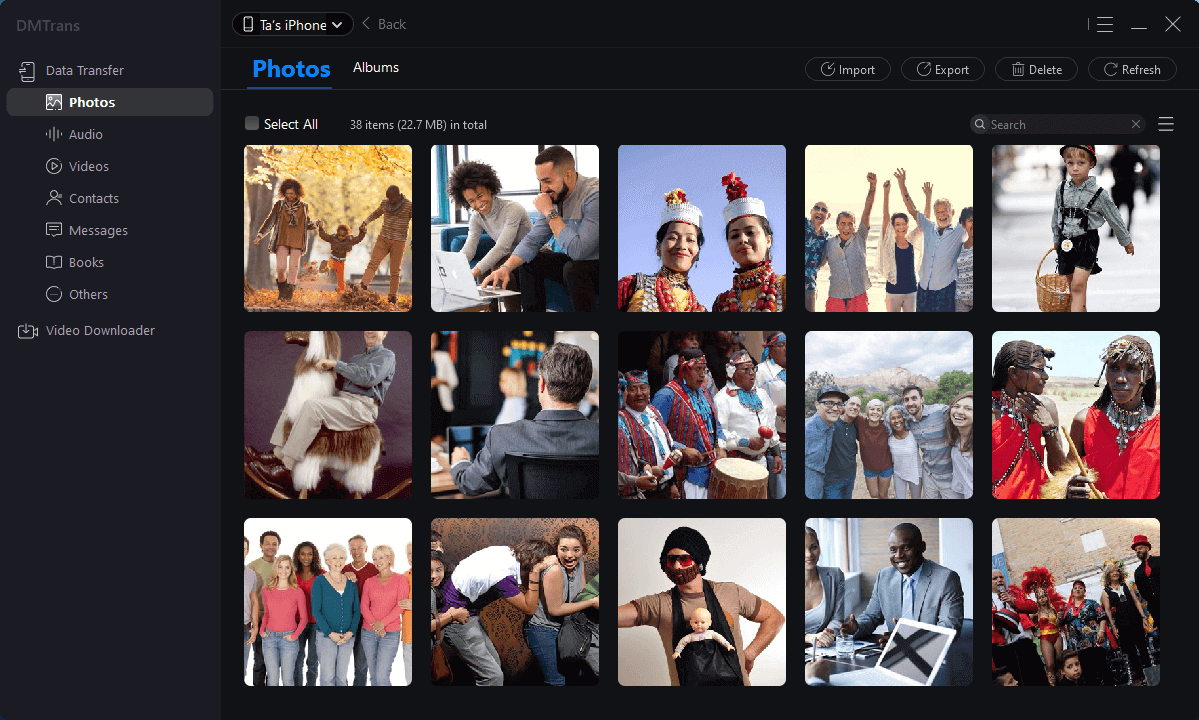 Step 3. For those who want an easy way to transfer contacts from old iPhone to iPhone 14, just select the contacts you want to transfer on iPhone 14 and press "Export".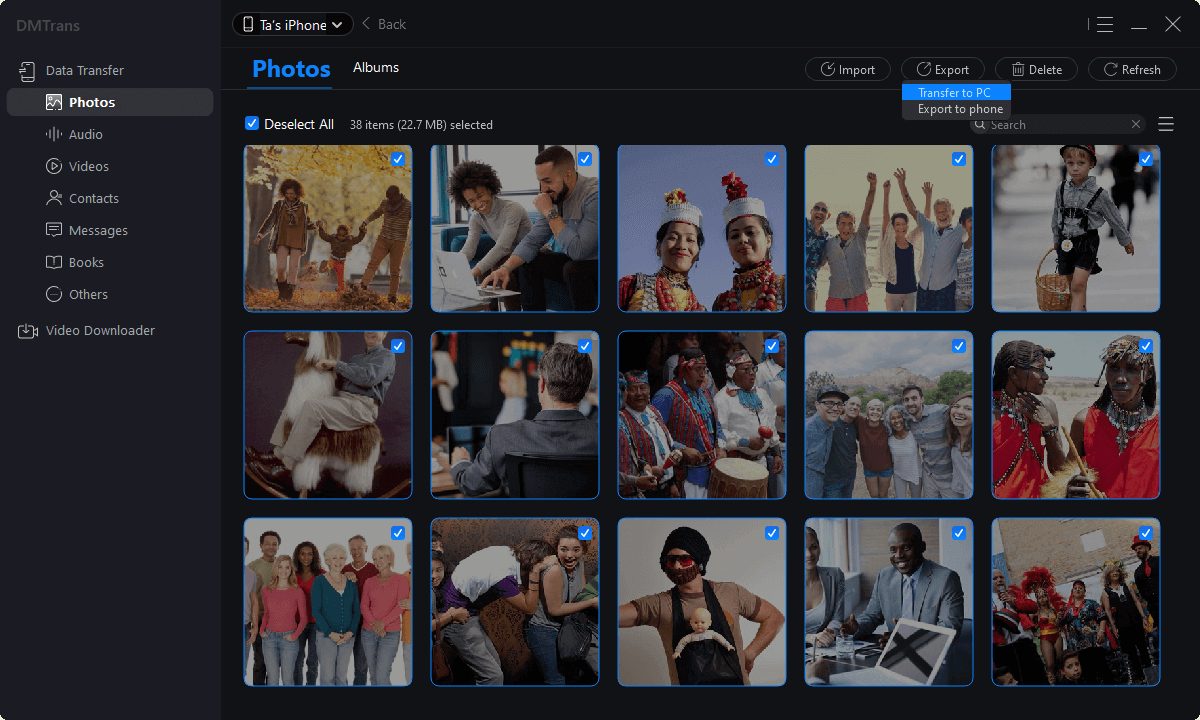 Step 4. Start the transfer process. Contacts may then be transferred between your iPhone 14 and your old iPhone when they are selected.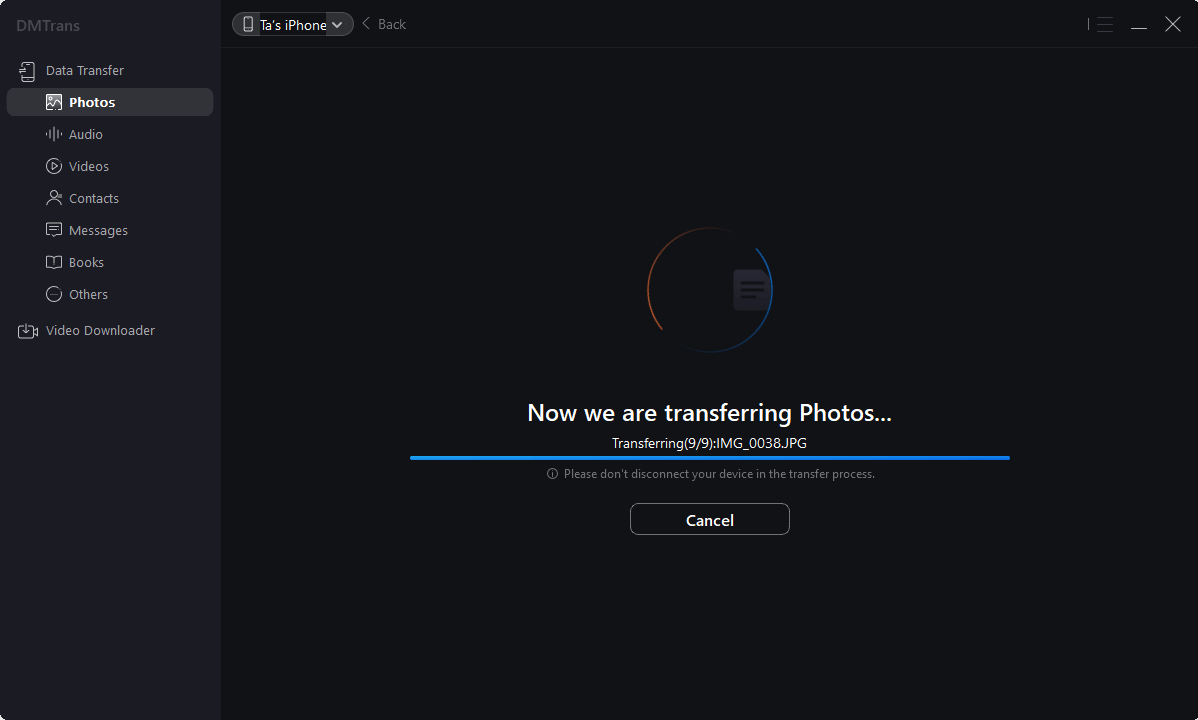 Highlights of Donemax iPhone Data Transfer Tool
The transfer process is safe. It won't affect the data and cause damage to your iPhone. After the transfer is complete, you can check if your contacts have been transferred successfully on your iPhone 14 and old iPhone.
With this one-stop data transfer tool, you can transfer many different data types because the program is comprehensive; no need to use other separate tools to share your data.
For example, it can transfer images, videos, audio files, contacts, messages, books, podcasts, and other data types. Only with this program can you batch transfer various kinds of data.
Also, the program is very user-friendly. Due to its simple design, users will have no difficulty understanding and using the program.
You may choose to transfer any form of data directly. It allows you to move data between iPhone 14 and iPhone, iPhone and PC in the way you choose.
iPhone Tips: Quickly View Important Contact Information
Perhaps temporary text messages such as advertisements and verification codes will account for a large proportion of most users' mobile phones. When you want to view the messages of essential contacts, you need to browse for a while in the "Messages" application to find them. . How can I quickly see information about important contacts and pin a conversation to the top? Here's how to do it:
Separate Known Senders and Unknown Senders information for easy viewing:
Open iPhone Settings and go to Messages. In this interface, turn on "Filter Unknown Senders." In this way, when you open the "Messages" app to view, the "known senders" and "unknown senders" information will be automatically classified for easy viewing.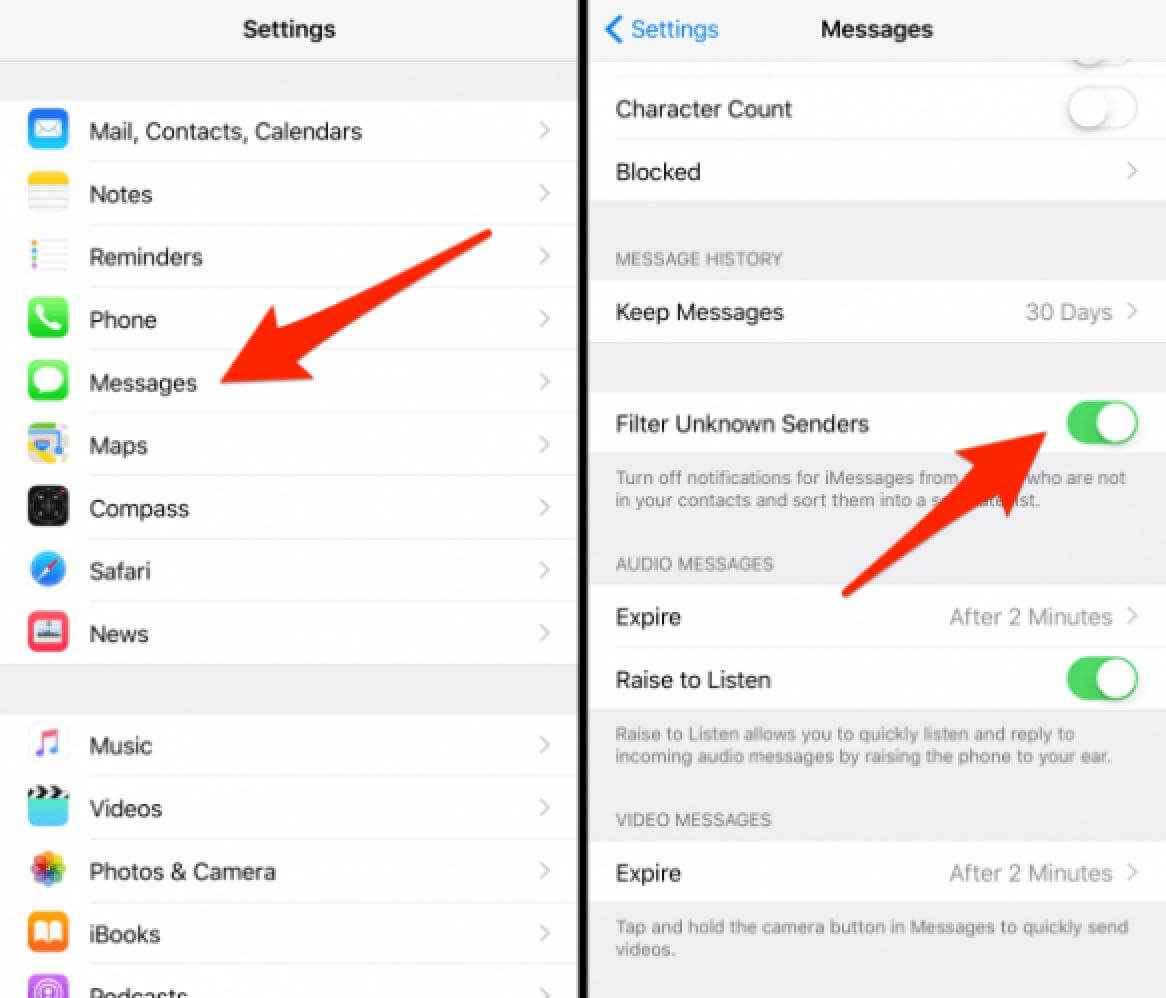 2. Top frequently used contact conversations:
You can pin specific conversations to the top of your Messages list, so the people you contact most are always at the top of the list.
Do any of the following:
Swipe right on the conversation, then tap "pin."
Press and hold a conversation, then drag it to the top of the list.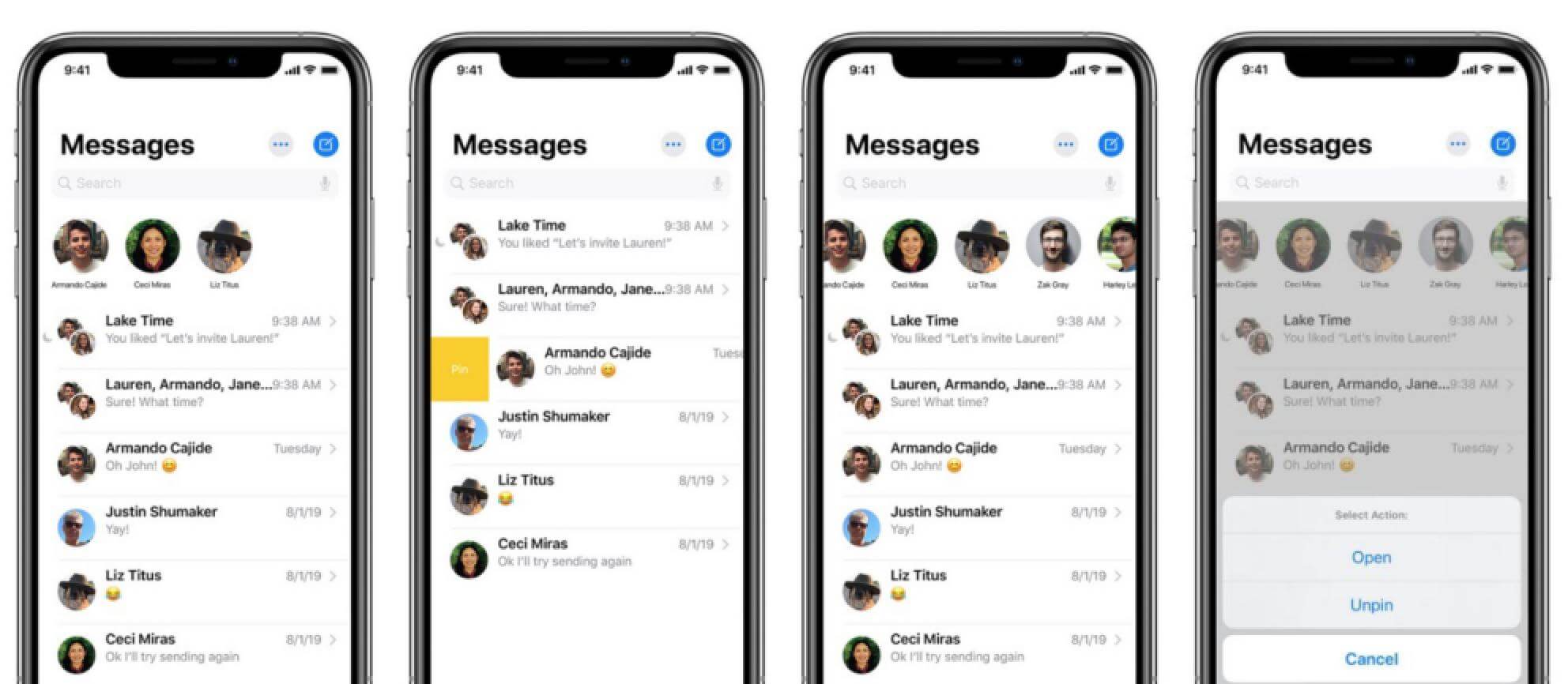 You can pin multiple contacts, and if you want to sort the contacts, just press and hold the avatar frame to move to the specified position.
To unpin a conversation:
You can unpin specific conversations from the Posts list. Do any of the following: Touch and hold the conversation, then drag the message to the bottom of the list. Or press and have a chat, then tap "Unpin."