Windows 11 and Windows 10, which one is easy to use and smooth? Windows 11 is the latest computer system launched by Microsoft. Compared with Windows 10 system, which one is easier to use, which one can play the computer hardware performance more smoothly, and can run software and games better? ? Today I will explain it to you in detail.
On June 24, 2021, the world's largest software company "Microsoft" held an online conference on "what's next for Windows"! At the same time, Microsoft officially launched the new Windows 11 system. The last time Microsoft introduced a new computer operating system was six years ago (Windows 10). After Microsft's six years of research, development, and precipitation, is Windows 11 better than Windows 10? In addition, Microsoft also announced that it would stop supporting Windows 10 on October 14, 2025, including professional and home editions, so this is also a way to "force" everyone to upgrade? Finally, the official version of Windows 11 was brought to the world in October of 2021.
Complete Comparison of Windows 11 and Windows 10
Part 1. Changes in Windows 11 Compared to Previous Windows Systems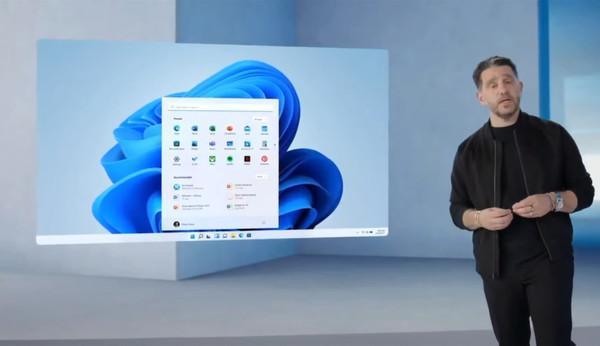 1. Windows 11 brings a redesigned "Start Menu" (the live tile design is canceled), and it is centered.
2. The start icon of Windows 11 has also changed from the slanted design of Windows 10 to a flat design, with newly designed icon styles, themes, and rounded window corners.
3. Windows 11 removes the Cortana icon and adds a widget. The widget is fixed on the taskbar. Once the system is clicked, a window will pop up from the left side of the screen, displaying weather, stocks, news, and other information. Of course, users can also customize all of the above.
4. Windows 11 has also significantly improved in performance and security. Compared with the previous generation system, the system volume has been reduced by 40%, but the user's daily use response is faster.
5. The "new version" of the Microsoft Store is not only more responsive but also more beautifully designed.
6. Windows 11 also has a built-in Android subsystem, which can directly run Android applications
Part 2. Performance Boost
According to the test of 3dmark running points, it can be seen that Windows 11 is smoother than Windows 10 in single-threaded, multi-threaded rendering and 3DMark running. At the same time, unique optimization has been made for the latest Intel 12th generation, which makes the overall performance more efficient. It's outstanding, but if the computer hardware performance is average, it won't make any significant difference. Because Windows 11 is the system version made by windows10 21h2 after some modifications and adjustments, there is not much optimization. Not much difference.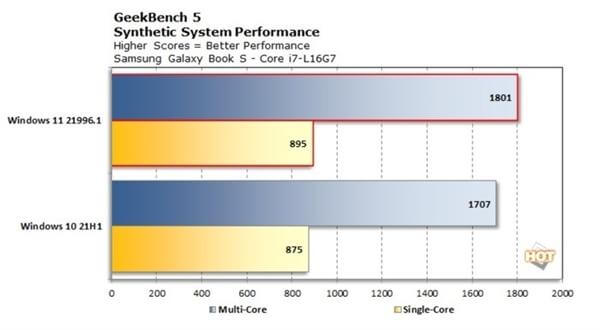 Part 3. Stability
According to user feedback, the system stability is relatively good, and there are no major system problems. Some users have the following issues: "green screen," the app fails to connect to the network, the face recognition function does not support it well, etc. But these issues were resolved after the system version was updated.
Summarize:
Overall, the performance of Windows 11 and Windows 10 is the same. Windows 11 is not particularly prominent compared to the previous generation operating system, but it is still slightly better than Windows 10 in most benchmarks. Of course, it is also possible that the leaked Windows 11 is not the final version and needs to be further optimized. Especially in terms of the operating efficiency of applications, the concise scientific guide guesses that after the official version of Windows 11 is released, it should be higher than Windows 10.
If you are interested in the new user interface, you can also try to install and use the latest Windows 11 system. But win 11 has requirements for computer hardware.
Also Read:
How to Screenshot on Windows 11 [Six Methods]
How to Fix Windows 11 Slow Startup
What Are the Hardware Requirements for Windows 11
1. Processor: 1GHz or faster with two or more cores on a compatible 64-bit processor.
2. Memory: 4GB or more.
3. Hard disk space: 64GB or giant storage computer.
4. System firmware: support UEFI secure boot (the main purpose of UEFI secure boot mode is to protect your system from unauthorized boot loader, which can be viewed in the host's BIOS boot options, motherboards more than 10 years ago already supported).
5. TPM: Trusted Platform Module (TPM) version 2.0 (TPM 2.0 has appeared on some notebooks since 2015. Although TPM is separate hardware, both Intel and AMD support it. In addition, you can replace the DLL file by replacing the DLL file. Breaking through the limitations of TPM 2.0, users of old configuration machines need not worry too much).
6. Graphics card: Support DirectX 12 or higher, support WDDM 2.0 driver (the built-in version of the familiar XP system is DirectX 9.0, the built-in version of Win7/8 system is DirectX 11, and the built-in version of Windows 10 system is DirectX 12).
7. Monitor: High-definition monitor with at least 720p (1280×720) resolution than 9" diagonal, 8 bits per color channel.
Windows 11 PC Hardware Checker - Donemax DMWin11 Checker
DMWin11Checker is a free product. Follow the steps below to check your PC and upgrade to Windows 11.
1. Download and install DMWin11Checker freeware
2. Run and click the Execute button.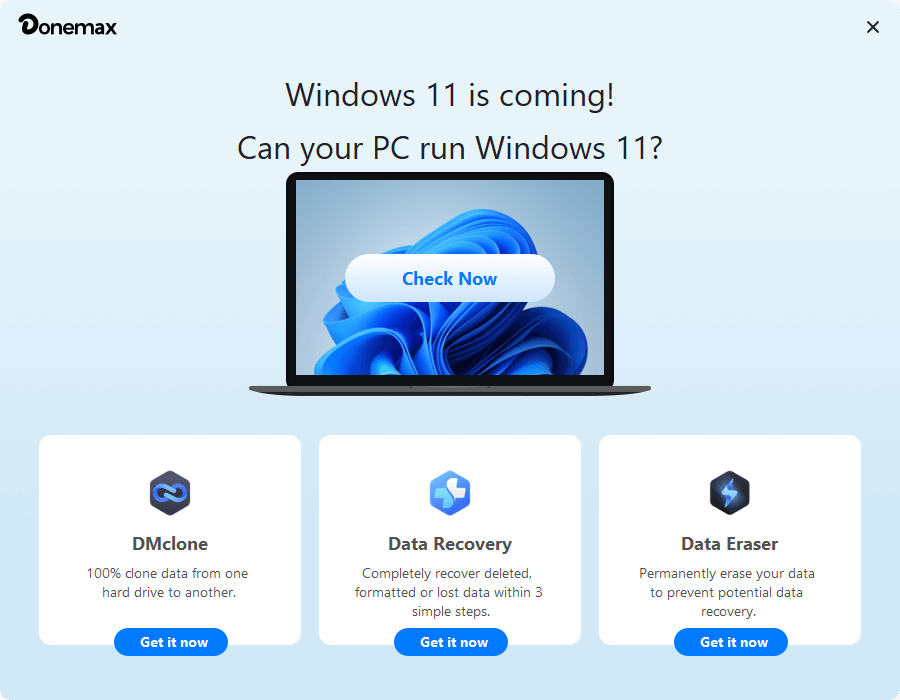 3. View the results.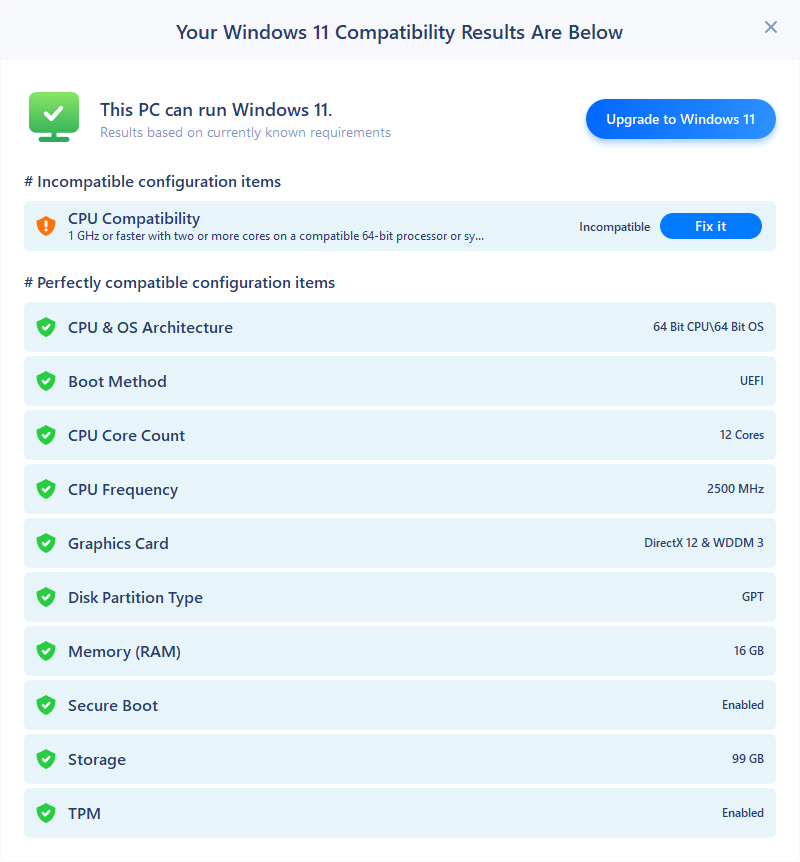 Important hint
If you are worried about the loss of essential data during the installation process, it is necessary to make a data backup. You can choose DMclone for Windows to back up your data. Just download and install DMclone on your Windows PC.