For Windows users, you can easily know the that NTFS hard drive is commonly used. NTFS hard drive can be used as system drive or data drive for Windows. Also, if have external hard drive, USB flash drive, you can also format it as NTFS to use.
If you use NTFS hard drive on your computer, you may need to clone NTFS hard drive sometimes. For example, if you want to update your NTFS hard drive with a brand new hard drive, you can clone the drive directly with a disk cloning software. It will be faster and more safe to clone the drive.
Especially, if you you want to update your system drive with a new one, it's better to clone the hard drive directly to avoid reinstalling your operating system and apps. You can reuse the cloned hard drive as system drive directly to continue using your computer the same as the before.
NTFS hard drive cloning software
If you want to know how to clone NTFS hard drive effectively, we will share the solution here for you in detail. First, we suggest you use a reliable hard drive clone tool - DMclone. You can download and have a try with the trial version first.
The software can help you to clone NTFS hard drive in different cases. No matter you want to clone the entire disk or just the partition, the software is able to achieve your goal. It provides two clone modes: Disk Clone and Partition clone. Then you can clone your important partition to back up, or clone entire disk to update and replace.
If you want to keep all the data and partition layout on the destination disk completely, you can then tick the option Sector by sector clone. Then the software will clone the NTFS hard drive to the destination in sector level. What's more, it can also provide the option to optimize SSD if you clone your NTFS hard drive to an SSD.
How to clone NTFS hard drive step by step?
DMclone is very simple NTFS cloning software that can be easily operated. Also the interface is very intuitive. You can follow the wizard to clone your NTFS hard drive in only a few clicks. First, we will show you how to clone entire disk with this tool.
Step 1. Select source and destination drive.
Please check and ensure to choose your NTFS hard drive as source, then choose another empty disk as destination.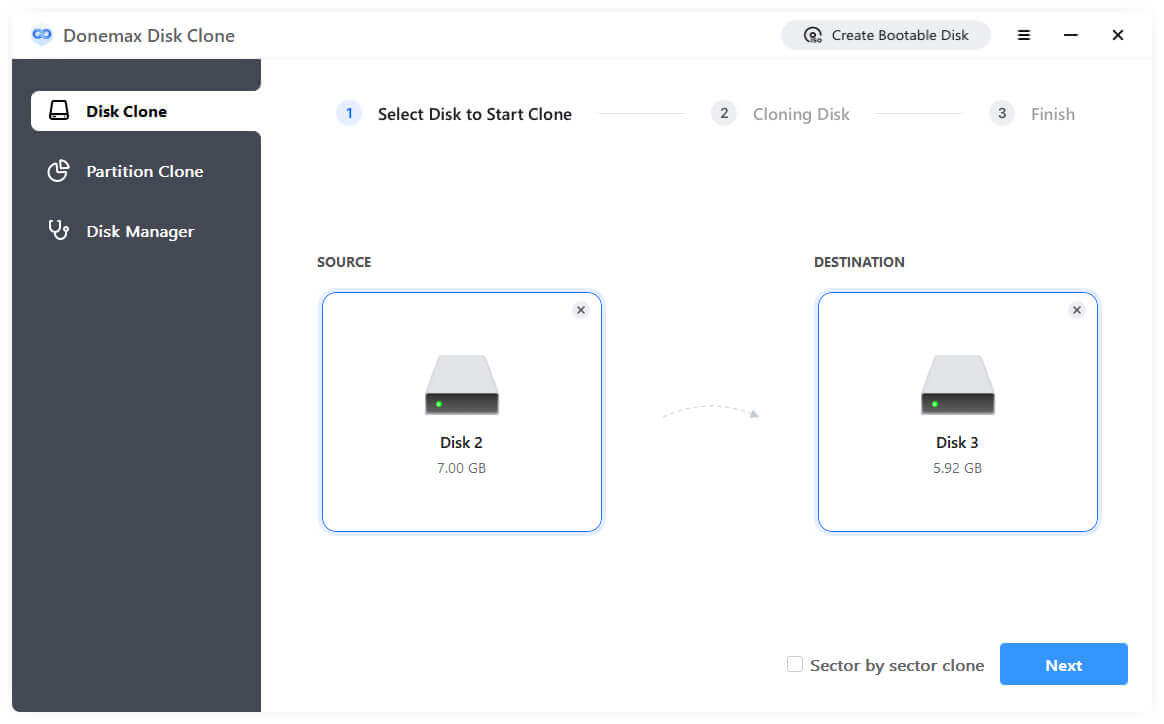 Step 2. Preview and change the layout.
At this step, please check and have a preview of the layout on the destination disk. You can know how the destination disk looks like after cloning.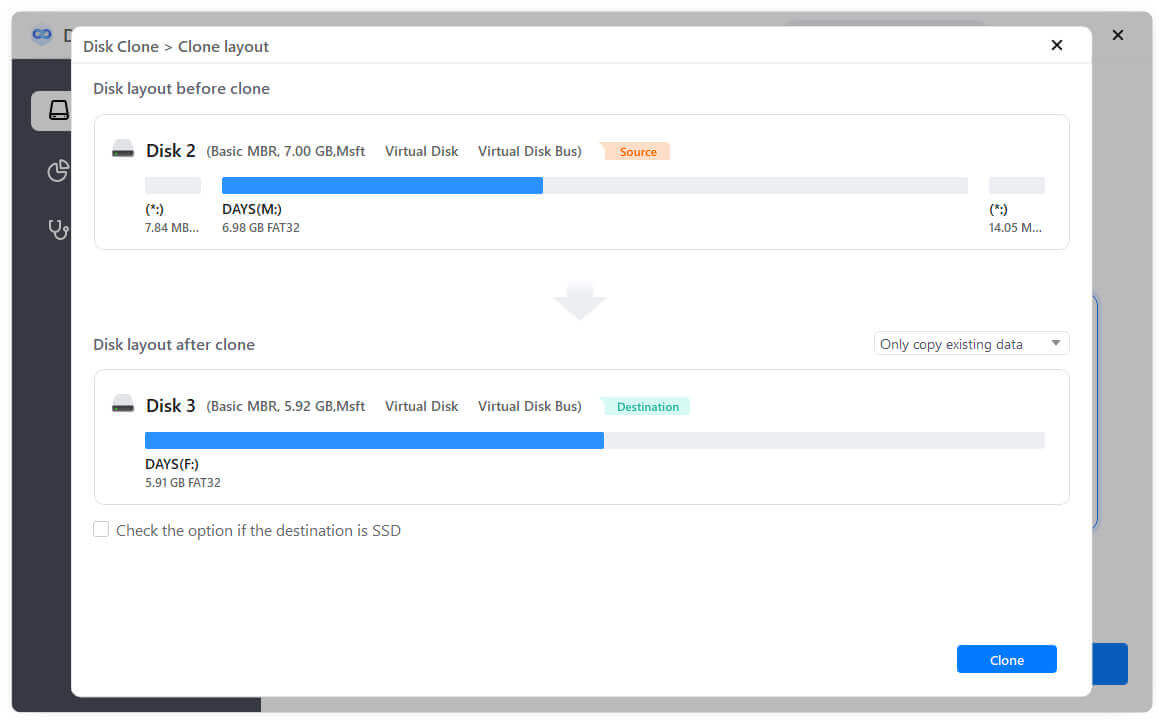 Step 3. Finish the clone and check the cloned disk.
Please click the Clone button to continue. It will clone your NTFS hard drive directly. Once the clone is done, please check the data on the destination disk.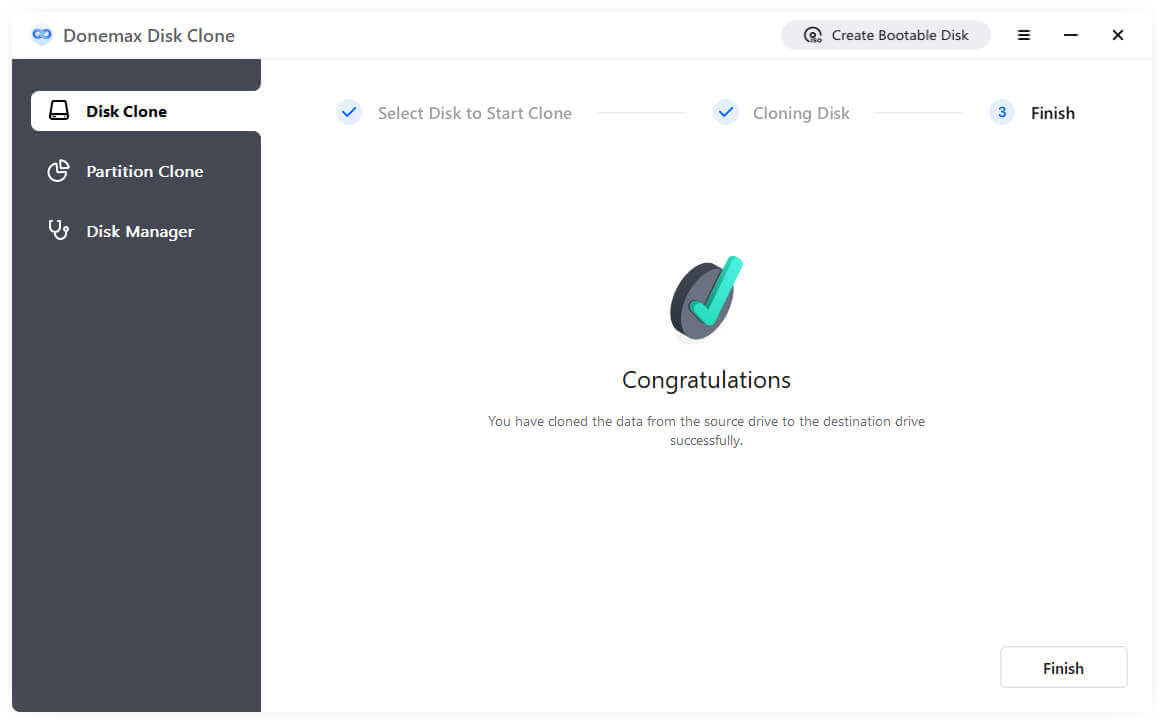 Note: If you want to replace the system drive, we suggest you clone the entire disk directly. After cloning, please replace the original system drive with the cloned one, then try to boot from the clone hard drive to check if it's clone successfully.
Also, there are only 3 simple steps to clone a NTFS partition with the application. Here is the simple guide for you as follows.
Step 1. Select source and destination partition.
Please choose your NTFS partition as source and also choose another empty partition or unallocated space as destination to clone.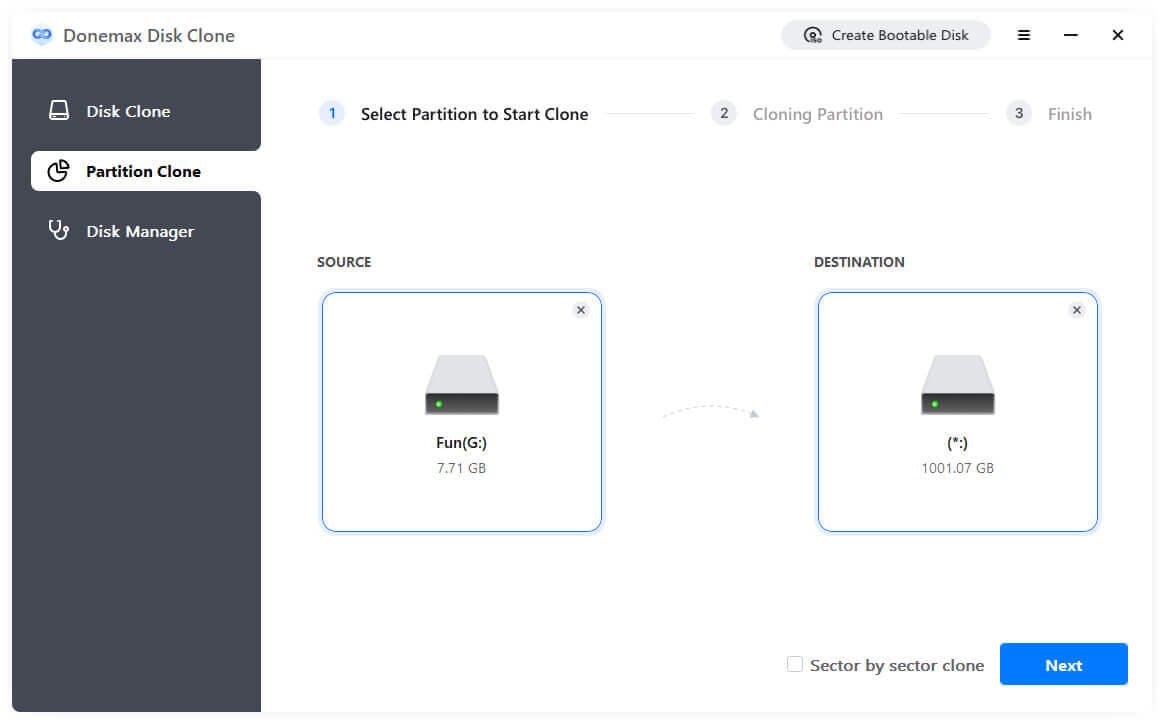 Step 2. Check or change the layout before clone.
After clicking the Next button, you will get into this step. Please preview the layout first and resize the partition if necessary.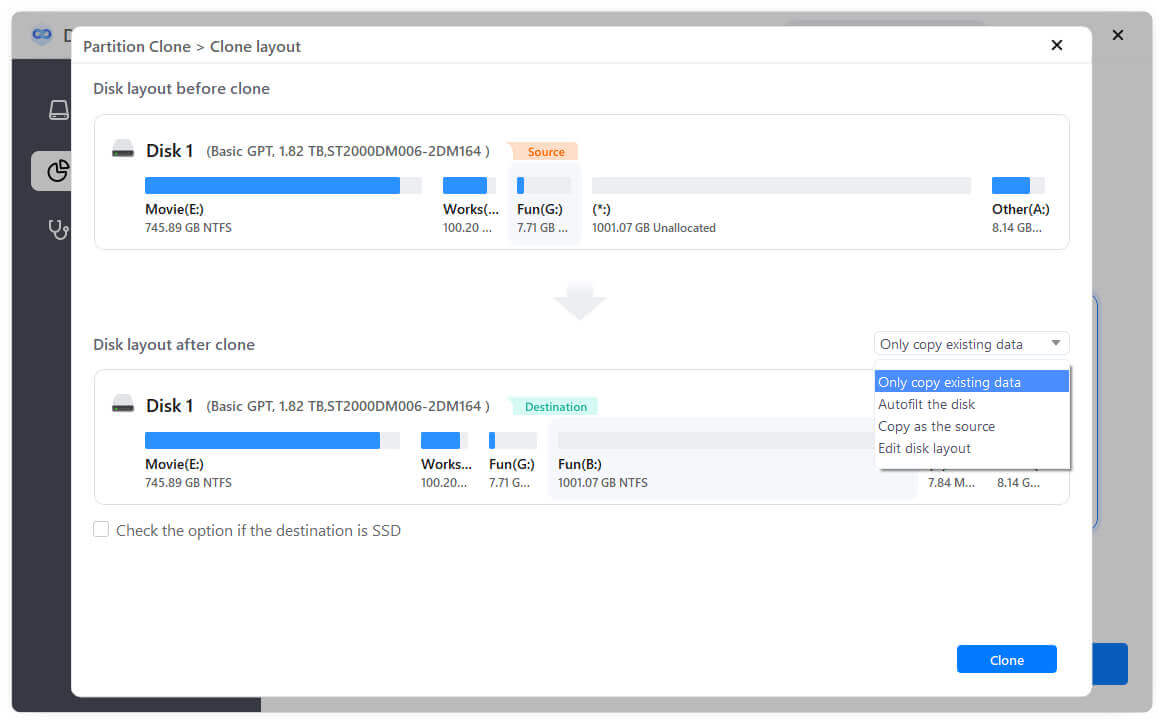 Step 3. Clone the partition and finish the clone process.
Please then click the Clone button to proceed the cloning. Also, please ensure to check if the clone is successful after cloning the NTFS partition.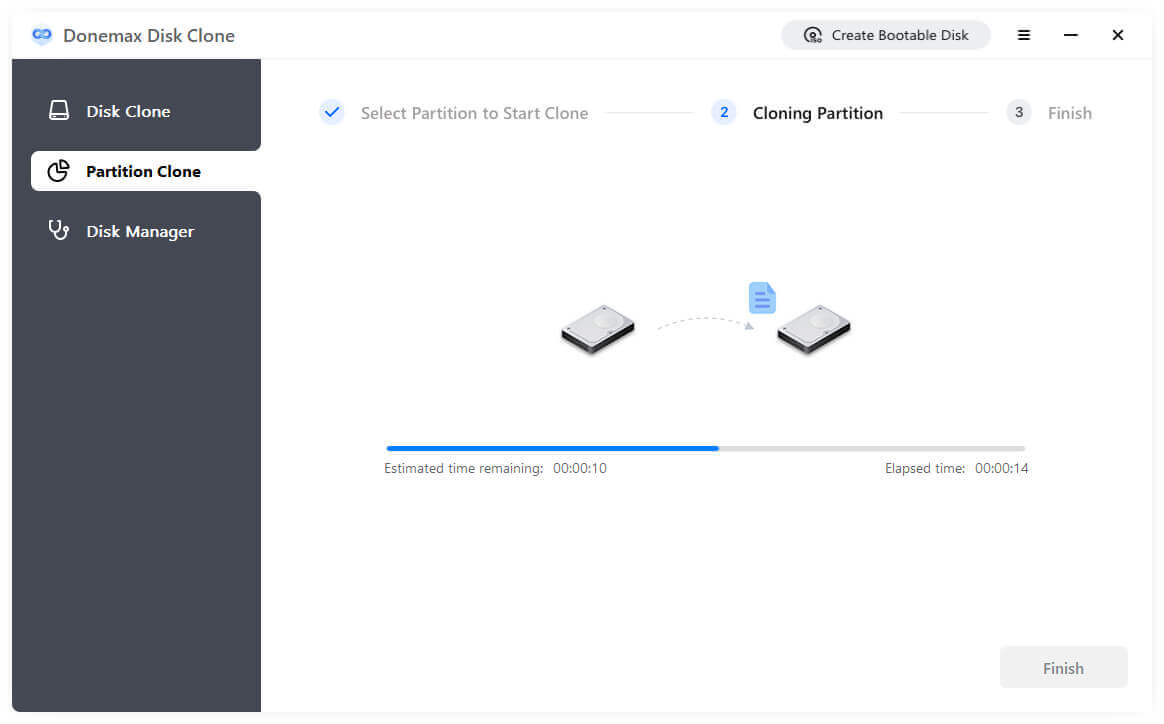 The software DMclone is also able to clone any other types of hard drive in Windows. It can clone FAT32, NTFS, ExFAT, and other hard drive. Besides, it's also able to clone SSD, USB flash drive, external hard drive, etc. The download is always available for you. Just download it to clone your drives if needed.