I want to change my computer disk to Intel SSD, but I don't know how can I safely and quickly clone HDD to Intel SSD? Indeed, with the rapid development of SSD, more and more users choose to use SSD as the system disk of their computers or use it for storing data and files, and Intel SSD is a popular product in the SSD field, so how can I quickly and simply clone HDD to SSD? Just read this one article, you can know the best Intel SSD clone tool and how to use it.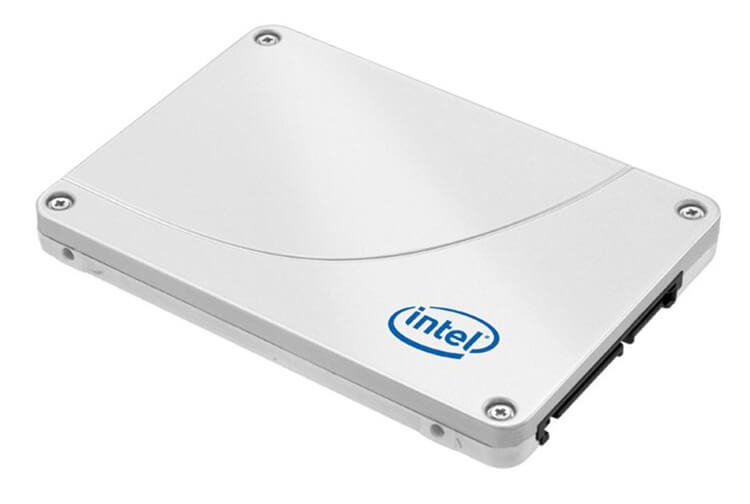 About Intel SSD clone tool
Intel SSD also Intel Solid-State Drive, it is a type of storage device that uses flash memory to store data. Intel SSDs are known for their faster data access times, lower power consumption, and greater durability compared to traditional hard disk drives (HDDs). Intel SSDs are manufactured by Intel Corporation, a leading semiconductor company. They offer a range of SSD products for various applications, including consumer, business, and data center use.
And what is Intel SSD clone tool? Intel SSD clone tool is to help users quickly and easily transfer data from an old storage device (such as a hard drive or SSD) to a new Intel Solid State Drive (SSD). The tool allows for easy migration of files, settings, and applications, minimizing the need for manual data transfer.
By using the Intel clone tool, users can enjoy the benefits of faster and more reliable storage without the hassle of manually transferring data or reinstalling applications.
Manually reinstalling the operating system, applications, and files on a new SSD can be a time-consuming task. The Intel clone tool helps to save time by automating the process and ensuring that all data is transferred accurately. Moreover, the Intel clone tool ensures that all data from the source disk is transferred to the destination Intel SSD without any loss or corruption. It performs a bit-by-bit copy of the content, ensuring data integrity during the cloning process.
Overall, the Intel clone tool provides a convenient and efficient way to transfer data from one SSD or HDD to Intel SSD, making it easier for users to upgrade or replace their disk without the hassle of reinstalling the operating system and applications manually.
What is the most reliable Intel SSD clone tool for Windows?
Although we know that using Intel SSD clone tool can be more convenient and faster, but there are so many products in the market, which one is the most reliable Intel SSD clone tool for Windows? Among the many products, I have to recommend one of the best Intel SSD clone tool- Donemax Disk Clone, which has been praised by many users for its fast, safe and simple disk clone function. Donemax Disk Clone, with its fast, safe and easy disk cloning features, has been praised by many users.
Here are the reasons why we choose Donemax Intel SSD clone?
Reason1: user-friendly interface
Donemax provides a simple and intuitive interface, making it easy for users to navigate through the cloning process. Even beginners can use it without any difficulties.
Reason2: fast and efficient cloning
Donemax utilizes advanced cloning algorithms, allowing for fast and efficient data transfer. It can clone large amounts of data within a short period, saving users valuable time.
Reason3: high compatibility
Donemax supports a wide range of SSD models, ensuring that users with different SSD types can successfully clone their drives. It also supports other major brands, making it versatile for various cloning needs.
Reason4: reliable technical support
Donemax provides reliable technical support to its users. If any issues or questions arise during the cloning process, users can reach out to the support team for assistance, ensuring a smooth cloning experience.
Reason5: sector-by-sector clone
This feature allows users to clone all sectors on the source disk to the destination disk(Intel SSD), including the unused sectors, ensuring an exact replica of the original disk.
How to use Intel SSD clone tool in Windows?
Don't worry about not knowing how to use Donemax Disk Clone for cloning to Intel SSD, just follow our guide, you can easily finish cloning HDD or SDD to Intel SSD without problems. Here are the steps to use Intel Clone tool in Windows:
1. Download and install the most reliable Intel clone tool-Donemax Disk Clone from the official website of Donemax.
2. Make sure that the original disk and the new Intel SSD can show up in the computer, then open and register in the Donemax Disk Clone.
3. In the main interface you can choose disk cloning or partition cloning according to your needs, of course if you only want to clone a certain file is also allowed. Then choose a disk or partition as your source disk, of course the target disk must be the Intel disk.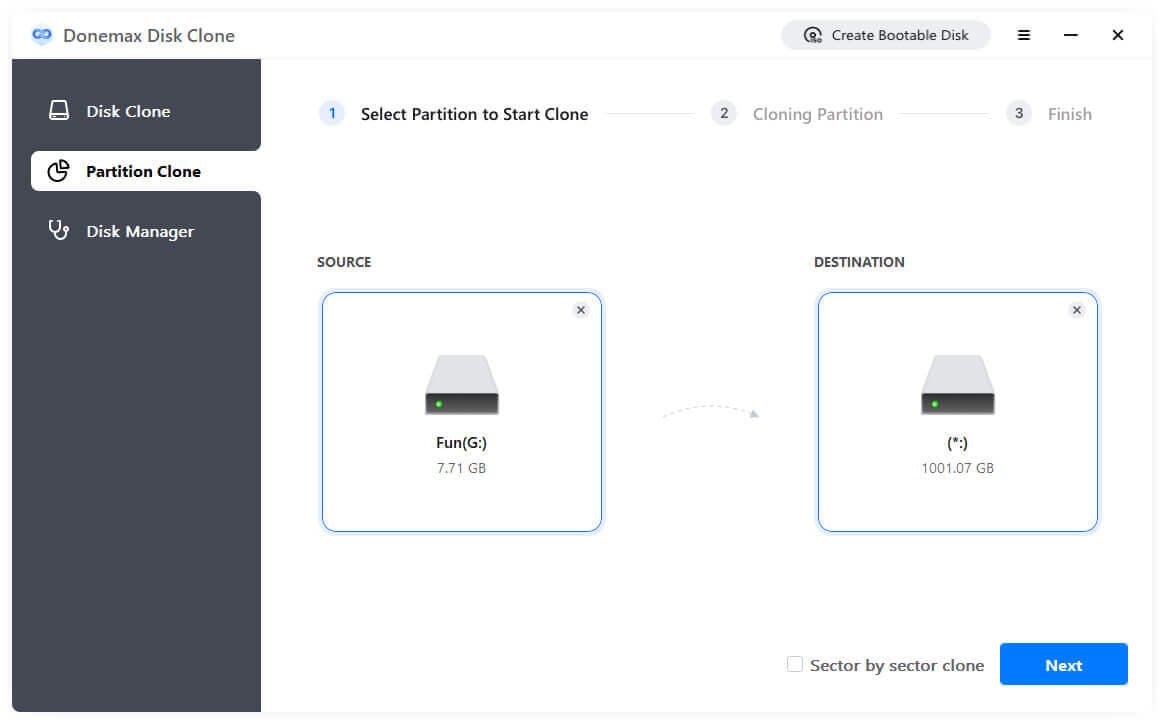 4. After confirmation, click "execute" to start the cloning process. The transfer speed may vary depending on the size of the data and the speed of your network.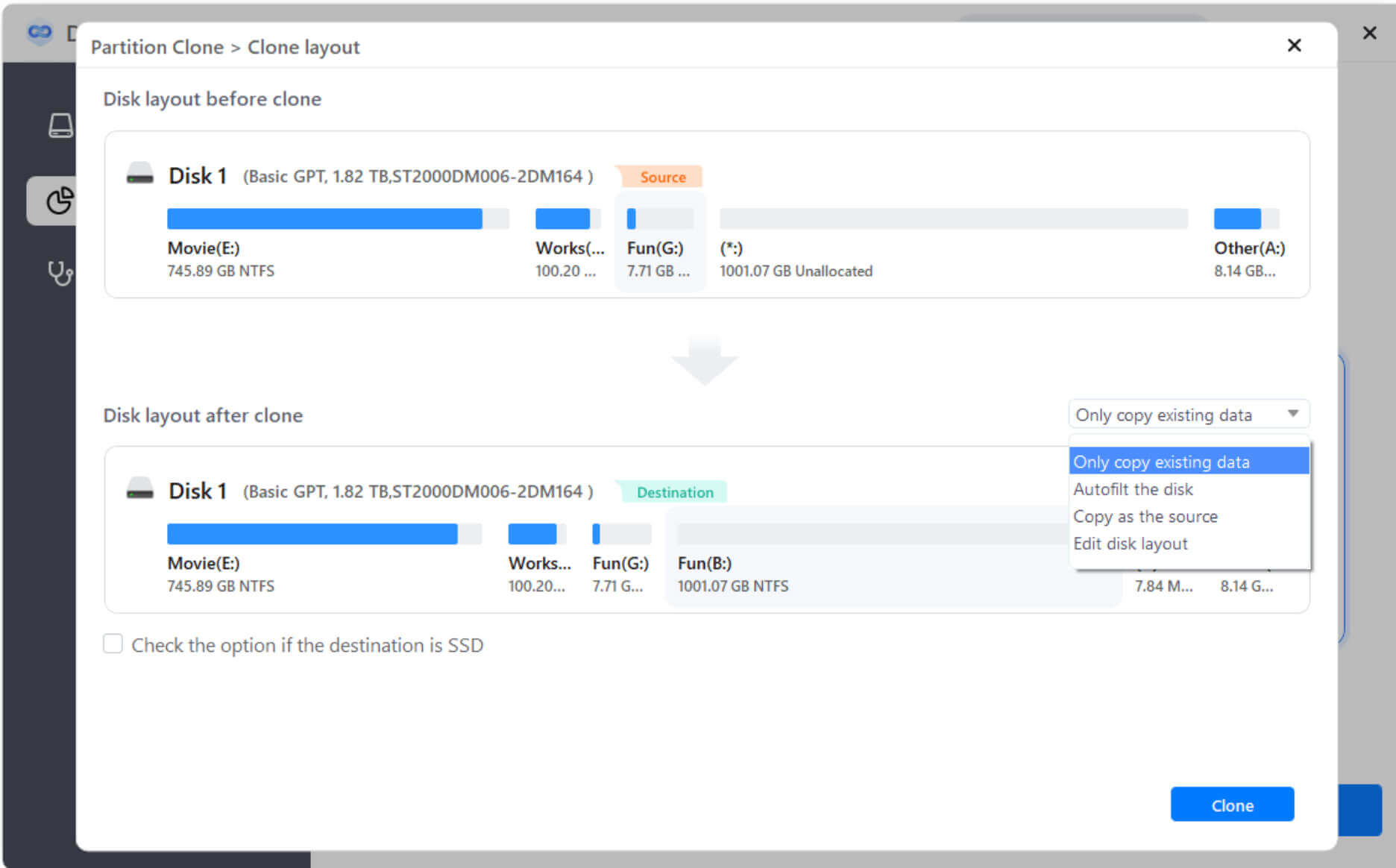 Note: It is important to back up your data before using any disk cloning tool to avoid any potential data loss.
FAQs about Intel SSD clone tool
Of course, Donemax Disk Clone supports different brands and types of SSDs, which can help you quickly complete disk cloning or partition cloning. What's more, all major devices are supported. You can clone the entire HDD, SSD, external drive, memory card, sd card, USB flash drive, etc. to another.
Of course, Donemax Disk Clone, as an expert in solving disk problems, pays great attention to protecting users' privacy and security. And Donemax solemnly promises that it will not commit any data theft during the cloning process, and is committed to helping users to clone or backup their data more safely.
The following methods can determine if the SSD is broken:
BIOS can accurately recognize the SSD, and the capacity and other parameters are correct.
The disk manager in the system can recognize the SSD, and the capacity and hard disk mode parameters are correct.
SSD can be initialized, partitioned, formatted, any of these operations cannot be carried out, it proves that the SSD is damaged (possibly bad sectors).
The SSD can be read and written to.
Final Words
What is the most reliable Intel SSD clone software for Windows? There is no doubt that Donemax Disk Clone should be the most safe and fast Intel SSD clone tool. Overall, the combination of its user-friendly interface, compatibility, efficiency, and reliable support makes Donemax a popular and reliable choice for Intel SSD cloning tool on Windows. If you still have some questions, just contact us or download it for trying now.

Contributing Writer
Christina is the senior editor of Donemax software who has worked in the company for 4+ years. She mainly writes the guides and solutions about data erasure, data transferring, data recovery and disk cloning to help users get the most out of their Windows and Mac. She likes to travel, enjoy country music and play games in her spare time.

Editor in chief
In order to effectively solve the problems for our customers, every article and troubleshooting solution published on our website has been strictly tested and practiced. Our editors love researching and using computers and testing software, and are willing to help computer users with their problems