With the rapid development of SSD, more and more choose to replace HDD with SSD, recently Samsung 970 EVO is popular among users due to its higher price/performance ratio, but it also meets many problems, for example, the speed of SSD is slowed down after the change, Samsung 970 EVO can't be booted, and so on, what to do to solve these problems? Just read this article, you will know how to clone to Samsung 970 EVO and boot it successfully. Read on.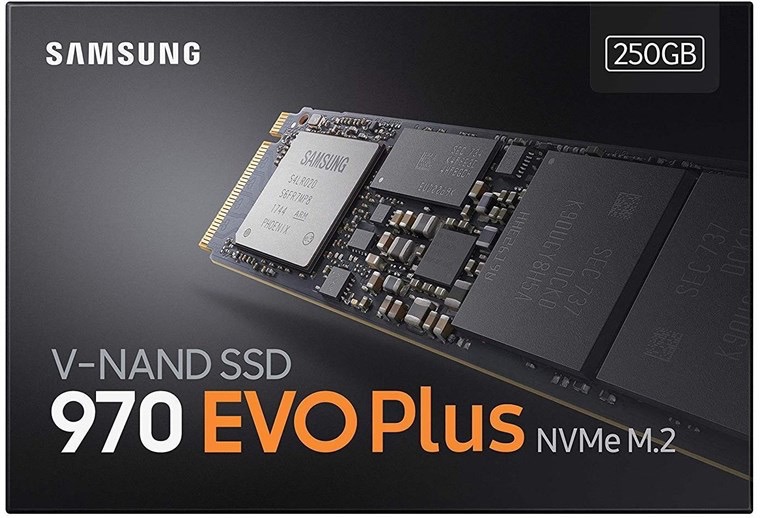 Features of Samsung 970 Evo
The Samsung 970 EVO is a high-performance solid state drive (SSD) that provides users with a fast and reliable storage solution. As the flagship product of Samsung Electronics, the 970 EVO has a great reputation in the SSD market. Featuring the latest NVMe technology, this SSD is equipped with a V-NAND flash memory storage chip that delivers excellent read and write speeds and reliability.
Benefits of Samsung 970 EVO:
Faster read speeds - The Samsung 970 EVO offers excellent read speeds. It utilizes a PCIe Gen3 x4 interface and can reach a maximum read speed of 3,500MB/s, which greatly enhances the efficiency of file transfer. Whether you're working with large files, editing HD videos, or multitasking, this SSD can handle it with ease.
Faster Write Speeds - The Samsung 970 EVO's write speeds are equally impressive. It utilizes TurboWrite technology, which delivers high-speed write performance in no time at all. Whether you're doing a backup of large amounts of data or a major game installation, this SSD is able to get the job done quickly and efficiently.
Durable and long-lasting - It utilizes the latest V-NAND technology for higher write endurance and longer lifespan. It also supports Dynamic Thermal Management, which effectively reduces temperature and improves stability and durability.
Security - Samsung 970 EVO provides hardware encryption to ensure data security and reliability. Whether you're running a large system or processing large amounts of data, Samsung 970 EVO is the first choice of many users because it provides excellent security and stability.
Problems you may encountered when clone Samsung 970 EVO
But it is not that once you buy back your Samsung 970 EVO, you can immediately migrate your data and system to the new SSD and use it. Of course not. Computer operations involving data are not guaranteed to be 100% successful, and you may encounter a lot of problems in the process. Here are the problems you may encounter during the process of cloning HDD to Samsung 970 EVO.
Problem 1: Long cloning time
A disc clone with many partitions on a single disc will result in a long clone time, which may take a lot of time and if it is accidentally interrupted in the middle of the process it will be a lost cause and you will have to start from scratch.
Problem2: Samsung 970 EVO does not boot up
Once the data is cloned, is it possible to boot up the PC with the new SSD right away? Of course not, it is possible that the new Samsung 970 EVO will not boot at all.
Problem3: Data Loss or Damage
When you want to boot up the system or open a certain file, you find that not all the data have been copied to the new Samsung 970 EVO, some of them can't be found, and some of them can't be opened even though they have been found, showing that the system files are damaged, what should you do?
Solutions for cloning Samsung 970 EVO
If you have encountered these problems when cloning HDD to Samsung 970 EVO, don't worry, we will explain in detail what you should do to solve the problem. The solutions are as follows:
Solution1
If the disc to be cloned has too many partitions and the files are too large, it will take a lot of time and may interrupt the cloning process, leading to the abandonment of the previous work.
Therefore, to face this situation, I recommend choosing a professional Samsung 970 EVO cloning software, such as Donemax Disk Clone, which is a safe and efficient disc cloning software.
If the cloning time is too long, you can use the partition cloning function to select the partition where the data is to be cloned, without having to clone the entire disc data, which will save some time and improve the cloning efficiency.
Solution2
There are several reasons why Samsung 970 EVO won't boot up after cloning, and of course, the solutions are different.
Firstly, if the Samsung 970 EVO fails to boot up it may be due to physical damage, so to make sure it can boot up successfully, you need to check the Samsung SSD before cloning and try to connect it on your PC to see if it shows up.
Secondly, if the Samsung 970 EVO is not compatible with the PC, then it will not boot even if the cloning is completed, although this is very unlikely, but it is possible if it is too old a computer system.
Finally, the reason for not booting may be the operation process is wrong, in this case, I recommend using professional disk cloning software, which does not require any basic knowledge of computers and is suitable for everyone.
Solution3
Data loss and damage, this is a very easy thing to happen in the process of data transfer, to avoid this kind of thing, I recommend using reliable and safe Samsung 970 EVO cloning software, which is not only convenient and fast, but also able to ensure the data integrity of the whole cloning process, and even be able to clone the whole disk of all the partitions and copy them completely to the new SSD.
There is numerous disk cloning software on the market, but I recommend Donemax Disk Clone, as a disk expert, Donamax is dedicated to solving all disk problems of users. It is a safe and fast disk cloning software that not only ensures that your data from HDD to SDD is not lost or damaged in any way, but also promises not to make any backups or theft of user data.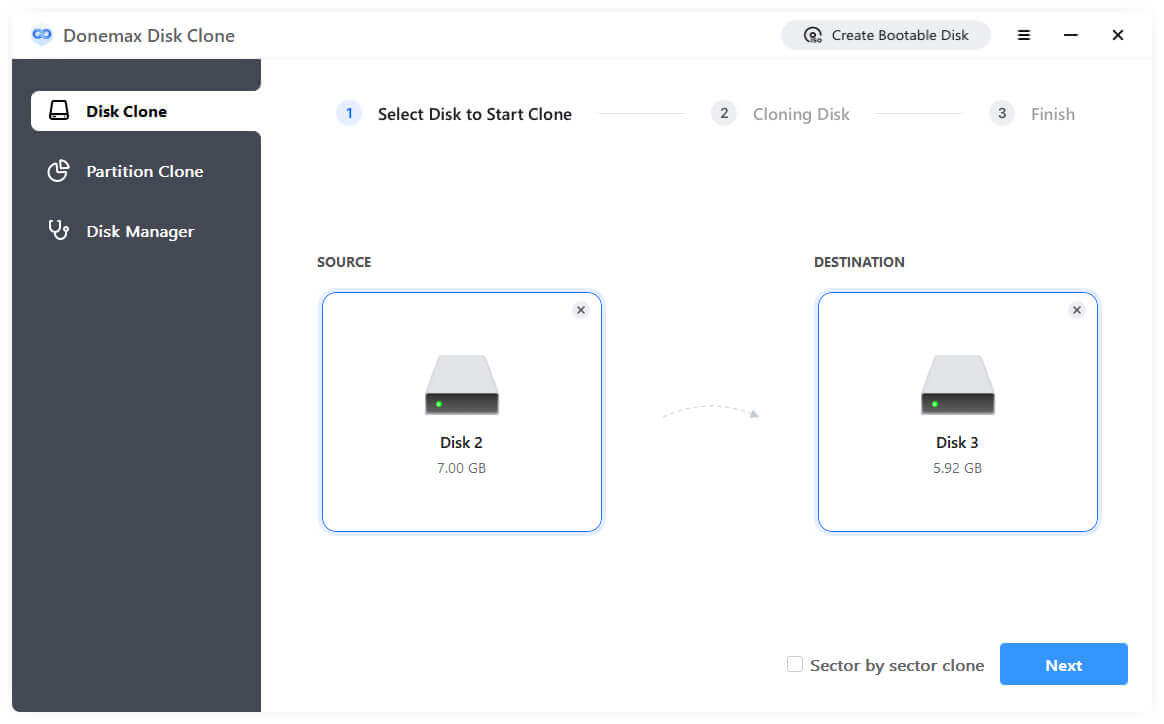 FAQs about cloning Samsung 970 EVO
Not sure, the factor that determines whether it is possible to clone HDD to Samsung 970 EVO completely is not the capacity of the HDD, but the capacity that the HDD is actually using. As long as the actual capacity of Samsung 970 EVO is greater than or equal to the capacity of the HDD that has already been used, then it is possible to clone HDD's data or files completely to Samsung 970 EVO without any data loss.
Although Samsung 970 EVO utilizes the universal M.2 interface, not all computers or motherboards support this interface. Before purchasing, you should check if your device supports the M.2 interface and check the compatibility list of your motherboard or device. Otherwise, the SSD may not be recognized or work properly.
As an SSD it can certainly be used as a system disk, but it is not recommended. Although the Samsung 970 EVO has a very fast read/write speed, the surface temperature of the SSD will rise to 50-70°C during long periods of high load, which will affect the performance and lifetime of the SSD. In addition, it is not particularly suitable for use as a system disk because it must be compatible with the M2 slot on the motherboard of the computer.
Conclusion
How to create a bootable Samsung 970 EVO? You may encounter a lot of problems during the cloning process. In order to ensure the safety of the whole cloning process, it is recommended to use professional cloning software, you just need to open the software, select the disk or partition you want to clone, or even one of the files, and then identify the target disk (that is, the Samsung 970 EVO), click on Start and you can complete the whole cloning process without worrying about data loss. Samsung 970 EVO won't boot after cloning. Download it and give it a try.
Related Articles

Contributing Writer
Christina is the senior editor of Donemax software who has worked in the company for 4+ years. She mainly writes the guides and solutions about data erasure, data transferring, data recovery and disk cloning to help users get the most out of their Windows and Mac. She likes to travel, enjoy country music and play games in her spare time.

Editor in chief
In order to effectively solve the problems for our customers, every article and troubleshooting solution published on our website has been strictly tested and practiced. Our editors love researching and using computers and testing software, and are willing to help computer users with their problems