"I have used my Adata external drive for a very long time. However, the drive is not accessible on my computer today. I have many important files on the drive. How to recover my file from the drive?"
Adata external drive is widely used to store data and Adata offers external HDD and SSD. Also, you can use the Adata USB flash drive to store or transfer data. However, some issues will happen on the Adata portable drive and cause data loss. It happens to many users and that why so many users ask for data recovery solutions for Adata external drive. We will show you the solutions to recover lost data from Adata external HDD or SSD.

Common issues that will cause data loss on Adata external HDD/SSD
Adata external HDD/SSD is commonly used by many users. And there are different kinds of issues that will happen for users. Some issues will, unfortunately, cause damage to the drive and lead to data loss on Adata external HDD or SSD.
Delete files from Adata external HDD/SSD.
Format Adata external HDD/SSD by mistake.
Unformat Lexar USB flash drive.
Lost volume(s) on Adata portable drive.
The file system of Adata drive crashed.
Water is damaged or the drive is dropped to the floor.
Unplug from the drive without ejecting safely.
If you lost files in any case as mentioned above, you can try to recover the lost data. To recover the deleted/lost files effectively, we suggest you have a try with the professional software Donemax Data Recovery.
A simple guide to recover data from Adata external drive
The data recovery software is very simple and can easily retrieve deleted/lost files from Adata external HDD/SSD. You can use the software to recover lost photos, video clips, audio files, documents, or any other type of data.
The software can be used on different operating systems, like Windows Vista, 7, 8, 10. With only a few clicks, you can recover your lost files from the Adata external drive.
Step 1. Run the software and choose Adata external HDD/SSD.
Start the software Donemax Data Recovery and it will show you all the connected drives on the computer. Please check and choose your Adata external drive.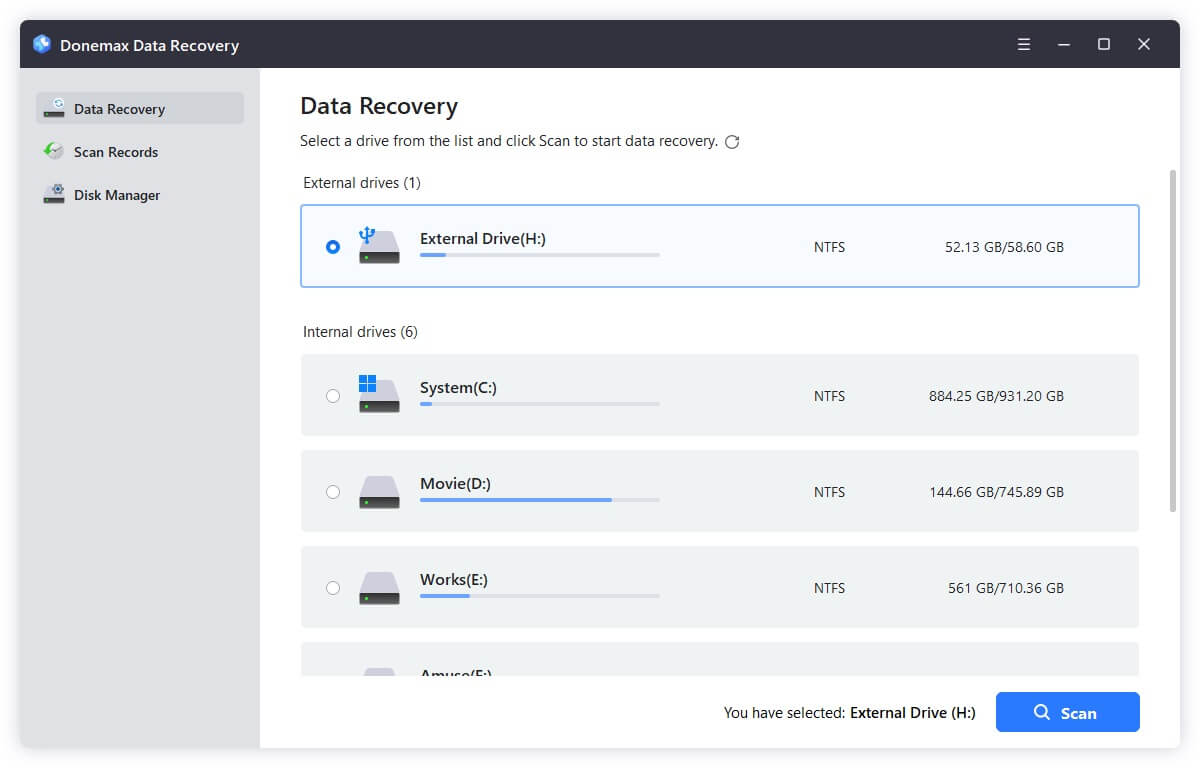 Step 2. Scan the Adata external HDD/SSD.
After clicking the Scan button, the software will automatically scan the Adata external HDD/SSD. It will deeply scan the drive to look for the lost files.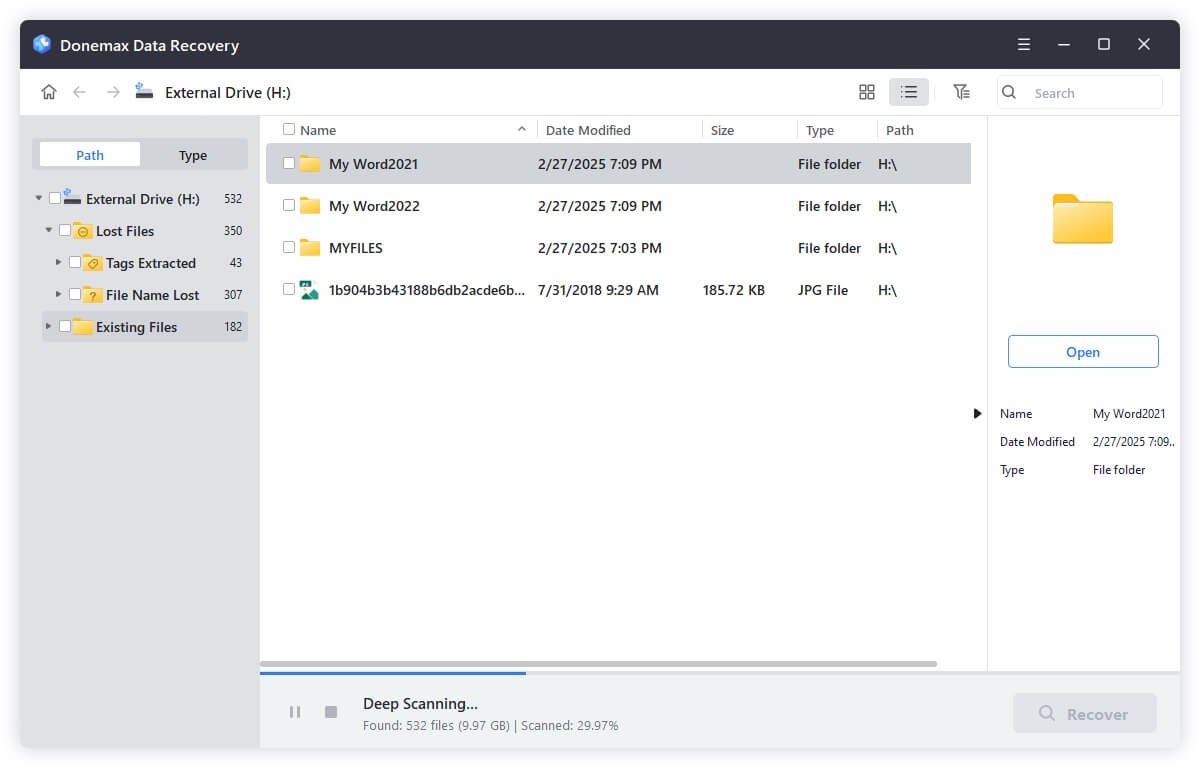 Step 3. Check and recover the lost files.
Once the scan is completed, the software will show you all the found files. Please check and preview the files first, and then choose the wanted files to recover.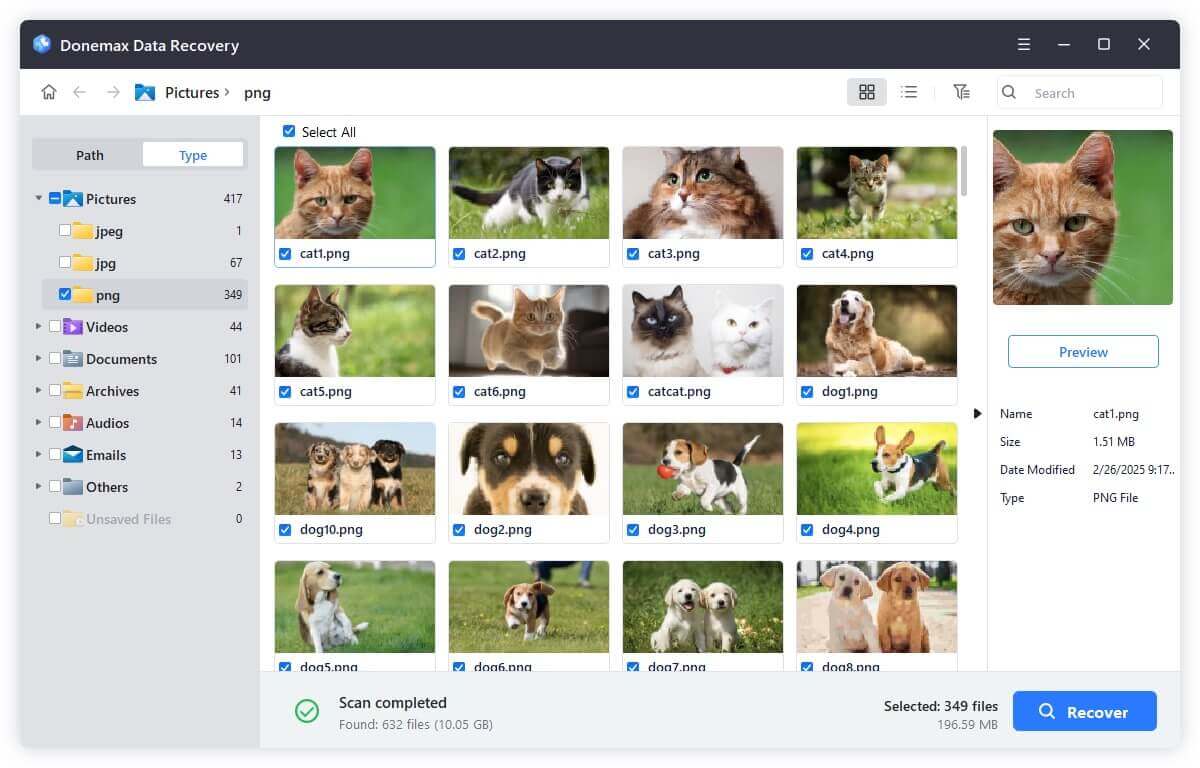 Note:
1. Stop using the drive and don't add new data to the drive to avoid further damage to the lost files.
2. Start data recovery to get back lost data immediately once data loss happens.
3. Save the recovered files to another drive. Otherwise, the lost files will be damaged/lost permanently.
The software can also recover lost data from WD external hard drives or any other brands of external or portable drives. If you deleted files or lost data due to other reasons, you can download Donemax Data Recovery to help you rescue the files quickly.