My important files have been cleaned up! Are you in the same situation, because your disk is almost full or your computer is running slow, you did a disk cleanup, but many important files you have in your disk were also cleaned up, what should you do, how can you undo the disk cleanup? Don't worry, we will introduce you the 4 best ways to undo disk cleanup.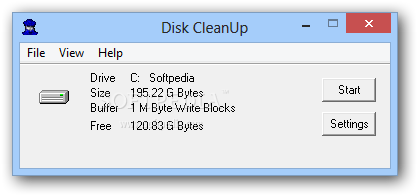 PAGE CONTENT:
What is disk cleanup?
Disk cleanup of a computer is the operation of freeing up disk space by deleting unnecessary files. It is a very common computer operation and almost everyone who owns a computer will encounter a moment when they need to perform a disk cleanup. There are several ways to perform disk cleanup.
1. Use the Disk Cleanup application that comes with Windows, and the operation is also very simple. Select the drive and file type you want to clean up, and make sure the files are useless, then click Confirm, and the files you want to clean up have been deleted.
2. Transfer the programs in your disk to an unused disk or removable hard disk, thus making the commonly used disk keep enough storage space to support the operation of your computer operating system, or just uninstall some unused programs stored in your disk to free up disk space and reduce the use of your C drive.
3. Use a third-party cleaner, such as CCleaner, Donemax Data Eraser, the advantage of third-party software is that it is very thorough and does not leave any residue, and it is very easy to operate, you just need to select the disk or a file you want to clean, add the data erasing software, and then click OK, your disk will be cleaned up very well.
4. Clean up the Windows.old file left by the Windows system upgrade, this file is usually used to fall back to the original system after the system upgrade is finished, if you are sure you don't need to fall back, you can delete it directly, this can also free up more space for the disk.
Is it possible to recover files from disk cleanup?
It is certainly possible to recover files that have been cleaned up by disk cleanup, and in the next section we will describe three methods to undo disk cleanup. However, before undoing the disk cleanup, we need to do some preparatory work.
step 1. First of all, we need to check what kind of cleanup method we have chose when we do the disk cleanup. If you use the disk cleanup program that comes with the system, or just delete or transfer some files or data, it is possible to recover them completely by the three methods we introduce below. But if you use professional third-party cleanup software, this deletion is permanent and cannot be recovered by any method.
step 2. After confirming the method used for disk cleanup, it is recommended to back up the data on the disk where the operation will be performed, after all, no operation can guarantee that the data will never be damaged, and the data backup is to avoid causing greater losses.
4 ways to undo disk cleanup and recover lost files
How to undo disk cleanup and recover lost files in Windows? Before that we have to understand the principle of data storage, data is stored in sectors on the disk, if you simply delete or clean the data, in fact, the sectors of data storage are not cleaned up, they are cleaned up only by the name of the file representing the data. All that is cleaned up is the name of the file that represents the data. So, if you want to undo the disk cleanup and recover your important files or data, there are three ways:
➡️
Way1:

Reinstall or transfer back

In order to clear up the disk space, you may have uninstalled some applications or programs that come with the system, but the uninstallation or transfer of these programs may affect the running speed of your computer, so if you want to restore the normal operation of your computer, you just need to re-download the programs or transfer the necessary programs back to ensure the running efficiency of your computer.
➡️
Way2:

Use professional data recovery software - Donemax Data Recovery

If you deleted or cleaned the Recycle Bin at once, you can try to recover it with the help of data recovery software, here we recommend "Donemax Data Recovery", which can directly scan all the data on the disk and recover hundreds of file formats in a few simple steps, without worrying about common files and system files.

Donemax Data Recovery is a professional data recovery software that can safely and efficiently recover your lost files due to disk cleanup, plus it has many additional functions, whether you want to partition and name a new disk or re-divide an already used disk.

Steps to Undo Disk Cleanup and Recover Deleted Files with Donemax Data Recovery:

Step 1. Download and install Donemax Data Recovery on your Windows system. Run Donemax Data Recovery and select the disk you want to undo disk cleanup on and select the folder where you want to recover the files or data.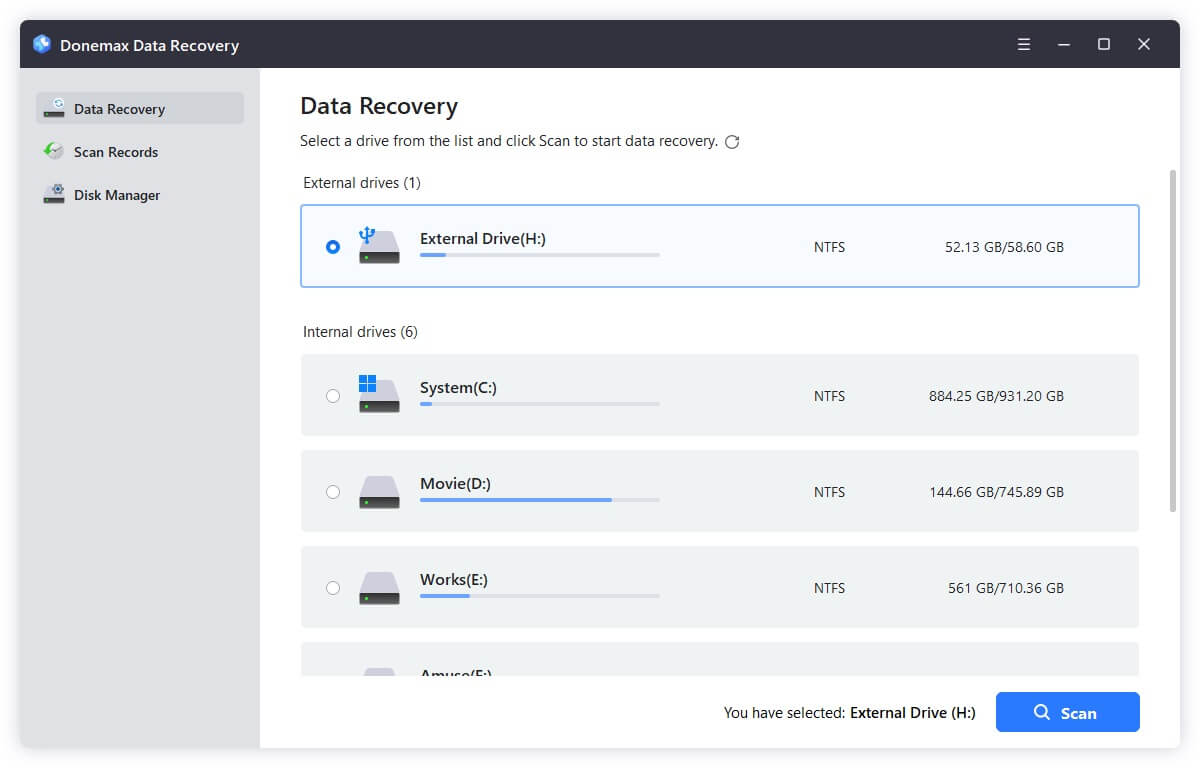 Step 2. Click the Scan button to continue and the software will look for lost files from disks and folders.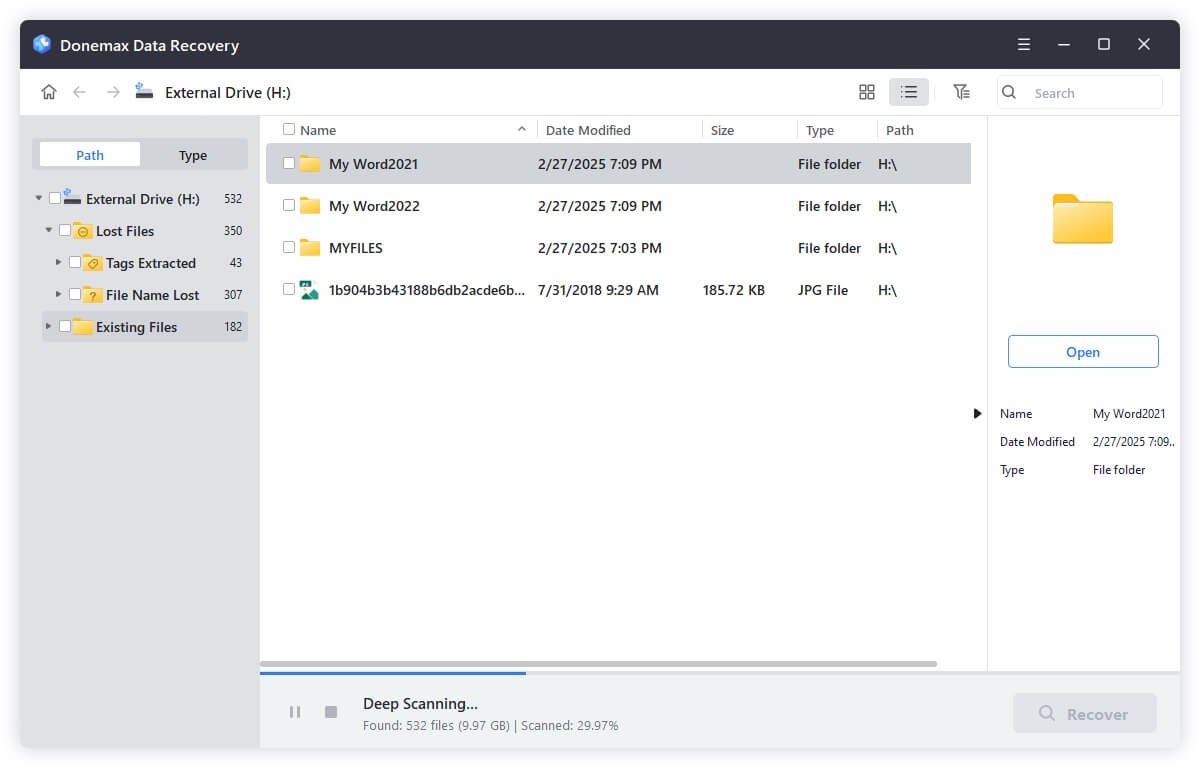 Step 3. After scanning the disks and folders, you can check the found files to recover the desired files.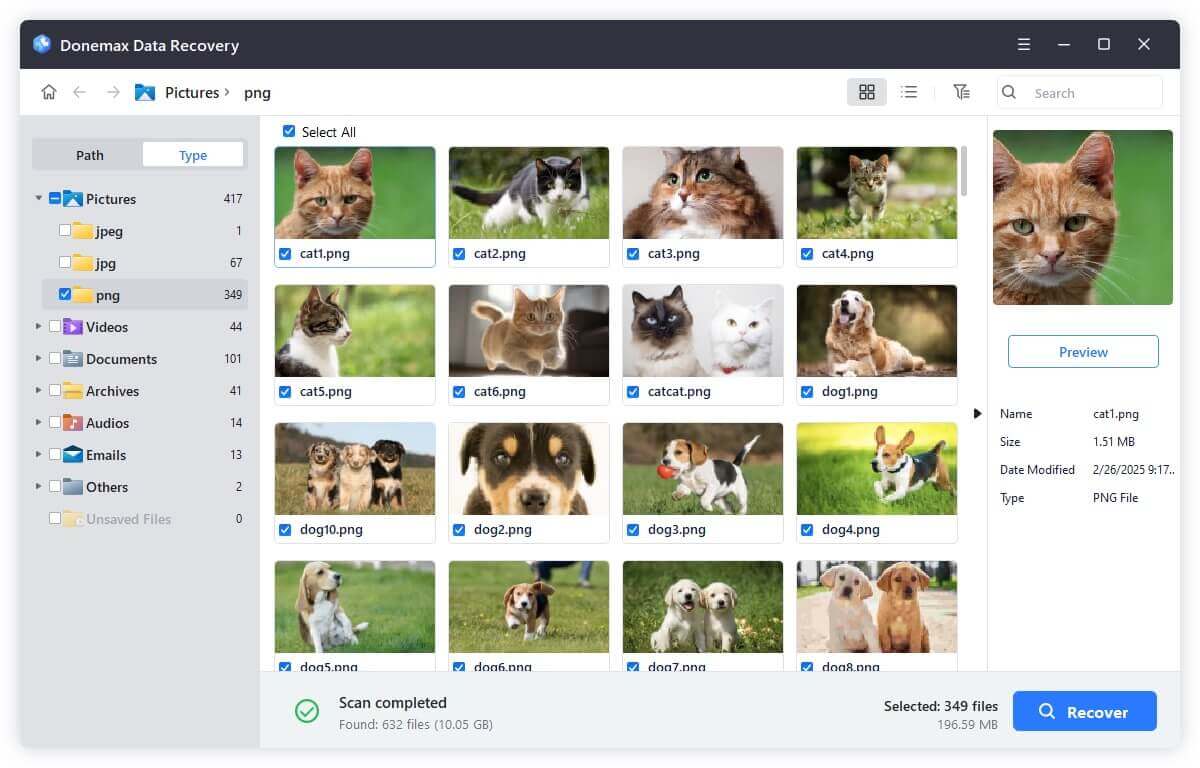 ➡️
Way3:

Backup recovery or reinstall the system

If the system files are deleted, in the case that the system is backed up and you know which files are deleted, you can use tools such as browser to extract the recovery from the backup file to the disk; if there is no backup, you can use the reinstallation method to solve the problem.
➡️
Way4:

System data recovery

If neither ordinary programs nor system files, but some personal important files saved in the C disk, for the ordinary method of deletion through the Recycle Bin can be restored directly, you can also use the windows system self-repair.

This method is especially worth noting that after the file is deleted, if no more data is written to the partition, then the recovery is more certain, but if data is written to the partition again, it is possible that part of the file has been overwritten by the written data, and then it is more difficult to recover.
Conclusion
How to undo disk cleanup and recover lost files in Windows or Mac OS? We have told 4 different ways for different situations. But if you use the methods that come with Windows or reinstall the system directly you may not be able to fully recover your deleted files because there is a possibility of data overwriting, and in addition, you need to distinguish exactly which case of disk cleanup you belong to.
However, with Donemax Data Recovery you don't have to worry about this, it can solve all the above-mentioned cases of file loss caused by disk cleanup. And it is an absolutely safe and efficient data recovery software that is dedicated to providing users with a full range of disk-related services and one-stop solution for disk problems. Download it now and try it now.
Related Articles

Contributing Writer
Christina is the senior editor of Donemax software who has worked in the company for 4+ years. She mainly writes the guides and solutions about data erasure, data transferring, data recovery and disk cloning to help users get the most out of their Windows and Mac. She likes to travel, enjoy country music and play games in her spare time.

Editor in chief
In order to effectively solve the problems for our customers, every article and troubleshooting solution published on our website has been strictly tested and practiced. Our editors love researching and using computers and testing software, and are willing to help computer users with their problems