PAGE CONTENT:
The backup disk you use with Time Machine will eventually become full. While Time Machine is smart about backing up updated data, the storage device will eventually get full. So then what?
Time Machine will first back up everything on your starting Disk. After that, Time Machine stores backups every hour for the previous 24 hours, every day for the previous month, and every week for all prior months. If you make changes to the same file several times each day, every day, you should save multiple copies of it in your backup set so that you can easily revert to an earlier version if necessary.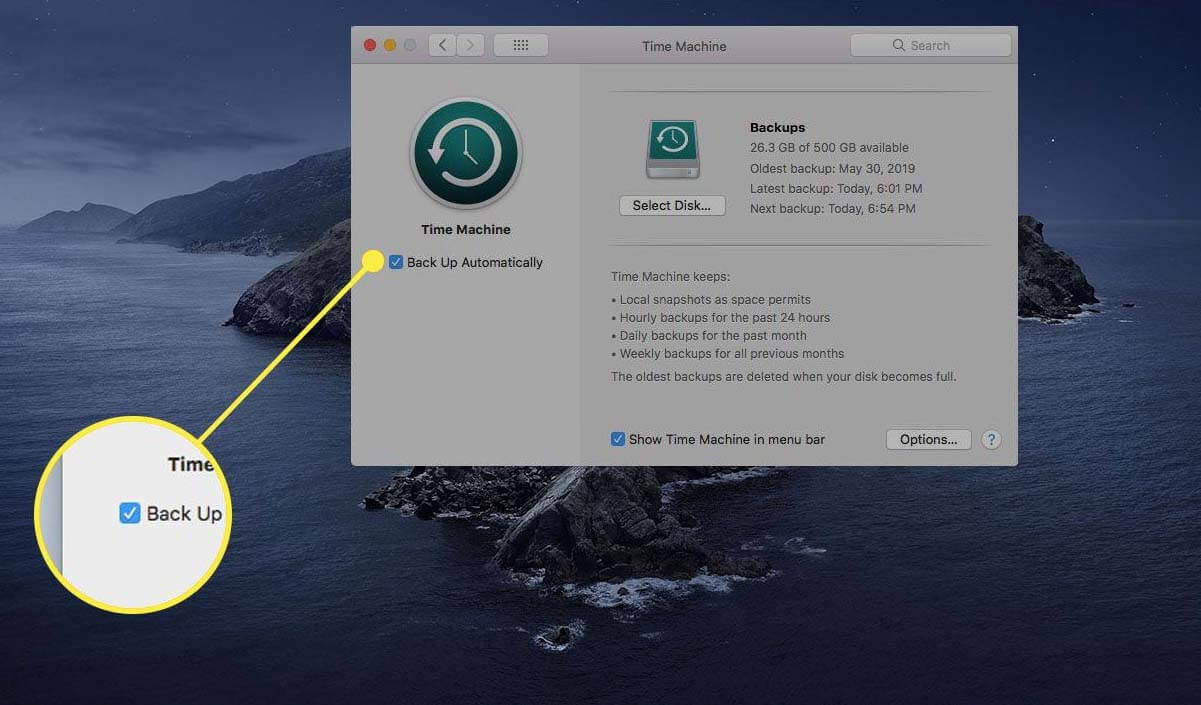 When your backup disk becomes full, Time Machine will immediately begin erasing earlier copies, starting with the oldest. When this begins, you will receive a warning and be informed of the age of your oldest remaining backup. As long as Time Machine keeps the most current version in the backup, you likely don't need all the earlier versions of altered files.
What format does Mac Time Machine use?
Mac Time Machine disks should be formatted in either APFS or APFS Encrypted. Users must first format a fresh disk as APFS if they pick a blank disk. But why exactly is the Time Machine format necessary?
A well-known file system format is the disk format. It's the arrangement of your files on the hard Disk. In addition, the format controls how your Mac's Time Machine interprets the disk drive's contents while reading and writing data. The quality of the Time Machine disk's format is, thus, crucial.
How to connect the PC to the Time Machine?
Here are the steps you need to do to connect the disk in your new computer to your Time Machine:
Verify that you have successfully restored your backup onto the new computer. Verify once more that everything is on the internal disk, even though you should have all your backups.
Find out where your backups are kept. The Time Machine backup database may be accessed by double-clicking the Backups.'backupdb' icon in Finder. Double-click if there is just one folder. It will include your computer's name. When you see the link labeled Latest at the bottom of the page, click it twice. At this point, double-click the directory that includes your hard drive's name.
Go to the View menu and pick Show Path Bar. You should notice something at the very bottom of the Finder window.
★ Backup with Time Machine:
When you plug in a freshly formatted or untested external hard drive, macOS will ask if you want to utilize it for Time Machine backups. In the resulting box, click Use as Backup Disk to launch Time Machine and begin the first backup. If you aren't prompted to choose a drive or want to switch to a different one, go to System Settings > General > Time Machine.
Create a New Drive or Erase Your Backup Drive
As we've covered, Time Machine's ability to keep track of file revisions is a nice perk. You know yourself best, though, so only you can answer if you utilize Time Machine to restore everything in the case of a disk failure or whether you need to go back to such old versions. If the latter is the case and you aren't very attached to your data's historical versions, formatting a new disk or starting over is a smart option.
Risky as it may be, wiping your current disk will leave you without a Time Machine backup until your new drive is ready. If the disk has already reached capacity, it will likely do so again, and soon, unless you remove some huge folders.
If you insist on proceeding in this method, launch Disk Utility, navigate to the Time Machine disk in the left pane, and click the Erase button. After that, choose the drive you just formatted in Time Machine's options and click choose disk. You might have to go into the Backup Disks section and choose it before you can remove it.
Getting a new, larger backup drive and starting again is simpler and more practical, if more costly. Connect the new drive, then go into Time Machine's options and click the Select Disk button.
Reformat Time Machine Backup Drive with Donemax Data Eraser
Disk Utility can help you reformat a Time Machine backup drive, but the data stored on the drive is not lost forever and can be recovered by data recovery software. If you want to permanently wipe all data off before you sell or donate the Time Machine backup drive, you can use a data erasure software - Donemax Data Eraser.
Donemax Data Eraser offers military & government data erasure standards including HMG Infosec Standard 5 (1 pass), Peter Gutmann's algorithm 2 (2 passes), U.S. Army AR380-19 (3 passes), DoD 5220.22-M ECE (7 passes), Peter Gutmann's algorithm 35 (35 passes). If you want to permanently erase data from the Time Machine backup drive, just try this software.
Step 1. Open Donemax Data Eraser and choose Erase Hard Drive mode.
Step 2. Select the Time Machine backup drive and click on Erase Now button.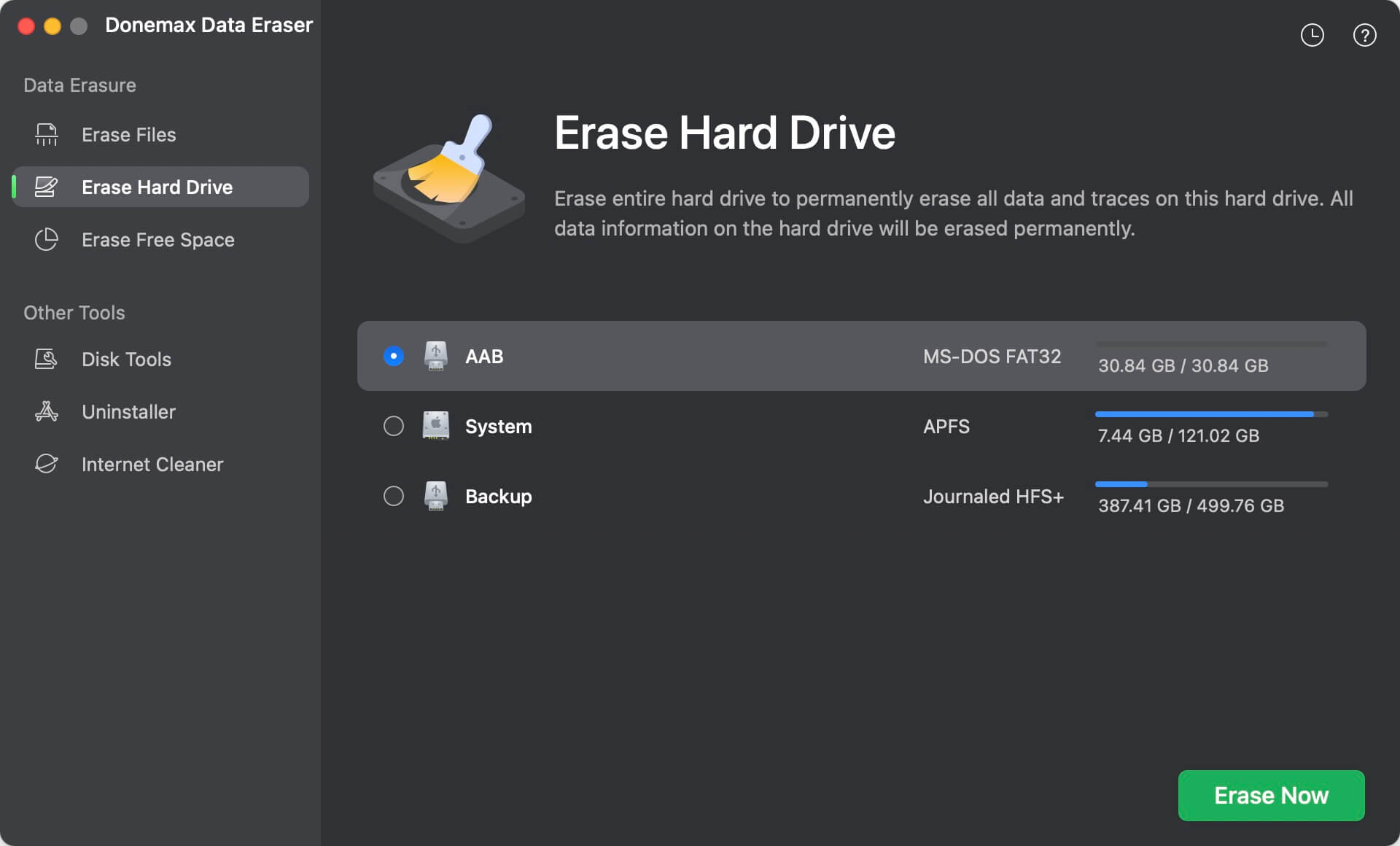 Then this software will format and wipe the Time Machine backup drive.
Conclusion:
Your Mac has a built-in backup system called "Time Machine." Time Machine is compatible with local hard drives, Time Capsules, and supported network volumes on Macs.
When you plug an external hard drive into your Mac directly, you may be prompted to utilize it for Time Machine backups. Just choose "Use as Backup Disk." If you want to encrypt your backups, only those who know the password may access them.
If you want to reformat the Time Machine backup drive, just open Disk Utility, select the drive and choose Erase. Or, download a disk erasure software to help you wipe the Time Machine backup drive to permanently erase data from it.

Contributing Writer
Lucien is a writer and a chief programmer of Donemax software who has worked in the company for 5+ years. He has written much of the content on the site and devotes to providing troubleshooting and solution for Windows and Mac users including disk cloning, data recovery, migration, eraser, error fixes.

Editor in chief
In order to effectively solve the problems for our customers, every article and troubleshooting solution published on our website has been strictly tested and practiced. Our editors love researching and using computers and testing software, and are willing to help computer users with their problems