Apple released a new file system - APFS. The Apple file system is compatible with macOS, iOS, and some other Apple devices. With better encryption and faster processing, file systems have certainly made headlines this year. If you're new to APFS, you've come to the right place. In this post, we will familiarize you with all the amazing features and benefits of the Apple File System (APFS).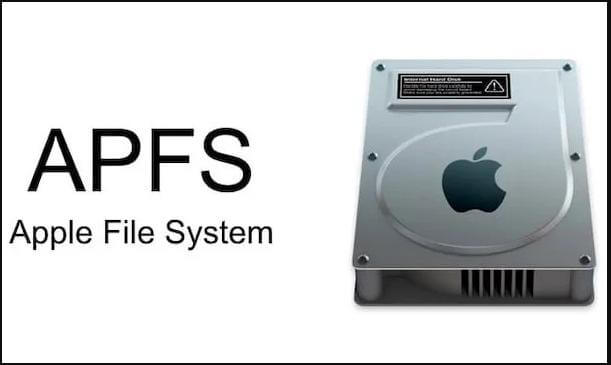 Part 1: Introduction to Apple File System (APFS)
What is APFS?
APFS (Apple File System), like other file systems, is a process that controls how data is stored and retrieved on storage devices such as hard drives. It replaced Mac OS Extended as the default file system for Mac startup disks in 2017 from macOS High Sierra (10.13).
There are four types of APFS in Disk Utility, including APFS, APFS (encrypted), APFS (case-sensitive), and APFS (case-sensitive, encrypted). The "Case Sensitive" feature means that file and folder names will be case-sensitive. And the "encryption" feature means that encryption is available for the volume.
APFS features snapshots, encryption, space sharing, cloning, crash protection, and more, taking data storage and transfer performance to a new level.
Part 2: How to Get Apple File System (APFS)
Getting the new Apple File System (APFS) is very simple. All you need to do is upgrade your Apple device to the previous OS. For example, if you want your iPhone to support APFS, you need to upgrade it to iOS 10.3 or later. This is for Mac. After upgrading it to High Sierra, your Mac will start supporting APFS.
Upgrade your iOS device
If you own an iOS device such as an iPad or iPhone, you can easily upgrade it to experience the new file system. Before that, you must ensure your iOS device supports the 10.3 updates. To upgrade your device, unlock it and go to its Settings > General > Software Update. From here, you can check out the latest version of iOS.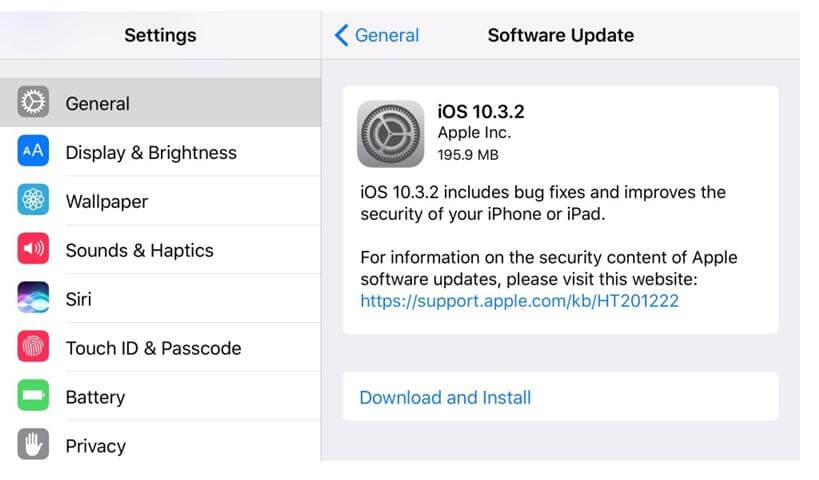 Just click the "Download and Install" button, wait a while, and then download the new update. After a time, your device will automatically reboot and upgrade to iOS 10.3 with the new file system.
Learn More: What is HFS+; What is NTFS
Update Mac to High Sierra
After upgrading the system to macOS 10.13 High Sierra, the file system will be automatically converted from HFS+ to APFS. Automatic conversion will support internal SSD drives. However, external storage units such as SD cards or USB drives are not automatically converted.
Before going ahead and upgrading your Mac, make sure the prerequisites are met. For example, you'll only get the High Sierra upgrade on a Mac if it's running on OS X Mountain Lion 10.8 or later. Ideally, devices manufactured after the end of 2009 support the update. Additionally, the system should have at least 15 GB of free space to complete the upgrade.
Just visit the official website of macOS High Sierra after meeting all the required prerequisites. Click the "Upgrade Now" button to get the update. Once downloaded, it will automatically start installing the update. If not, you can start the installer manually. Follow the on-screen instructions and wait for a while as your Mac will reboot to High Sierra.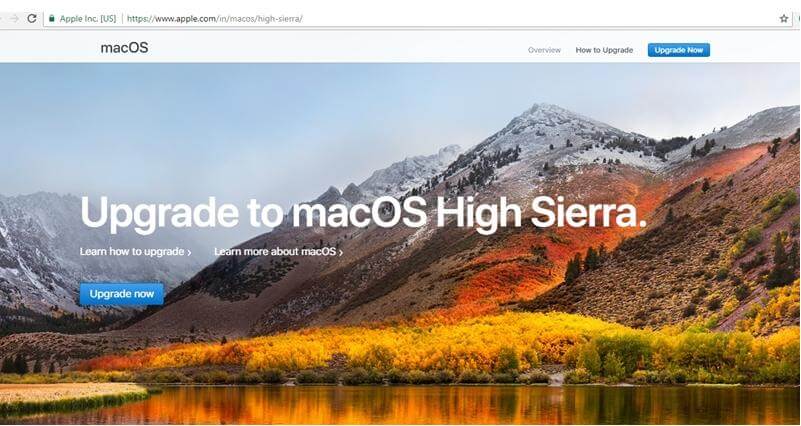 Note: Users back up their data multiple times before upgrading via Time Machine. In this case, so far, Time Machine on Mac cannot be formatted to APFS. It can backup data in APFS, but the target should be HFS+. Therefore, manual conversion of Time Machine disks is not recommended. Let your macOS handle it automatically.
Features of APFS
APFS adds new features and improved functionality to bring higher performance and faster data transfer.
Following are the main advantages of APFS.
Brings higher encryption: APFS allows built-in full disk encryption and file encryption. With full disk encryption, all data on your drive will be well encrypted without any chance of malware attacking it.
Cloning is supported: The cloning feature of APFS enables the operating system to copy files or directories without taking up additional space on the same volume. This can reduce the storage space used for document copies.
Allow space sharing: APFS supports multiple volumes within a partition (container). And these volumes in the partition can share their free space, which helps you make the most of the space and store more data.
There is collision protection: The APFS file system uses a technical measure called redirect-on-write to avoid metadata corruption due to system crashes. This feature prevents permanent data loss due to macOS updates.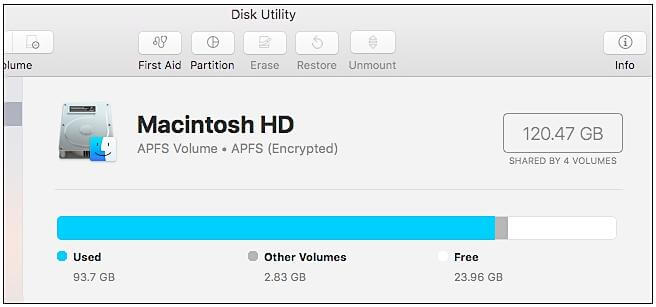 Limitations of APFS
While APFS has powerful and advanced features, it also has some pitfalls to be aware of.
Not hard drive friendly: APFS was developed for SSD and flash storage devices. So it works well in harmony with them. If used on an HDD, the data transfer speed will decrease as more data is stored on the HDD. And some features of APFS don't perform as well on HDDs as on SSDs.
Operating system compatibility is limited: APFS released with macOS High Sierra is only compatible with macOS High Sierra and later. Windows and Linux do not support full read and write access to APFS drives.
Not compatible with Time Machine before macOS 11:Starting with macOS 11 Big Sur, the default file system for Time Machine backup drives can be APFS or HFS+. The only default file system format for macOS Catalina and previous versions is HFS+. This will make APFS formatted drives used for Time Machine backups unusable on macOS Catalina or previous versions.
Frequently Asked Questions about APFS
Q1. What are file system formats available in Disk Utility on Mac?
For macOS 10.13 or later, there are four file systems available in Disk Utility, including APFS, Mac OS Extended (HFS+), and exFAT.
Q2. What is the best format for a Mac hard drive?
It depends on your drive type and purpose of use. For your Mac's internal hard drive, the default format is APFS. The best format is exFAT if you want to format an external hard drive on Mac. Because exFAT has higher operating system compatibility, it can be compatible with Mac OS, Windows, and Linux.
Q3. What format should the Time Machine drive be in?
You better use HFS+ (Mac OS Extended) as your Time Machine drive. For macOS Catalina or earlier, Time Machine only allows HFS+ drives as backup destinations, while in macOS Big Sur, both HFS+ and APFS are available. Therefore, to avoid problems caused by Time Machine's limitations on older and newer operating systems, you should choose HFS+.
Hot Donemax Products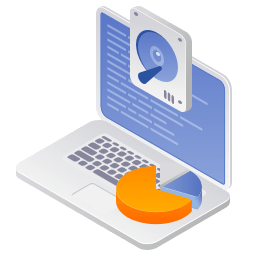 Clone hard drive with advanced clone technology or create bootable clone for Windows/Mac OS.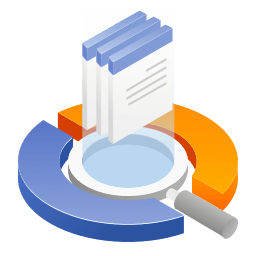 Completely and easily recover deleted, formatted, hidden or lost files from hard drive and external storage device.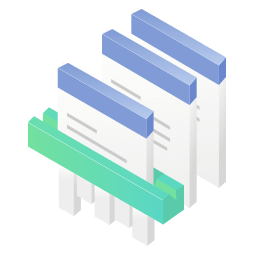 Certified data erasure software - permanently erase data before selling or donating your disk or any digital device.