"Hi, I connect an WD external hard drive to my Mac and try to copy all my images and videos to the external hard drive, but it does not work. I can't copy any file to the WD drive, what should I do?" - Lisa
PAGE CONTENT:
Can't write data to NTFS drive on Mac?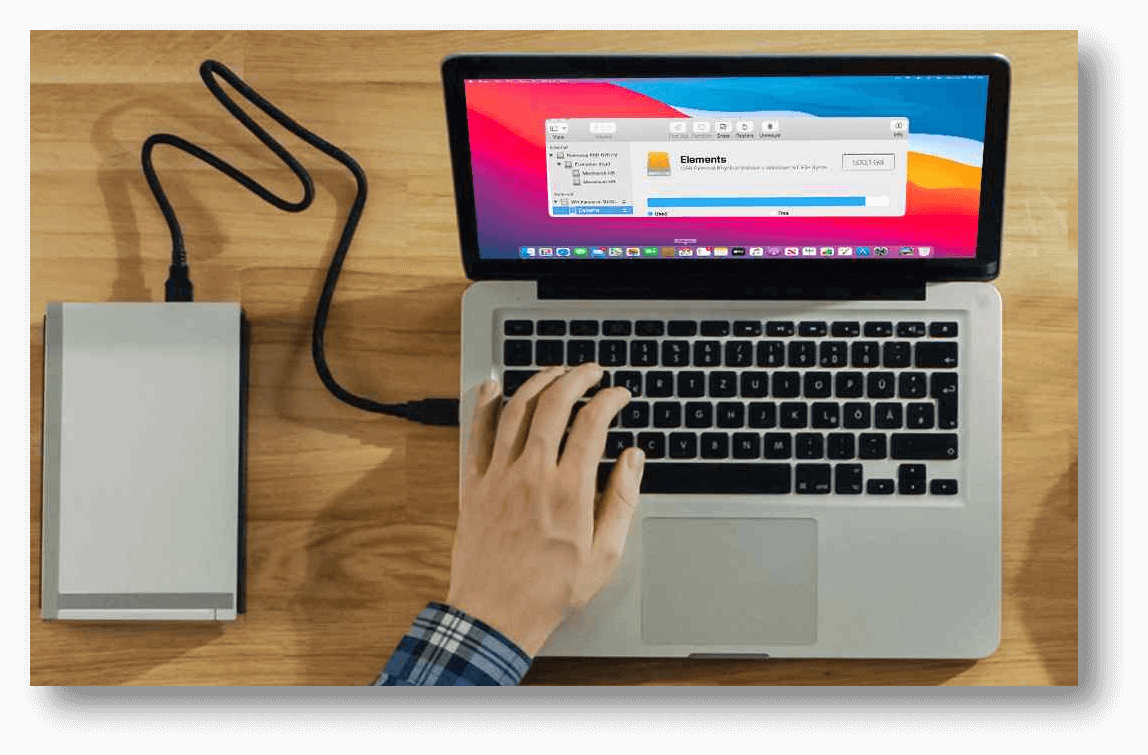 Since the release of macOS Catalina, NTFS drives may be read in their entirety, with their contents being fully visible and even being able to be duplicated. But, because the NTFS file system is a Windows-only standard, macOS prevents you from writing to NTFS drives by default.
Your Mac can read and make copies of the files but not modify them. Since this is the case, you must devise a plan B to use the same external disk with either OS. In this post, we'll review the various options for accessing NTFS files on a Mac.
Microsoft's NTFS is a crucial component of the Windows operating system. Donemax Software's Microsoft NTFS for Mac is what you need if you're working on a Mac and need to access files saved on a hard disk, solid-state drive, or flash drive under the Windows file system.
You can now use your Mac to create, edit, copy, move, and delete files stored in Microsoft's NTFS file system. Quick, faultless, and simple to employ. You can make any of your Microsoft NTFS volumes the system's boot drive by mounting, unmounting, verifying, or formatting the drive.
Why can't macOS write data to NTFS drive?
In Windows, NTFS (New Technology File System) is a standard that has been in use since the early 1990s. Since Windows NT 3.1, it has been a standard feature.
Unfortunately for Apple, Microsoft is not making the complete NTFS specification available as open-source standards, so it may need expensive licensing to implement it across all its products.
How to write data to NTFS drive on Mac without formatting it?
Using specialized NTFS for Mac software is the quickest and easiest method to allow NTFS write access on a Mac. When you connect an NTFS disk to your Mac, all you have to do is choose and install an NTFS driver that suits your needs, and you'll have full access to the drive's contents.
There are both free and premium NTFS driver options available. Several free NTFS for Mac requires Terminal on Mac instructions, are insecure, or don't work with more recent macOS versions like Sonoma, Ventura and Monterey.
When you connect an NTFS drive to your Mac, Donemax NTFS for Mac will immediately mount it in read/write mode. You can read, browse, move, add, remove, edit, and rename files on the attached NTFS disk just as easily as on a Windows computer. To enable NTFS writing on a Mac, you can follow these steps with Donemax NTFS for Mac:
What you need to do to enable NTFS write support on a Mac?
Step 1. Download and install Donemax NTFS for Mac, then run it from Launchpad. If you have a license key, just click activation icon and activate it to full version.
Step 2. Connect the NTFS drive to your Mac, then select it on the main interface of Donemax NTFS for Mac. Then click "Enable Writable."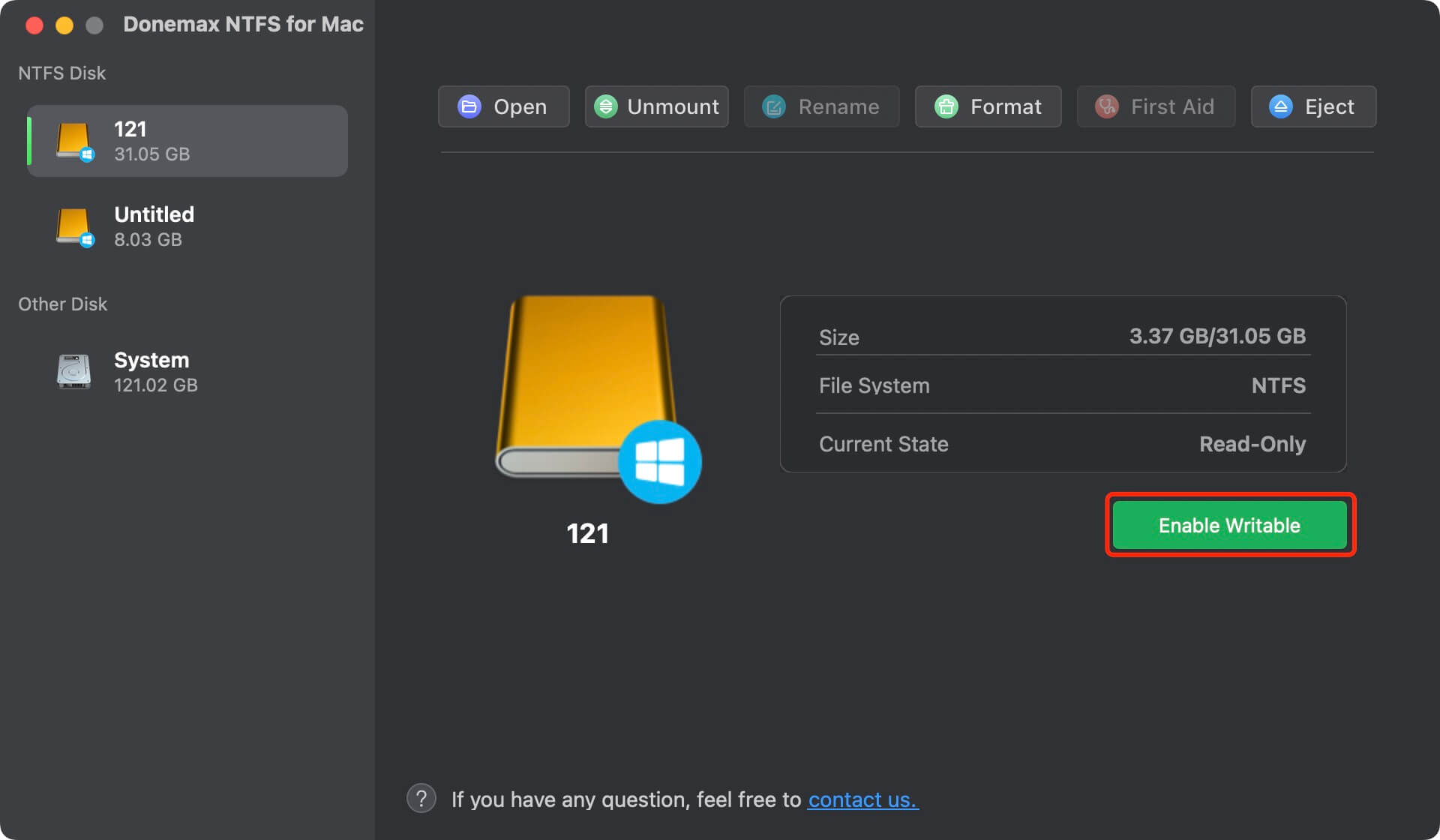 After enabling writable for the NTFS drives on Mac, you can write data to any NTFS drive which is connected to your Mac. The state of the drive will become from Read-Only to Read-Write.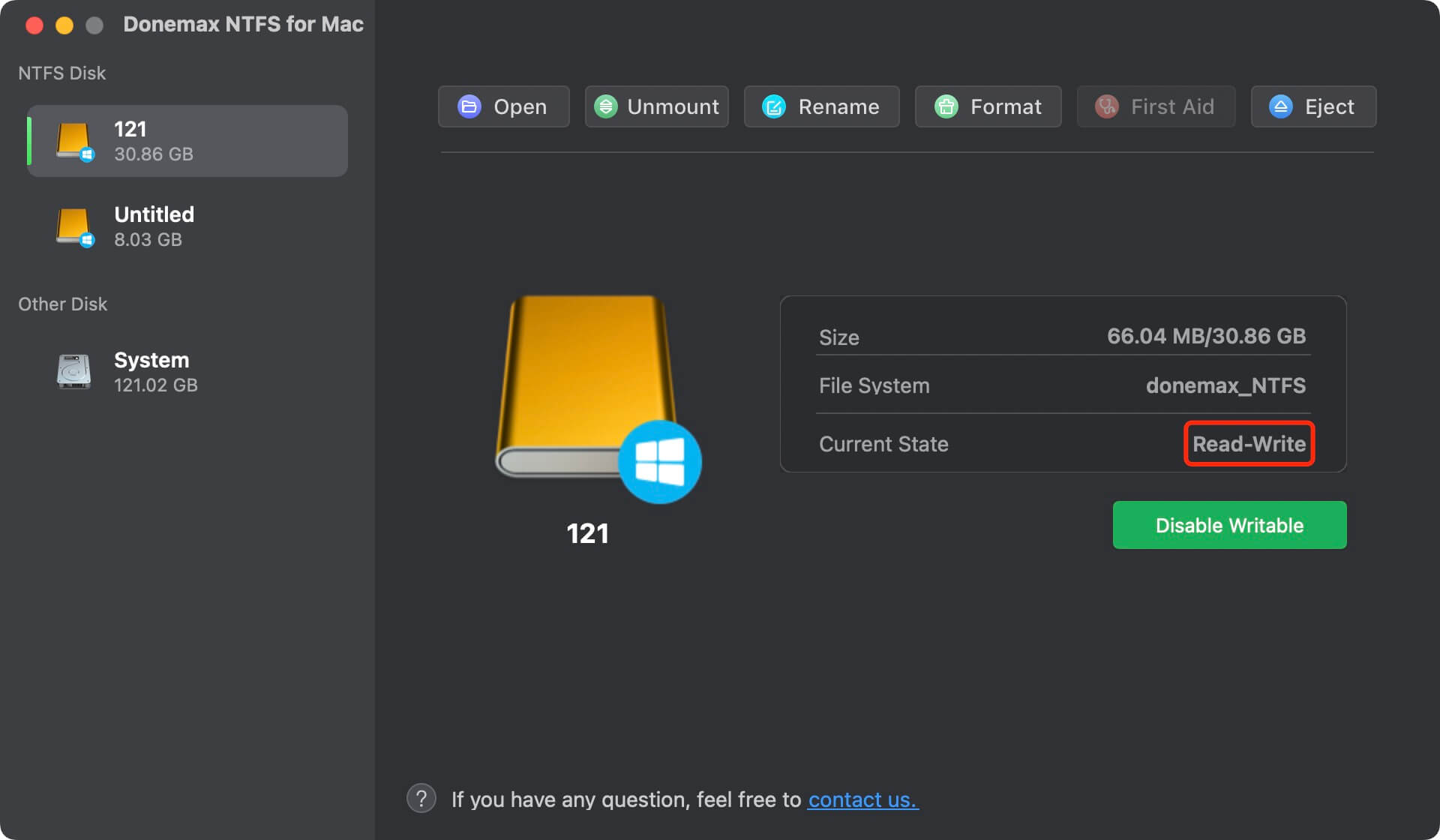 ★ More features of Donemax NTFS for Mac:?
Mount or unmount NTFS drive, exFAT/APFS/FAT/HFS hard drive on Mac.
Eject external hard drive in safe mode.
Open hard drive.
First Aid to repair hard drive.
Rename hard drive.
Note: If you want to use an NTFS drive on Mac without installing NTFS for Mac tool, you have to format it to exFAT, FAT or APFS, macOS Extended, etc. Data recovery software can help you recover lost data from formatted NTFS drive on Mac - if you lose data due to formatting NTFS drive, try data recovery software.
FAQs about writing data to NTFS drive on Mac
We tested 20+ NTFS for Mac tools, and pick up the top 5 NTFS for Mac tools:
Donemax NTFS for Mac
iBoysoft NTFS for Mac
Paragon NTFS for Mac
EaseUS NTFS for Mac
NTFS-3G
You can use a Windows VM on your Mac to access the NTFS drive's read/write capabilities if none of the third-party solutions prove successful. A lot more work is involved in the setup process, which has the potential to slow things down. To add insult to injury, running Windows in a virtual machine consumes 50 GB of your Mac's available storage space.
How to Format a Mac Hard Drive with NTFS Using a Virtual Machine
First, insert the Microsoft Windows ISO onto your computer. The file size makes the process difficult and lengthy. For instance, the latest Windows 10 ISO weighs about 5 GB.
Second, Use virtualization software with a free trial, such as Parallels Desktop or VMWare Fusion.
The third step is to create a Windows virtual machine on your Mac and then insert the NTFS drive so that you can start transferring files from the Windows computer to your Mac.
Bootcamp Assistant,a native multi-boot program for Intel-based Macs, is the third option for reading and writing to an NTFS drive. It makes a Windows partition on your Mac's hard drive and installs Windows on your Mac, so you may switch operating systems and use your NTFS normally drive under Windows.
The Boot Camp Assistant may not function on Apple Silicon Mac, and a notice may appear. Because the Intel Mac and the Apple Silicon Mac are based on distinct instruction sets architectures, M1 Mac cannot run Bootcamp Assistant. In addition, Bootcamp Assistant is no longer available in macOS Big Sur, meaning it can only be used with an Intel Mac running macOS Catalina or an older version.
Open Disk Utility.
Find the NTFS drive, click to select it.
Select Erase.
Select Windows NTFS as the file system and click on Erase button.
You can open Disk Utility and click Mount or Unmount it with Donemax NTFS for Mac. If the NTFS drive is a damaged drive, run First Aid to repair the damaged drive.
Final Words:
This article presents three options for making the NTFS driver on a Mac both readable and writable. We suggest Donemax NTFS for Mac as the best option available. Moreover, advanced users will need read and write access to the other two: VM and Bootcamp. Consider the option and choose the one that works best for you.

Contributing Writer
Lucien is a writer and a chief programmer of Donemax software who has worked in the company for 5+ years. He has written much of the content on the site and devotes to providing troubleshooting and solution for Windows and Mac users including disk cloning, data recovery, migration, eraser, error fixes.

Editor in chief
In order to effectively solve the problems for our customers, every article and troubleshooting solution published on our website has been strictly tested and practiced. Our editors love researching and using computers and testing software, and are willing to help computer users with their problems