Normally, it's very easy to format (erase) a hard drive on Mac. You can use the Mac built-in Disk utility or any other third-party tools to achieve that goal. Here we will show you how to format hard drive on Mac in Disk Utility and Donemax DMmenu.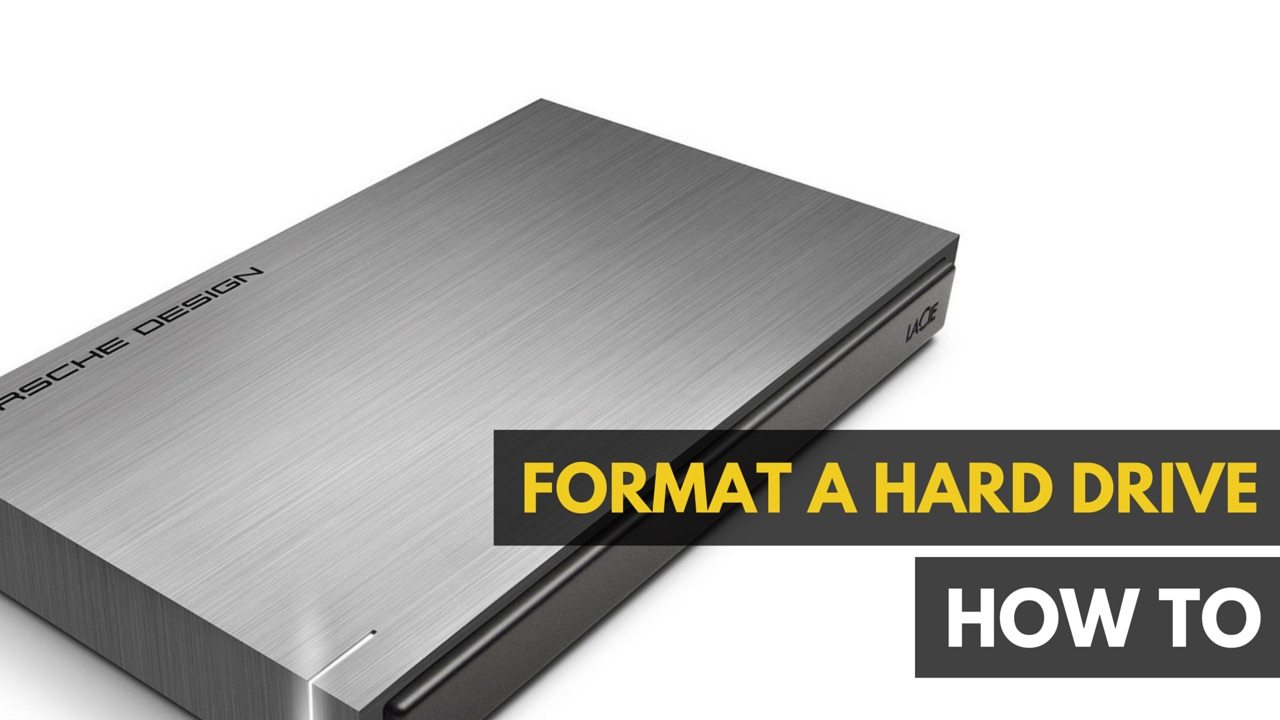 Why format/erase a hard drive on Mac?
Mac users can erase the hard drive at any time. For example, you will try to format hard drive on Mac in the following circumstances:
When you are selling, giving away, or trading in your Mac, you will want to quickly erase all the data from your Mac and restore the system to factory settings.
You want to change the file system of the hard drive. Such as you may want to format the hard drive in a file system which is compatible with both Windows and Mac.
If the drive is not accessible, then you can format it to make it readable again.
Format the hard drive to resolve some disk issues. If there are issues with the disk, it will cause many problems to use the drive and data.
If there are too many files to remove from hard drive, a quick format would be more faster in some cases.
If you want to format hard drive on Mac, there are some options for you. Mostly, many Mac users will choose to format/erase hard drive in Disk Utility. Also, There are some applications will provide format option, such as Donemax DMmenu.
Format (Erase) hard drive with Disk Utility on Mac
As the system built-in tool, Disk Utility is the first choice for many users. It provide the essential options for Mac users, including Erase (format) option. You can format hard drive on Mac with Disk Utility as follows .
Step 1. Please click Go on the top tool bar and select Utilities. Open Disk Utility.
Step 2. You will see all the drives on your Mac are listed on the left-hand sidebar. Please select the one you want format and click on the Erase tab.
Step 3. Please enter a Name for the hard drive and choose the Format that you want to format the disk to.
Step 4. Click the Erase button to begin formatting the drive.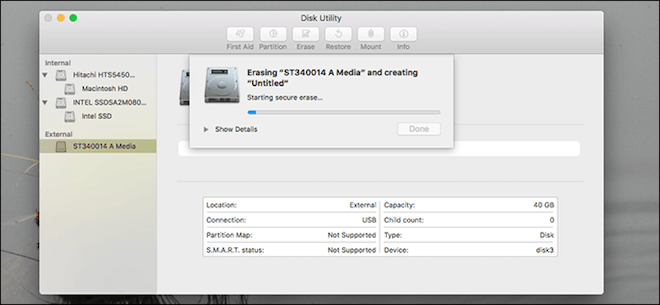 Step 5. After the process is done, you will see a totally empty hard drive now.
Note: If there are some important and needed files on the hard drive, please ensure to move and back up the data first. Then you can feel free to format the hard drive.
How to format hard drive on Mac with Donemax DMmenu?
The second options for Mac users to format hard drive is to use a application. As mentioned before, we will introduce Donemax DMmenu to help users format hard drive on Mac. Please feel free to download the trial version first.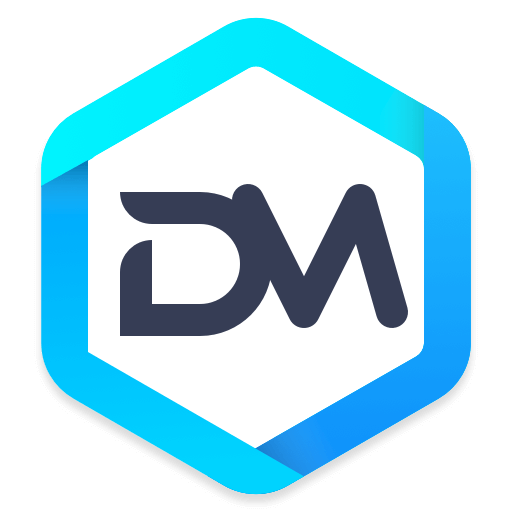 DMmenu
Powerful and easy-to-use start menu for Mac OS to manage and optimize Mac.
After installing the application to your Mac machine, you can then do as below step by step to format hard drive on Mac easily with Donemax DMmenu.
Step 1. Run the application from Launchpad first.
Step 2. Click Disk Manager in the left sidebar of the application.
Step 3. In the right-side pane, please choose the hard drive, which you want to format.
Step 4. Click the Format button directly. Then it will quickly format your drive aromatically.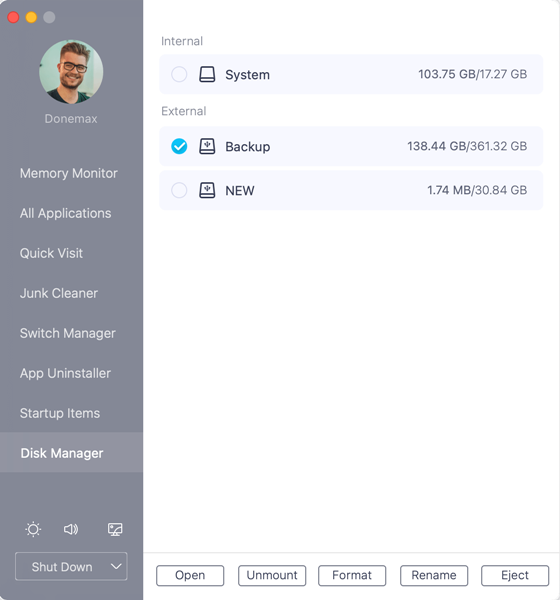 In Disk Manger, you can also rename the hard drive and eject external devices. What's more, Donemax DMmenu contains many other information that are very useful. You may even need to use some of the feature every day. Here are some key features of this tool:
Memory Monitor - Monitor the memory and CPU usage. You can close some apps directly to free memory.
Application list - Show all the installed apps here. You can open the app directly by a click.
Quick visit - Quick access to Desktop, System References, Launchpad, Documents, and other locations.
Quick visit - Quick access to Desktop, System References, Launchpad, Documents, and other locations.
Switch Manager - Manage all the powerful switches directly in one place here.
App uninstaller - It provides an easy way to uninstall apps effectively in bulk.
Startup Items - Add/remove startup items to speed up the system boot or run some apps quickly once the system starting up.
As a Windows-style start menu for Mac, Donemax DMmenu is popular among many Mac users. It provides another easy way to manager the Mac. Just download it now and have a 30 days full trial before purchasing it.
Format Mac hard drive with Donemax Data Erasure
Donemax Data Eraser for Mac, as another professional data erasure software, can also help you format hard drive on Mac. Please run the software and choose "Disk Tools" > "Disk Format". Then select your Mac hard drive and click the "Format" button to format it.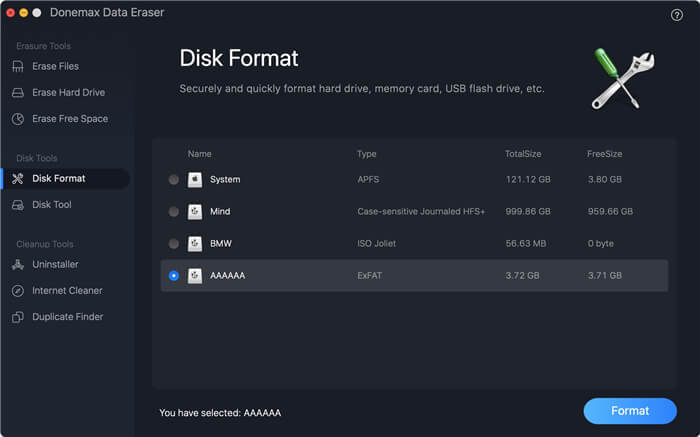 As you can know from the product name, the software can mainly help you erase data from Mac hard drive. If you want to format a drive, you can use the software to erase allt he data permanently and format the drive. Please select "Erase Hard drive", choose the hard drive and click "Erase Now". Then it will erase all the data on the drive permanently and also format the hard drive on Mac.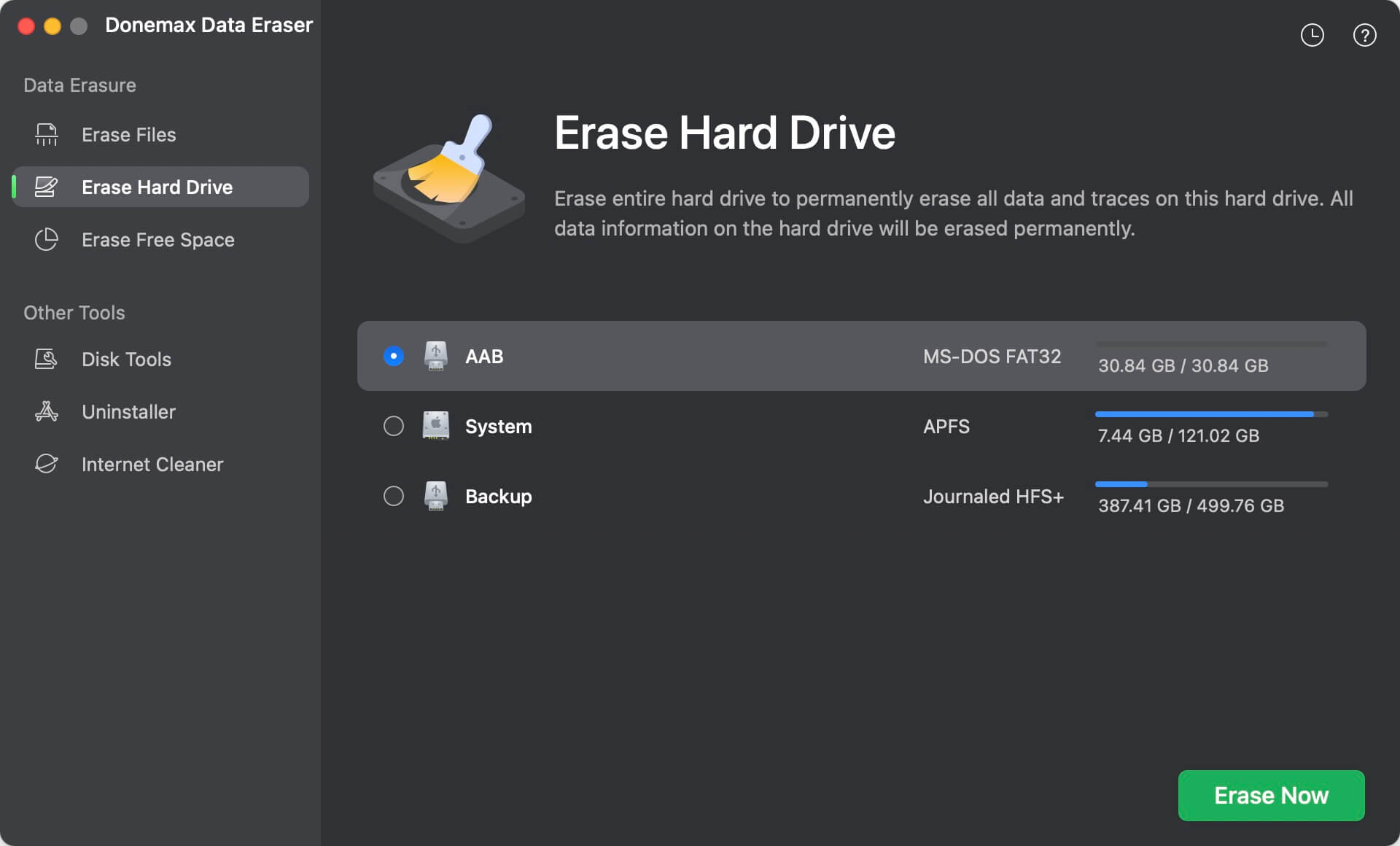 Should you need to format hard drive on Mac, you can check and have a try with all the above methods. Also, the third-party software also can help you do more things on Mac. You can download and have a try if you need erase data, manage data easily and effectively on Mac.
Related Articles
DMmenu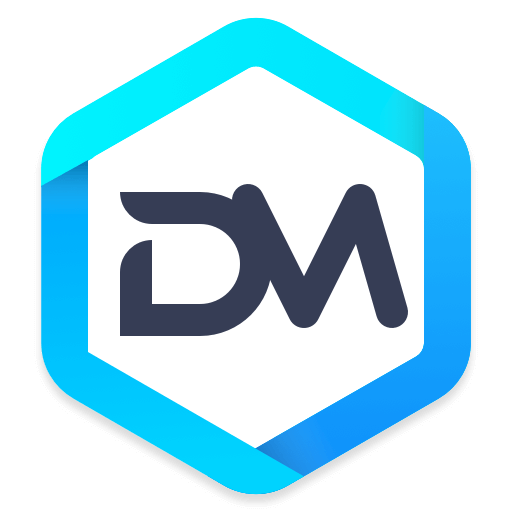 Powerful & easy-to-use start menu application for Mac computer - monitor, optimize and manage your Mac in an easy way.