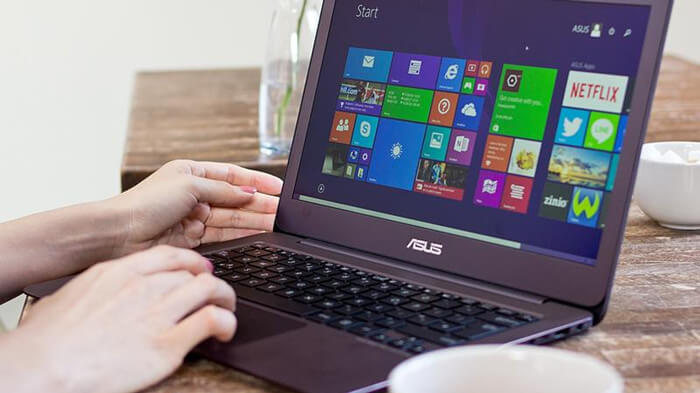 If you delete files in Windows 8/8.1, the files are just marked as deleted and you are not able to access them directly in Windows explorer. However, the files are not removed from the disk permanently. The deleted files can still be recovered easily with any data recovery software, unless the deleted files were overwritten by new data. However, it's not able to ensure when and how many deleted files will be overwritten by new files. If you want to make sure the files will not be recovered in any way, you have to use a professional data erasure tool to permanently deleted files in Windows 8/8.1.
We recommend Donemax Data Eraser to remove and shred the files in Windows 8/8.1. You can download the free trial version.
What can Donemax Data Eraser do for you?
Why choose this software? It's able to shred or wipe data permanently in Widows 8/8.1 or other systems. With professional data erasing algorithms, the software is able to delete and wipe data permanently and you cannot recover the wiped data with any software. It's safe enough for you to deleted files with this tiny tool.
The software can not only remove individual files/folders, but also you can use this tool to wipe entire drive. Imagine that you want to giveaway or trad in an old hard drive, you have to wipe your personal data files to avoid data leakage. Donemax Data Eraser can help you easily in such a case. It can wipe all the data from the drive completely.
What's more, the software has some other tools to help you remove junk data on your computer. It can easily uninstall useless applications on your computer in bulk. Also, if the browsers on your computer are used for a long time, you can use this tool to clean the junk data for your internet browsers.
---
How to permanently delete files in Windows8/8.1 with the software?
Shred files with this software is very simple. The software has intuitive interface and can guide you remove files permanently in a few steps. The following quick guide will show you the steps to remove files with the software in Windows 8/8.1.
Step 1. Install the software in your Windows 8/8.1 system. Then start the software and choose the first mode "Ease Files".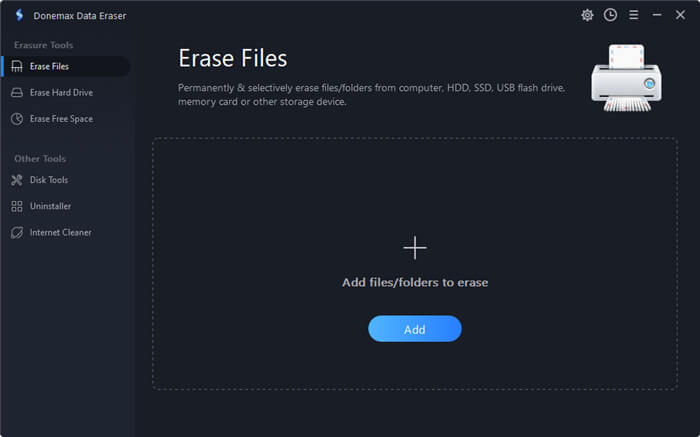 Step 2. Choose the specific files or folders that you want to delete. You can choose multiple files or folders to delete at a time.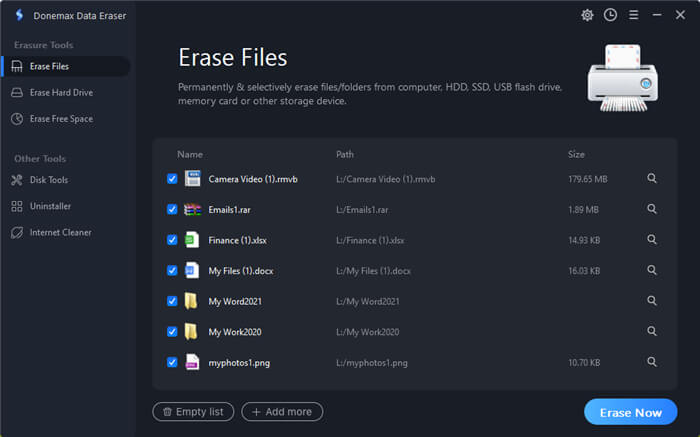 Step 3. Click the "Erase Now" button, the software will start to shred the files/folders you selected.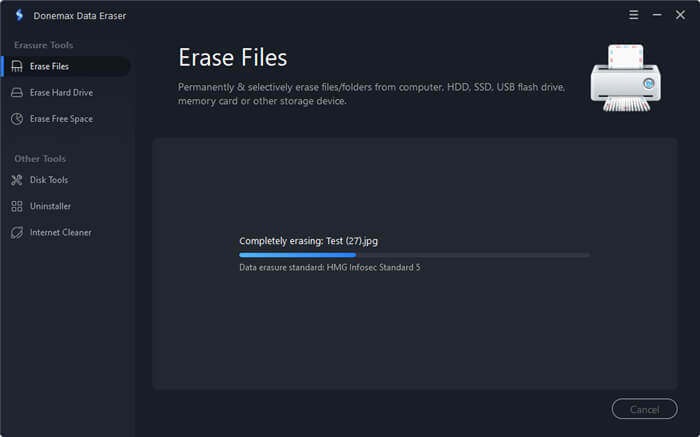 After the process is done, the selected files should have been wiped permanently from your machine. You can try some software to scan and check the result. The deleted files will not be found with any software.
Donemax Data Eraser is also able to permanently shred files in Windows 10, Windows 11, Windows 7 and other systems. No matter the files are located on the internal drive, external drive, USB flash drive, or memory card, the software can help you wipe the files without problem. However, please note that the files erased with this software will not be recovered any more. So, please ensure to choose the correct files to wipe or back up your needed files first.