Before we start: If you want to completely destroy the data on a hard drive to protect your privacy, a disk wiper will be desperately needed. Donemax Data Eraser is one of the best disk wiping software to have a try.
PAGE CONTENT:
Why do I need a disk wiper?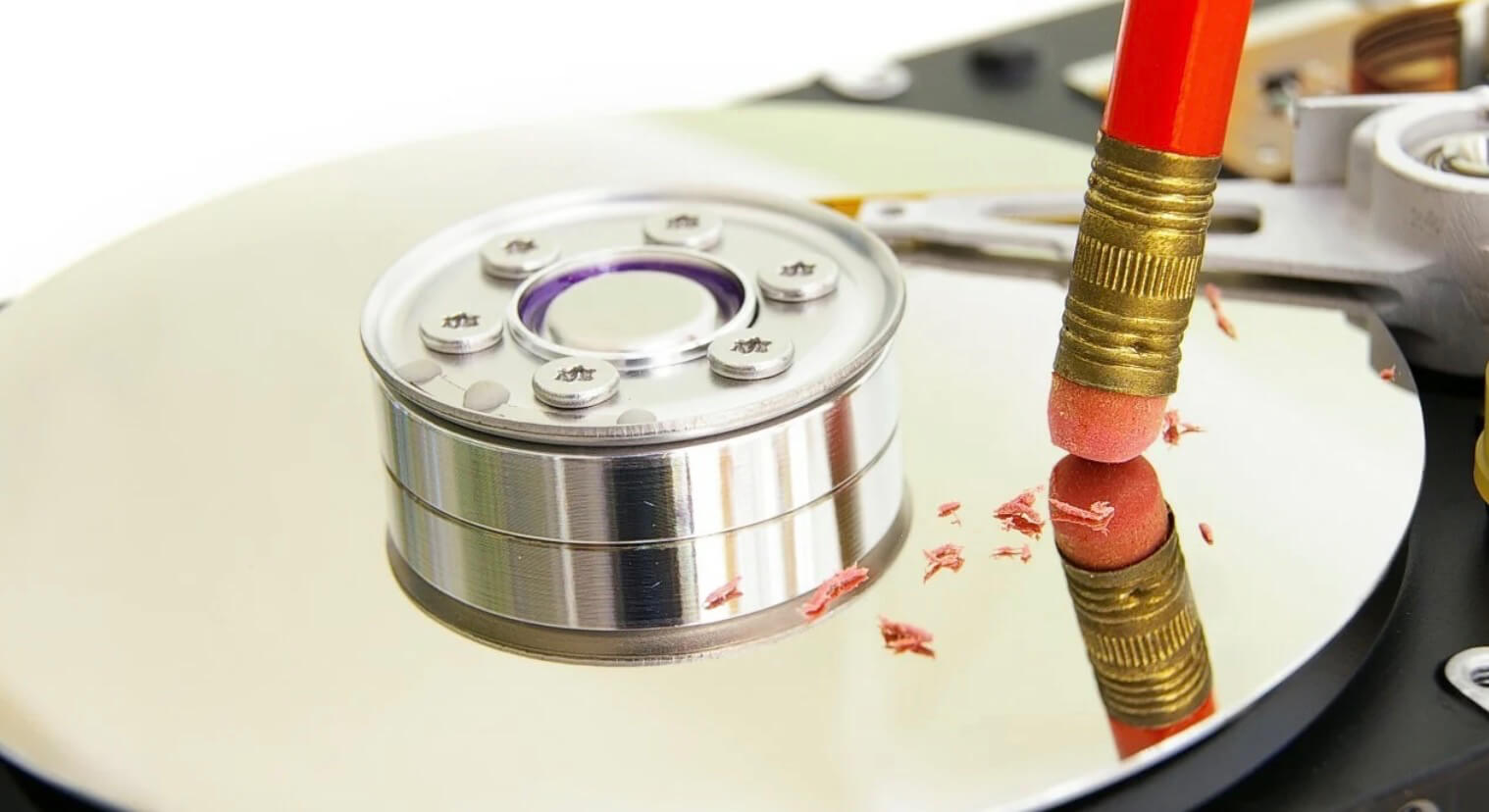 We often manage our data if the disk space is not enough, permanently wipe sensitive files, photos or videos, or upgrade the disk to a larger one. The used disks may have all our data and using traces on them. Are the data we have deleted or on formatted disk confidential? Will it be guaranteed that no one else will find them, or that the deleted data will be recovered if I give a way or sell the old hard drive? This is very important. We often don't care too much when dealing with these data, but there may be a problem of privacy data breaches. Here are the 5 best disk wiping software for Windows and Mac users each that can handle your old hard drive very well. With disk wiping software, we can totally get rid of the sensitive data well and erase files and disks safely.
To safely and effectively erase these unwanted files and wipe our disks, a reliable disk wiping software is needed to help us. We have spent the time to do some analysis and comparison of these products in terms of features, performance, price and user reviews. Depending on your needs, you can choose the right disk wipe software.
How to choose a disk wiping software?
If you don't find a right disk wiper, you may not achieve the best results in an easy and time-saving way. Therefore, the criteria and recommendations are necessary to choose a disk wipe software.
Following are the key factors we take into consider to choose a disk wiper:
Powerful functions: Meet the disk wiping needs while providing more professional and reliable data wiping standards and settings. We can use it with more confidence.
Easy to use: Simple and intuitive interface with professional guidance for users to use to reduce operational errors and avoid data loss.
Stable performance: In addition to ensuring that the disk wiper is functioning properly, it also should execute the operations faster and safely.
According to these conditions we have researched and tested top 5 disk wiper for Windows and Mac users respectively.
Top disk wiping software for Windows and Mac at a glance:
Disk wiping software
Platform
Price
Reviews
User-friendly
Disk Wiping Standards
Donemax Data Eraser
Windows & Mac
$19.95/Month
$39.95/Year
$49.95/Lifetime
Best overall
5 Star
5
CCleaner
Windows & Mac
Pro $24.95
For 3 computers $39.95
Worth recommending
5 Star
3
Darik's Boot And Nuke
Windows
Free
Professional users
2.5 Star
6
Disk Wipe
Windows
Free
Meeting demand
3.5 Star
3
Eraser
Windows
Free
Worth recommending
4 Star
13
BitRaser File Eraser for Mac
Windows & Mac
$39.99
Worth recommending
5 Star
24
Disk Utility
Mac
Free
Meeting demand
4 Star
1
Permanent Eraser
Mac
Free
Meeting demand
3 Star
2
Top 5 disk wiping software for Windows:
#1 Donemax Data Eraser
Donemax Data Eraser is a world-class data eraser to completely erase data, wipe entire hard disk or unused disk space before selling, giving away, donating or recycling your PC. It can securely erase data from any type of hard drive or external storage device.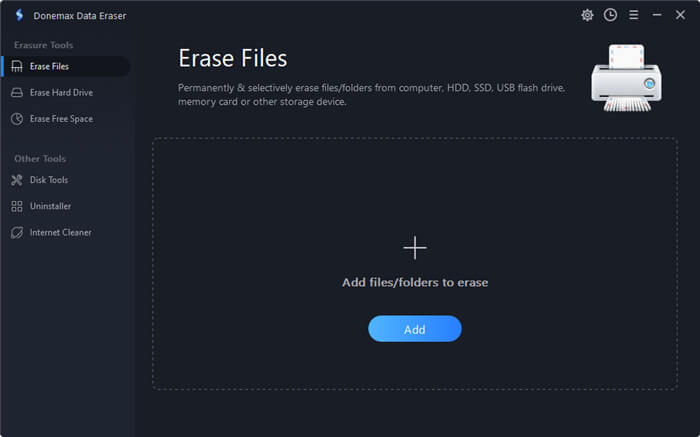 Pros
Data erasure capability: thoroughly wipe hard drives, SSDs, USB flash drives, SD cards, etc., ensuring that erased data cannot be recovered.
5 data erasing algorithms: offers several erasure methods, including 1 pass, 2 pass, 3 passes, 7 passes, and 35 passes. The more passes you use, the more secure the erasure will be.
3 Flexible erasing modes: wipe entire hard disk, erase selected files and folder and wipe free space.
Safe and reliable: effectively protect personal privacy and avoid sensitive data leakage with extremely high security.
The interface is simple and easy to use even for beginners.
Cons
Slow erasing speed: Due to the high-intensity erasing algorithm, the data erasing speed is relatively slow and it takes some time to finish erasing.
The system disk cannot be erased.
Tips: To ensure successful boot, you cannot directly erase a hard drive with a Windows operating system installed. You can follow the instructions to permanently erase the data on your system drive.
#2 CCleaner
CCleaner is a widely recommended and free software for cleaning up junk files and erasing hard disk data. It effectively erases junk, hidden, temporary and duplicate files from your computer. You can wipe individual partitions or entire drives depending on your needs.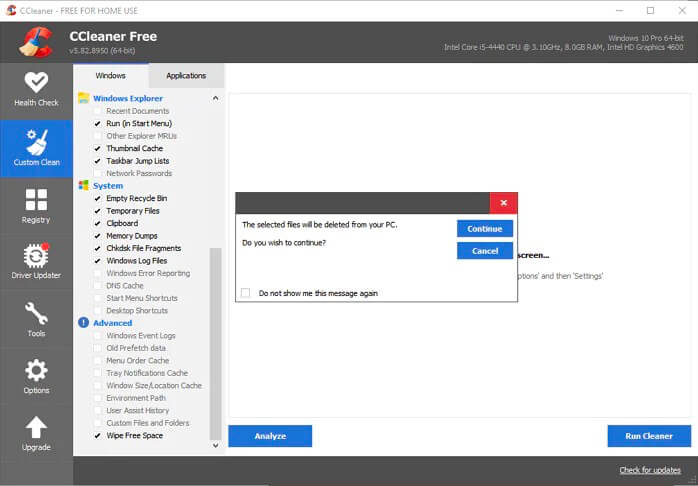 Pros
Constant maintenance and updates of software.
User-friendly interface and easy to get started.
Customized cleanup: it can save cookies you don't want to delete, such as login information, etc. and allow you to customize the scanning scope according to your needs.
Cons
Accidental cleanup: some security experts point out that it may erase incomplete content and needs to be used with caution.
Some names and operations are very specialized and are not suitable for non-technical.
User settings are required. Lack of automatic wiping mode.
No professional data wiping features: can't permanently wipe a hard drive.
#3 Darik's Boot And Nuke(DBAN)
DBAN is a well-known free and open source software and is widely considered to be the most influential hard disk erasing software. The Boot and Nukem module is designed to permanently erase the entire drive. Multiple erase methods are provided to erase data from various disks.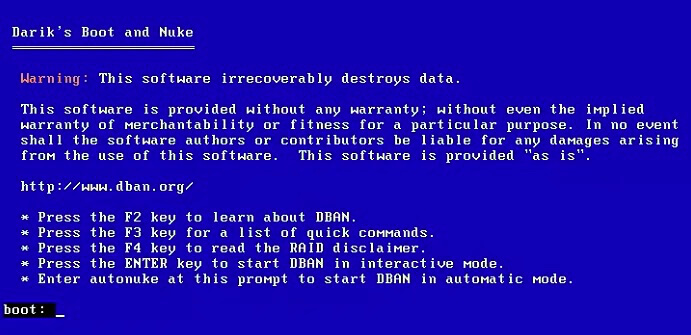 Pros
Open source and FREE to use.
High erasure efficiency: has an automatic program that speeds up the data erasure process.
Multi-platform compatibility: works on Windows and Mac OS.
Cons
It has no client and the operations are inconvenient for users who are not familiar with command line.
There is a risk of losing data by wrong operation.
It can't guarantee that your data is completely wiped out on hard disk.
Can't recognize or delete SSD.
No customer service.
#4. Disk Wipe
Disk Wipe is a free and adaptable Windows wiping software that permanently erases data. It also uses complex algorithms to erase data traces, making recovery difficult. Although Disk Wipe is a disk wiping freeware, it's clean and no advertising.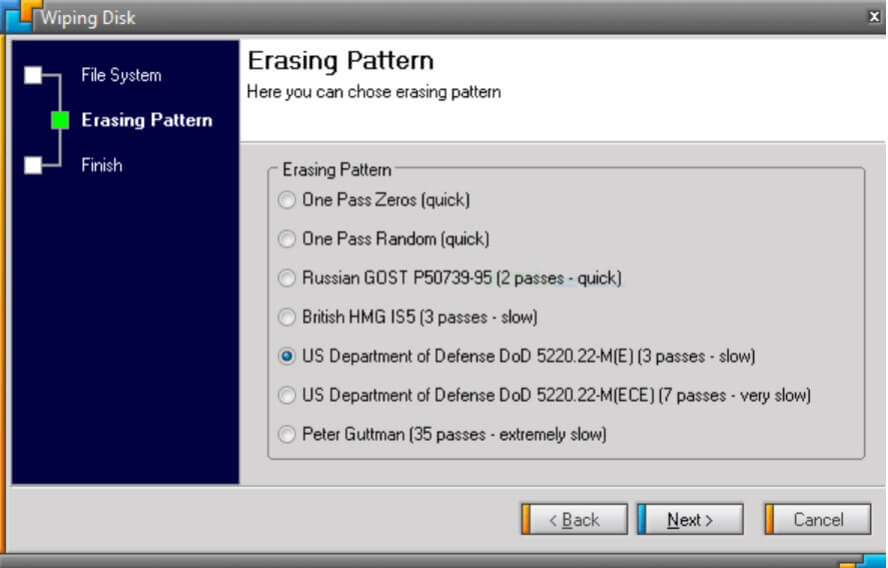 Pros
Generate tamper-proof data erasure report and data erasure certificate.
Good hardware compatibility: support external hard drives, SSD.
Installation-free: no installation is required to erase data.
Cons
Poor system compatibility: Running it interferes with the proper functioning of other software.
#5. Eraser
Eraser is a sophisticated drive erasure software that provides a free yet powerful data erasure to completely erase sensitive data from your hard drive. Eraser offers a wide range of data erasure techniques.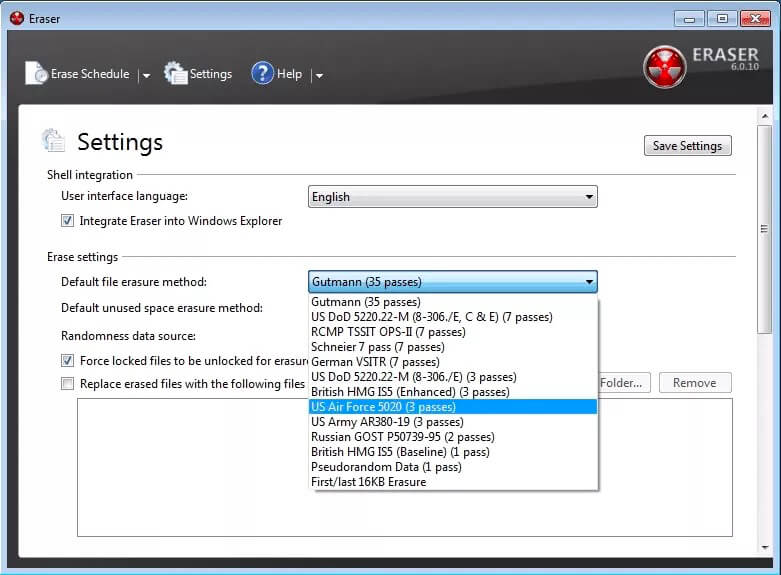 Pros
Multiple erasing options to meet different needs with 35 passes, 7 passes, 3 passes, 2 passes and 1 pass.
Good compatibility: works with Windows 11, 10, 8, 7, Vista and XP as well as Windows Server 2016 to 2003.
As far as advanced options are concerned, Eraser wins the data destruction competition.
Cons
The erasing speed is slower than some other software.
It cannot be used to wipe a hard drive with Windows OS.
Each disk wiper for Windows has its own advantages and disadvantages. If you just need a quick junk cleaning for your hard drive, CCleaner may be a better choice, but it erases incompletely. If you need more security and expert disk wiping, Donemax Data Eraser is a better choice.
There are the same needs for Mac users to wipe a mac hard drive. Here we have also rounded up 5 of the most sought-after Mac disk wipers.
Top 5 best disk wiper for Mac
#1 Donemax Data Eraser for Mac
Donemax Data Eraser for Mac is a data erasing tool for Mac developed by Donemax. It helps users to securely wipe sensitive data, including files, folders, hard drives, USBs and more, to protect their privacy and data security.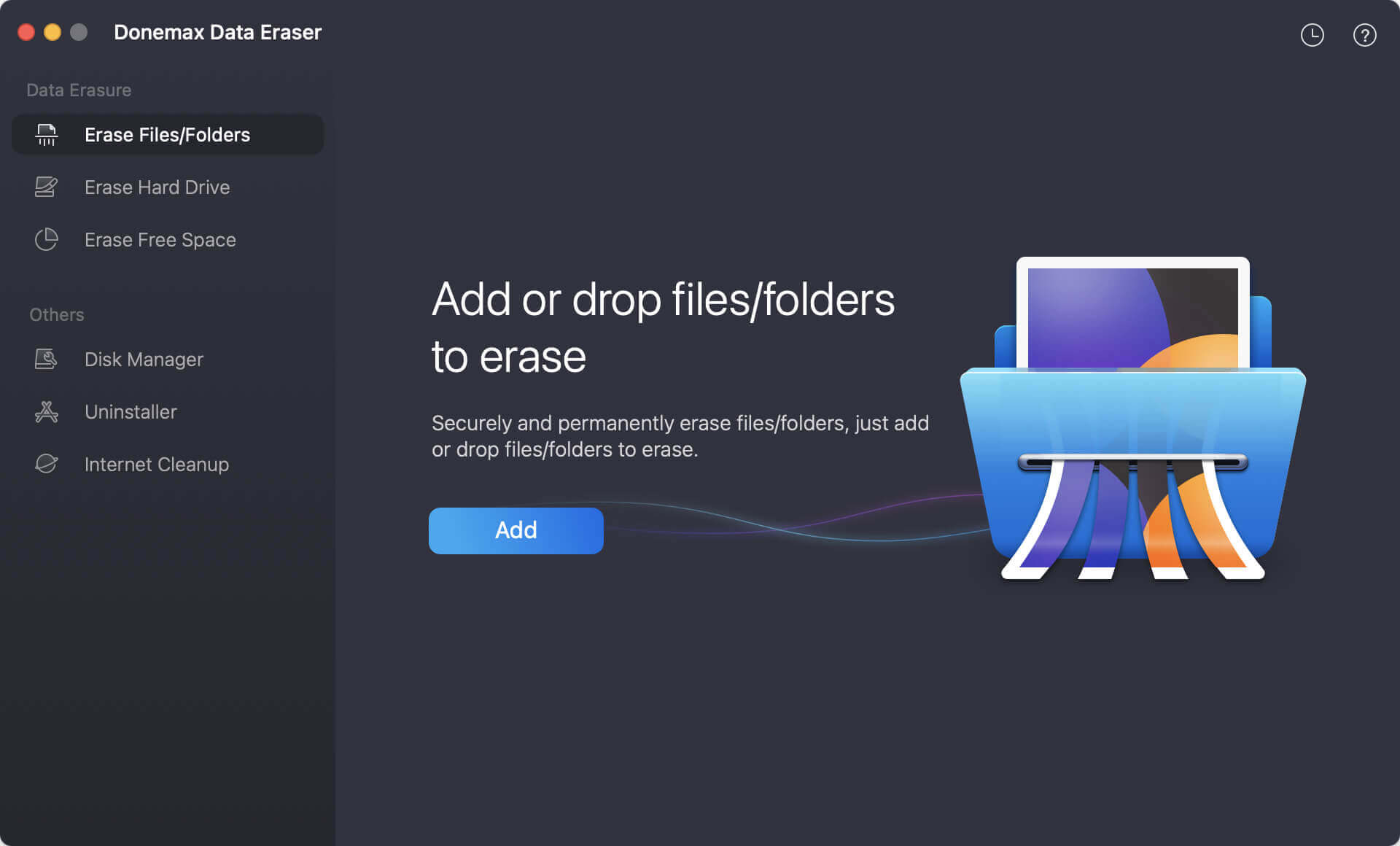 Pros
5 data erasing algorithms to completely wipe a hard disk and ensure the wiped data can't be recovered.
Support multiple storage media: erasing hard disk, SSDs, external hard disk, SSD, SD card, etc.
Provide multiple wipe modes: wipe disk, files and free space for different needs.
Easy to use and you can drag and drop files to wipe.
Cons
Limited erasing in trial and you need to upgrade to the professional version to use the full functionality.
Cannot erase mac systems.
#2 Disk Utility
This is a built-in and free Mac utility to erase data from the hard drive when the user does not require it and format a hard drive to a different file system. It is easier for users to use. In addition, it supports both external and internal hard drives.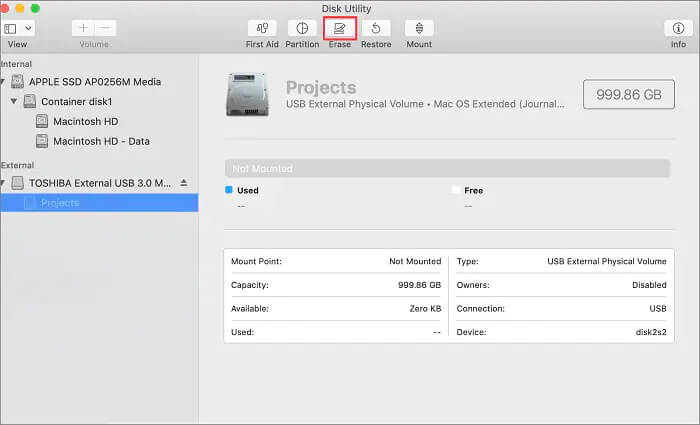 Pros
Free to use.
One click to erase data.
You can erase the system disk in macOS Recovery Mode.
Repair the disk with simple problems.
Cons
It may not be able to handle severe volume corruption.
Incomplete erasure: files may be recovered by third-party data recovery software or services.
You can't customize files and folders to wipe.
#3 BitRaser File Eraser for Mac
BitRaser File Eraser for Mac is a commercial data erasing software that supports a variety of file types including documents, images, video and audio files and can be used to erase data from a variety of storage media including hard drives, SSDs, USB drives and memory cards. The software can also be used to erase unused space on a drive, ensuring that any previously wiped files cannot be recovered.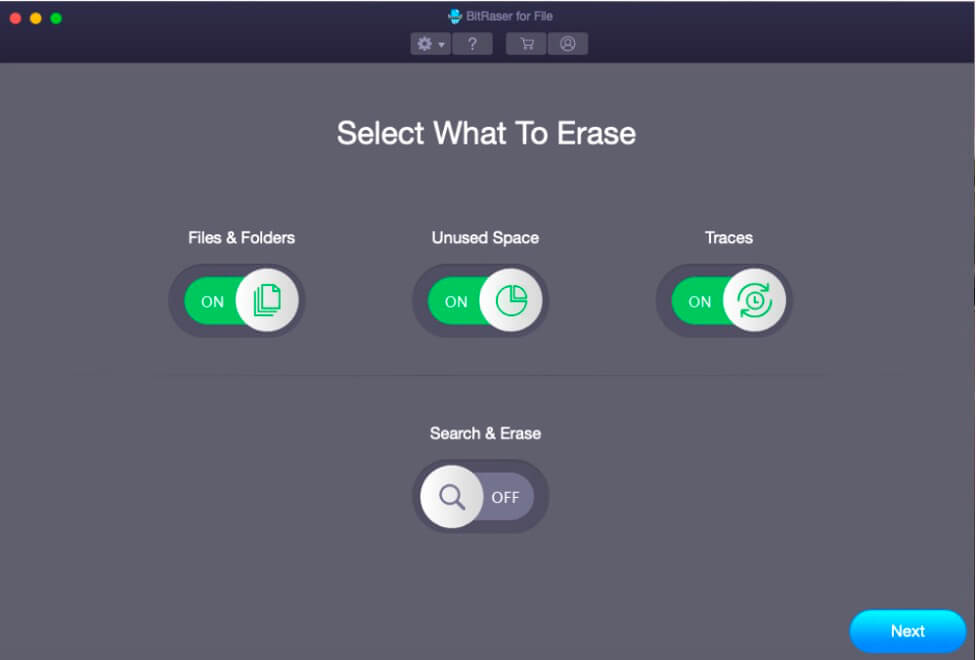 Pros
24 different erasure algorithms are supported, including DoD 5220.22-M, etc;
BitRaser File Eraser for Mac provides an erasure certificate so that you can check if the files have been erased completely and will not be recovered.
Cons
Expensive. $39.99 to erase files.
Its erasing speed is relatively slow due to the complexity of the erasing algorithm.
#4 Ccleaner for Mac
Piriform developed this software to free up space and clean up junks on drives. Earlier, it was available only for Windows PC and in 2011 the company developed its Mac version. You can easily download and use this Mac disk cleaner.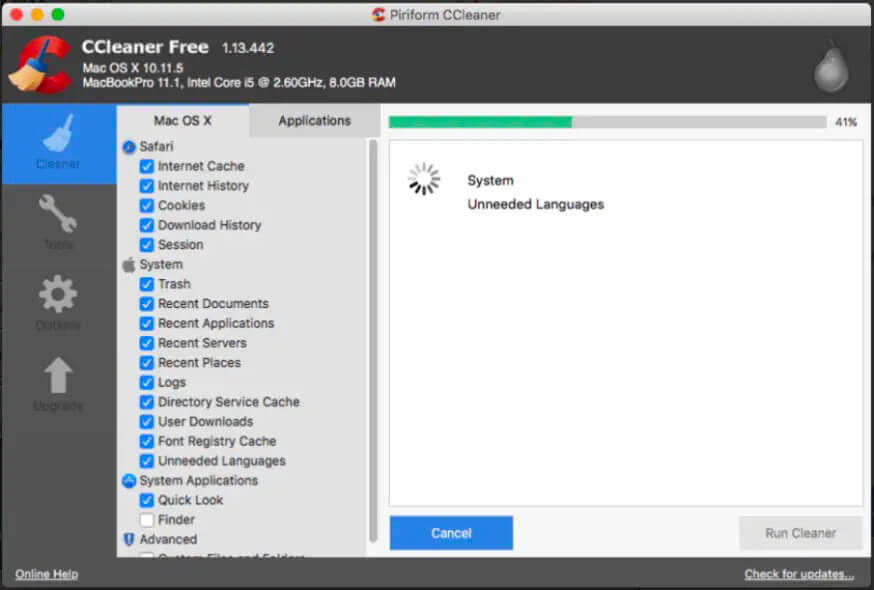 Pros
Provide a variety of security technology and customizes the erasing folders.
Easy to use and low learning cost.
You can erase partitions for free.
Cons
No alerts are displayed until the data is erased, so double-check the operation before applying.
You will not be able to delete or deselect files until you run the analysis process.
It can't select files and folders to wipe.
#5 Permanent Eraser
Permanent Eraser is a free erasing software for Mac with a convenient way to erase files, folders or entire hard drives, supporting a wide range of erasing algorithms.

Pros
Free data erasure software for Mac;
Easy to use;
Multiple erase modes: file eraser, disk eraser.
Supports multiple erasing algorithms.
Cons
Erasing speed is slower than some other software.
Poor compatibility: not work with SSD.
No main window, by shortcut operation.
Things to do before wiping a hard drive
1. It's essential to back up all your important files
Erasing a hard drive is irreversible and backup provides a fast fallback in case anything goes wrong during the data wiping process or accidental deletion. You can back up your important data to an external hard drive, cloud storage, or another secure location.
2. Install a reliable disk Wiper
When choosing a disk wiper, it's important to look for the one that meets your specific needs and requirements and has a high-level security to completely clean up the sensitive files. Following we will introduce how to wipe a hard drive with one of the reliable disk wiper, Donemax Data Eraser to wipe hard drive.
How do I securely erase data from a disk?
Here are the steps to wipe a hard drive on Windows or Mac with Donemax Data Eraser:
Step 1: Download and install the Donemax Data Eraser.
Step 2: Run Donemax Data Eraser.
Step 3: Choose "Erase Hard Drive". In this mode, you can choose a drive to wipe directly. All the data, including existing, lost and deleted data on this drive will be wiped out at once. And click on "Erase Now" button.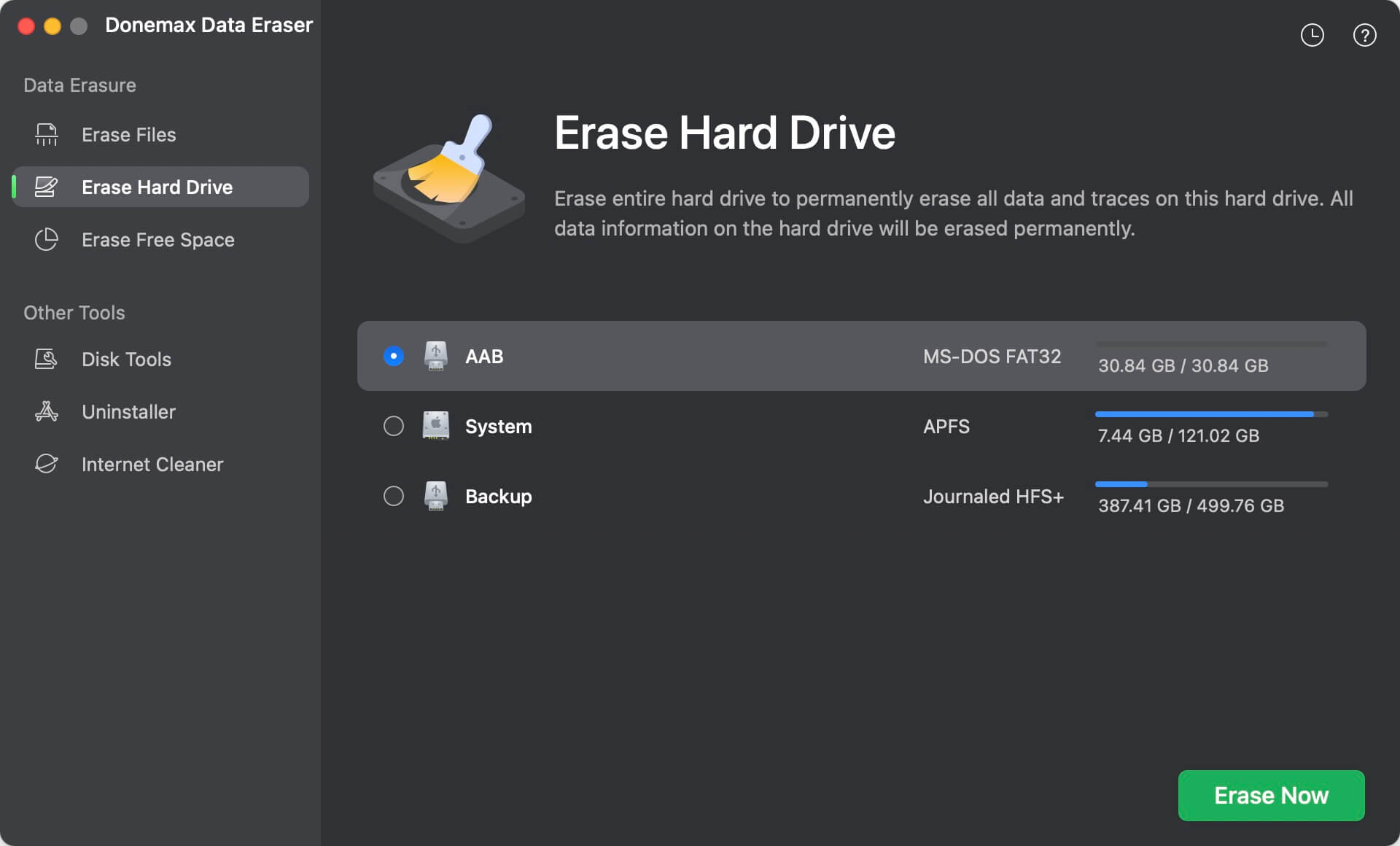 Conclusion
In summary, it will be quite easy to wipe your hard drive on Windows or Mac with a professional disk wiper. Donemax Data Eraser that comes with your system is a good choice with more security and reliable data wiping algorithms. Whichever disk wiping software you choose, you need to double check the operation before erasing and not to wipe a wrong hard disk, thus causing forever data loss trouble.
FAQs

Contributing Writer
Christina is the senior editor of Donemax software who has worked in the company for 4+ years. She mainly writes the guides and solutions about data erasure, data transferring, data recovery and disk cloning to help users get the most out of their Windows and Mac. She likes to travel, enjoy country music and play games in her spare time.

Editor in chief
In order to effectively solve the problems for our customers, every article and troubleshooting solution published on our website has been strictly tested and practiced. Our editors love researching and using computers and testing software, and are willing to help computer users with their problems