PAGE CONTENT:
"I want to replace my HDD with a Kingston SSD, but how do I get the data inside to be cloned to the Kingston SSD as well?" With the development of SSD, SSD is gradually replacing traditional hard drive as the mainstream. Many people want to replace their HDDs with SSDs, but how can they clone them to SSDs? In this article, we will take Kingston SSD as an example to introduce what is Kingston SSD and how to clone HDD to Kingston SSD safely and efficiently.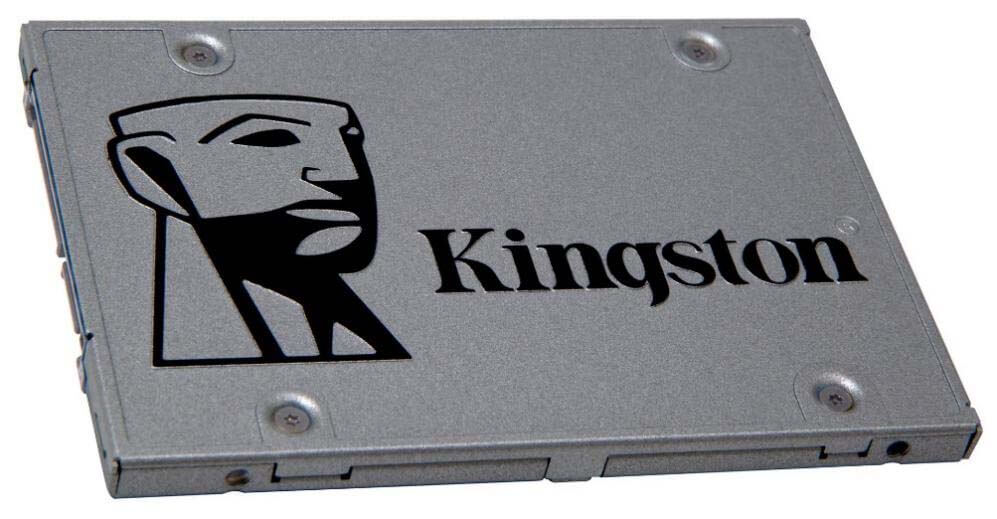 What is Kingston SSD?
What is SSD? SSD (Solid State Drive) is a storage device that uses Flash as the storage medium, data reads and writes are addressed by the SSD controller without mechanical operations, and has excellent random-access capabilities. SSD read speeds are faster compared to mechanical hard drives. SSDs do not use magnetic heads, the seek time is almost zero, and the sustained write speed is amazing.
SSD is divided into SATA3 SSD and NVMe SSD. SATA3 SSD have the advantage of being relatively inexpensive, so you can get a larger SSD for less money, but the read/write speeds and sequential read/write speeds are not as fast as NVMe SSD. The main advantage of NVMe solid state is that the runtime score is very high and the read/write speed is very fast. If you often need to transfer large files, you can use NVMe, because our daily transfer of oversized files is also very rare and the speed advantage of NVMe solid state is greater, but the price of NVMe solid state is also very expensive.
Kingston SSD is solid state drive manufactured by Kingston. Kingston provides users with SSD suitable for laptops, desktops and servers. Kingston is an expert in SSDs and offers many types of SSDs from SATA to NVMe, so users can choose the right SSD for their needs. Kingston is committed to meeting the upgrade needs of the average computer user, server owner, and system manufacturer. Kingston SSD is the choice for many users replacing their hard drives. If you want to replace your HDD with a Kingston SSD and make sure all your hard drive data is cloned, you can read on.
Why do we need to clone HDD to Kingston SSD?
Why do we need to clone HDD to Kingston SSD? Users may want to replace HDD with SSD for different reasons, here are a few brief reasons why users may choose to clone HDD to SSD, as follows:
1.SSD is more durable and long lasting
Hard drive failure is a major cause of hard drive failure, and HDD can overheat and fail with continued use over time. In contrast, SSD is more likely to keep running efficiently and maintain lower temperatures because solid-state drives do not require moving parts. And, SSD is more able to withstand physical aspects such as drops, wear and tear.
2. High-efficient and fast
An important feature that makes SSD popular with users is the qualitative improvement in speed compared to HDD, up to 100 times the speed difference, SSD can ensure shorter run times throughout the process of starting, running, and data transfer, thus responding to the higher requirements for hard drives in the era of high-speed development, faster and more efficient to complete the transfer of large data, and SSD can better ensure data security. What's more, SSD is more secure.
3. More practical
SSD compared to HDD in addition to performance improvements, volume and weight has also been greatly improved, SSD volume is smaller, compared to the mechanical hard disk containing heads and metal platters, the weight is smaller. In addition, SSD require less power to run, so under the sex ratio, the range of SSD is stronger, more in line with the needs of users for hard disk, low power consumption and high performance more to meet the requirements of the market for hard disk.
The best way for cloning hard drive to Kingston SSD
In order to clone HDD to Kingston SSD more safely and efficiently, we recommend using professional Kingston SSD clone software, no matter you have basic computer knowledge or not, you can finish the process of cloning HDD to SSD safely with professional Kingston SSD clone software. Among the many SSD cloning software, I highly recommend Donemax Disk Clone, Kingston SSD cloning expert.
★ Why we choose Donemax Disk Clone to clone HDD to Kingston SSD?
Easy to use -- No need to learn much basic computer knowledge or repeatedly operate on your computer to transfer the entire HDD data, with Donemax Disk Clone, you just need to select the HDD you want to clone and the target HDD, and then start cloning HDD to Kingston SSD with one click.
All Major devices are supported -- You can clone the entire HDD, SSD, external drive, memory card, SD card, USB flash drive, etc. to another.
100% clone -- Donemax Disk Clone can clone your entire hard disk in one click, not only the data but also the location and size of each partition on the disk. Realize sector-by-sector 1:1 complete clone.
Safe and efficient -- During the whole cloning process, the security of your data, files or systems to be migrated is guaranteed, and Donemax Disk Clone promises not to steal any personal information or private data of users. Even if the hard disk is too large to complete the cloning at once, the software will recorder where you have cloned, and you can continue until the cloning is completed the next time you open the software.
Steps to clone HDD to Kingston SSD
Step1. Download and install.
Download and install Donemax Disk Clone on your Windows, and after opening the software, first register the user.
Step 2. Select source HDD.
Click "+" on the left side to select the source disk or partition you want to copy.
Step 3. Choose destination drive.
Click "+" on the right side to select the target disk or partition you want to copy to.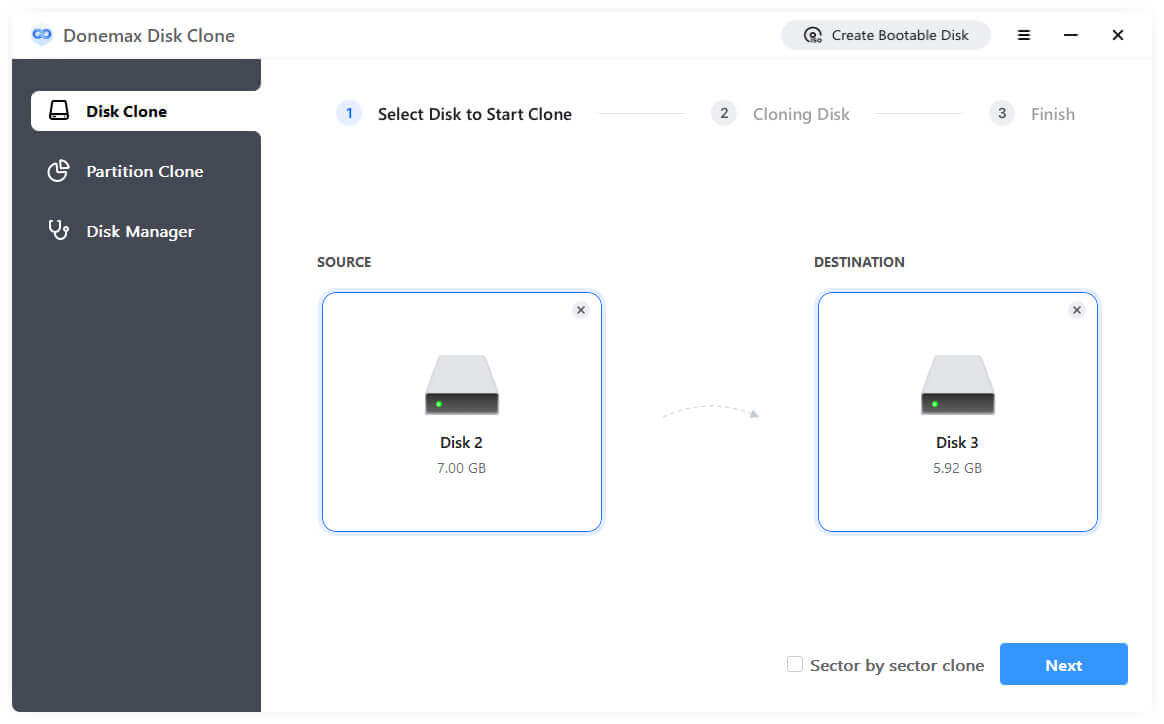 Step 4. Apply clone.
Before clicking "Next", please check the box before "sector-by-sector clone" if you would like to clone by sectors or if your disk has bad sectors.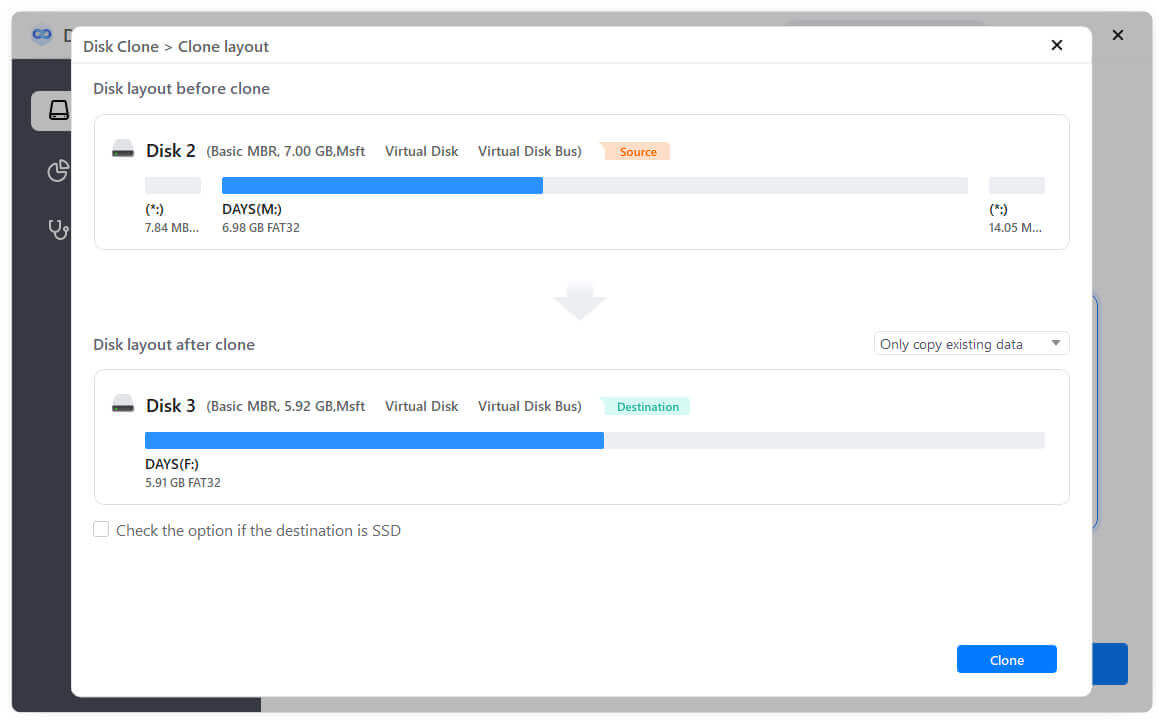 Final Words:
How to clone HDD to Kingston SSD? The best way is to use professional Kingston SSD clone software, such as Donemax Disk Clone, to help you securely and completely clone your HHD to Kingston SSD. Donemax is an expert in hard drive and is dedicated to helping all users with or without basic computer knowledge to solve their hard drive problems. Quickly clone an entire HDD to Kingston SSD with one click, without any risk of data loss.
Related Articles

Contributing Writer
Maria is one of the senior writers & editors of Donemax who lives and works in Sydney, Australia. She loves PC, Mac and Internet Technology. She has 6 years of writing articles about data recovery on PC/Mac, disk cloning solution, data eraser and computer OS optimization, etc. She is also interested in testing various software and digital products.

Editor in chief
In order to effectively solve the problems for our customers, every article and troubleshooting solution published on our website has been strictly tested and practiced. Our editors love researching and using computers and testing software, and are willing to help computer users with their problems