Before we start: How to clone a HDD to a new or larger HDD without reinstalling OS and programs if you want to replace HDD? We've created a disk cloning software for Windows to fix the issue.
PAGE CONTENT:
Why Clone HDD to Another Hard Drive?
It's important for computer users to clone HDD if you need to backup your data in case of system errors or data loss, replace old hard disk or upgrade HDD to a larger one. Here is a list of 5 common scenarios to clone HDD:
1. The capacity of the old disk is too small.
Windows system and applications (especially games, office software, working software) may take up more and more disk space. When our old hard disk space is not enough such as "Low Disk Space" warning, you can clone HDD to a disk with a larger capacity to meet our work and daily needs.
2. There are physical bad sectors on the old disk.
When a hard disk has been used for years, such as frequently formatting, dust coverage, sudden power failure, etc., the hard disk may have problems. When there is a physical bad sector in the hard disk, the reading and writing speed will be greatly reduced, and even the data can't be read. In this situation, we need to migrate the existing data to the new HDD in time.
3. Back up the entire content on the HDD.
If you have important files on your HDD, you can back them up to another HDD or a usb external HDD to keep your data in safety by cloning a HDD. You can also clone a hdd to a smaller hdd if the hard disk capacity is big enough to fit the amount of data on source HDD.
4. Don't want to reinstall the system and software.
As more and more users want to improve their computer performance without replacing the operating system by upgrading the system drive. In this way, cloning a HDD will save your time and energy.
5. Personalized needs of professional users.
A professional user can choose to clone the entire disk or clone selected partitions on the HDD to the target disk and edit the disk layout after cloning.
To clone a HDD to another HDD, you need a reliable and advanced hard disk cloning software. You can try Donemax Disk Clone in Windows 11/10/8/7 to clone SSD or HDD.
How to clone a HDD to a new or larger HDD in 3 steps with a disk cloning software
Step 1: Select the source and target disk to clone hdd.
Select a hdd as the source in the pop-up clone window. Click Next.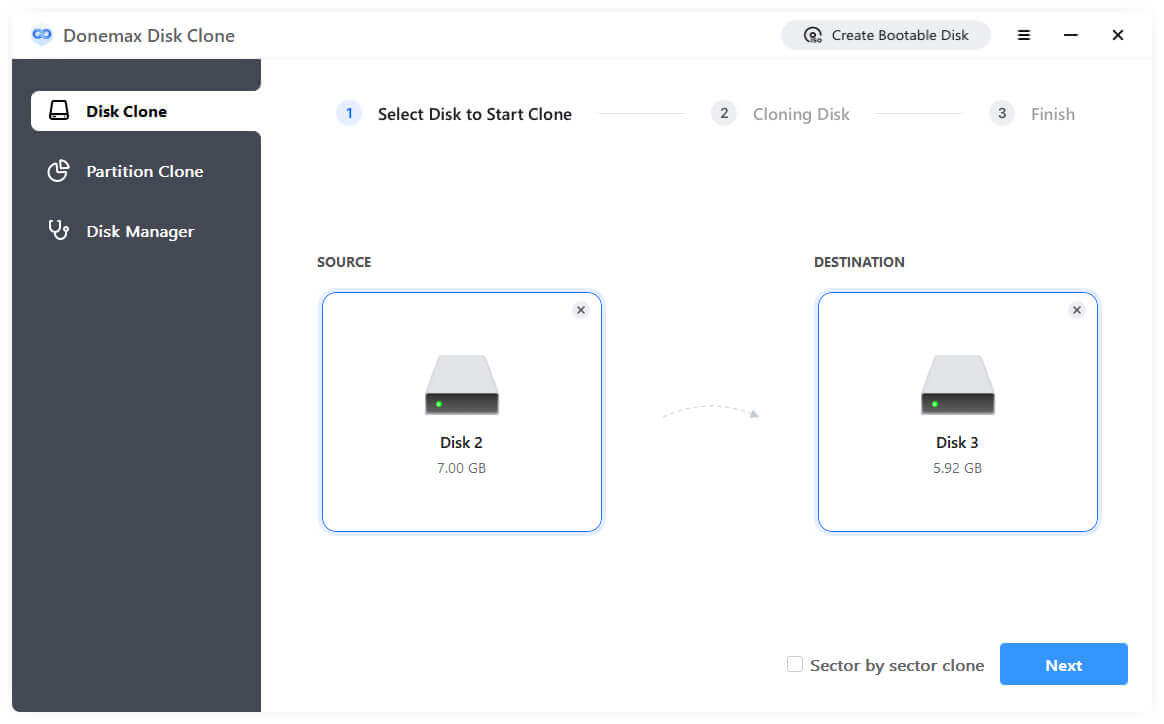 Step 2: Edit the destination disk layout.
To edit the cloned target disk layout, you can select auto fit disk layout to clone the same as the source disk, or manually edit disk layout.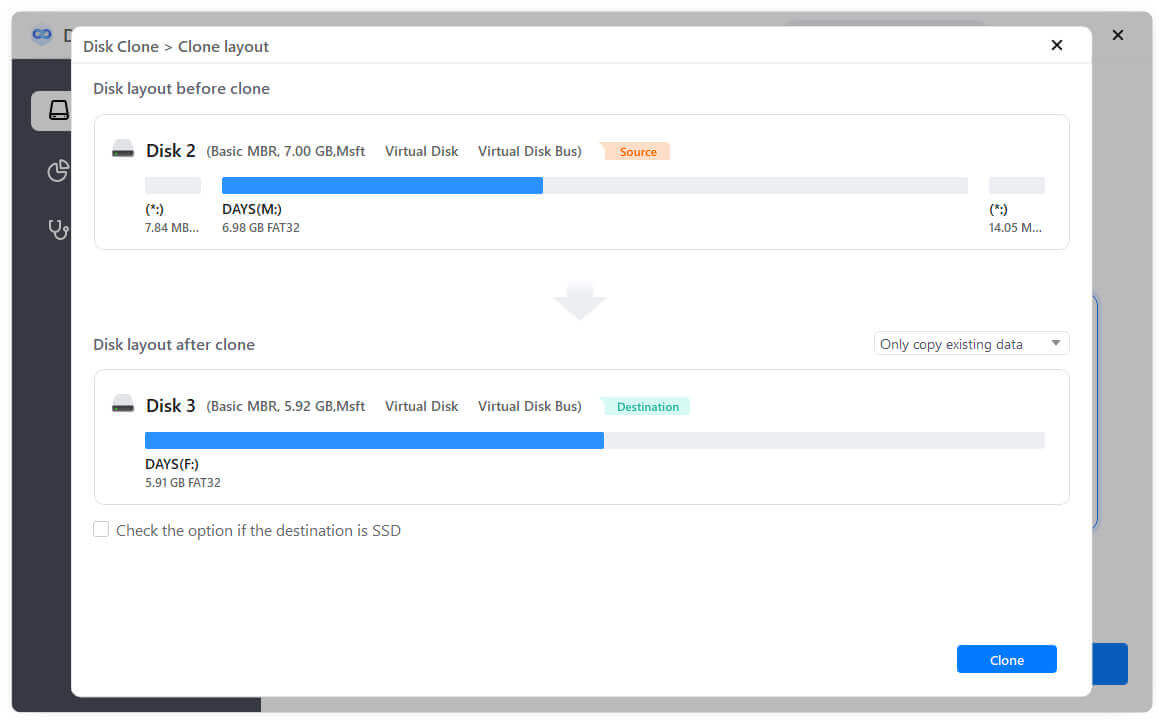 Step 3: Perform HDD cloning.
After confirmation, click "execute" to start the cloning process.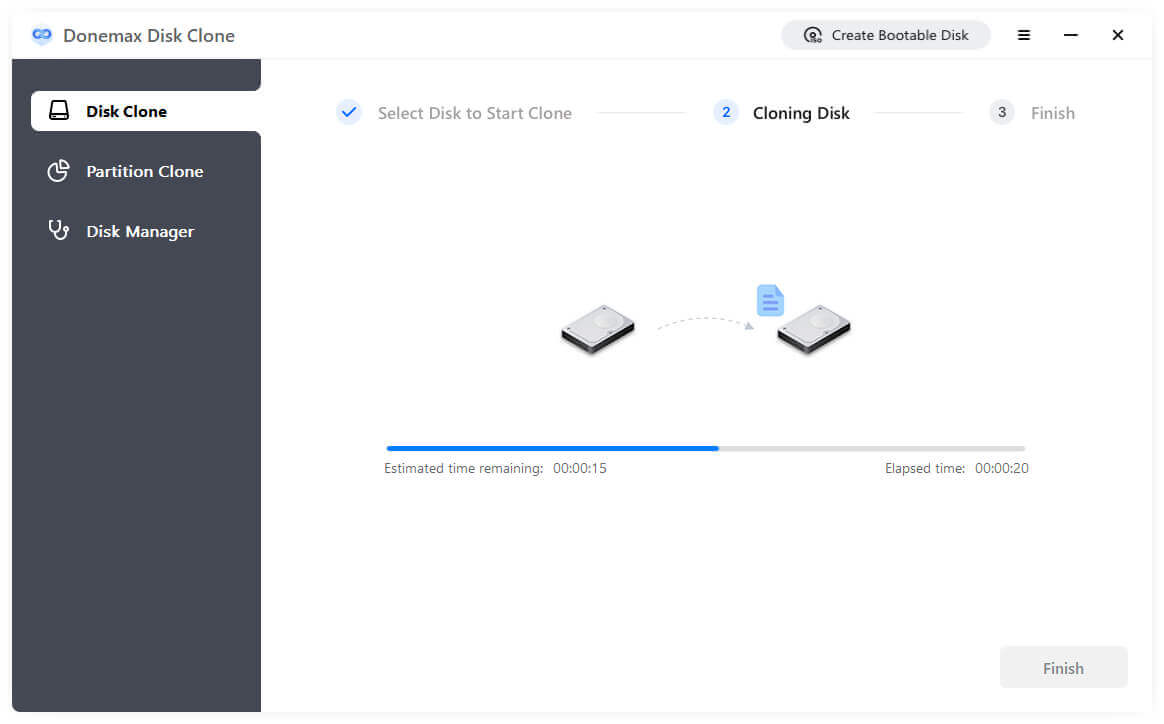 Tips:
1. Please back up important data on target disk in advance. Cloning a drive will first delete everything on the target disk.
2. Make sure the target disk has enough disk space to save all the data on the source disk, especially cloning hdd to the smaller one. Otherwise, the cloning process will fail.
3. Laptops users can connect the target disk through a USB hard disk box and then clone HDD to the usb external disk. After cloning, you can disassemble the notebook and replace it with the new disk.
4. If the newly cloned hard disk cannot boot after cloning, you should check the boot sequence at first. It also may be a boot mode problem (UEFI / BIOS).
FAQs on cloning HDD to HDD
Yes, it will be an easy task to clone a sysem HDD to a larger HDD with a HDD cloning software such as Donemax Disk Clone for Windows 11/10/8/7/Vista. After cloning, you don't need to reinstalling the Windows OS and programs. You can directly boot from the newly cloned HDD.
To clone a HDD to another HDD in Windows follow the steps:
Install the new HDD on your computer: open the PC case cover > plug the HDD and connect it to a spare SATA connector on the motherboard > Reassemble your PC and then the new HDD is installed.
Download and install Donemax Disk Clone on your computer
Launch the software and select Disk Clone
Select the HDD as source and the new one as destination
Click "Next"
And then the HDD will be cloned to the new one
Yes, you can easily clone a 1TB HDD to a 2TB HDD with Donemax Disk Clone without reinstalling the windows OS, programs and games installed. It ensures you to boot from the newly cloned 2 TB HDD.
Yes, you can clone a 1TB HDD to a 500GB with Donemax Disk Clone if the 500GB HDD can hold all the content on the 1TB HDD. That's to say, you can clone it if the data on the 1TB HDD is less than 500GB.
Here is a list of top 5 HDD cloning software for Windows:
Donemax Disk Clone
Acronis Cyber Protect
Macrium Reflect
Paragon Hard Disk Manager
Clonezilla
Related Articles

Contributing Writer
Maria is one of the senior writers & editors of Donemax who lives and works in Sydney, Australia. She loves PC, Mac and Internet Technology. She has 6 years of writing articles about data recovery on PC/Mac, disk cloning solution, data eraser and computer OS optimization, etc. She is also interested in testing various software and digital products.

Editor in chief
In order to effectively solve the problems for our customers, every article and troubleshooting solution published on our website has been strictly tested and practiced. Our editors love researching and using computers and testing software, and are willing to help computer users with their problems