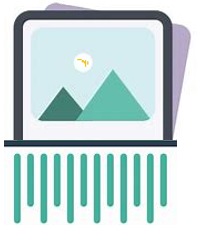 Photos are widely used in home life or work on Mac. You can use photos to record your family, or use it to store many important information. For many professional designers, the photos for work are especially critical. If you want protect your photos from being extracted after you abandon or sell your old device, it's necessary to wipe your photos completely first.
How to shred photos on Mac? Simply delete the photos or even format the drive on Mac, the photos will not be removed permanently from your drive on Mac machine. The deleted or formatted photos could be easily retrieved by professional Mac data recovery software. So you need to find a reliable and secure data erasure software to help shred the photos permanently.
---
What's the best software to shred photos on Mac?
The best data wiping software we recommend is Donemax Data Eraser for Mac. With this software, you can permanently shred files on Mac. It's able to shred photos and any other files with this tool. Before you shred files or wipe drive, please download and install the application on your Mac machine.
This application provides different modes to help you shred or erase data on Mac: Erase Files, Erase Hard Drive, Erase Free Space. You can choose different types to help you shred files, erase drive, wipe deleted/lost data from your drive on Mac.
Besides, the product provides professional and advanced data wipe standards and algorithms. It can ensure to wipe data permanently in different level. You can choose specified standard to wipe data, like HMG Infosec Standard 5 (1 pass), Peter Gutmann's algorithm 2 (2 passes), U.S. Army AR380-19 (3 passes), DoD 5220.22-M ECE (7 passes), Peter Gutmann's algorithm 35 (35 passes). In any level, you can wipe your data 100% safe.
What's more, there are some other tools in the software that can help you do more on Mac. You can format your drive quickly with this tool. If you want to uninstall apps, clean up browser data, remove duplicated files on Mac, this application can also help you.
---
Steps to shred/erase photos on Mac
As mentioned above, the software provides 3 modes to help you erase data. Here we will show you how to shred photos on Mac with different modes of the software.
Mode 1. Remove and shred individual photos.
You may only want to delete and shred some specified photos on Mac. Then you can choose this mode to shred the individual photos. You only need to choose the photos or the folders that contain the photos to shred directly.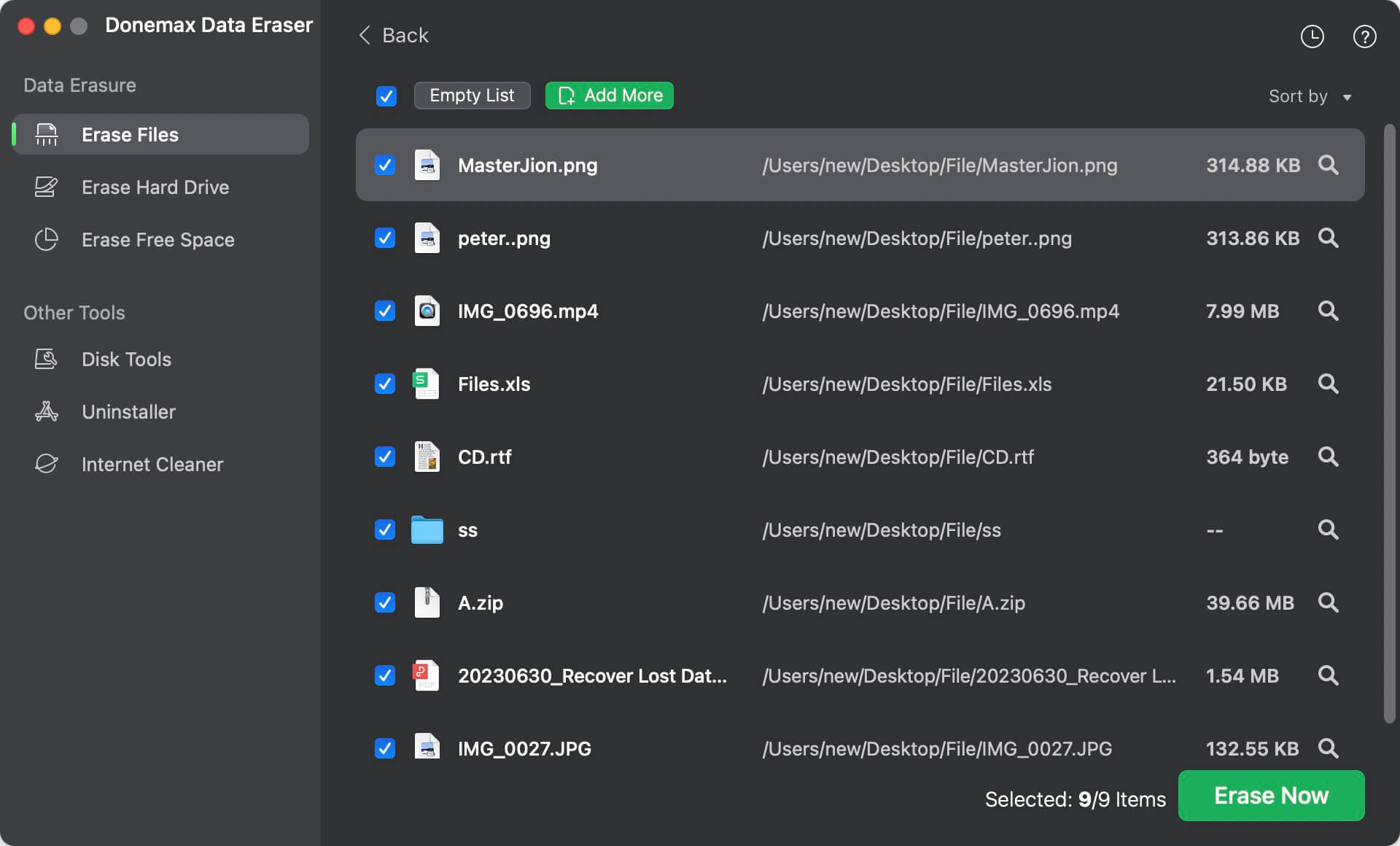 Mode 2. Erase entire drive to wipe photos.
If you want to erase all the data, including photos, from a drive on Mac, this mode is proper for you. By using this mode, you are able to wipe all the existing or lost data on the selected drive.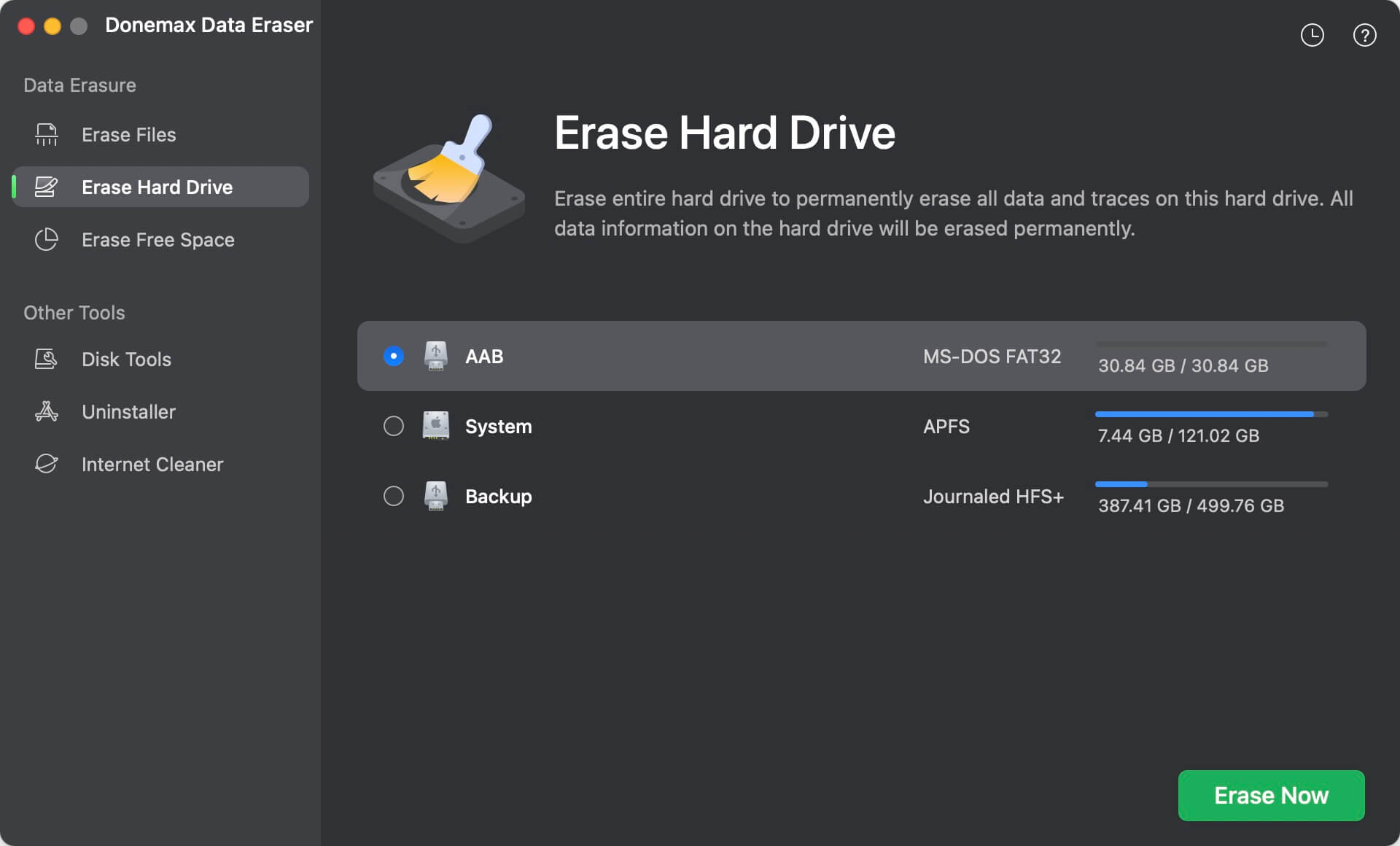 Mode 3. Wipe the deleted photos on Mac.
At last, if you have deleted some photos and want to ensure all the deleted photos will not be recovered in any way, please choose this option. It will wipe the free space of the drive to erase all the deleted photos.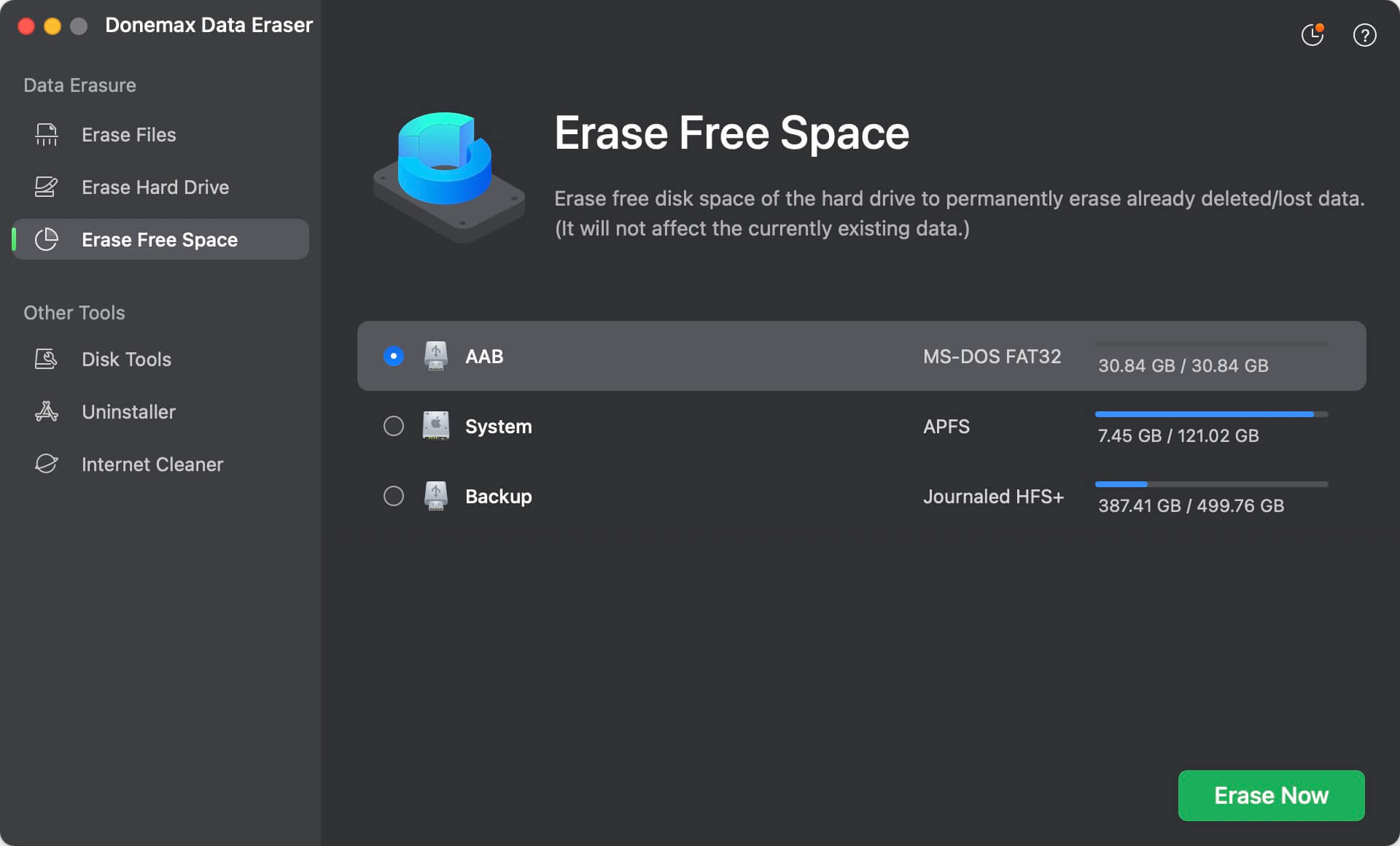 Note: Please ensure to choose the correct files/folder or drive to wipe as the erased data will not be recoverable.
If you want to shred photos, documents, videos, or other files on Mac, Donemax Data Eraser for Mac should be the best choice for you. It can easily erase data on your SSD, HDD, thumb drive, or SD card permanently. It will be very effective and safe to wipe data for you. You can download the free trial here to have a try first.
Donemax Data Eraser