How to wipe data or shred files on iMac? A reliable Mac data erasure tool can help you wipe data on iMac easily. We will introduce the best software for iMac data erasure on this page. Donemax Data Eraser for Mac is the software we will share with you. It's very simple to wipe data on Mac with this software.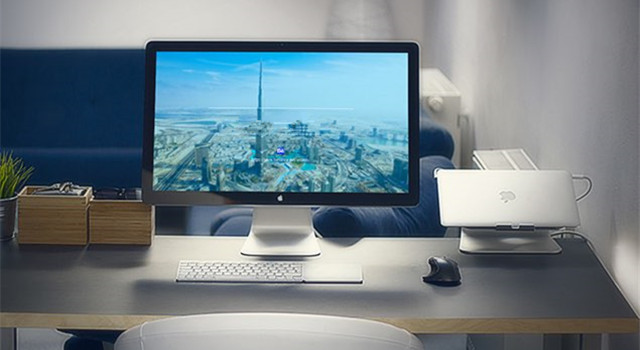 Why do you need to erase data on Mac?
Actually, there are different reasons for a user to wipe data on iMac. Mostly, users want to wipe data permanently to avoid data leakage. Here are some of the main reasons for users to erase data on iMac or other Mac computers.
Erase data before you sell an old iMac.
Shred sensitive data or files on iMac.
Wipe USB drive data on iMac.
Erase data on old drive after replacing drive.
In such a cases, it's necessary to wipe data permanently. As you know, there are many Mac data recovery applications that can recover deleted/lost data on iMac. To avoid your data being recovered by others in some cases, it's very important to wipe the data with professional data erasure software. Before you try to wipe data, please download and install the software on your iMac first.
Guide: Steps to erase data on iMac with the software
To easily and securely erase your data on iMac, the software provides the best solutions for you. Here is a simple guide for you to use this data erasure software. It can help you use the software to wipe data more effectively. There are 3 options in the software to wipe data on iMac in different cases. You can check and choose the proper one for you in specified situations.
Option 1. Shred individual files/folder on iMac.
The first option in the software is able to help you remove files permanently on iMac. Unlike deleting files in Finder, this option is able to shred the selected files/folders permanently from your drive. No data recovery software could recover these shred files/folders.Just choose the files/folder from your drive on iMac, and then click the "Erase Now" button to continue.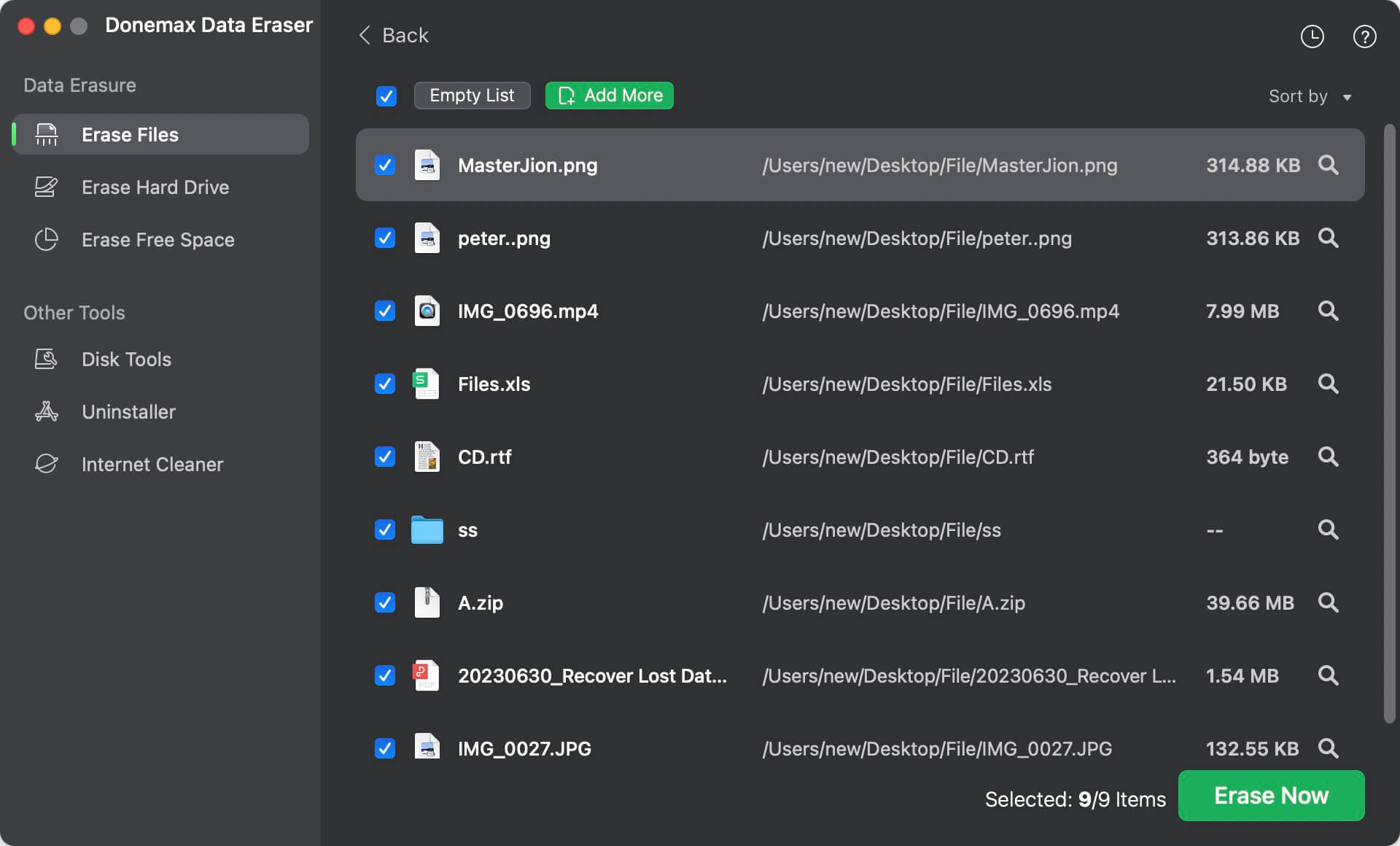 Option 2. Erase an entire drive on iMac.
If you want to wipe all the data on a data drive, you can choose this option "Erase Hard Drive". With this option, you are able to wipe all the data on a drive, including existing files and deleted/lost files. Please ensure to choose the correct drive to erase as the wiped data will not be recoverable in any way.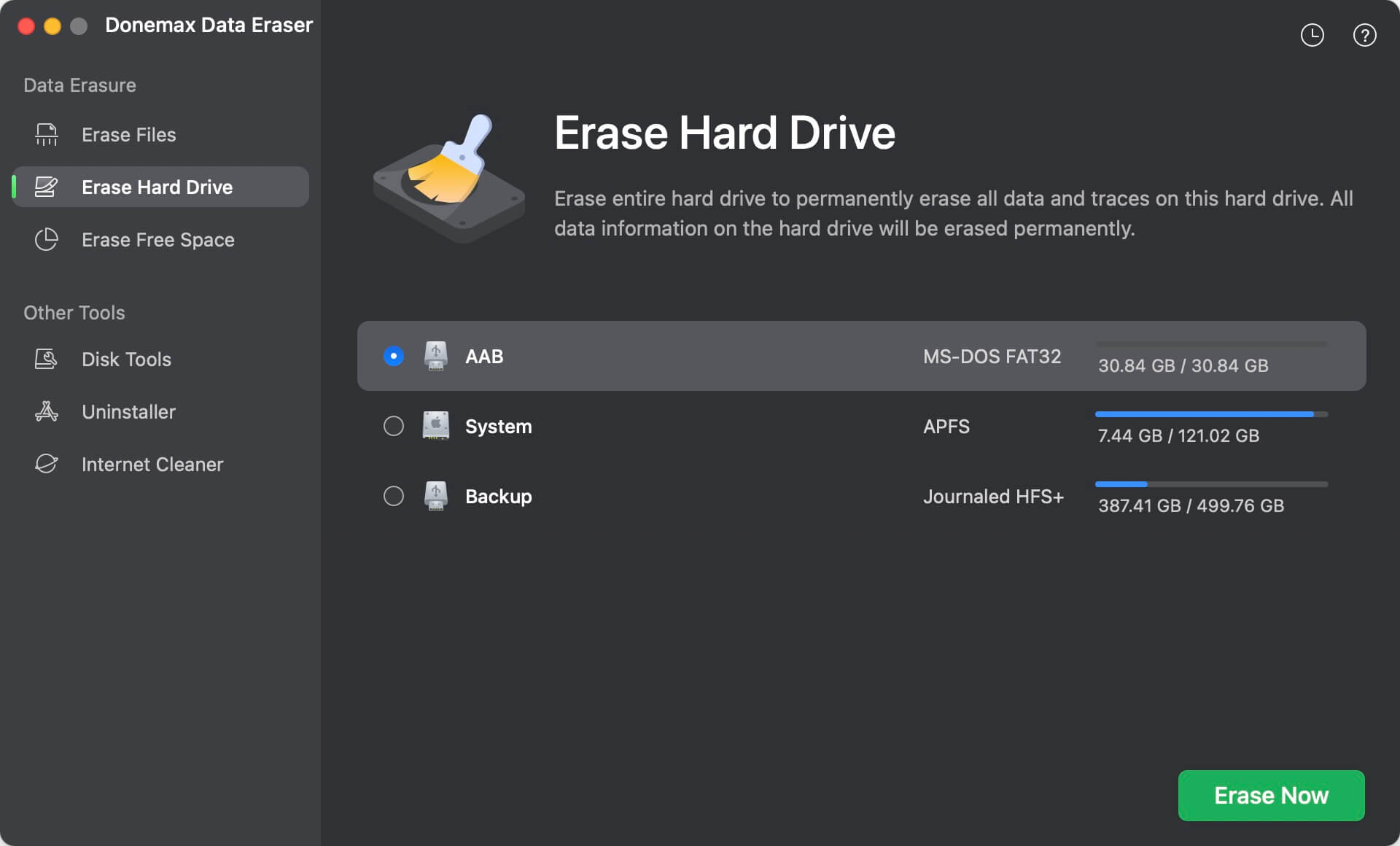 Option 3. Erase data on free space of a drive.
After deleting or losing some data on a drive, you many still want to ensure these data will not be recovered any more. In such a case, you can choose "Erase Free Space" option. It will wipe the deleted/lost data on the selected drive to avoid any data recovery possibility.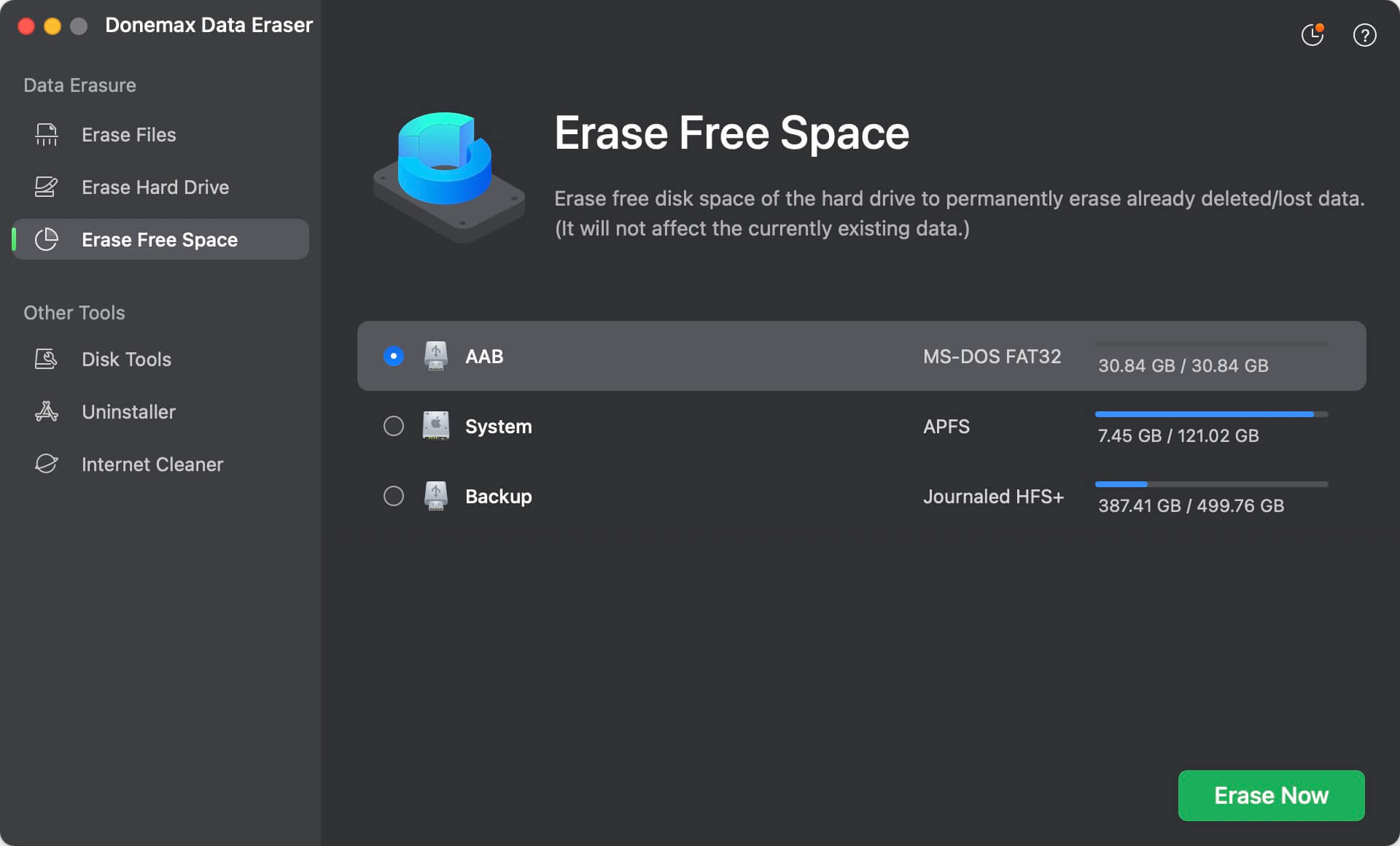 Please note that the software is able to work with different operating systems on iMac. It can erase data in macOS Big Sur, Catalina, or other systems on iMac.Also, you can use it to wipe data on other Mac machines, including MacBook, Mac Pro, Mac mini, and so on.
Also, Donemax Data Eraser for Mac is capable to erase data on SSD, HDD, USB drive, jump drive, SD card, or other digital storage media on Mac. If you need to wipe sensitive data permanently or erase personal data before you resell your device, you can download and use this data erasure software to help you.
Donemax Data Eraser