"I am a pretty new convert to the Mac. I have used Windows system for many years and find it's a little hard to use Mac. I was wondering if there is a start menu like in windows for the mac, then I can manage the Mac in an easier way."
Classic style start menu for Windows is very popular for Windows users. It's really easy and simple for users to operate the computer with start menu. You can nearly access anywhere or any applications on your computer from start menu directly. If you are new to Mac from Windows and used to the start menu, it will be ideal to add a Windows-style start menu on Mac.
As you can see, Mac is designed totally different from Windows and you will find there is no built-in start menu feature/application. There are some alternative approaches to achieve the goal partly on Mac. For example, you can combine different folders into one Dock folder using "aliases" or just drag the desired folders/applications to Doc directly. However, it's really complex for a new user who switching to Mac. And it's not neat, right?
Best Windows-style start menu for Mac
Donemax DMmenu is a Windows-style start menu designed for Mac systems. After downloading and installing this application, you will just have a Windows-style start menu for Mac. You can just manage you Mac in a familiar way like in Windows.
There are many useful features in the applications to help you mange your Mac easily. Here we will just list the options for you and you can have a quick glance first.
Memory monitor - Easy to monitor the running applications. Close some of running applications to free more memory and CPU resources.
All Applications - All the installed applications on the Mac will be listed here. It's able to launch any application by one-click. You can also search for a specified application in the list directly.
Quick Visit - Most frequently used applications, settings, and locations are pined to here, you can easily access them from here.
Junk Cleaner - Clean up your Download and empty Trash bin.
Switch Manager - All-in-one switch manager for you. You can turn switch on or off many settings on the Mac just from here. It's very convenient for you to turn on/off the settings, such as Dark Mode, Hide Dock, Keep Awake, Night Shift, etc.
App Uninstaller - It's a very popular function for Mac users. You can easily uninstall any unwanted application.
Startup Items - Remove some items to speed up the computer while starting. You can also add some items if you want them run with the system start.
Disk Manager - Rename, format drives, or eject removable drives from Mac safely.
Also, you can control the volume and screen brightness, change desktop picture. Shut download/restart/sleep options are available for you in the application.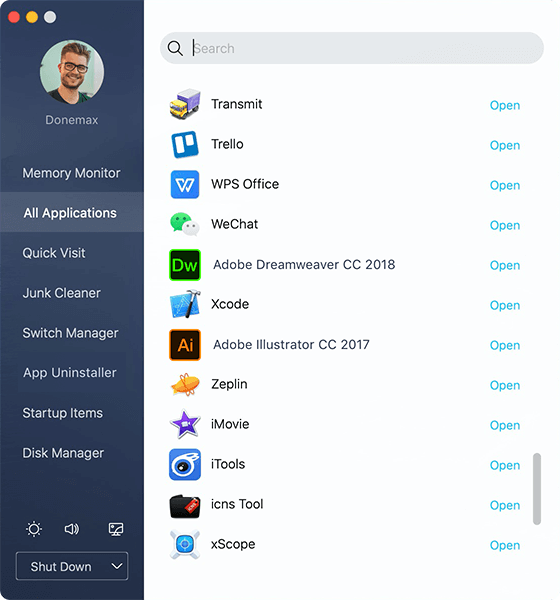 How to add a Windows-style start menu on Mac?
After install the application Donemax DMmenu, please run it from Launchpad. Then you will see the interface is just like Windows-style start menu. As you are very familiar with Windows start menu, you will know how to operate this application easily. You can keep this application in the startup items. Then you can see this start menu once the system start up.
Also, the software is compatible with different versions of Mac operating systems, ranges from Mac OS X 10.7 to the latest macOS 12 Monterey. You can just download the software to have a 30-day trial with full functions.
---
Frequently Asked Questions
1. Can I use all features with trial version of DMmenu?

Yes, you can use all features with free trial version. And you can try the DMmenu 30 days for free.

2. Can I install the Mac start menu on my MacBook?

Yes, you can install the Mac start menu on all Mac machines such as MacBook, MacBook Air, MacBook Pro, iMac, Mac Pro, etc.
Related Articles
DMmenu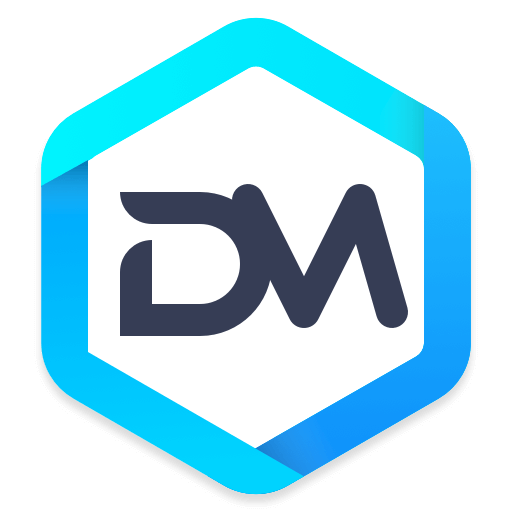 Powerful & easy-to-use start menu application for Mac computer - monitor, optimize and manage your Mac in an easy way.