Uninstalling useless applications is the fast way to regain storage space on your Mac. It is very easy to drag the application to trash bin or delete it from Launchpad. However, the traditional uninstalling solution leaves many files related the uninstalled application including logs, junk files, register files, etc. So, a better way to uninstall applications on Mac is removing applications with Mac uninstaller. Here, we will introduce three uninstaller applications for Mac OS.
NO.1 FREE uninstaller for Mac - DMmenu
DMmenu is a famous start menu software for Mac OS. It offers several mini tools to help in optimizing Mac system, one of them is App Uninstaller. When you click App Uninstaller, you will see all applications on your Mac. Just select the targeted applications, click on Uninstall button. App Uninstaller will help you delete the selected applications and remove all associated files.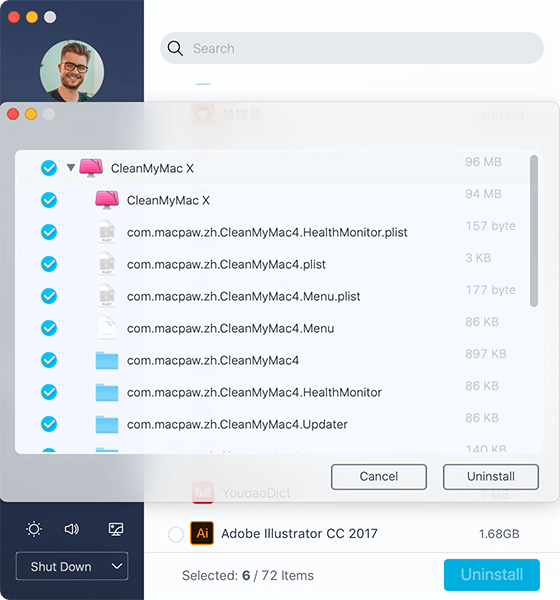 DMmenu App Uninstaller offers the easy way to thoroughly remove useless applications on your Mac. It even can help you uninstall stubborn, damaged, virus-infected applications and malware.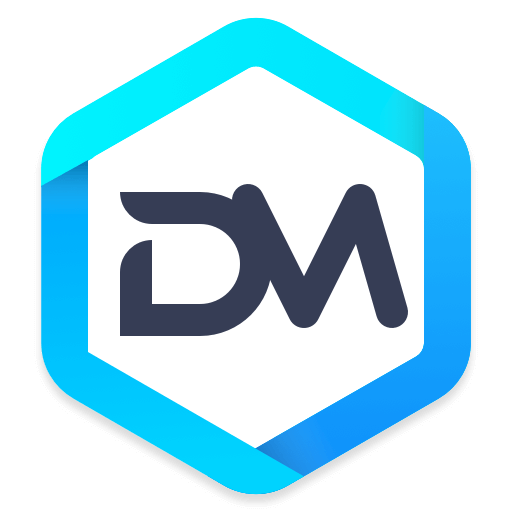 DMmenu
Free uninstaller for Mac OS.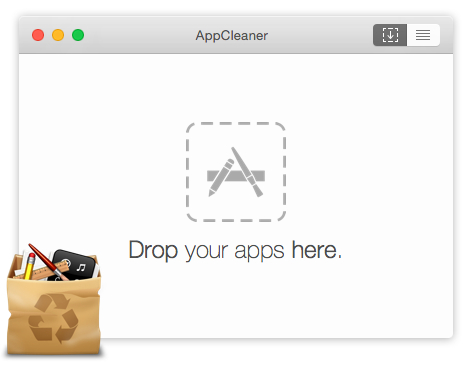 AppCleaner is a free Mac uninstaller which allows you to drag the application to uninstall box and quickly delete all associated files. With this app, you can easily search the apps, plugins or widgets you don't want anymore, and completely remove them from your Mac.
Pros:
This Mac uninstaller is totally free.
It can recover the apps that you mistakenly deleted.
Cons:
VIt can't thoroughly uninstall stubborn applications such as Photoshop, Evernote, etc.
You have to manually find the right version depending on your macOS version.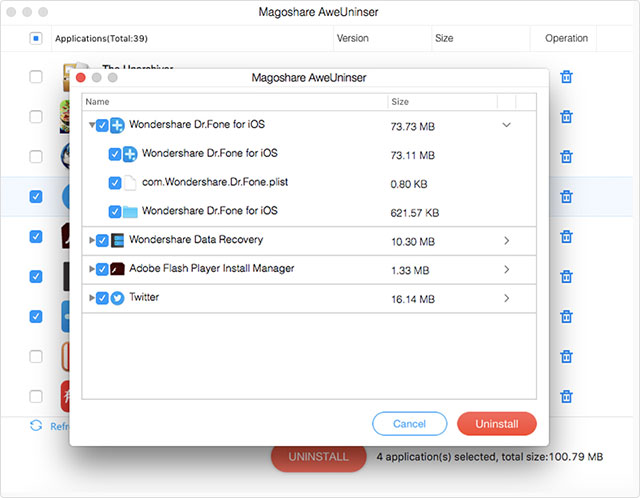 Magoshare offers this free Mac uninstaller to help Mac users remove unwanted applications on Mac. Like the two free Mac uninstaller above, it can help you securely and quickly uninstall Mac apps and delete junk files, logs, register files, etc.
Pros:
This is totally free Mac uninstaller.
Very easy to use.
Cons:
Not support OS X 10.6.
Not support to uninstall widgets.
We strong recommend to get a free uninstaller on your Mac. Installing apps on Mac is very simple, but getting rid of all the files they create is not a simple task. With free Mac uninstaller, you can easily uninstall unwanted apps and delete all related files by 1-2 clicks.
---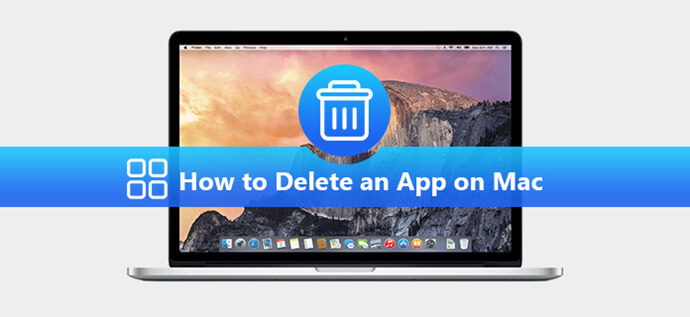 How uninstall applications with DMmenu? All the free Mac uninstallers listed above are very easy-to-use. You can download DMmenu for Mac, and follow this guide to uninstall applications on Mac.
Step 1: Choose tool - App Uninstaller.
DMmenu is a start menu application which provides lots of useful tools to help you manage, optimize your Mac. Just choose this tool - App Uninstaller. You can see the list of installed apps.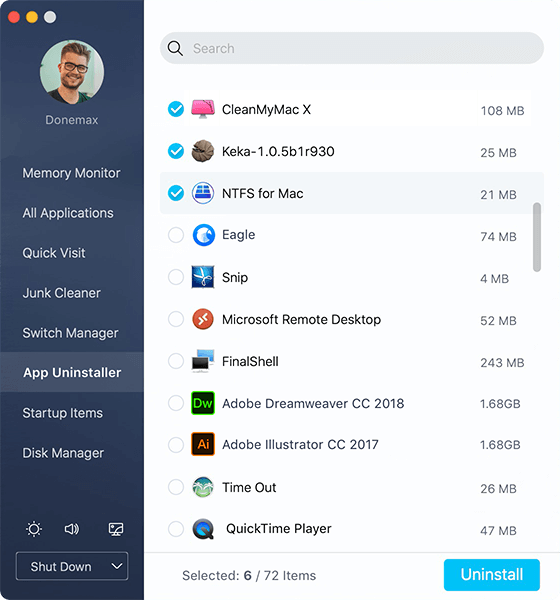 Step 2: Select the applications you want to uninstall.
You can search the applications, then select the applications you want to uninstall.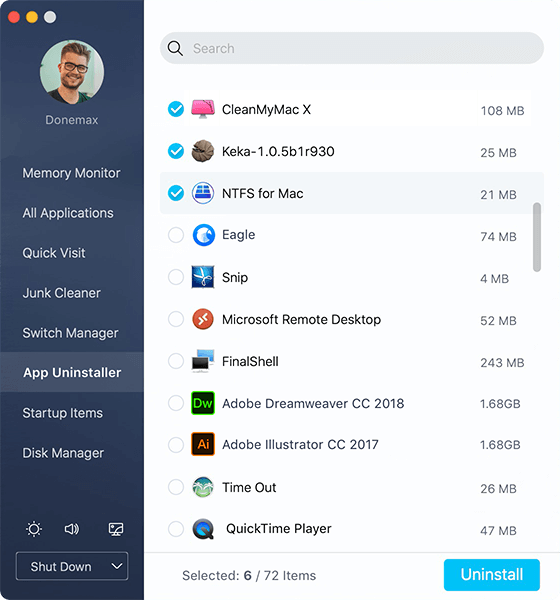 Step 3: Uninstall the selected applications.
Then click on Uninstall button. It will list the selected apps and associated files. Just delete all of them by only 1 click.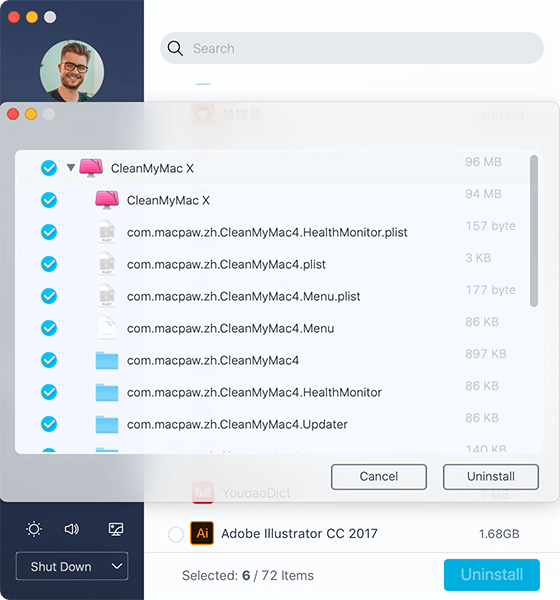 DMmenu is a small application. You can conveniently run it from the Dock, Menu Bar or Launchpad to help you uninstall unwanted applications. Highly recommended.
Related Articles
DMmenu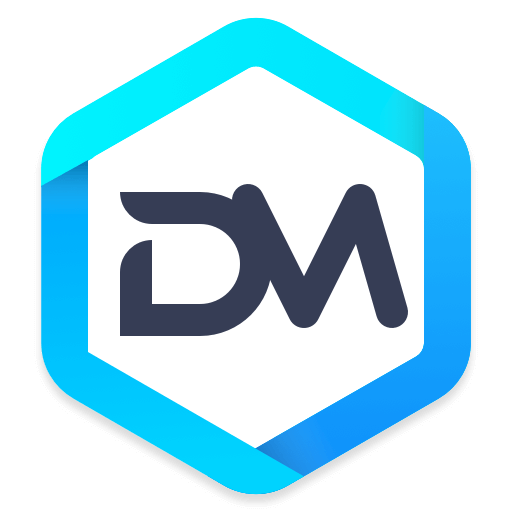 Powerful & easy-to-use start menu application for Mac computer - monitor, optimize and manage your Mac in an easy way.