A Windows uninstaller software is a handy tool when it comes to uninstalling software from your Windows computer. Although by default, there is a built-in uninstall feature in Windows also known as Add or Remove Programs, a dedicated uninstaller can be handy for several reasons.
Sometimes, the default uninstaller can misbehave and cause worries for the user. It may get stuck in the midst of the uninstallation process or it can leave the traces of files hidden somewhere in your computer. These remaining files take additional space even after you uninstall the program and that can kill the space over time. Conversely, uninstaller software can delete a program with great efficiency. In this article, we have compiled a list of the top 5 free uninstallers for Windows, based on our research.
Top 5 Free Windows Uninstallers
#1 Donemax AppRemover Free
The first uninstaller in this list is the Donemax AppRemover. This software is making headlines in different articles these days as it is well-rated and packs some good features. It claims to remove software in half the time than conventional procedure and that too in an effective manner.
This free Windows uninstaller can help you quickly uninstall useless programs on your computer and it also delete all related files such as app junk data, caches, logs, registry files, etc. And it is very easy-to-use. You just need to select the programs you want to uninstall, then click on Uninstall button to remove the programs and related data from your computer. It is 100% safe and free program - free lifetime updates.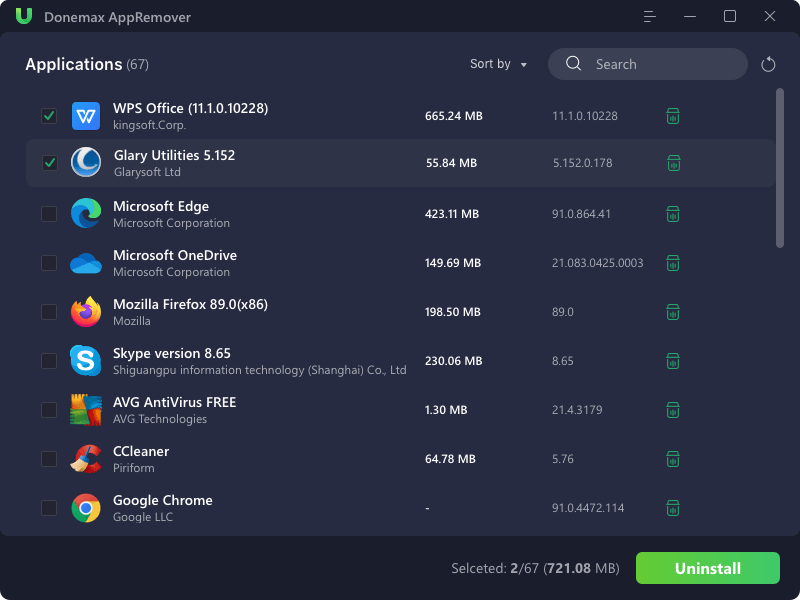 #2 Revo Uninstaller
The number two utility on this list is Revo Uninstaller. It is yet another software to aid you in the uninstallation of software and remove unwanted programs easily. Revo claims that this program can remove your suspicions in case you believe that there are some parts of the software left to uninstall.
It can also remove those registries, folders, and files that are left in the system even after the uninstallation of a program. Revo says that it acts as the replacement and booster to the native Windows uninstaller as it removes the files first using the help of Windows uninstaller and then searches for the leftovers to remove a program efficiently.
The free version can scan for the leftovers after the basic uninstallation, has 8 additional cleaning tools, and can uninstall Windows apps.
If you want to have some further features with this software such as Remove browser extensions, Multiple uninstall, extended scanning for the leftovers, etc., then you will have to go with the Pro version that starts at around $14.96.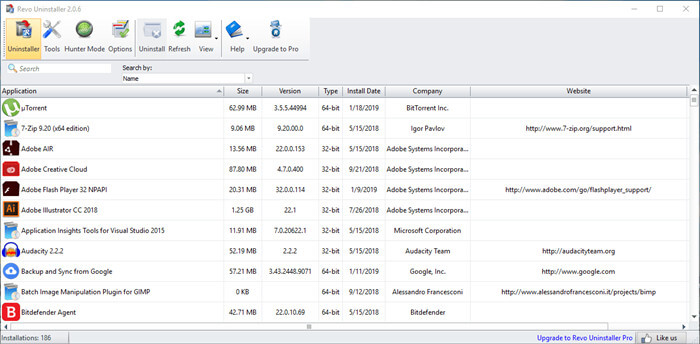 #3 Geek Uninstaller
The third name in this list is Geek uninstaller. It comes with several features. Firstly, the company says that this software is 100% free to use. Secondly, it performs a deep and fast removal of the leftovers to keep the Windows clean. It has a simpler user interface supporting 40+ languages and quickly launches and searches the app that you want to uninstall.
It also has a force removal feature to remove the stubborn or broken programs. It can also remove the Windows Store apps from Windows 8/8.1/10/11.
Pros: Claims to be 100% free, this software has some good features to offer such as deep and fast removal, quick launch and scan, and multi-language support.
Cons: Some additional utilities could have made this software more versatile to use although it already seems to serve its purpose well.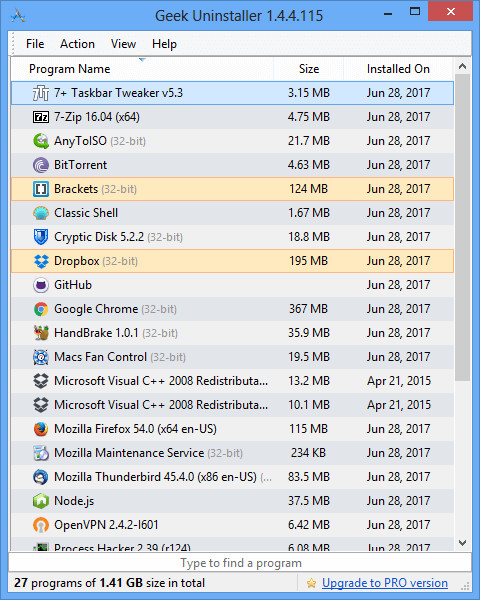 #4 Wise Program Uninstaller
The second last name in this list of top 5 free uninstallers for Windows is Wise Program Uninstaller. It asserts to remove a program completely and quickly with the help of its user-friendly interface. It has a built-in scan function to scan and delete the leftover files, folders, etc. to complete the uninstallation of the software.
It also has a forced uninstallation function to remove some hard-to-remove software. Like other software, it also has the find tools function to easily find the required software by sorting them according to name, size, and date.
#5 DoYourData Uninstaller
The final name in this list is DoYourData Uninstaller. Like other software of its league, it also removes undesired software. Actually, this software offers 1-year free version for Windows users. It is a very powerful uninstalling program. It can uninstall Windows apps, third-party software, stubborn programs from Windows 11/10/8/7/Vista/XP/2000, etc.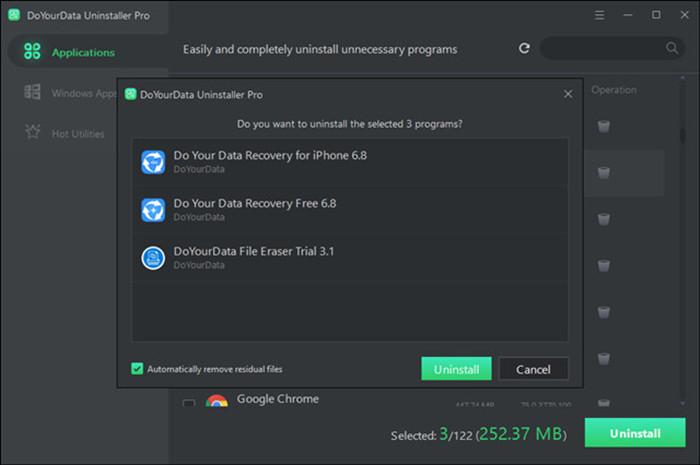 Uninstall programs with Donemax AppRemover
We give the best 5 uninstallers. And now we will show you how to quickly uninstall useless programs and delete all leftovers with one of the free uninstaller - Donemax AppRemover.
Step 1. Download and install Donemax AppRemover on your computer.
Step 2. Open Donemax AppRemover on your computer, it shows all programs. Just select the programs you want to uninstall.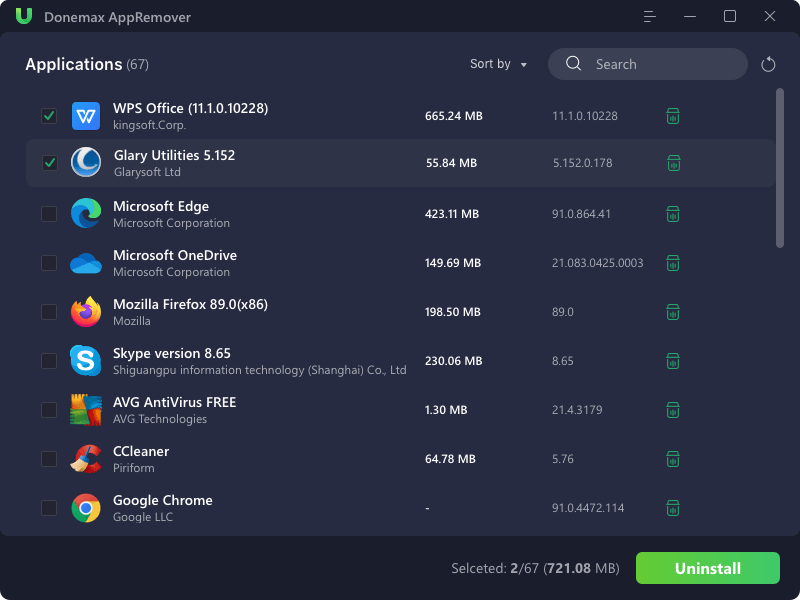 Step 3. Click on Uninstall button to uninstall the selected programs and delete all leftovers.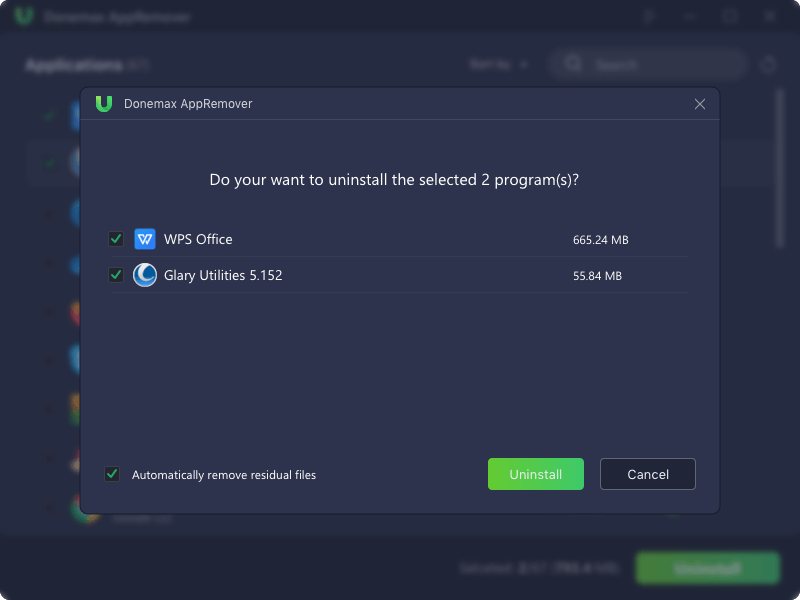 Final Thoughts
Through this article, we tried to cover the top 5 free uninstallers for Windows, based on our research. There are some software that are free to use but require some money to get the full taste of them. Additionally, a couple of freeware software are also part of this list. Hence, the list is compiled to make your choice easier in considering the best uninstaller software for your Windows computer in case you want one.
Donemax AppRemover