Before you trade in, give away, or abandon your computer or drive/device, what do you want to do? Normally, you will need to erase the data on the drive/device permanently first. There are some data erasing tools in the market that can help you wipe data completely. However, if you want to wipe data on multiple machines or drives in business environment, you may need the license for enterprise.
Some data erasing software can only provide the tool for personal and single use. To help the software for business users, we will review and introduce the best 3 data erasure software for enterprise here on this page. Please check and choose a proper one for you own needs.
What can data erasure software do?
Data erasure software is used to destruct data on digital device. It can shred files and wipe data completely. After wiping data with the software, you will not be able to retrieve the files in any way.
When you delete files and empty recycle bin on your computer, the files are not wiped actually. With data recovery software, you can easily get back the deleted files. So if you want to remove your data from computer permanently, you need data erasure software.
It's a completely and reliable solution for you to keep your personal data safe. With data erasure software, it can wipe sensitive and private information to avoid data leakage. Also, if a drive was affected by virus, you can wipe the data completely to remove the virus permanently.
The best 3 data erasure software for enterprise
To help enterprise and business users to wipe data, we will introduce the best 3 data erasure software. If you need a enterprise license for data wiping, you can read on and easily find one to help you.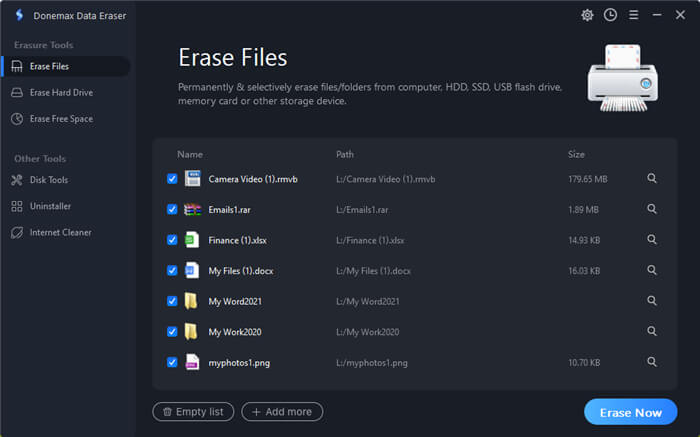 As the best data erasure software, Donemax Data Eraser has a very simple interface. It's intuitive and understandable. Any home or business user can easily operate and use it to wipe data from your hard drive, SSD, USB flash drive, memory card, etc.
The software is professional and effective enough for users to wipe data completely. It provides advanced data wiping standards and can work in the business environments. The software provides enterprise license that can help business users to wipe data effectively.
Purchase Donemax Data Eraser for Enterprise with only $199USD.
Also, the software is completely compatible with your Windows Server, 11, 10, 8, 7, Vista systems. Should you need to wipe data for business usage, please download and have a try with this software.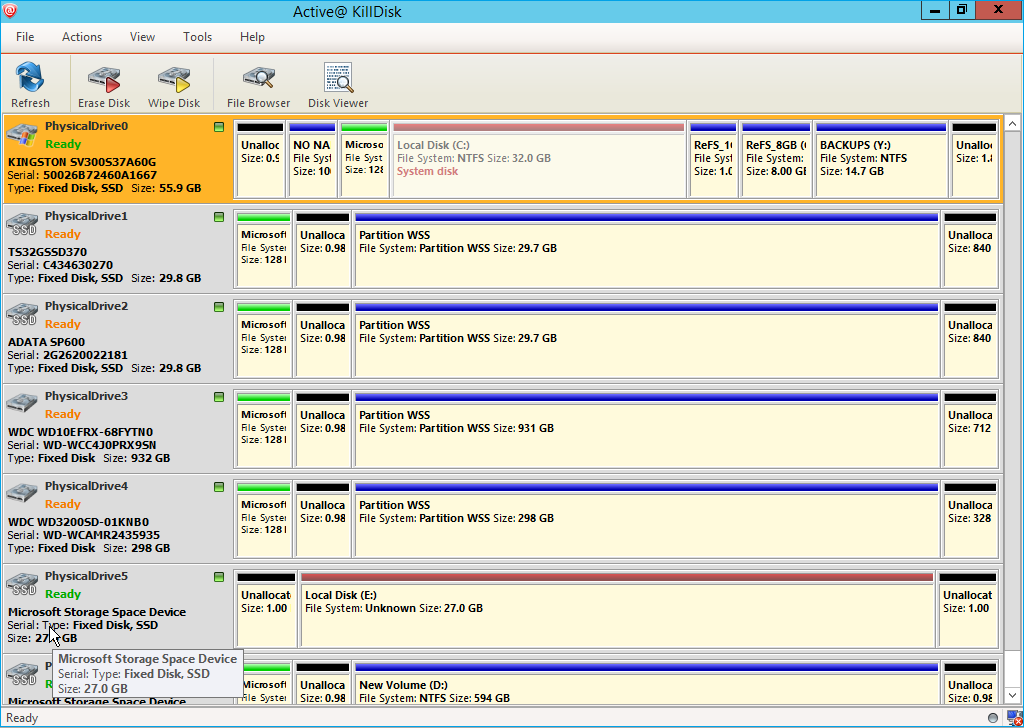 Active KillDisk is another professional data destruction tool for business users. It can not only be used for home users, but also can work for enterprise users. It provides full settings for business users to wipe data smoothly. It's a full and reliable solutions for data sanitization.
Also, it's very flexible to use the software. You can install regular package on your computer to run it and wipe data. Besides, you can download a simple ISO file and then create a bootable disk for data wiping.
KillDisk works with both traditional hard drives, solid state drives, jump drive, SD card, and other storage media. What's more, it works in Windows 10, 8, 7, Vista, and XP. There's also a Linux and Mac version available for this data wiping application.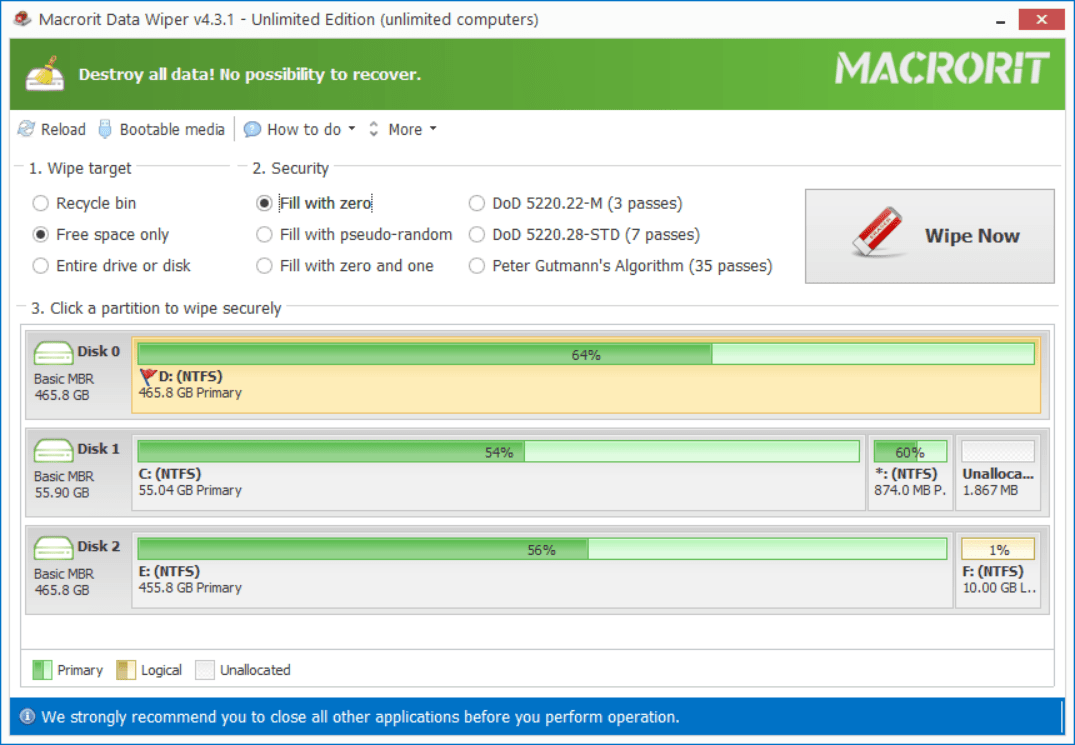 Macrorit Data Wiper provides the following data erasure algorithms: DoD 5220.22-M, DoD 5220.28-STD, Random Data, Write Zero. With any of the data wiping standard, the software can help you wipe data permanently.
The program has a very nice and familiar interface. The software is very easy to use. You can choose different wiping methods to wipe your drive. It can wipe data fast and permanently. It's another professional and perfect solutions for users to wipe data.
Macrorit Data Wiper can work in Windows 10, 8, 7, Vista, XP, and Server 2008 and 2003. You can use the software for home users. It also provides enterprise license for business users to erase data.
How to erase data with Donemax Data Eraser?
You can use Donemax Data Eraser to wipe your data in any cases. Before you trade in, donate, or lend your machine/drive to others, you can wipe all your data from your machine/device. Also, it can help you shred any specified files/folder for personal information safe.
If you want to shred individual files/folders, you can use the option "Erase Files" in the software. Please select specified files/folders from your drive or computer, then click "Erase Now" button to shred the files.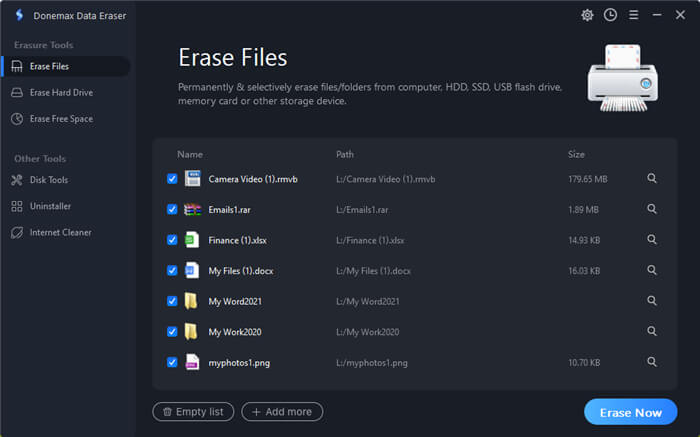 Also, you can wipe all the files on a drive, you can choose an entire drive to wipe. It's able to any exiting or deleted data on the drive to avoid data recovery possibility.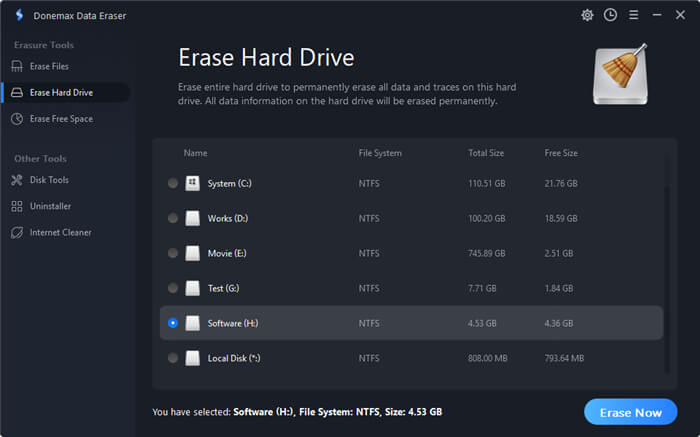 At last, the software can even help you erase the deleted data on a drive. If you want to ensure the deleted/lost data on your drive will not be recovered, you can erase the free space of a drive.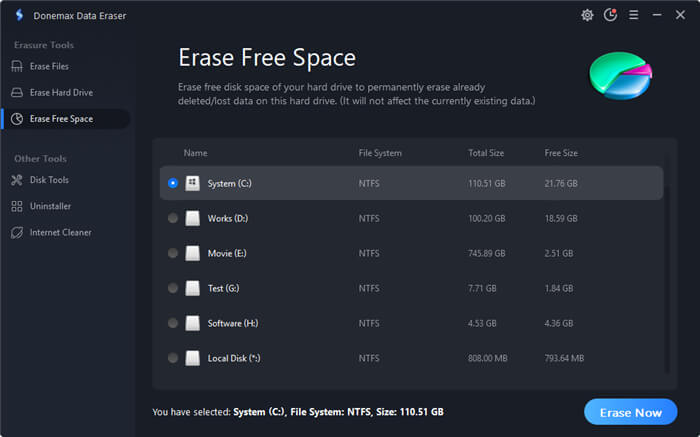 Please note that the data wiped by the software will not be recoverable. You will lose the data permanently. So please be careful enough and choose the correct file/folder/drive to wipe. Donemax Data Eraser is the best and most effective data erasure software that can help you wipe sensitive information from your drive. Please download the software to help you once you need to erase data in any situation.
Please note that once your data is erased by Donemax Data Eraser, the data is lost forever, can't be recovered by any data recovery software. So, please make a backup before you permanently erase your documents by using Donemax Data Eraser.