PAGE CONTENT:
It's understandable how laptop owners, Samsung or others, may lose track of their login information. That would make access to such accounts far more difficult. The situation becomes more complicated if the laptop is essential to daily life.
You shouldn't be too alarmed, as there are several options for changing the password on a Samsung laptop. Almost without exception, if you perform a factory reset on a Samsung laptop, you will lose access to the administrative password and all other data.
If the user has forgotten their laptop's password, this might be of assistance. The procedure of a factory reset on a Samsung laptop running a certain version of Microsoft Windows varies by OS. Many situations call for resetting a Samsung laptop.
It's useful for eliminating viruses, resetting your device, and fixing issues. However, restarting your Samsung laptop will erase all your data, so back up your work beforehand. Follow the instructions if you want to factory reset your Samsung laptop.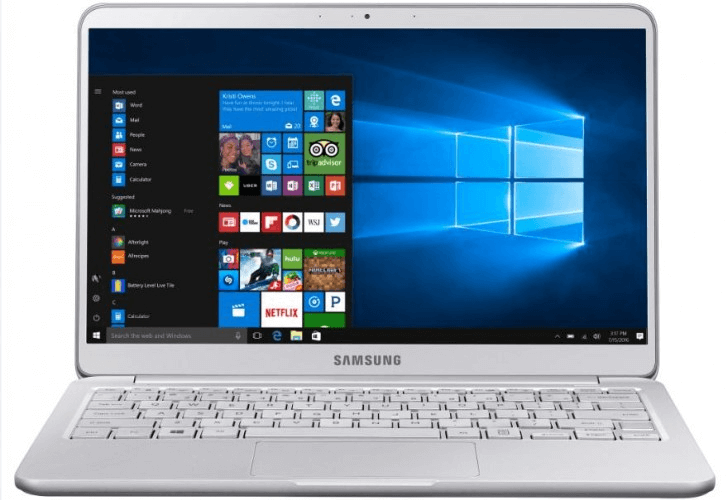 Why Reset Samsung Laptop?
Your laptop may need to be reset to factory settings for several reasons.
Let's say you're ready for a change and want a new laptop. Your older laptop is no longer needed, and you'd prefer to sell it or give it to a sibling.
In any case, you should remove your data so that neither your personal information nor their storage space is compromised. Your computer will also be more productive and efficient after some downtime.
You must restore your laptop to factory settings if you find a flaw or virus and your anti-virus software cannot eliminate it.
Resetting your laptop will return it to its factory settings if it is not working as it should and might cause serious issues, such as operating slowly, crashing, or freezing.
Sometimes, we need extra space, and the laptop always asks for it. Restoring your laptop to its original state after a factory reset may be unpleasant since all unnecessary data will be removed.
You have forgotten the password to your Samsung laptop. Problem solved. It's possible that restarting the computer will fix the problem.
How to Tell If Your Samsung Laptop Needs Factory Reset?
Make sure a reset is necessary before doing the steps outlined here. Then, check to see if any of these issues are arising.
You have a loose laptop.
A virus has been detected in your system.
Your laptop's functionality will suffer when the hard disk fills up.
You've lost access to your Samsung and must wipe all data before selling it.
Note: If you're having problems like these, restoring your Samsung laptop to factory settings is probably time.
How to Reset A Samsung Laptop?
🔖1.Samsung Recovery Solution:
Your Samsung laptop is equipped with a "System Recovery Solution" utility. This one-of-a-kind program will assist you in saving and restoring crucial information. Just do what I say:
Join the charging cord to your laptop computer.
The computer has to be turned off and restarted again.
The Samsung logo will show when you start your computer and press the F4 key.
Next, you'll see a window labeled "Samsung System Recovery Application."
Select Restore, and then Restore All to finish the process. That will refresh your laptop by organizing your files on C Drive.
After that, the Computer Status window will appear. Just go ahead and tap the link.
Restore press OK.
After you finish the process, your laptop will restart many times. The entire process might take up to 45 minutes, so please be patient.
🔖2.Samsung Hotkey:
Everyone knows a Samsung laptop can be reset to factory settings with a single button. All you have to do is boot up your Samsung laptop while simultaneously pressing F4 or F7. In addition, the system restoration software on a Samsung laptop will launch by itself. After the application has finished and the Samsung laptop has rebooted, you can log in without a password.
Resetting a Samsung laptop to factory settings may be done quickly, but it has certain drawbacks, such as losing personal files. Because of this, you should carefully consider the pros and cons of doing a factory reset on your Samsung laptop before making that decision.
How to Wipe Samsung Laptop before Selling or Donating?
Even you have reset the Samsung laptop to its factory settings, the lost data on the hard drive is not lost forever and can be recovered by data recovery software. If you want to permanently wipe data on the Samsung laptop, you can download a data erasure program - such as Donemax Data Eraser.
Donemax Data Erasers offers advanced data erasure technology to erase, overwrite the data stored on the Samsung laptop. Once the data is erased by this data erasure software, the data is gone forever, can not be recovered by any data recovery software.
Step 1. Download and install Donemax Data Eraser on your Samsung laptop and open it.
Step 2. Choose Erase Hard Drive, select the hard drive you want to wipe, and then click Erase Now button.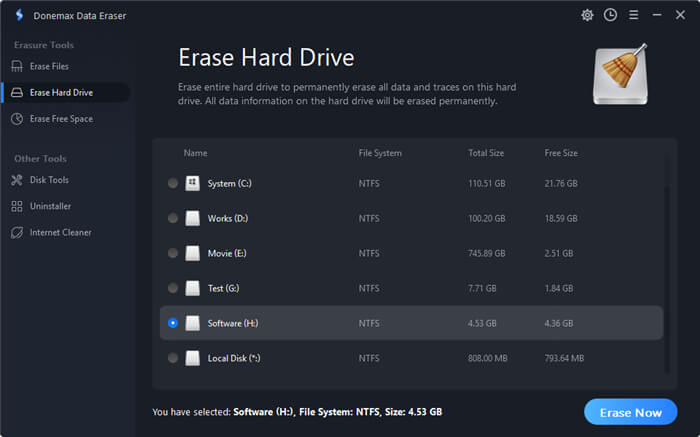 Then it will permanently and securely erase all data stored on the hard drive.
Conclusion:
It might sound like a difficult operation, but resetting a Samsung laptop to its factory settings is simple. On the other hand, following the appropriate advice shouldn't be too difficult.
Even though Samsung laptops are very dependable and operate without hiccups, it is common for them to become less speedy after being used for an extended period.
When you reset a Samsung laptop to factory settings, you will notice a huge improvement in its performance. Because of this, you will no longer need to worry about becoming stuck when juggling many tasks on your computer.
If you are panning to sell or donate your Samsung laptop, you can use Donemax Data Eraser to wipe data on it. This data eraser ensures permanently erasing data on the Samsung laptop, making data recovery be impossible.
Related Articles

Contributing Writer
Maria is one of the senior writers & editors of Donemax who lives and works in Sydney, Australia. She loves PC, Mac and Internet Technology. She has 6 years of writing articles about data recovery on PC/Mac, disk cloning solution, data eraser and computer OS optimization, etc. She is also interested in testing various software and digital products.

Editor in chief
In order to effectively solve the problems for our customers, every article and troubleshooting solution published on our website has been strictly tested and practiced. Our editors love researching and using computers and testing software, and are willing to help computer users with their problems