Is there a way to clone Windows 11 to an SSD for better performance or to clone a hard drive for disk upgrade or backup in Windows 11? Can I clone Windows 11 or copy it to another drive? A backup is an absolute necessity for any computer user. However, there are times when drive cloning is required.
Is Windows 11 hard drive cloning something you're interested in? Once again, we know the solution. A backup is always a good idea, but sometimes it isn't enough. To clone is not the same as backing up.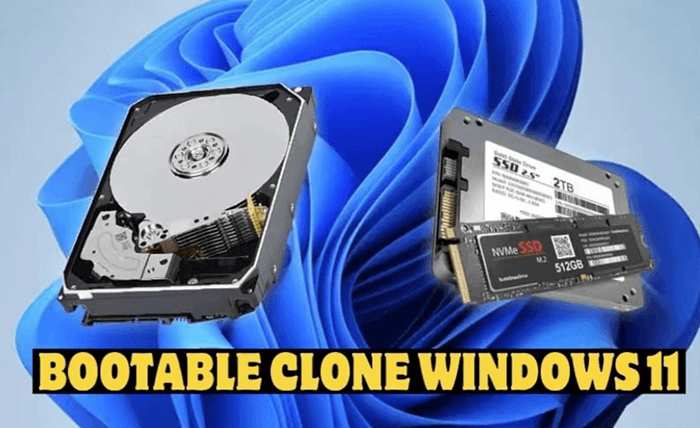 If your hard disk ever fails, you can replace it with a new one and have your system backed up by using a clone. Cloning your hard drive means creating a replica of your drive's contents on another disk.
Main Functions of Cloning Applications:
Top-notch cloning software includes:
Easy — It moves information using data migration. Provides a simple method of system backup and restoration. Verify if the drive copying program is simple to use.
Effective — Instead of spending hours configuring each computer separately, you can restore numerous machines simultaneously.
Configurable – Allows you to set parameters for how often, what, and where your data is backed up.
Safe and sound — Rest assured that the highest possible safety level guards your information.
Windows 11 clone disk without software
Here are all the specifics on cloning a hard disk through the settings menu.
Go to the Start menu > search for "control" to bring up the Control Panel.
You will access "Backup and Restore" in the second stage by clicking on its name.
Select "Create a System Image" from the menu on the left.
You'll be prompted to choose where the system image will be stored.
Select 'Next,' and you'll get a summary, total storage space, and a list of backup drives, including the EFI system partition.
Click the "Start backup" button in Step 6 to create the system image. Your drives will be backed up in order, and an image will be created that you may use to restore the data.
A disk to fix the system will be created once the operation is finished. If your computer ever becomes corrupted or you experience a BSOD, you'll be glad you made one of these. The repair DVD also contains Windows system recovery tools, which can reinstall Windows after a catastrophic failure or reimage your computer.
Create A Bootable Clone Backup for Windows 11
Firtst of all, download a disk cloning program - such as DMclone, a powerful and easy-to-use disk cloning program. It can help you securely clone Windows 11 disk to an external disk.
Donemax Disk Clone
Create a bootable clone for Windows 11.
Clone HDD, SSD and external device.
100% safe disk cloning program.
First, you must insert or connect your external hard drive to your computer. Installing and connecting your drive can be learned from the manufacturer's documentation.
#1 Open DMclone, then choose cloning mode - Disk Clone. Now, select the Windows 11 PC's disk as the source disk and select the external hard drive as the destination disk.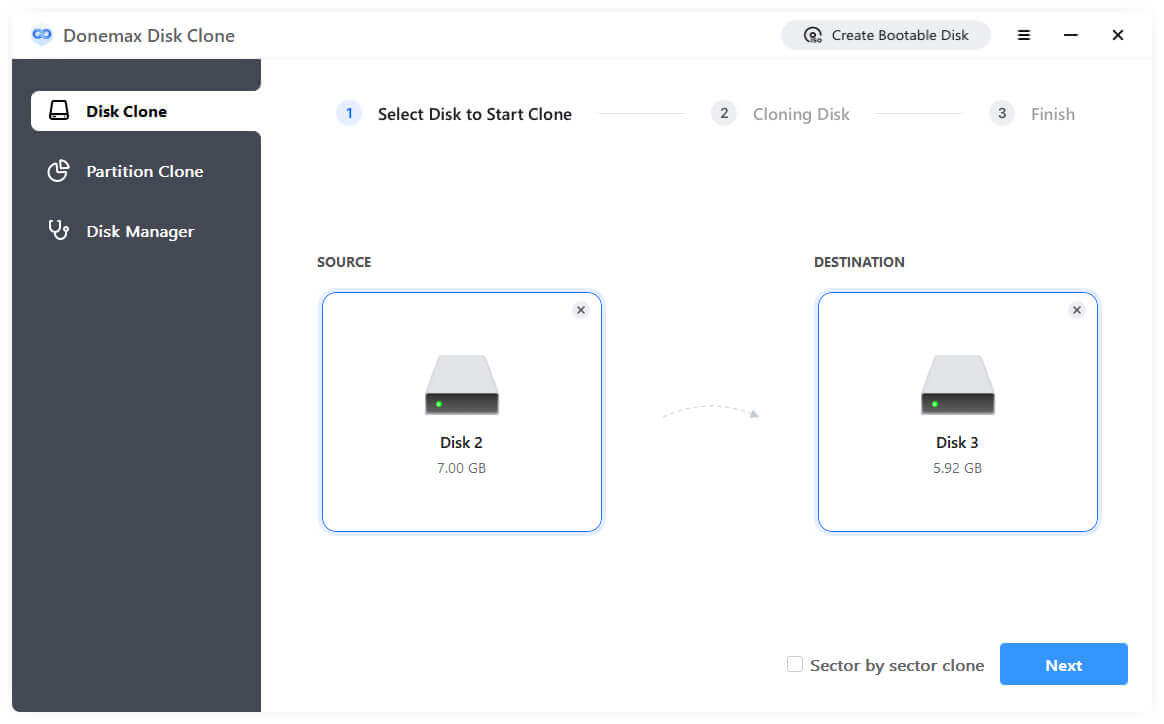 #2 Click Next button. Then you can edit the layout, click on Clone button.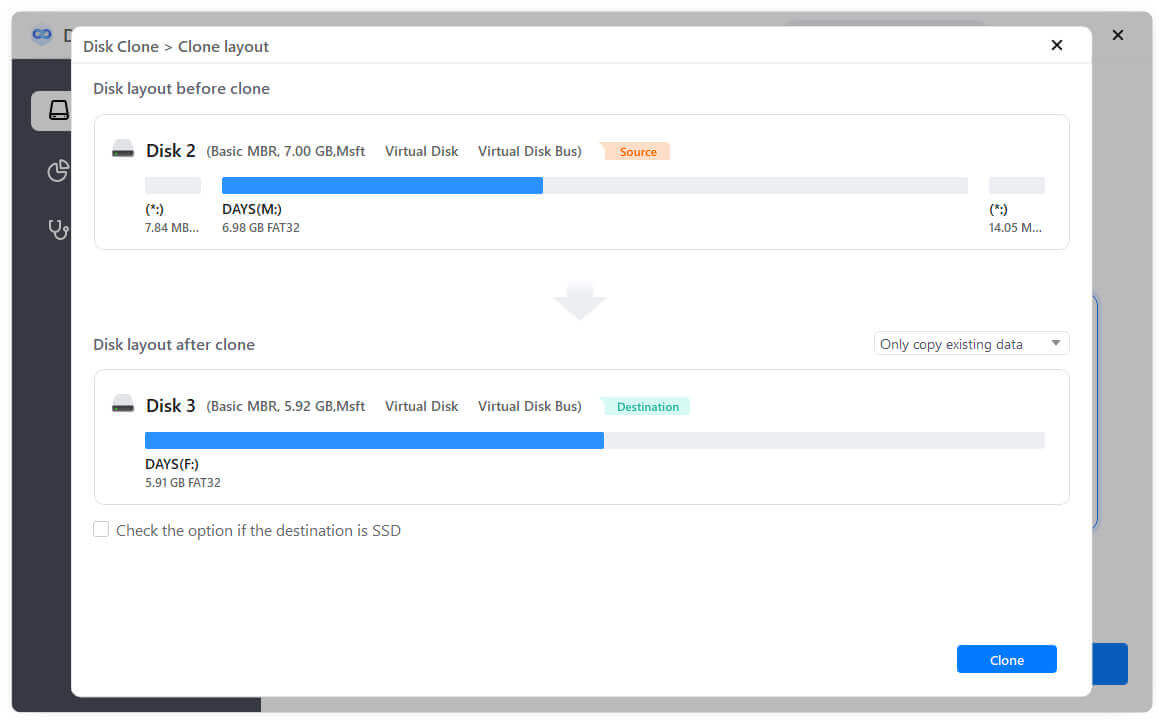 "Only clone existing data" - only copy existing data on the source partition to the destination partition.
"Autofit the disk" - resize the layout on destination partition according to the size of it to make the disk as the best status.
"Copy as the source" - do not change anything on destination partition and the layout is same as source partition.
"Edit disk layout" - allows you to manually resize/move partition layout on this destination disk.
Check the optimization for SSD option if the destination partition is SSD.
This software will clone all data from the source disk to the destination disk. Once the process gets finished, you can use the external hard drive as a Windows 11 bootable disk.
How to boot Windows 11 from an SSD clone?
What steps should be taken when cloning is complete if the cloned drive is to be used as the primary boot device? Don't worry; we'll show you how to boot from it in this guide.
To make a cloned SSD bootable on a Windows computer, you must alter the boot order in the BIOS. After completing the simple steps below, your computer will boot Windows from the SSD.
First, restart the device and press F2, F8, F11, or the Del key to access the BIOS setup screen.
Second, select the cloned SSD as the boot disk in the BIOS's boot section.
The third step is to save your changes and restart the computer.
Conclusion:
Partition selection and cloning from one disk to another is possible and can be accomplished with the help of third-party applications. However, every time you use this method, the contents of the target disk will be permanently erased. After reading this post, I hope you had success cloning a hard drive in Windows 11.