PAGE CONTENT:
The startup disk plays an integral role in your Mac's operation and is an essential component. The Mac will not boot into working order if the startup disk is missing or damaged. In that case, what is a Macintosh boot disk?
What is Startup Disk? A startup disk, often known as a boot disk, is the storage medium upon which your Mac boots. Your Mac will not boot unless you utilize a startup disk.
Macintosh HD, the internal hard drive, is the boot disk by default. Mac OS can be installed on an iMac, MacBook Air, or MacBook Pro using any external storage device, including a hard disk drive (HDD), USB drive, solid-state drive (SSD), etc. In this article, we will talk about how to change startup disk on a Mac with Apple silicon.
How to Create A Bootable Clone Disk for Apple Silicon Mac?
Normally, you Mac will boot from the internal startup disk on your Mac. But if your have a bootable clone, you can use it as a new startup disk on your Mac. Let's see how to create a bootable clone backup for Mac.
Step 1. Prepare an external hard drive for disk clone. The external hard drive should be bigger than your Mac startup disk. For example, if your Mac startup disk is 250GB, you should prepare an external hard drive which is more than 250GB.
Step 2. Download and install a disk cloning application - Donemax Disk Clone for Mac. It can help you create bootable clone for Intel-based Macs, T2 Macs and Apple silicon Macs.
Step 3. Connect the external hard drive to your Mac, then open Donemax Disk Clone for Mac. Choose disk clone mode - OS Clone. Select the external hard drive as the destination drive.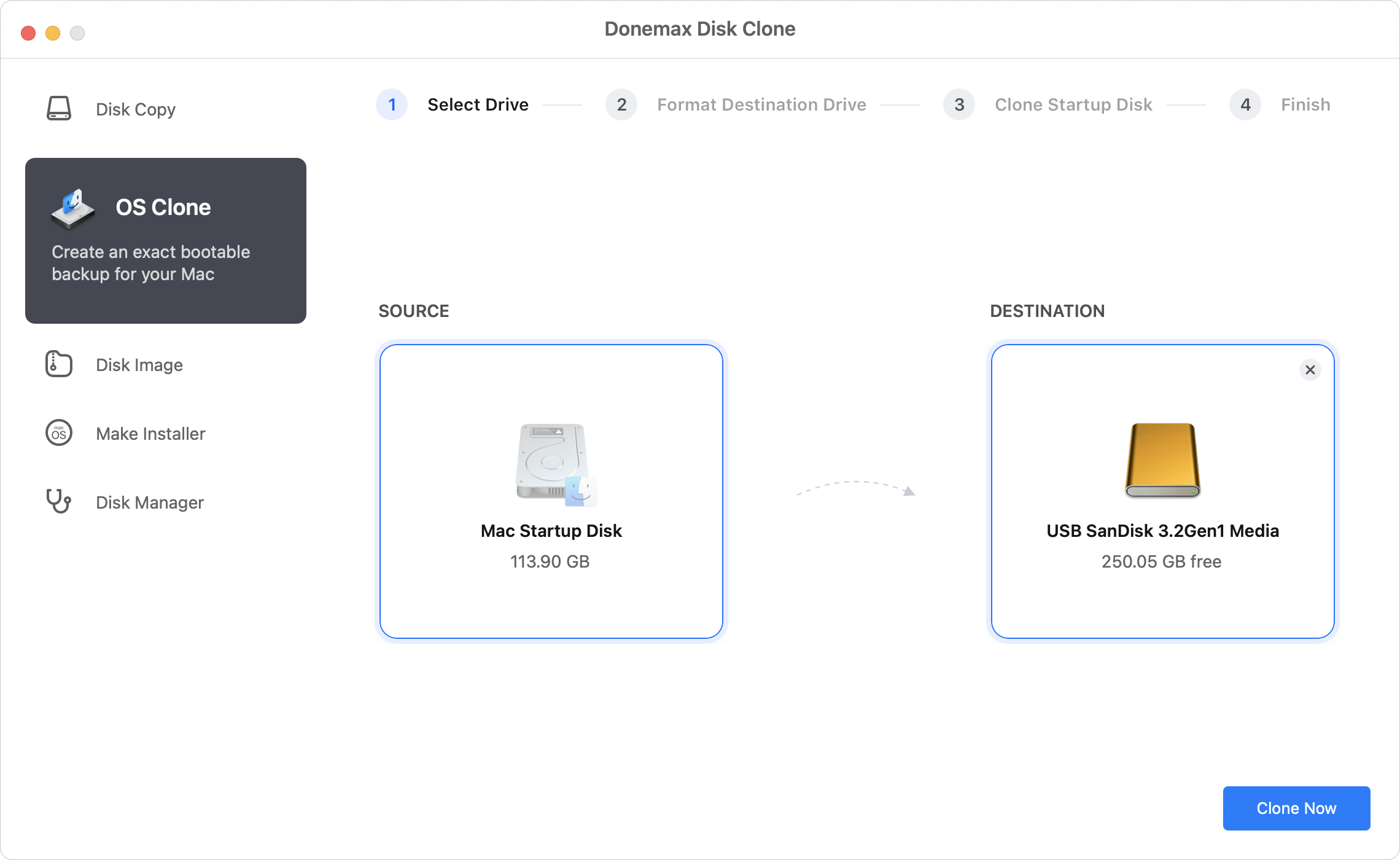 Step 4. Click on Clone Now button. It will clone all data including macOS, user files, settings, apps and other data from Mac startup disk to the external hard drive, creating a bootable clone backup.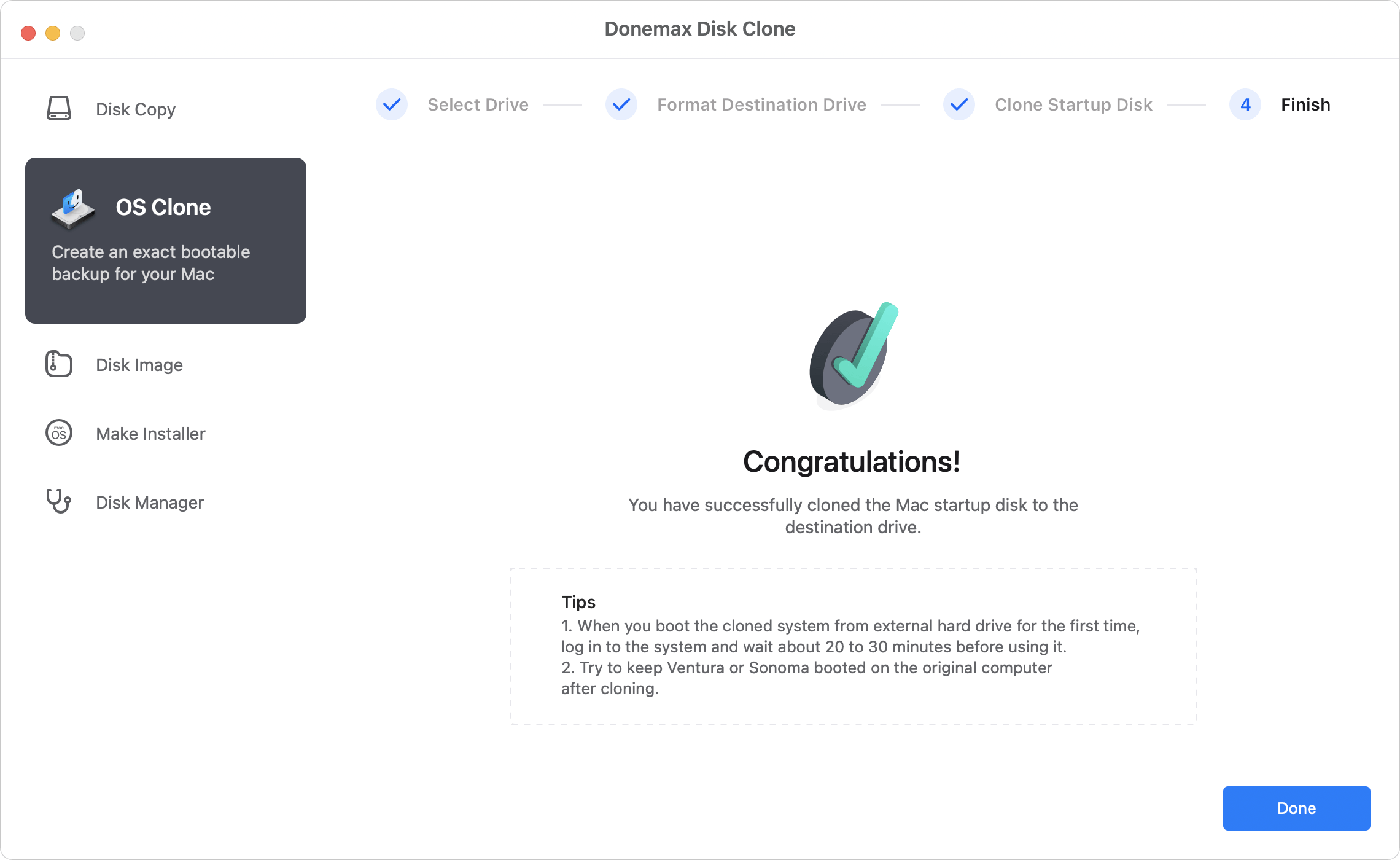 How to Set Startup Disk on Mac with Apple Silicon?
There are two situations you will change the startup disk on a Mac with Apple silicon: 1. Change the startup disk once; 2. Change the default boot drive.
#1 Select a startup disk to boot from at boot time
Macs with Apple silicon (M1, M2, or its predecessors) have a slightly different procedure for choosing the startup disk than previous machines with an Intel processor.
Connect the new boot drive or bootable clone disk to your Mac.
Shut down your Mac.
Restart the Mac, press and hold the power button until you see "Loading startup options." You must wait for the system indicator light to become amber on a Mac mini powered by Apple's silicon.
Your Mac will inspect any external storage devices you have linked to it. When the list of available starter disks appears, choose one and click Continue. After changing the startup disk, the machine will restart.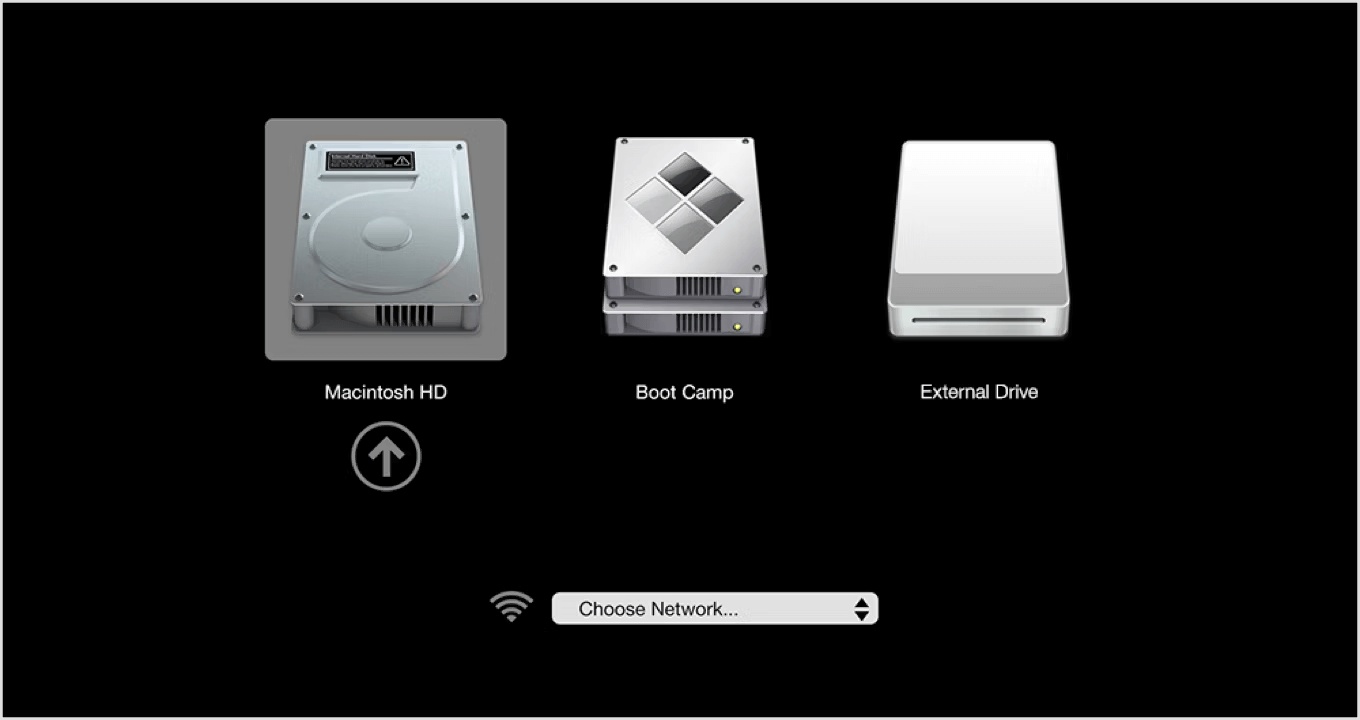 #2 Set the default startup disk for your Apple silicon Mac
If you want your Mac to always boot from a certain volume, you may do so via System Preferences or System Settings. In other words, following these instructions will make the specified disk the system's default startup device.
These instructions apply to Macs running macOS Ventura, macOS Sonoma, or later.
Step 1. Connect the bootable clone disk to your Mac.
Step 2. Click Apple logo and choose System Settings.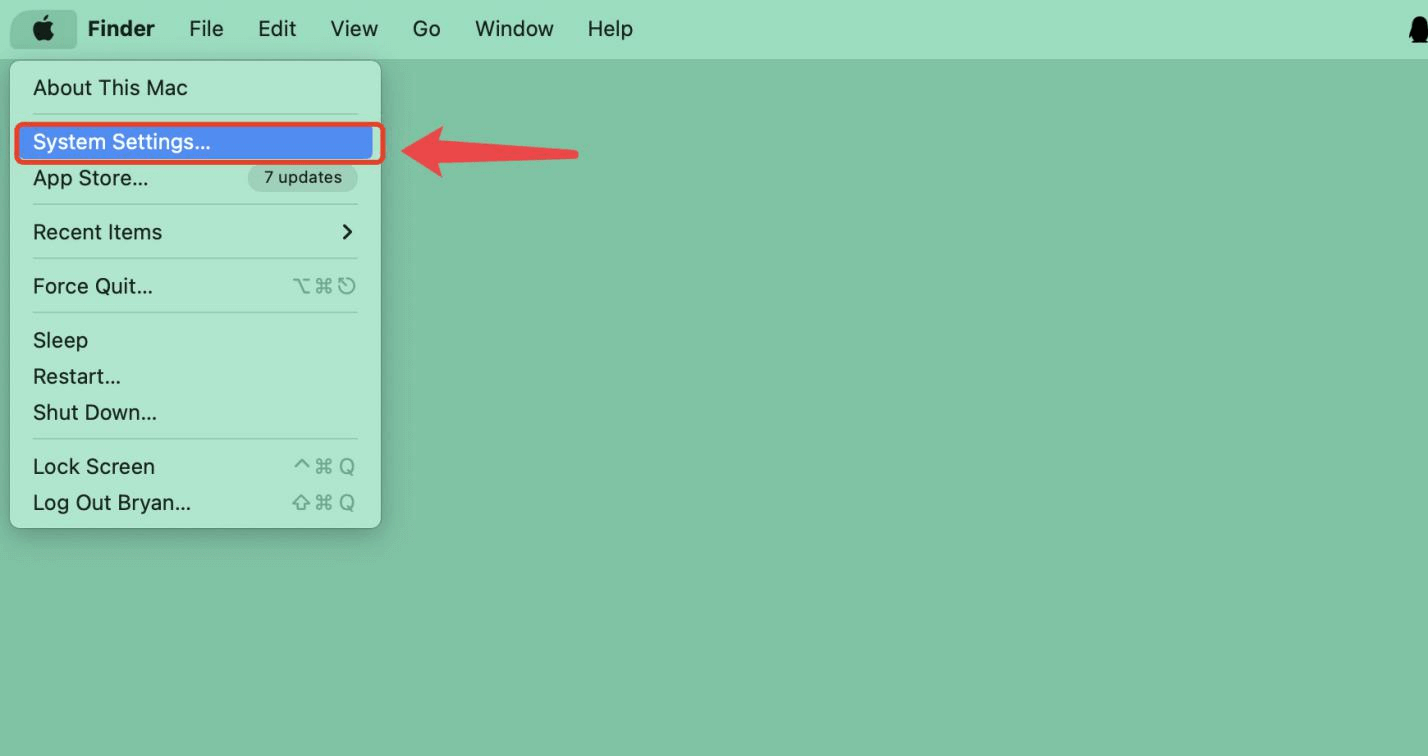 Step 3. Click General in the sidebar then click Startup Disk.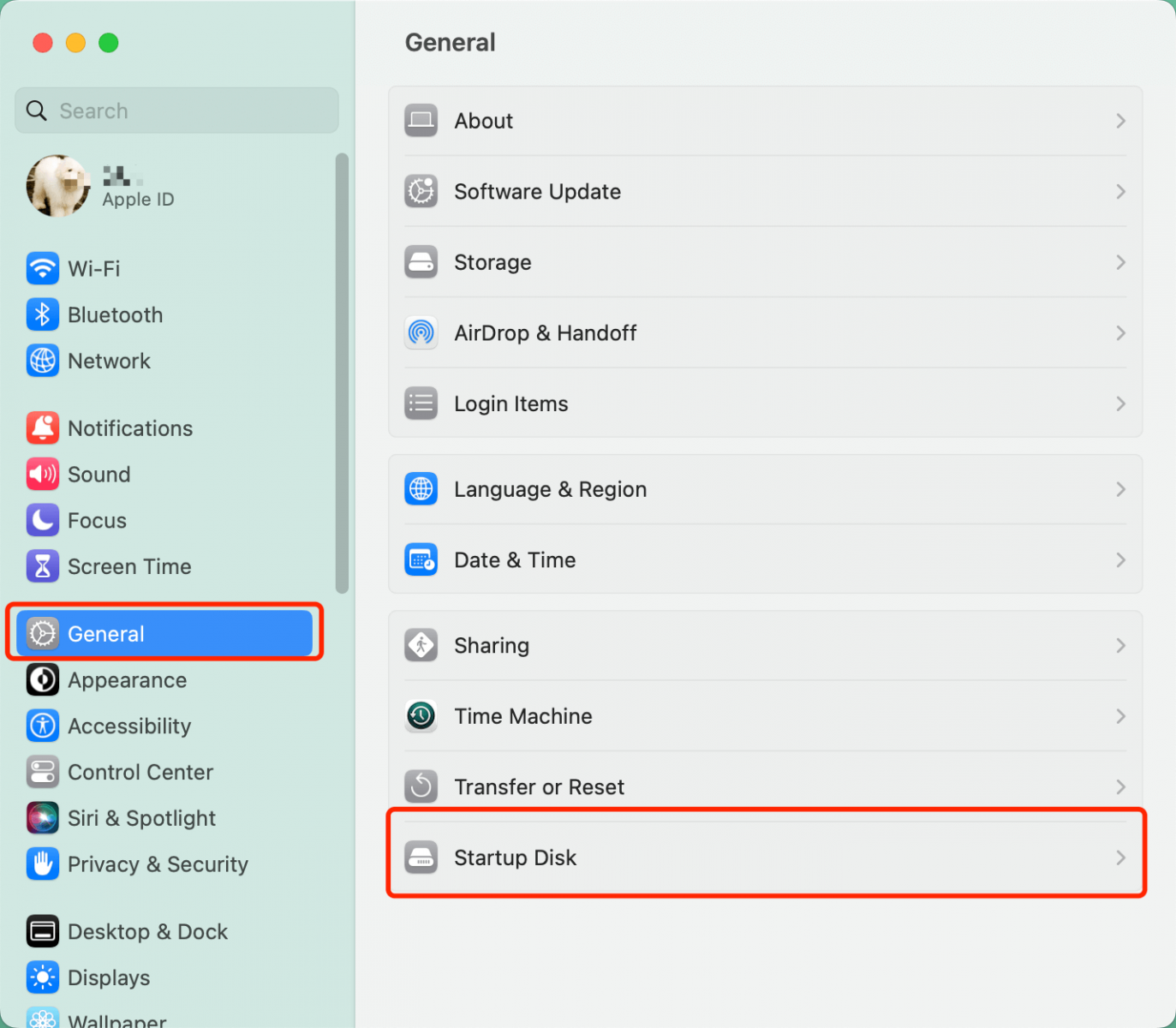 Step 4. Select the startup disk by clicking the icon of the disk. Then click Restart.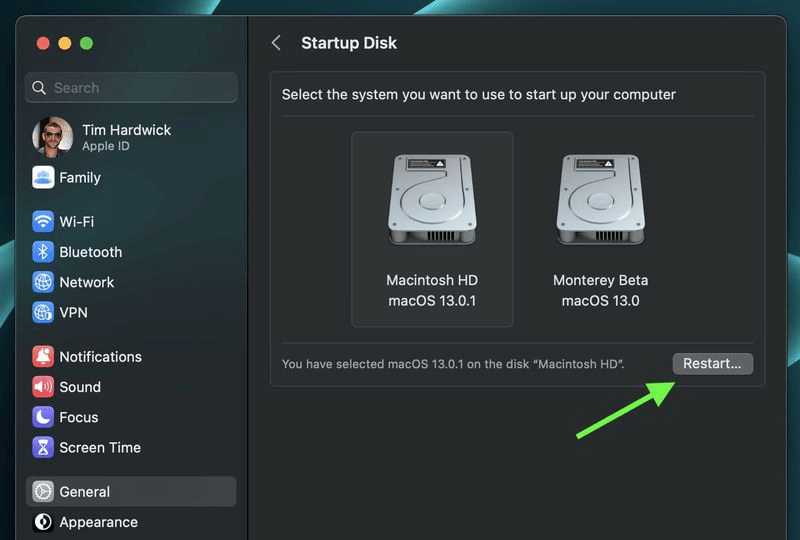 For macOS 12 or earlier macOS versions, change startup with System Preferences:
Step 1. Navigate to System Preferences using the Apple menu.
Step 2. Pick a Disk to Boot From.
Step 3. Activate the lock and input the password.
Step 4. Select the disk you wish to use and click the Restart button.
The specified starting disk will be used to restart your Mac. The result is a new boot disk each time the computer is started.
FAQs About Changing Startup Disk on Apple Silicon Mac
We can't rule out the possibility that your present starting disk is corrupted. Mac OS no longer recognize it. You can attempt to switch your starting disk with a functional one if you have access to a CD/DVD, a network volume, or a separate physical disk, bootable clone.
Change a Startup Disk at One Time: Restart your Mac, press and hold the power button to enter into macOS Recovery mode. Then select the startup disk and restart the Mac.
Make a New Startup Disk Each Time: First, launch System Settings by clicking the Apple menu. To access the "Startup Disk" option, click General. Then select startup disk and then select the wanted startup disk, click Restart.
Conclusion:
Changing startup disk on a Mac with Apple silicon chip is different from the startup disk change on an Intel-based Mac. If you want to change the startup disk on a Mac with Apple silicon M1/M2, just restart the Mac, press and hold the Power button. Then you can select the startup disk and restart the Mac. Donemax Disk Clone for Mac is an easy-to-use disk cloning app, it can help in creating bootable clone disk for any Mac.

Contributing Writer
Steven has been a senior writer & editor of Donemax software since 2020. He's a super nerd and can't imagine the life without a computer. Over 6 years of experience of writing technical solutions and software tesing, he is passionate about providing solutions and tips for Windows and Mac users.

Editor in chief
In order to effectively solve the problems for our customers, every article and troubleshooting solution published on our website has been strictly tested and practiced. Our editors love researching and using computers and testing software, and are willing to help computer users with their problems