Before we start: Is there a Recuva for Mac? The answer is No. To recover deleted files from emptied trash or recover lost files on Mac, you can try Donemax Data Recover for Mac.
PAGE CONTENT:
What's Recuva
When we use computers, we frequently inadvertently lose important data. When you organize your documents or photos, you may discover that some important ones are missing. When confronted with these situations, it can be extremely frightening. You should remain calm and use a data recovery software to recover deleted or lost data. If you have a Windows computer, you can recover your deleted data or pictures using the Recuva program.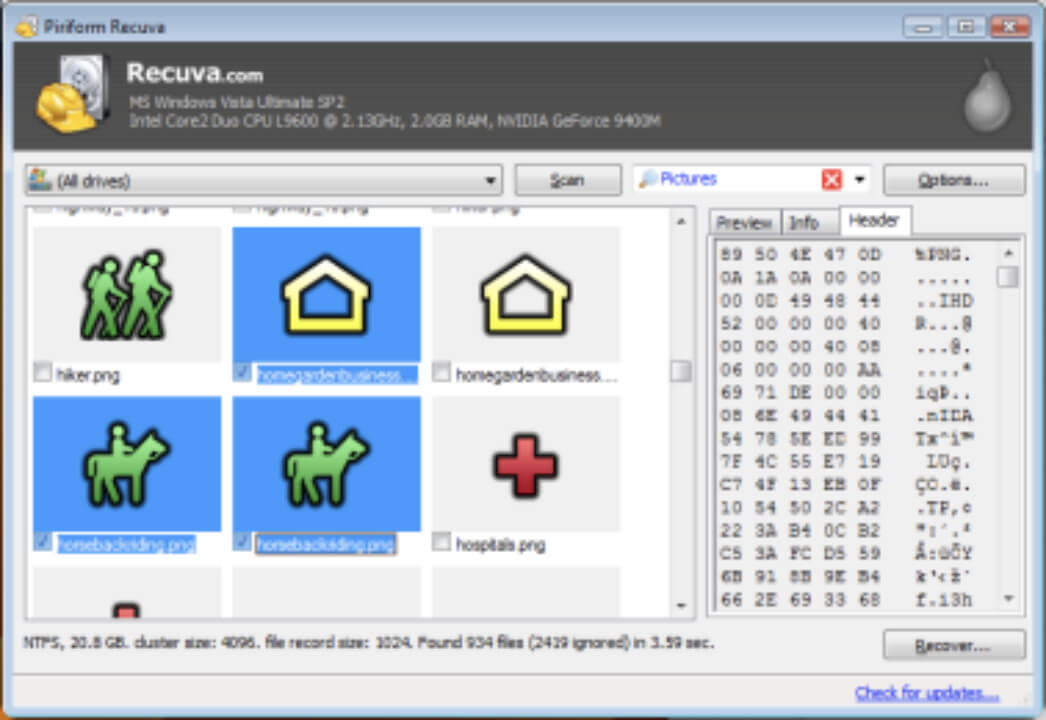 Recuva is a well-known free data recovery program for Windows computers that you can use to recover deleted data or photos. It also has a paid professional version, so you can use this recovery program to recover data that you accidentally deleted while using your Windows computer.
The free version can recover files directly from your hard drive, which is useful if your drive is in good working condition. If your hard drive fails, you need to use the Pro version to recover files from disk images in order to keep the original drive. It is a fantastic data recovery program for Windows computers.
Does Recuva works with macOS? The answer is NO. It is not available for Mac computers, Mac users can find a Recuva alternative to recover deleted or lost Mac files. Here we have tried and tested some data recovery software for Mac that can assist you in recovering lost data on Mac computers.
Top 6 Best Mac Recuva Alternatives
Even if you can't find Recuva for Mac, there are a number of Recuva alternatives available. some of which provide better compatibility, data recovery performance, and file format supporting.
| | |
| --- | --- |
| ☑️ Task Tested | Recover Deleted Files from emptied trash on Mac |
| 🔢 Number of tested data recovery apps | 15 |
| 💻 Device tested on | M2 chip MacBook Air 13.6", USB Device and SD Card |
| 🖥️ macOS version we tested on | macOS 13 Ventura, macOS 12 Monterey |
| ⏳ How long we tested | 15 working days |
| 💰 Average cost | $75 |
| 🏷 Minimum cost | Free |
Here are the top 6 Recuva alternatives for Mac
#1 Donemax Data Recovery for Mac ($69.95)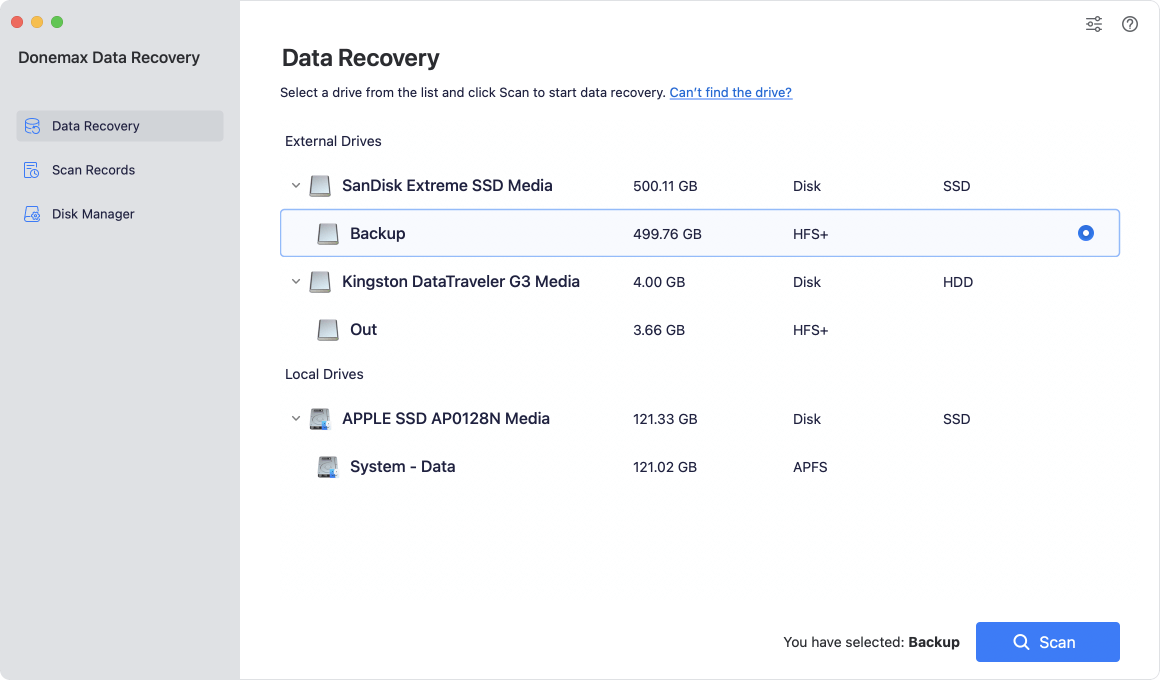 Donemax Data Recovery for Mac is one of the best alternative to Recuva for Mac, with a clear interface, 3 step data recovery, and advanced data recovery features that greatly improve our chances of successfully recovering data. Donemax Data Recovery for Mac's automatic deep scan feature employs more data recovery algorithms to ensure that more lost data is recovered.
Multi-file format support is also one of the advantages of Donemax Data Recovery for Mac. The only disadvantage is that the free version can only recover 200MB of data (although 200MB of recovered data may be sufficient for some users). But you can upgrade to the professional version, which allows for unlimited recovery and has the best price/performance ratio when compared to other types of software.
Pros
Interface is simple and easy to use
Outstanding data recovery performance
Deep scan function
Import scan results to improve secondary search efficiency
Additional disk management capabilities
Cons
It can only recover 200MB data for free
Multiple languages not supported
#2. Softtote mac Data Recovery ($59.99)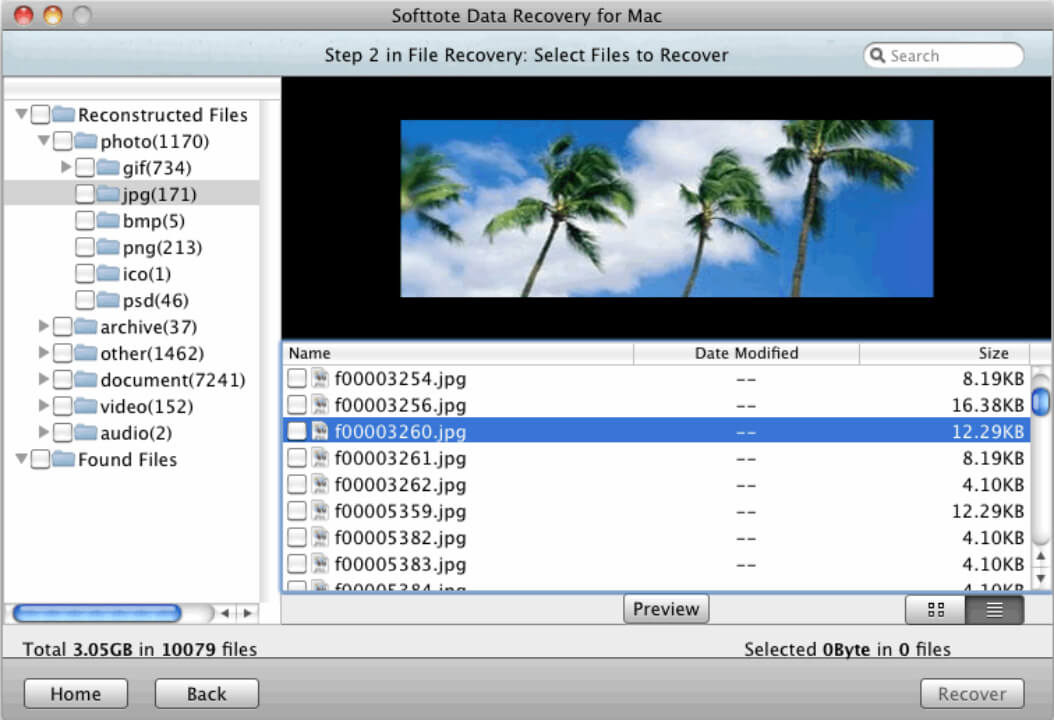 Softote Data Recovery tool is simple to install but requires an administrator password because it may require changes to your hard disk. The application has an easy-to-use interface and allows you to recover files, photos, or lost partitions. You can preview recoverable files for free, but you must upgrade to the paid version to recover files. A sector-by-sector search tool is available to locate all files that can be rebuilt or recovered. Although the scanning speed is slow, it does recover deleted files from USB drives. The overly old interface style could be improved.
Pros
Preview recoverable files
User interface that is simple to use
Cons
Scanning speed is slow.
You can't recover any data for free.
Not compatible with newer Mac system versions
#3. R-Studio ($79.99)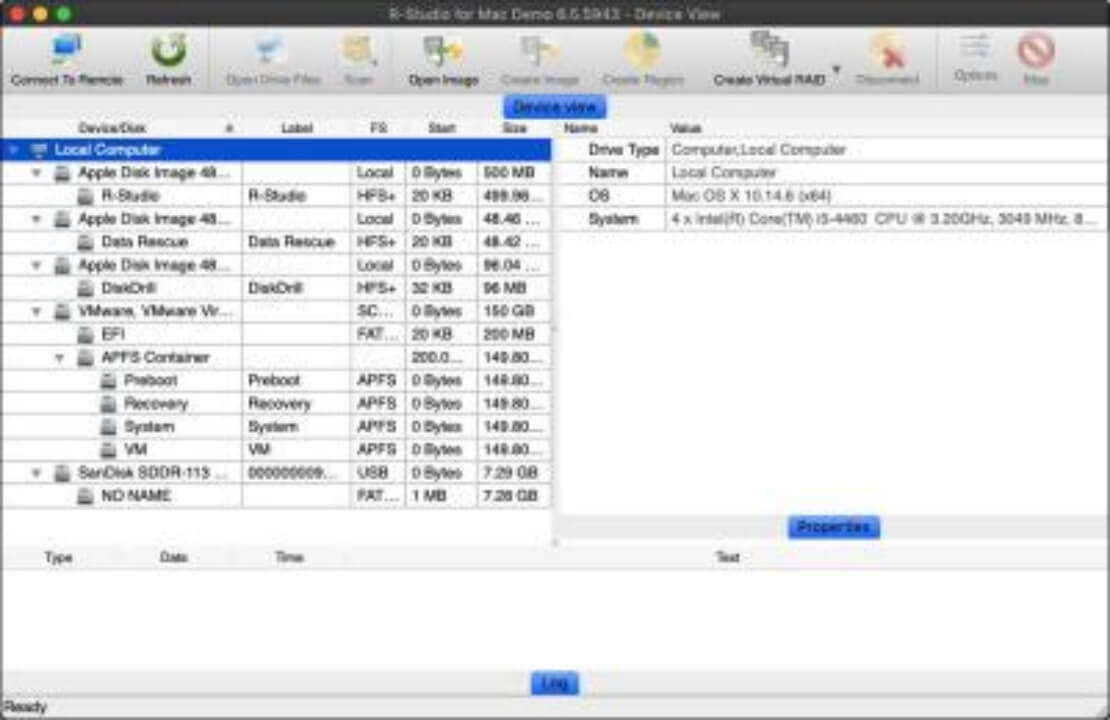 R-Studio is a professional data recovery product aimed at professional data recovery experts on Windows, Mac, and Linux. R-Studio can recover data from clients connected to a local area network or the Internet, unlike Recuva, which can only recover lost files from local storage devices.
R-Studio, as a professional data recovery product, includes tools that are incomprehensible to the average user but essential to data recovery professionals, such as an advanced hexadecimal editor, disk image or RAID rebuild, and so on.
Pros
Powerful features including RAID recovery and S.M.A.R.T. monitoring.
Allows for multi-platform operation
A sophisticated data recovery algorithm
Support network recovery
Cons
Complex user interface, not for general users
Some functions is difficult-to-understand
#4. TestDisk (Free)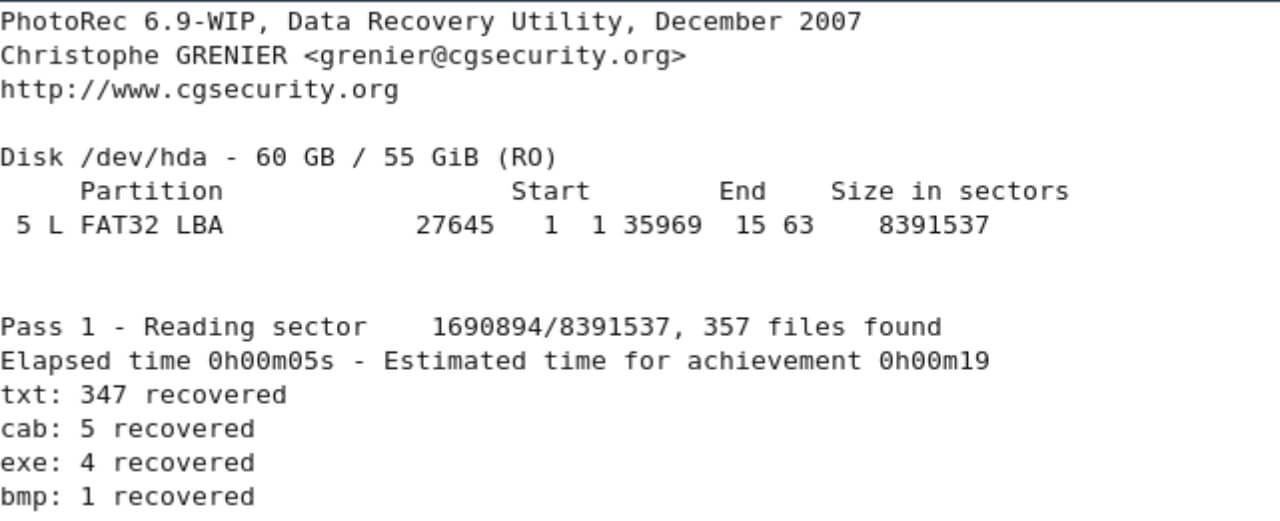 TestDisk is a freeware program that recovers lost disk partitions on a variety of platforms. At startup, you will be asked whether to create a new log file or attach to an existing one. Following your selection, the tool will guide you through the process of selecting the disk and the operations to be performed on that disk. It comes with a free tool called PhotoRec that can be used to recover lost files. Because testDisk is an open source product, you can make changes to the code as needed. However, novice Mac users should avoid using this tool because the command line interface is not user-friendly. Furthermore, some users may find the output report with information about their drives confusing.
Pros
Free
Open source allows for changes
Cons
Expertise is required. Not friendly for beginners
Suitable for partition recovery rather than selective file recovery.
#5. Exif Untrasher (Free)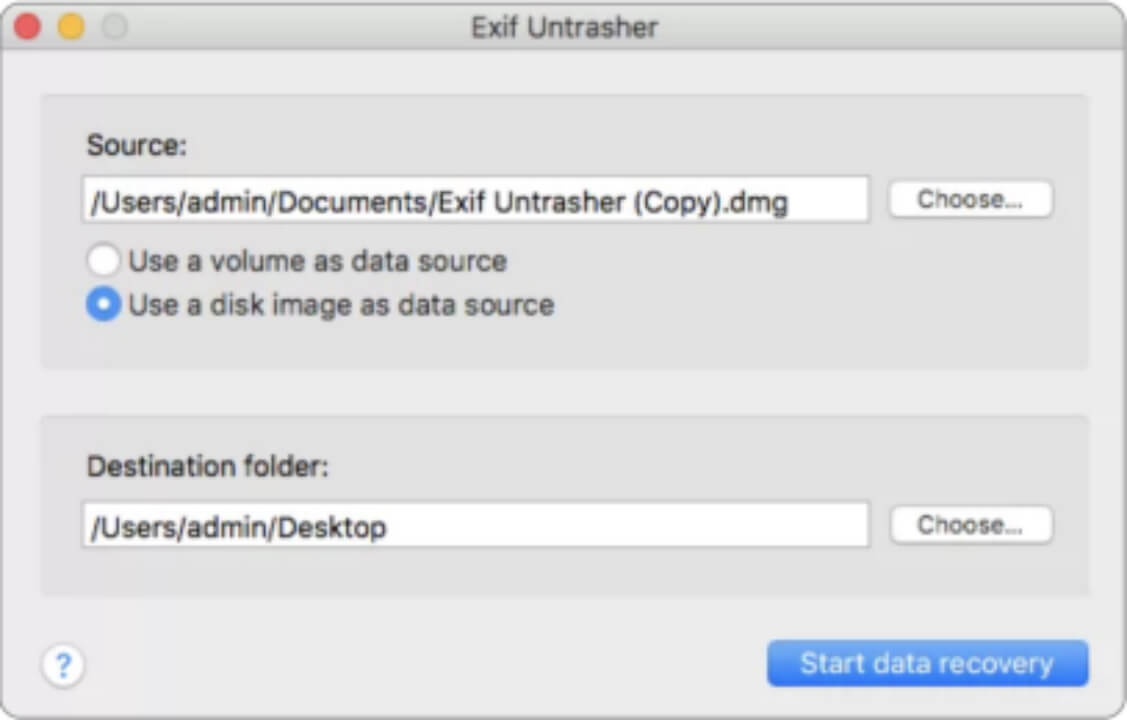 Exif Untrasher is a one-function data recovery tool that specializes in recovering lost JPEG files from internal and external hard drives on Mac. Exif Untrasher is essentially a single-player project, so the features it can provide are limited. It can only recover JPEG images, and no other file formats are supported. Previewing the found files is also not possible.
Pros
Simple to use
Free
Support for multiple languages
Cons
Only JPEG images are recoverable
Unable to preview found files
#6. Disk Drill ($89)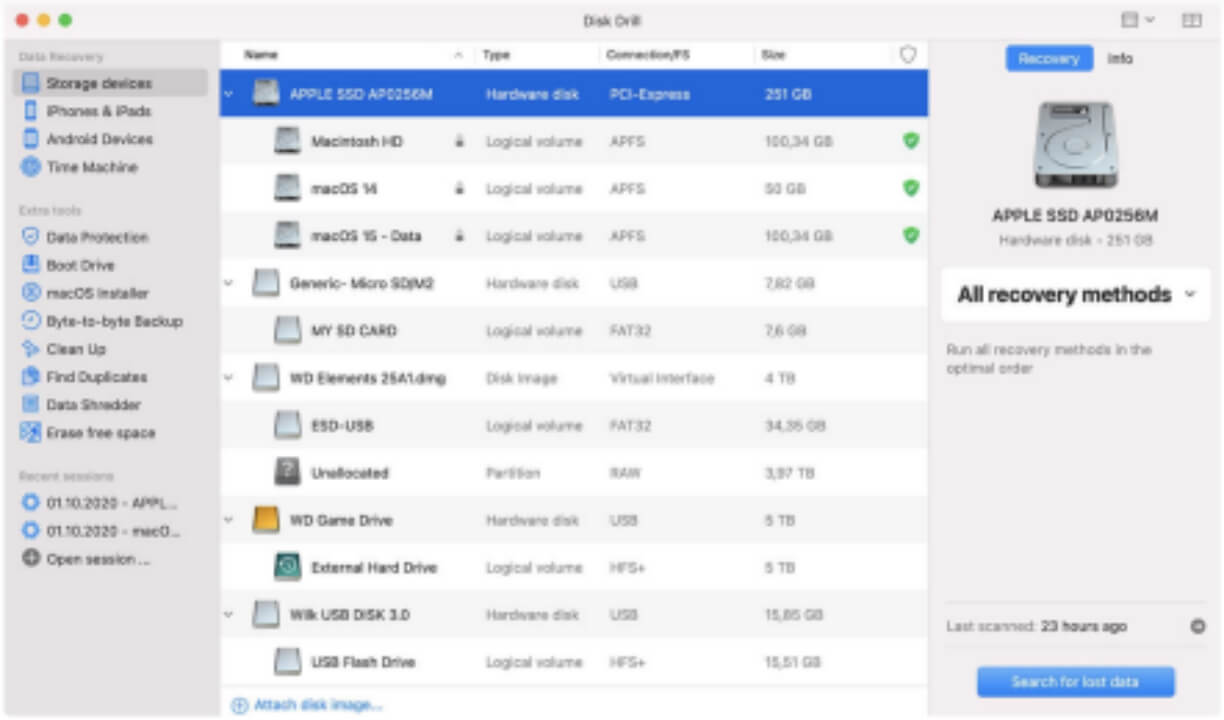 Disk Drill recovers accidentally deleted files and lost data from Mac disks with ease. The vast majority of storage devices, file types, and file systems are supported. Deleted files from iPhone and Android devices can be recovered. Disk Drill includes disk management tools such as a duplicate file finder, byte-to-byte backup, disk cleanup and space visualization, a bootable data recovery drive, disk operation status monitoring, and so on.
Pros
Powerful and loaded with features like disk monitoring and maintenance tools
User interface that is simple to use
Recovery from iPhone and Android devices is supported.
Cons
More expensive than some competitors
A lot of features and a steep learning curve
How to recover deleted files on Mac
Donemax Data Recovery for Mac is one of the best Recuva for Mac alternative available, and we will go over how to use it briefly below to recover emptied trash on Mac.
To recover lost data on a Mac, take the following steps:
1. Downloaded and installed Donemax Data Recovery for Mac.
2. Launch Donemax Data Recovery for Mac and navigate to the partition or disk where the data was lost. To recover deleted files from emptied trash, you can select the system disk to scan.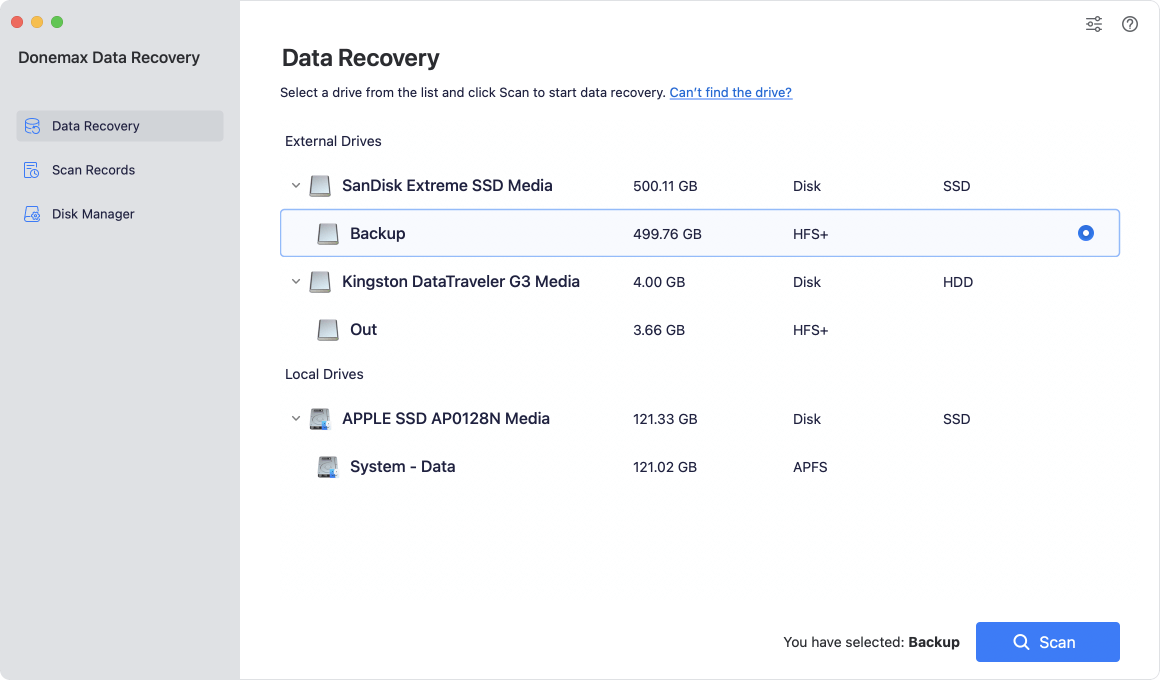 3. After scanning, you can select the deleted Mac files or pictures you want to recover, then click the Recover button and choose where to save them. (Please recover to a new location to avoid data overwriting.)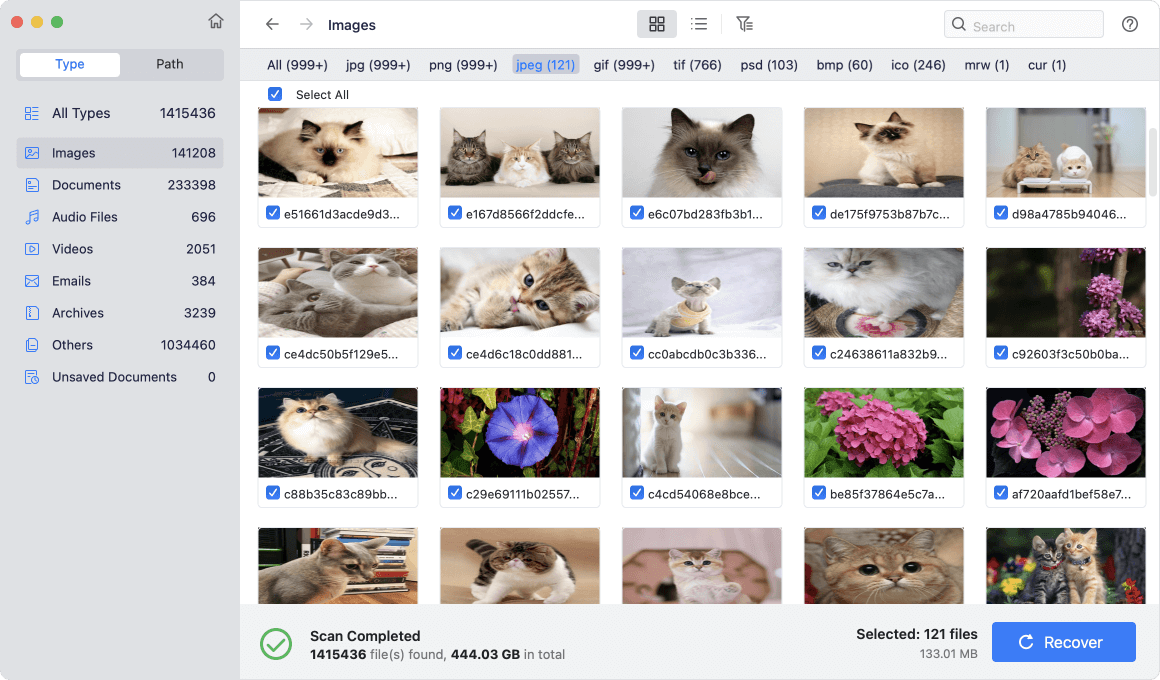 Conclusion
In a word there is no Recuva program for Mac, but you can certainly find some alternatives to Recuva to help you recover deleted photos or documents from Mac drives or external devices (e.g. SD cards, USB flash drives, external hard drives). Donemax Data Recovery for Mac is one of the best option for you. When looking for a suitable Mac data recovery tool, Donemax Data Recovery for Mac stands out due to its clean interface, simple operation, powerful recovery features, and some useful extra functions. You can try to free scan your Mac and recover your lost data.
FAQs
Related Articles

Contributing Writer
Christina is the senior editor of Donemax software who has worked in the company for 4+ years. She mainly writes the guides and solutions about data erasure, data transferring, data recovery and disk cloning to help users get the most out of their Windows and Mac. She likes to travel, enjoy country music and play games in her spare time.

Editor in chief
In order to effectively solve the problems for our customers, every article and troubleshooting solution published on our website has been strictly tested and practiced. Our editors love researching and using computers and testing software, and are willing to help computer users with their problems