To manage all your powerful switches, one choice is to use the third-party tool One Switch. With this simple tool, you can easily manage the switches on your Mac in one place. You don't need to search and find your switches on the Mac from here and there. This software really provides a simple solution for Mac users in such a case. Today, we will also share another One Switch alternative app for you - DMmenu for Mac.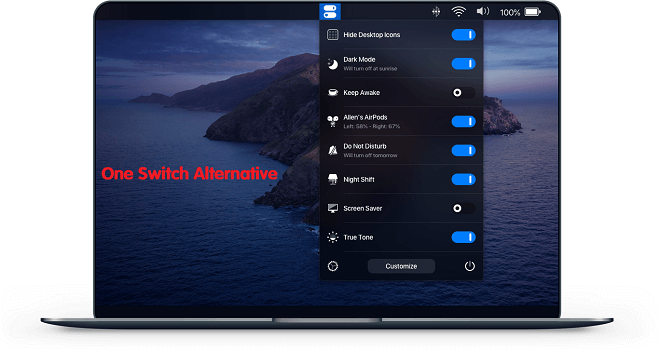 More powerful One Switch alternative
As simple as One Switch, DMmenu also offers the option to manage the commonly used switches on Mac. However, it has more other functions and little tools to help you manage and optimize the Mac. Although this software has more features available, it's not complex to operate. With simple and understandable interface, you an easily use it to on your Mac machine. To enjoy the features, you can first download and have a 30-day full functioned trial.
If you ever used Windows and was impressed by the easy to use start menu, you will find this software works the same but more powerful. This Windows-style start menu app just provides another easy and effective way for you to manage the Mac. It works flawlessly on different Mac operating systems from Mac OS X 10.7 - macOS 10.15.
To manage and optimize your Mac effectively with this application, we will first introduce the features for your. Please have a quick glance, then you can try to manage your Mac with all the options.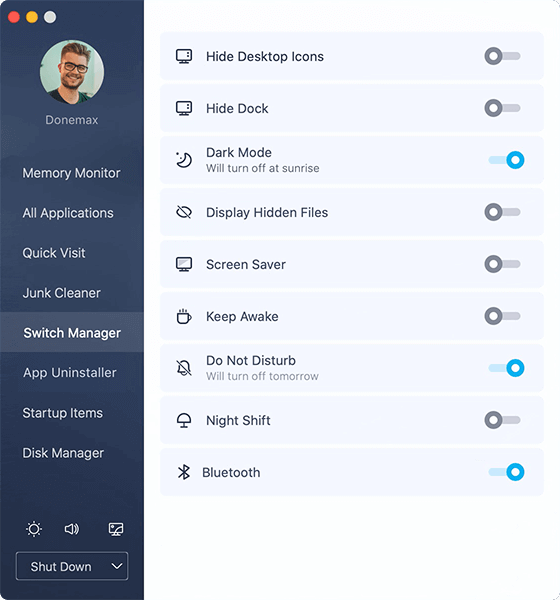 Memory Monitor - Free more memory by closing some applications/tasks at once.
All Applications - Quickly search for and open an application by one click.
Quick Visit - Click to access System Reference, Applications, Desktop, Launchpad, Disk Utility, etc.
Junk Cleaner - Free more space on Mac by removing the junk files directly.
Switch Manager - Turn on/off any frequently used switches directly here.
App Uninstaller - Uninstall one or more applications completely from your Mac.
Startup Items - Manage the startup items to speed up the slow Mac startup.
Disk Manager - Manage hard drive on Mac with the options: Rename, Format and Eject.
Other options - Change your Mac Brightness, Volume and Screen Saver, account profile, etc.
As you can see, the software is really very simple and easy to use. As it provides many useful features, you can use it to monitor the system. Also, these useful features can help you manage and optimize the Mac. If you need more powerful One Switch alternative and full featured Mac management tool, DMmenu should be the best choice for you.
DMmenu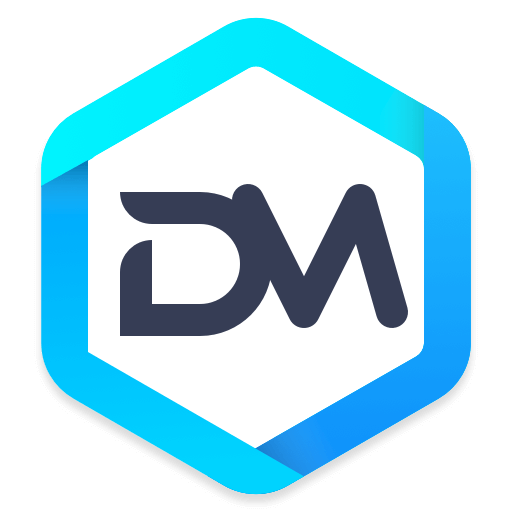 Powerful & easy-to-use start menu application for Mac computer - monitor, optimize and manage your Mac in an easy way.