How to use NTFS external hard drive, USB flash drive on Mac without formatting?
NTFS for Mac
is the best solution to fix NTFS drive read-only on Mac issue. In this article, we will list the
top 10 NTFS for Mac software
. Check the details and find the software you will need. Download and install the NTFS driver on Mac to enable writable for NTFS drives on Mac.
Microsoft's NTFS file system is a cornerstone of computer architecture. Mac computers are not supported. This application is Mac-incompatible. It is possible to encounter an issue when transferring files from an NTFS drive to a Mac where the NTFS volume or files cannot be accessible. So, you need to download a NTFS for Mac driver to read and make changes to the files stored on the NTFS drives. In this article, we'll go through the top 10 NTFS software solutions for Macs so you can use the NTFS file system on Mac.
PAGE CONTENT: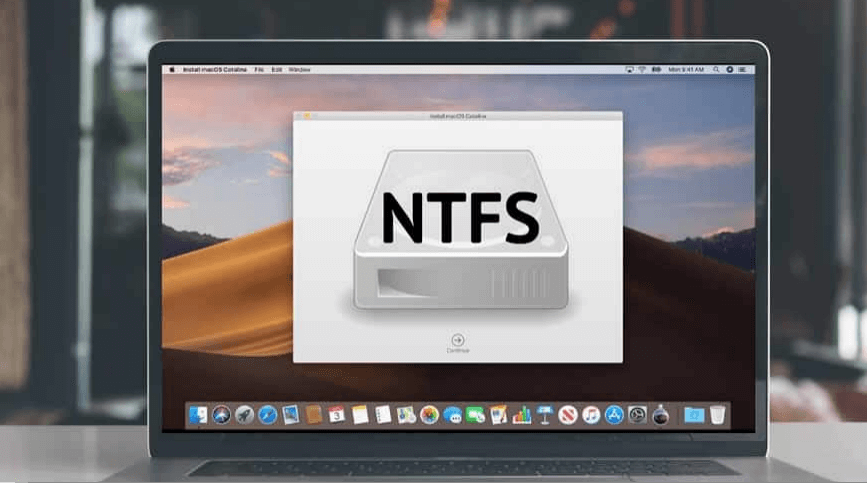 The Top 10 NTFS for Mac Software
In last 2 months, we tested 30+ NTFS for Mac tools & solutions and pick up the best 10 NTFS for Mac software which can securely and easily enable writable for NTFS on Mac. All of them are supporting the latest macOS and Apple silicon M1/M2 Macs.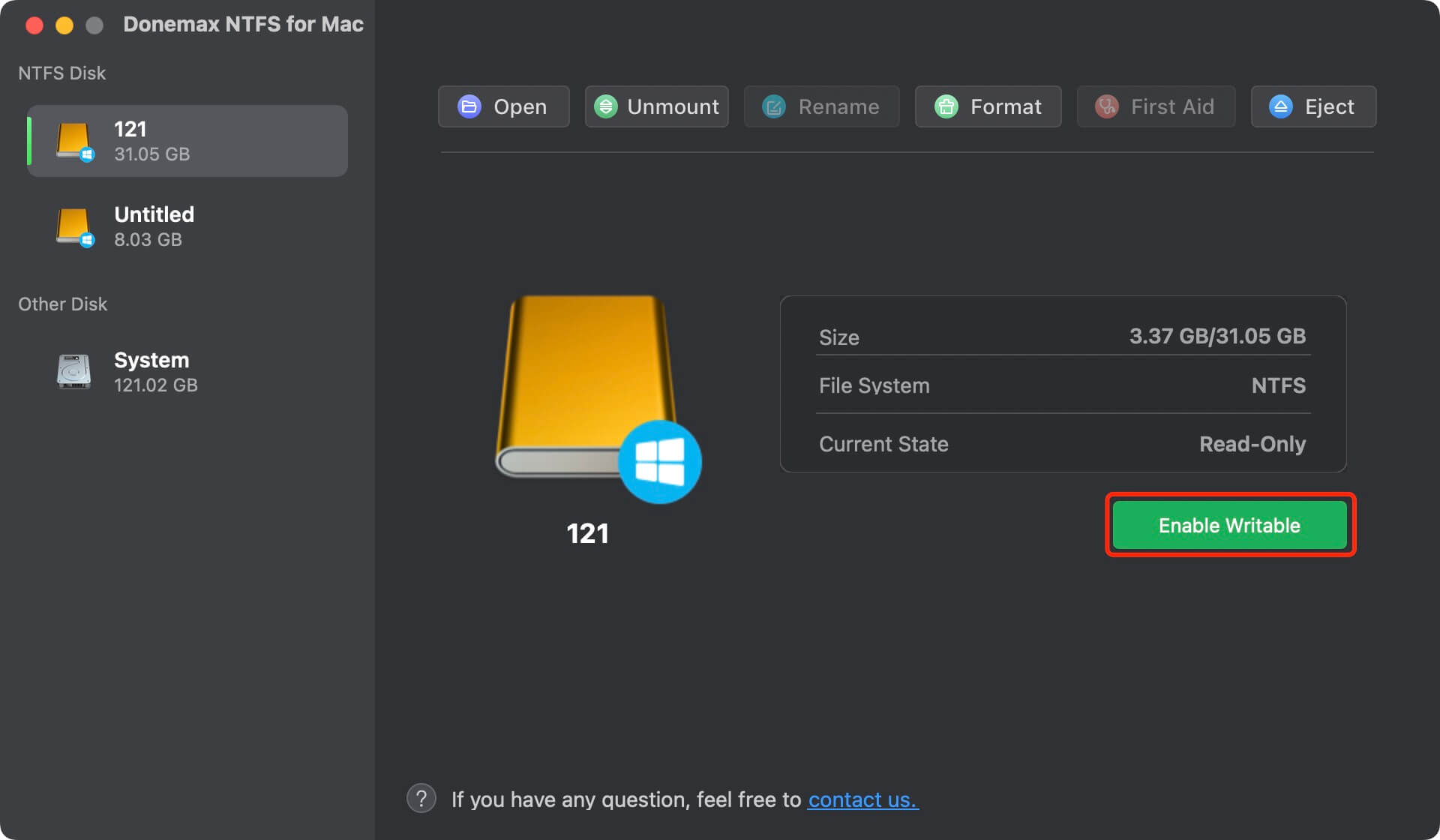 Donemax NTFS for Mac is one of the best NTFS for Macs. It combines ease of use, disk management tools and full NTFS read-write support. With this NTFS driver, you can easily enable writable for NTFS drives on Mac, it offers 1-click solution to enable or disable full NTFS support on Mac.
Compared with other NTFS for Mac tools, Donemax NTFS for Mac is much more easier to use. You just need to connect the NTFS drive to your Mac, then click Enable Writable on the main interface of Donemax NTFS for Mac. It supports all types of hard drives including external HDD/SSD such as Seagate/Toshiba/LaCie/Samsung/Western Digital/Microsoft/Apple, USB flash drive, memory card, etc.
No matter you are using an old Intel-based Mac or an new Mac with Apple silicon chip, you can use this software to quickly remove NTFS limitations and use any NTFS hard drive on your Mac without any issue.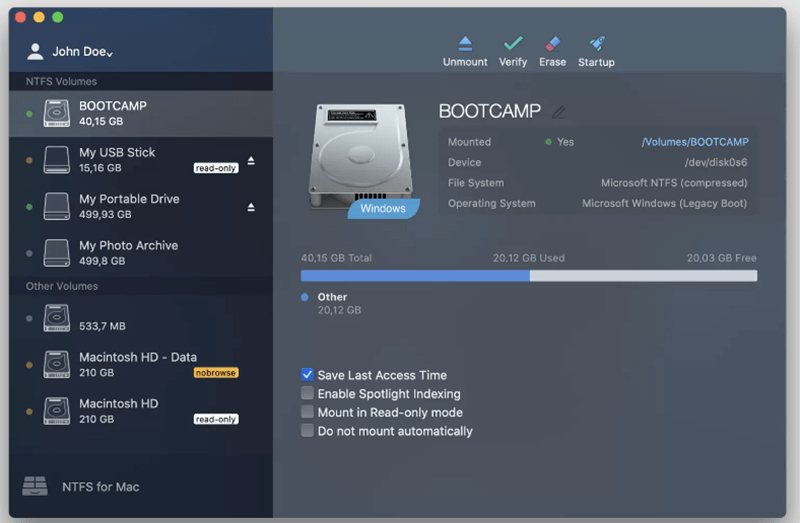 The quickest NTFS software for Mac is this one. Having this built into macOS means you can access NTFS storage at speeds up to six times faster than the competition. This program is the fastest and most effective way to manage NTFS drives.
The Paragon NTFS 15 is not just fast, though. This program allows you to read and write to NTFS drives of any size. Paragon NTFS can be read and written to any NTFS-formatted storage device, from a small flash drive to a large solid-state drive.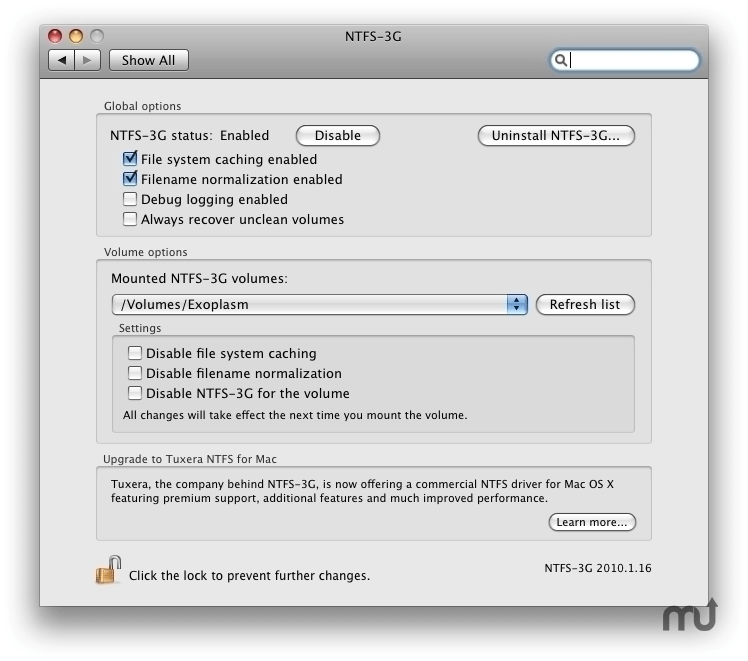 NTFS-3G is a free, open-source, and platform-independent file system reader and writer that supports the NTFS file format. It used the FUSE file system interface, facilitating native portability across multiple OSes. On NTFS drives, users can create files of any size. It's also possible to copy, rename, edit, and remove files.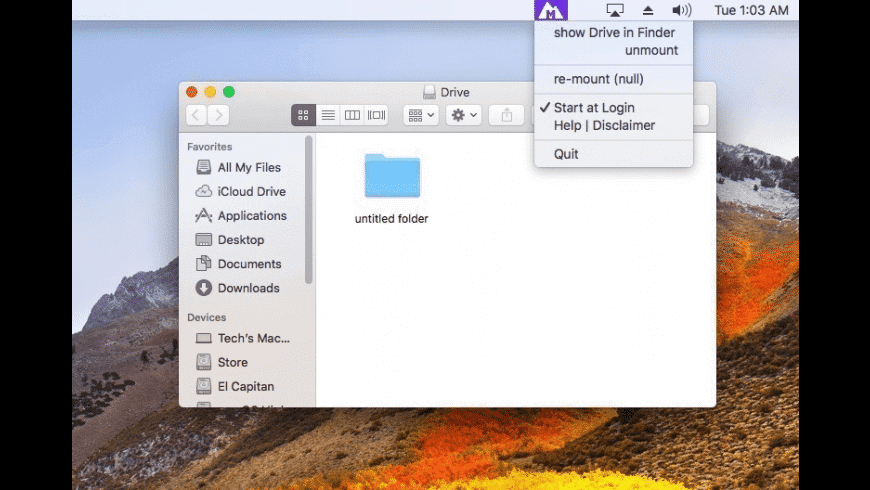 Uwe Hollatz creates and updates Mounty NTFS for Mac as a side project. While capable of reading and writing to NTFS, it is much smaller and lacks sophisticated capabilities. The lightweight program scans NTFS drives on Mac without manual intervention or installation.
Mounty NTFS for Mac, on the other hand, lacks any user interface. You can only access it via the main menu. Mounty's "Show LEXAR in Finder" option is the sole means to access an NTFS drive for reading or writing.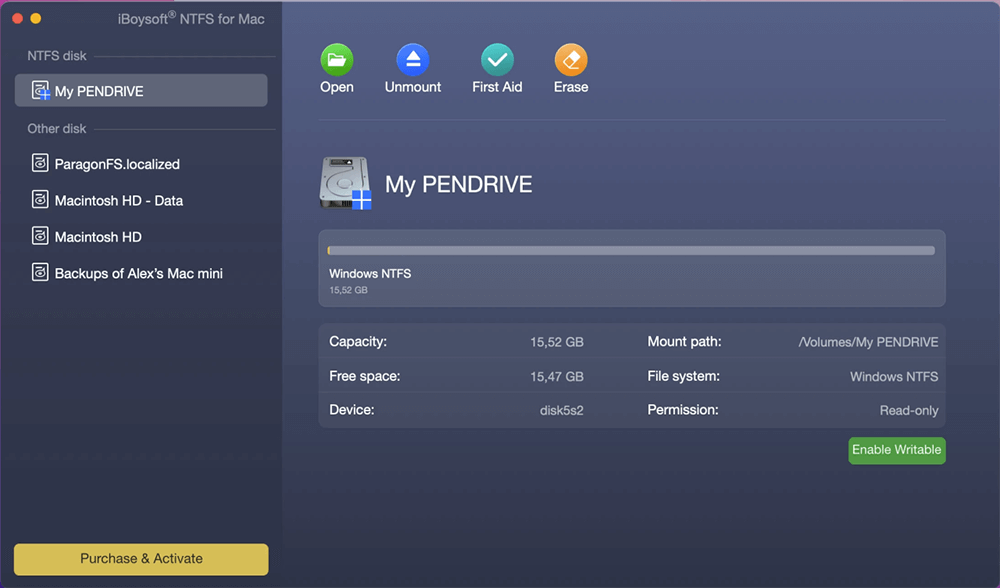 iBoysoft NTFS was widely regarded as the top NTFS for Mac program in 2022. Unlike its competitors, iBoysoft NTFS for Mac is compatible with the newest macOS Vista 13 Beta and Apple's Silicon M2 and M1 processors.
This NTFS software enables quick NTFS file transfers between PCs and Macs and automatically mounts NTFS drives. To make your Mac drive compatible with Windows, you can have it formatted to the NTFS file system if necessary.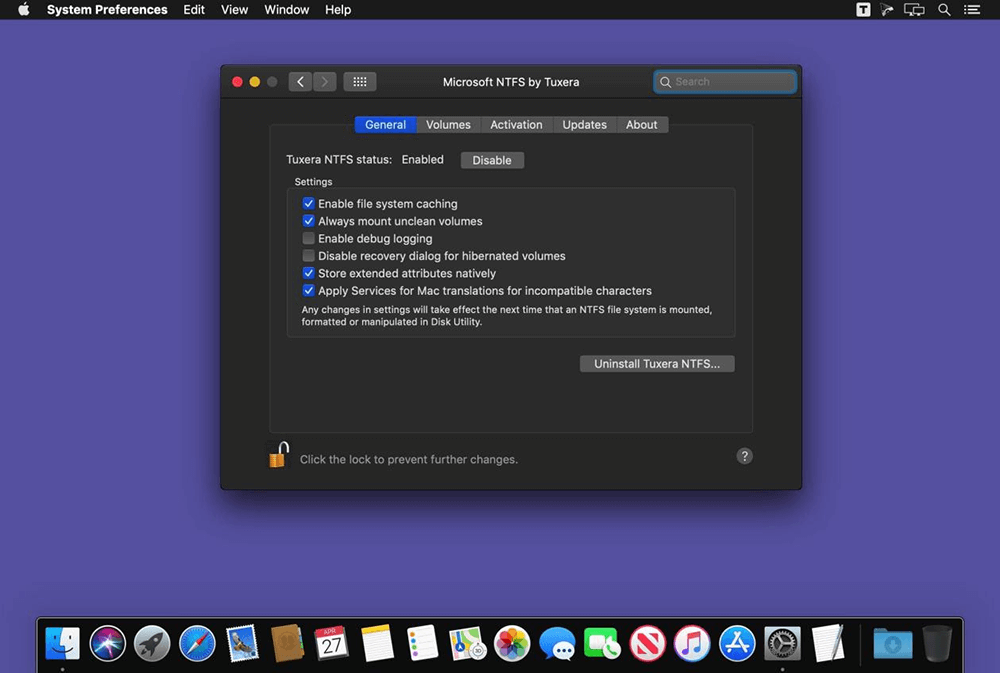 Making NTFS writable on a Mac is a breeze with Tuxera. The software lets users manage their NTFS disks by erasing, renaming, and adding files and directories. It works with any version of macOS, including the upcoming macOS Catalina.
Tuxera NTFS for Mac has a caching layer to safeguard all stored information. In addition to the Tuxera NTFS for Mac file system, the Tuxera disk manager software is included in the package.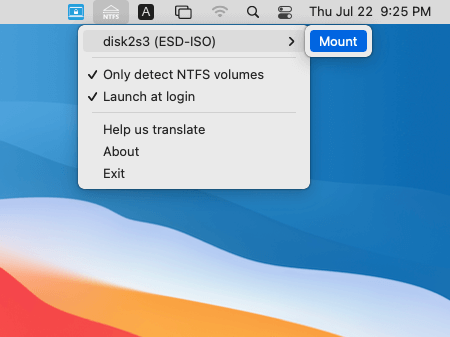 Hasleo NTFS makes it simple to mount and unmount NTFS volumes in Mac's upper-right status bar. With this program, NTFS drives can transfer data between Windows and Mac computers. You can use this Hasleo software to create NTFS-formatted files on Mac you've installed.
NTFS programs are menu-driven and provide a comprehensive drive overview with a few mouse clicks. You may easily move files from Mac to NTFS by dragging and dropping them.
It's different from other programs because it recognizes NTFS drives and flags them as read-only by default. On macOS, you can access the drive in read/write mode by right-clicking the icon and configuring it as writable.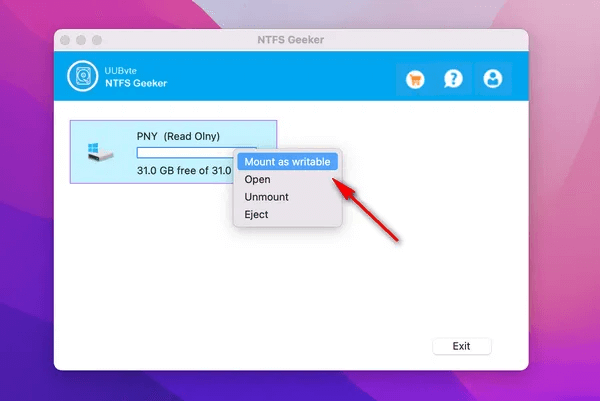 It's a well-known fact that people appreciate cost-free software. We should always start there if the free options have a track record of success. Sometimes, free software wouldn't fix the problem. Yet help is scarce when it is offered.
It's widely used because it allows Mac users to read and write to NTFS drives. The process is also quite easy to follow. To make the drive writable, launch the appropriate app and mount it.
Snow Leopard NTFS, or SL-NTFS, is only a free NTFS interface for Mac computers that supports writing. You can only use it to mount and unmount NTFS devices and enable writing access; that's it.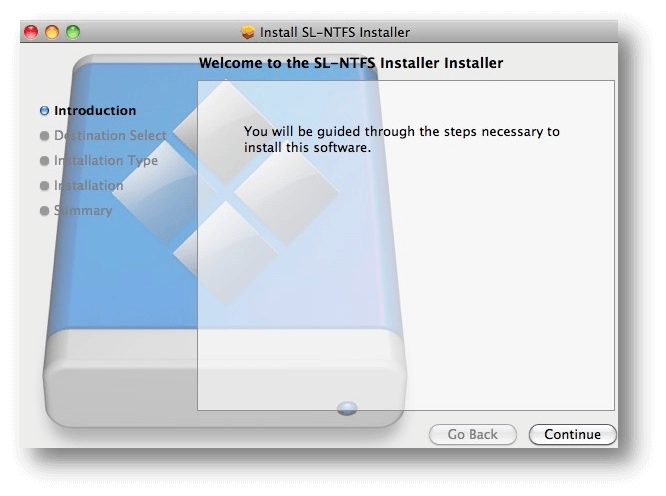 How to Add NTFS Read-Write Support on Mac?
When you connect an external hard drive to your Mac, you may find you can not write data to it or delete files on it. Then you will find it is an NTFS drive and shows read-only. To solve this issue without formatting the external hard drive, you can install an NTFS for Mac tool and run it to grant full read-write access to the NTFS drives on Mac.
Step 1. Download and install the easy-to-use NTFS for Mac - Donemax NTFS for Mac. Then connect the NTFS drive to your Mac.
Step 2. Open Donemax NTFS for Mac and then select the NTFS drive, click Enable Writable. It will quickly enable NTFS support on your Mac. All NTFS drives on your Mac will become read-write.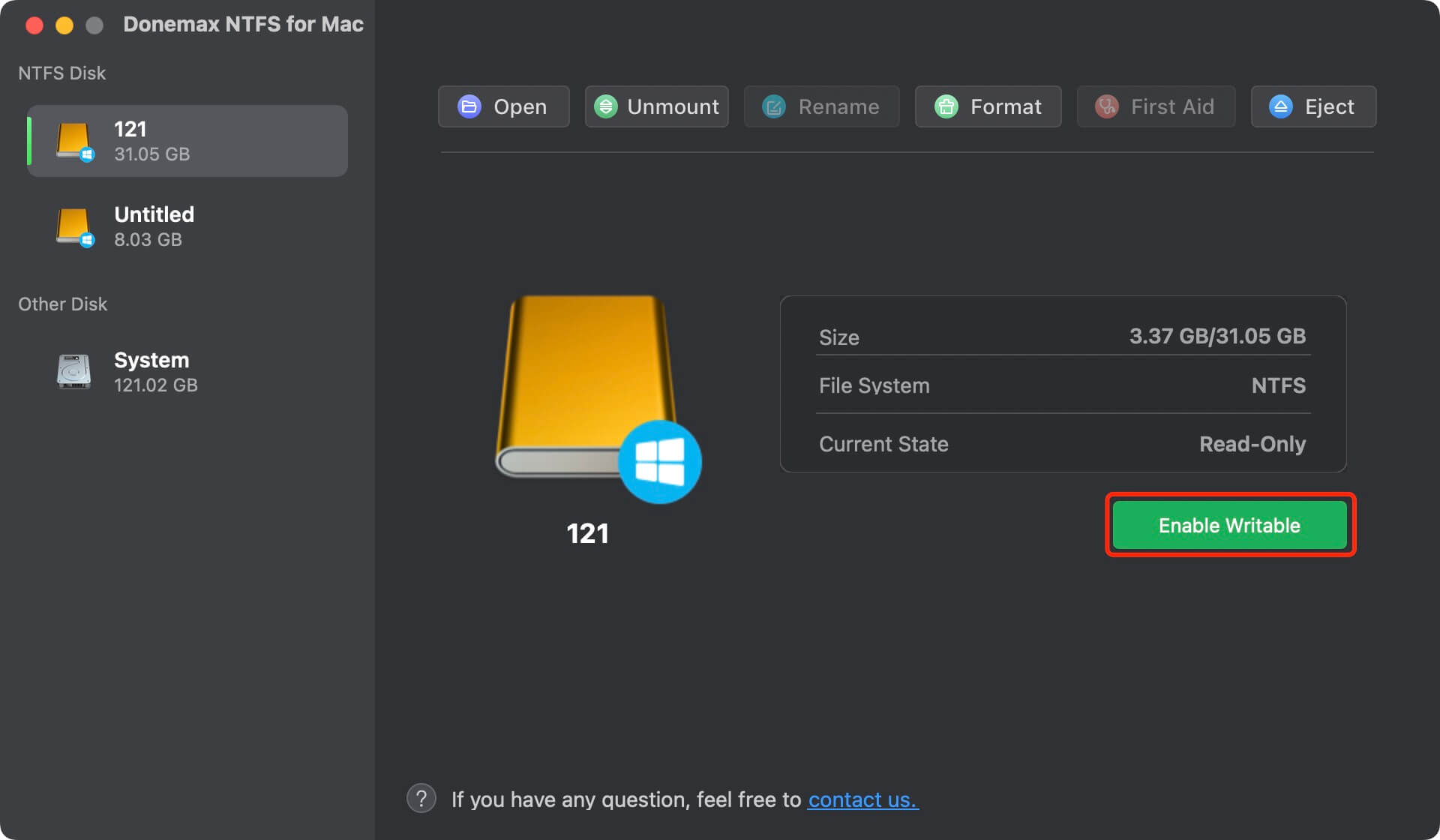 FAQs About NTFS for Mac Tools
1. How to use NTFS hard drive on Mac?
There are two main solutions for using NTFS drives on Mac:
🧿 1. Format the NTFS drive to ExFAT/APFS/Mac OS Extended, etc which is compatible with macOS. If you use this solution, you will lose all files stored on the NTFS drive.
🗂️ 2. Download and install a NTFS driver on Mac, then use it to enable writable for NTFS drives on Mac. This solution will not erase or format the NTFS drive, no data loss.
2. What is the best NTFS for Mac tool?
In this article, we list the top 10 NTFS for Mac tools for you:
1. Donemax NTFS for Mac
2. Paragon NTFS for Mac
3. NTFS-3G
4. Mt. NTFS
5. iBoysoft NTFS for Mac
6. Tuxera NTFS for Mac
7. Hasleo NTFS for Mac
8. SYSGeeker NTFS For Mac
9. UUByte NTFS Geeker
10. SL-NTFS
3. How to use NTFS driver on Mac?
You should install the NTFS driver on Mac and then connect an NTFS drive to your Mac. Select the NTFS drive and click Enable Writable. Then check if your NTFS drive has become Read-write.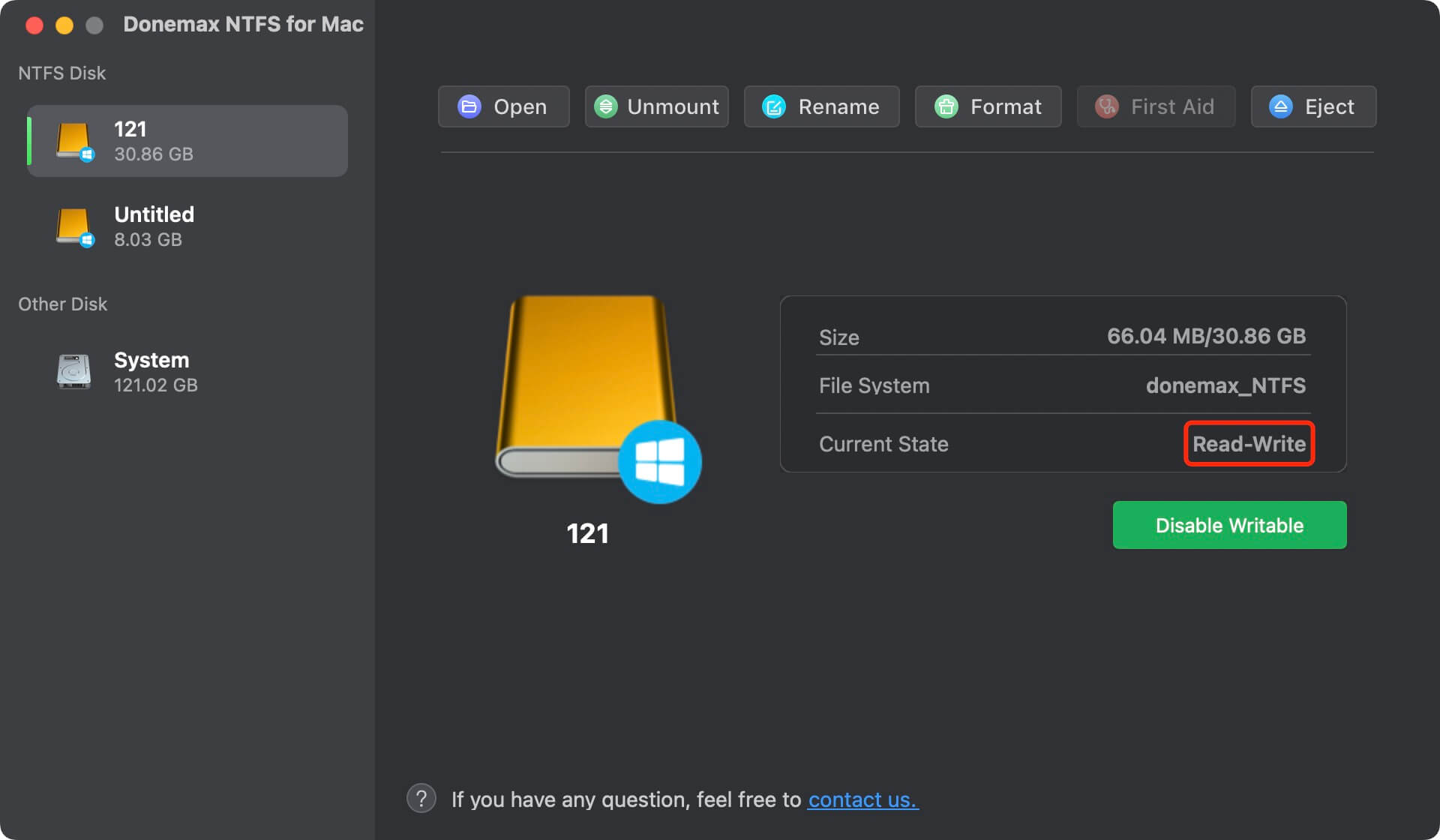 4. Can I use NTFS for Mac on Apple silicon M1 or M2 Mac?
Yes, Donemax NTFS for Mac is fully compatible with Apple silicon chips including M1/M2. You can use it on your new MacBook, MacBook Air, MacBook Pro, iMac, Mac Studio, Mac Pro, Mac mini, etc.
Final Words:
Normally, if you want to use an NTFS drive on your Mac, you have format it to Mac-compatible file system, but you will lose all data stored on it and the formatted drive may be not compatible Windows OS. If you want to use an NTFS drive on both PCs and Macs without formatting, you can download and install a NTFS for Mac tool on your Mac. Then use it to grant full read-write access to the NTFS drives on Mac.
The best 10 free or paid NTFS for Mac software listed above can help you enable NTFS support on Mac. Some of them, such as Donemax NTFS for Mac, also can help you mount NTFS disk on Mac, repair damaged drive, rename external USB drive, etc.

Contributing Writer
Christina is the senior editor of Donemax software who has worked in the company for 4+ years. She mainly writes the guides and solutions about data erasure, data transferring, data recovery and disk cloning to help users get the most out of their Windows and Mac. She likes to travel, enjoy country music and play games in her spare time.

Editor in chief
In order to effectively solve the problems for our customers, every article and troubleshooting solution published on our website has been strictly tested and practiced. Our editors love researching and using computers and testing software, and are willing to help computer users with their problems