Before we start: If you want to clean a Mac or permanently wipe a Mac hard drive to leave no chance of data recovery, a data eraser software - Donemax Data Eraser will help you.
PAGE CONTENT:
How to completely wipe a hard drive on Mac?
"I am about to leave the company and need to return the Mac computer that I used for work. I would like to erase all the data and using traces permanently, preferably by wiping the entire disk. How can I completely and permanently erase a Mac hard drive in one go?"
If you're planning to sell, donate, or dispose of your Mac, it's important to wipe your hard drive completely to prevent anyone from accessing your personal data. Wiping your hard drive involves erasing all data from it, including the operating system and any files and documents you may have saved on it. It is especially important for Mac users to permanently erase all files on the old Mac hard disk to protect your privacy.
In general, it is difficult to erase the internal disk of a Mac computer because the macOS and our data are on one hard drive. Here are 3 solutions to erase the disk if you want to.
✍️ Before wiping a Mac hard drive, to backup any important data that you want to keep is necessary. It's important to note that once you wipe your Mac hard drive, you won't be able to recover any data that was on it.
Solution 1: Wipe an external hard disk on Mac with Disk Utility
If you have multiple volumes and want to erase a non-system drive or external hard drive with Disk Utility, follow the steps below:
Open Disk Utility (you can find it in Applications > Utilities).
Select the external hard drive you want to wipe and click the "Erase" button in the top toolbar.

In the "Format" drop-down menu, select "Mac OS Extended (Journaled)" or "APFS" depending on your preference. Then, give the drive a name and click "Erase".

⚠️ Note: Erasing a hard disk with Disk Utility only makes the data invisible and the data has not been destroyed. A professional data recovery software for Mac in hand may recover them erased in this way.
Solution 2: Wipe a Mac internal disk with factory reset or macOS Recovery mode
If you want to wipe an internal hard disk with macOS installed, you can use the built-in factory reset to erase the startup disk or erase it in macOS Recovery mode. The methods of wipe a startup disk are distinguishing in different Mac OS. You can choose one to erase hard drive according to your macOS.
1. Erase the startup disk in macOS 13 Ventura
Step 1: Open System Preferences.
Step 2: Select "Erase All Content and Settings" from the menu.
➡️ If you can't find it from the menu, you can try to find it in the Security & Privacy of the System Preferences. Then select the "Restore" tab and click "Start Over" to erase the disk.

Step 3: Then click "Continue" to reset to factory settings with one click.
2. Erase the startup disk in macOS 12 Monterey or earlier in macOS Recovery mode
Step 1: Restart your Mac and immediately hold down the keys "option + command (⌘) + R" until Apple logo appears.
Step 2: Select Disk Utility when you enter Recovery Mode.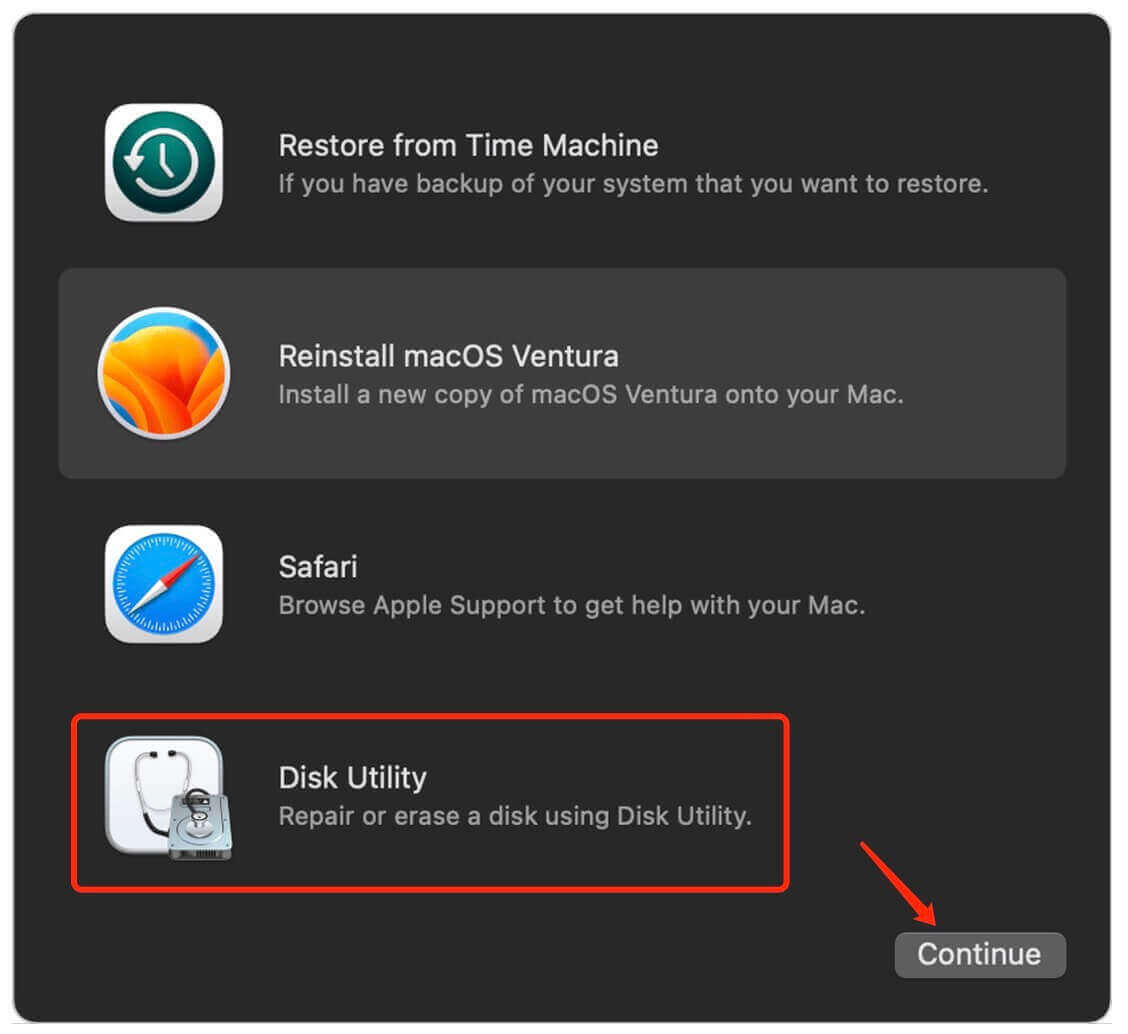 Step 3: In the sidebar, choose Macintosh HD.
↗️ For Mac Monterey, Big Sur, and Catalina users, you need to firstly delete the data volume, such as Macintosh HD - Data if you have this volume. Select "Edit" from the menu -> "Delete APFS Volume" -> confirm to delete.
↗️ Skip this step in Mac Mojave, High Sierra, Sierra or Mac OS X El Capitan for it doesn't have data volume.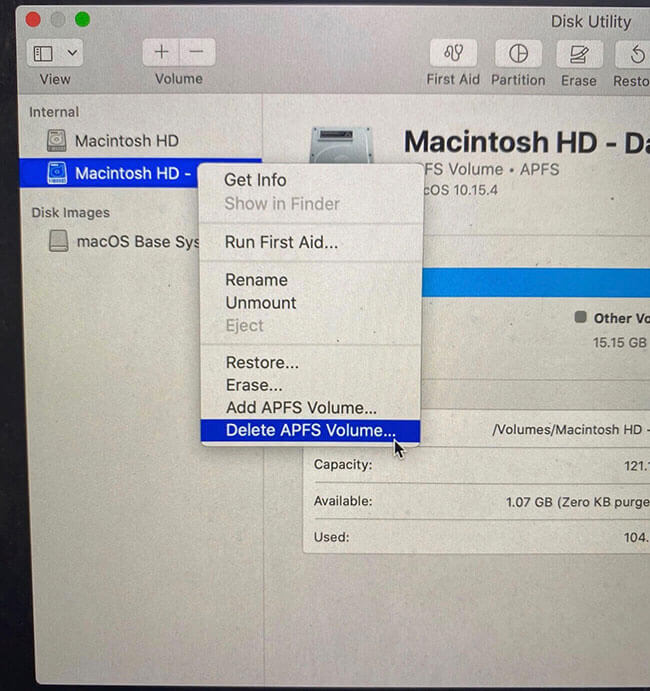 Step 4: Click "Erase", then select a file system format and give a name to it. Choose "Mac OS Extended", which is the file system used by macOS 10.12 or earlier.
If you are using Mojave, High Sierra, Sierra, or OS X El Capitan, there is no data volume, so select your system disk directly for erasure.
Step 5: After erasing the Mac hard drive, back macOS Utilities, and select Reinstall macOS.
Step 6: Complete the installation, and the Mac will be restored to factory settings.
Solution 3: completely wipe a Mac hard disk with a professional data eraser
❔ Is there a more convenient and safer way to wipe a Mac hard drive for general users and ensure the files on Mac is permanently deleted? The process of erasing a Mac disk with the operating system tools is relatively complicated and the personal data may be not destroyed. Here, we recommend using a professional hard drive eraser tool - Donemax Data Eraser for Mac. Donemax Data Eraser for Mac provides multiple ways to safely and permanently erase your disk, volumes, and files, etc. It can also erase your external drives as needed.
Donemax Data Eraser for Mac
👨‍💻 Ease of use

4.5

☑️ Features

4.3

💎 Reliability

4.4

📧 Customer support

3.9

💰 Cost
$29.95/Month for 2 Macs
💻 Mac OS
macOS 13 ~ 10.9
Steps to wipe a Mac hard drive with Donemax Data Eraser for Mac:
Mode 1: Wipe an external Hard Drive on Mac
Connetct the external hard drive to your Mac.
Download and install Donemax Data Eraser for Mac. Launch it.
Switch to Erase Hard Drive.

Choose the external drive you want to erase and click Erase Now.

After completing the operation, all the data on the Mac drive will be permanently erased.
Mode 2: Wipe free space permanently to erase deleted or lost files
Erase hard drive is not allowed to erase a startup dik on Mac. How can we permanently erase formatted or deleted files on a startup disk? Here Donemax Data Eraser for Mac's free space erasure and file erasure can safely or permanently erase unwanted files or folders.
Erasing free space
Erasing free space permanently erases all unused space on our disk, including deleted or lost files. It can permanently erase deleted files without affecting the macOS and existing data (without changing the size of the erased disk and operating environment), ensuring that the deleted files can not be recovered. Here are the steps:
Launch Donemax Data Eraser for Mac and switch to Erase Free Space.

Select the Mac drive you want to erase, confirm and click Erase Now.
Then the free space on the Mac will be wiped completely.
Tips:
✍️ All of the above operations are irreversible. Please make sure to back up important data before performing any operation. The system's tools are complex and cannot guarantee the complete destruction of the user's personal data. If you want to completely erase personal privacy data, please choose a professional data erasure tool, such as Donemax Data Eraser for Mac.
In conclusion
With the safe data eraser, you can securely and permanently wipe Mac hard disk, erase external hard drive, SD card, USB flash drive, digital camera, etc. It will not cause any damage to your disk and 100% safe for SSD erasure. Before you sell or give away your Mac, you can use this software to securely wipe all personal data from the Mac hard disk so that nobody can recover your private information. Follow these steps carefully to completely wipe your hard drive on Mac, and make sure you backup any important data before proceeding.
FAQs:
Follow the steps below to permanently Wipe all the files on a Mac hard drive:
Download and install Donemax Data Eraser for Mac.
Launch the software and switch to Erase Hard Drive.
Select the drive you want to erase.
Click "Erase Now" and wait for the process to complete.
The answer is NO. Wiping a Mac hard drive with Donemax Data Eraser is 100% Safe. It is a safe and secure wiper on Mac and won't impact its lifetime.
If Disk Utility won't let you erase a hard drive on your Mac, it could be due to several reasons:
The hard drive is currently in use by your Mac or an application.
The hard drive is encrypted with FileVault and needs to be turned off before erasing.
The hard drive is part of a RAID setup and requires the use of the RAID utility instead of Disk Utility.
The hard drive is failing and may need to be replaced.
You don't have sufficient privileges to erase the hard drive.
If none of these solutions work, you may need to use a third-party utility to erase the hard drive, such as Donemax Data Eraser.
There is no guarantee. Erasing with Disk Utility doesn't destroy the data. In some cases, the system may keep the user's data as deleted for a period of time after the user erases or formats it to ensure that the user did not make a mistake and has the chance to recover the deleted data. However, if you want to permanently erase this data all at once, it is recommended that you use a professional erasing tool like Donemax Data Eraser for Mac.
To wipe a Mac or MacBook clean, you should:
Back up your data
Sign out of iCloud
Deauthorize your computer
Restart in Recovery mode
Erase the hard drive using Disk Utility
Reinstall macOS
Reset NVRAM
Your Mac or MacBook should now be wiped clean and ready to set up as new. Be aware that wiping a Mac or MacBook will permanently erase all data on it, so be sure to back up any important files before proceeding.
Related Articles

Contributing Writer
Christina is the senior editor of Donemax software who has worked in the company for 4+ years. She mainly writes the guides and solutions about data erasure, data transferring, data recovery and disk cloning to help users get the most out of their Windows and Mac. She likes to travel, enjoy country music and play games in her spare time.

Editor in chief
In order to effectively solve the problems for our customers, every article and troubleshooting solution published on our website has been strictly tested and practiced. Our editors love researching and using computers and testing software, and are willing to help computer users with their problems