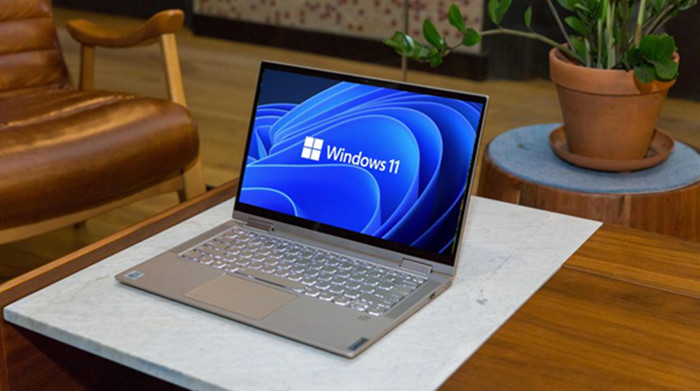 Windows 11 is coming! Have you updated and encountered any problems? In some scenarios, you have to reinstall or reset Windows 11, you can solve some issues such as system crash. However, after reinstalling Windows 11, you might lose all data on the system drive or other partition.
Is there any solution to recover the lost data after reinstalling Windows 11? Take it easy. In this article, we will introduce main reasons for reinstalling Windows 11, and some useful solutions to help you recover the lost files if you've lost important files after Windows 11 reinstall.
Part 1. Reasons for Reinstalling Windows 11
Let's see what are the reasons for reinstalling Windows 11:
Corruption of Windows system files or boot files
Windows system failure due to virus attacks
Windows crash due to hardware failure
Corruption in Windows Registry
Interruption during Windows installation
Latest Windows system upgrades or updates
Blue screen issues
Due to any one of reasons above, you may have to reinstall Windows 11. However, most of the important thing, you should know that Windows reinstallation will lead to data loss. Why your data will lose, this is because when you reinstall Windows operating system on your PC, you will be asked if you want to format the hard disk to create a new partition. In this case, you format the hard disk, create a new partitions and reinstall Windows operating system, then all data on the hard disk will be deleted.
We will provide several proven ways to recover lost data after reinstalling Windows operating system. In the next paragraph, you will get the efficient ways.
Part 2. Methods to Recover Lost Data after Reinstalling Windows 11
If you have formatted the hard disk, please don't worry about your data. Because you can still get it back. Please don't create new files on the formatted disk. . If you save anything on the hard disk, your data will be overwritten.
Here are 3 simple methods that can help you recover your lost data easily and quickly after reinstalling Windows 11.
Method 1: Recover Lost Data with Backup File History.
Windows File History can restore files or folders from the backup location. Then you can recover your lost files from an external drive such as USB or from a Cloud drive.
Step 1. Open Settings and select Update & recovery.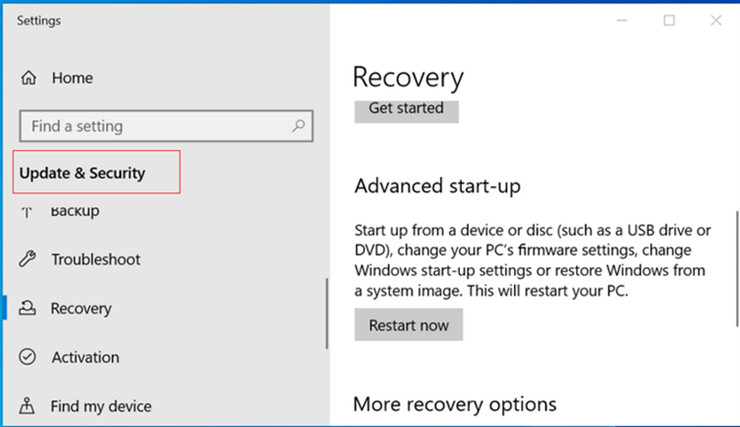 Step 2. Click Backup option. Recover data with Backup using File History.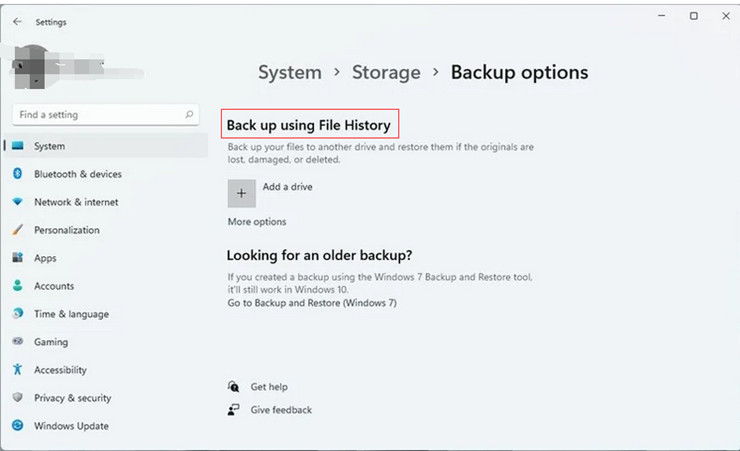 Step 3. Browse the files and click Restore.
Please note: File History can back up the files such as Photos, Music, Desktop folders, Videos, and offline files of OneDrive on your PC only. And if you haven't made any backups before, this means must be inaccessible to you.
Method 2: Recover Data with System Restore Point.
System Restore Point feature works similar to Backup File History. A restore point is used for restore the files to an earlier point. It is created automatically by your PC when it notices the change. You can recover lost files from the system restore point.
Step 1. Open Control Panel and select Recovery.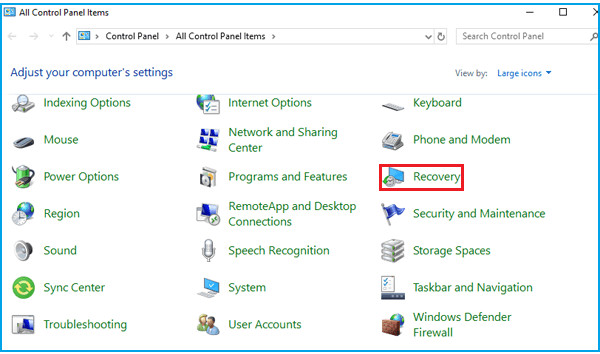 Step 2. Select restore point, click Next, and Finish.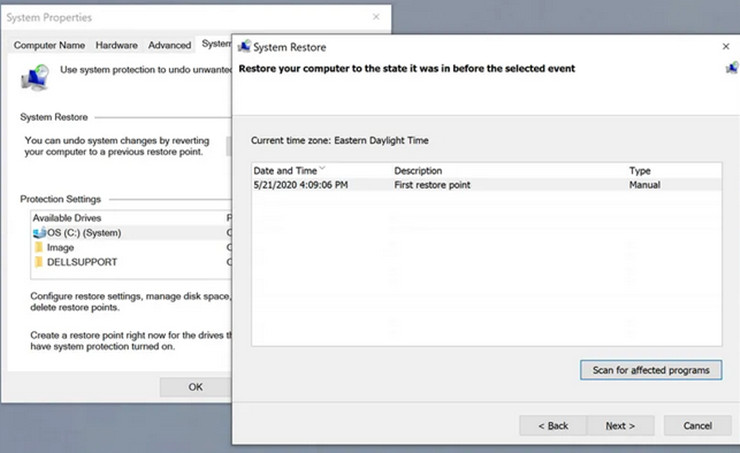 Please note: This method works only when you turn on the Restore System Settings and Previous Versions of Files. If you do not turn on this feature, you can try the following solution. To prevent data loss in the future, it is recommended for you to turn on this feature.
Method 3: Recover Your Files with Data Recovery Software.
If you feel confused about the above methods, you can try Donemax Data Recovery which is a professional data recovery tool. Due to advanced algorithms, Donemax Data Recovery can find various file types: photos, music, videos, files, etc. It can help you completely recover lost files after reinstalling Windows 11.
Here are steps to recover your lost data efficiently.
Step 1. Download and install Donemax Data Recovery on your Windows 11 PC, and launch it.
Step 2. Open Donemax Data Recovery and then choose the hard drive where you lose your files.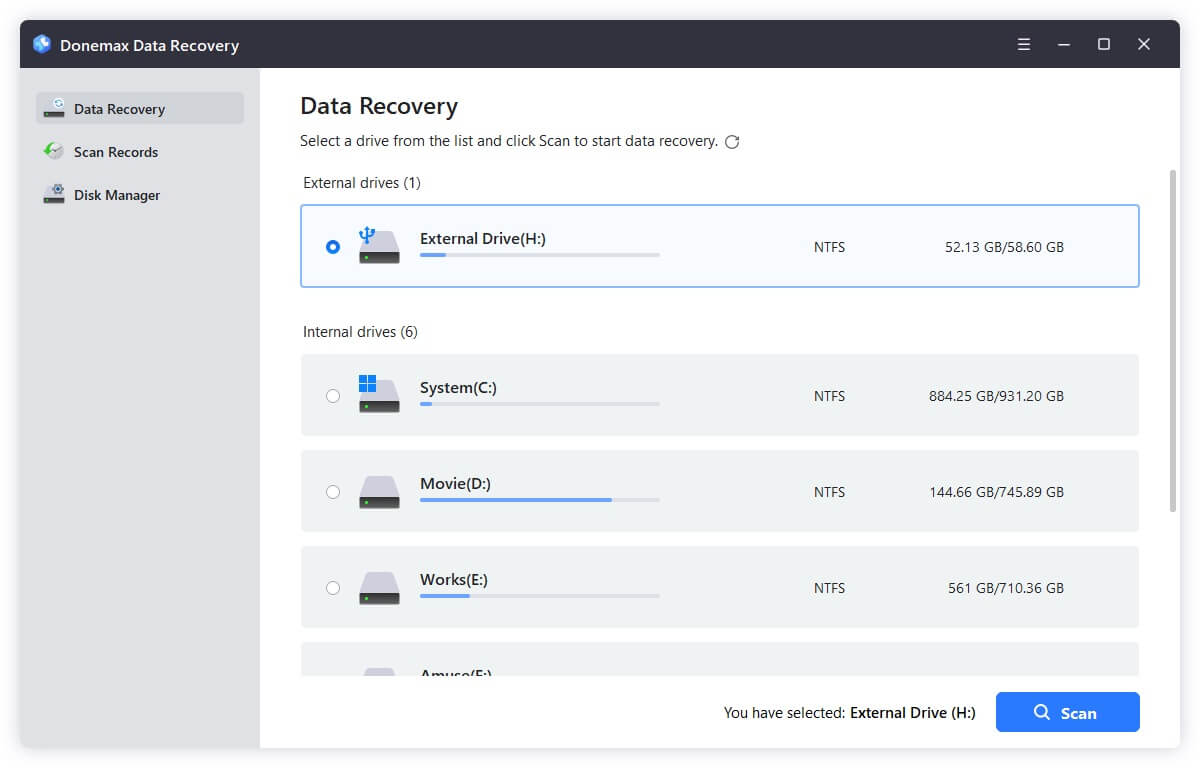 Step 3. Then click on Scan button. Donemax Data Recovery will deeply scan the hard drive and find all recoverable files.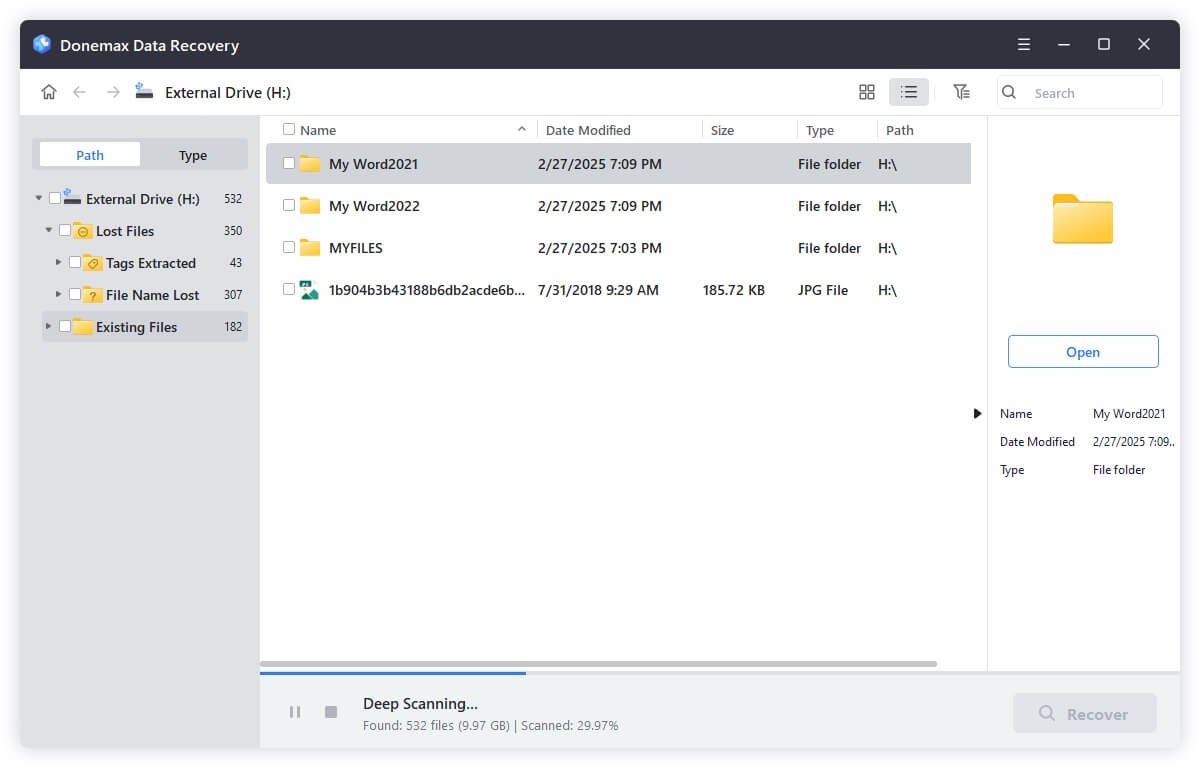 Step 4. Preview the found files and select the files you want to recover, then click Recover button.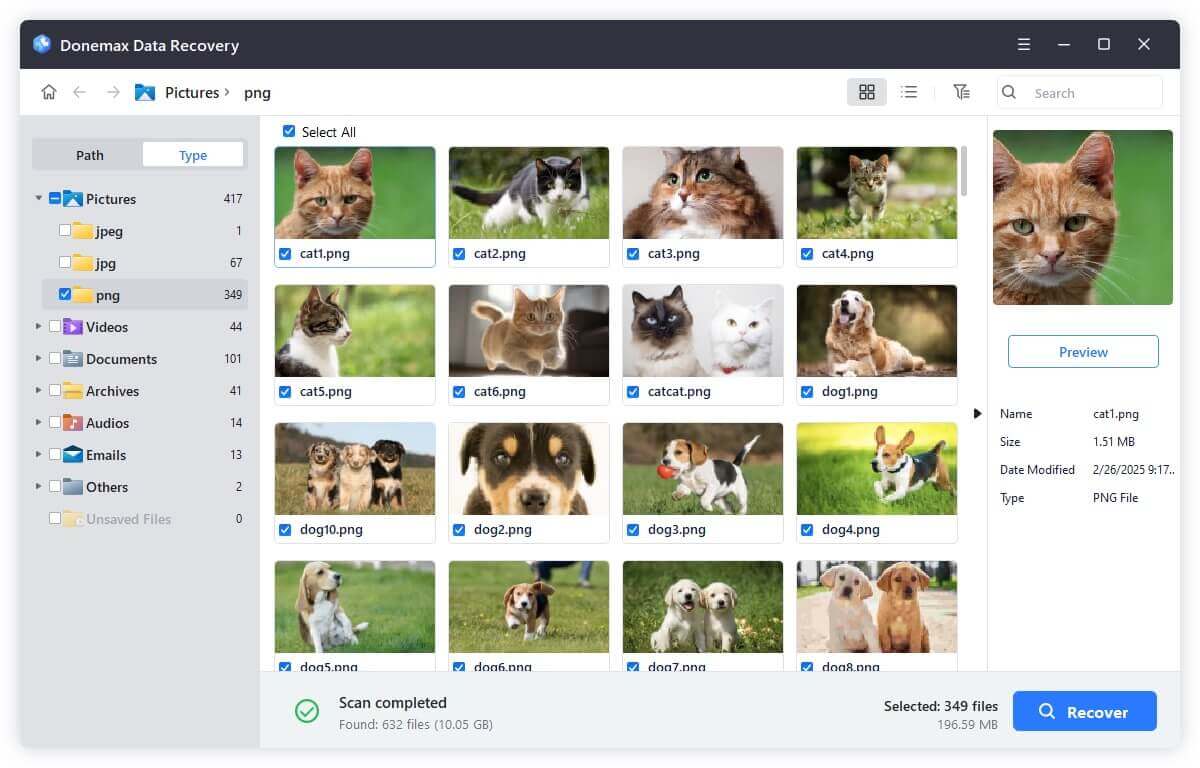 Conclusion
After reinstalling Windows 11, your data and files may not be deleted permanently. At this time, lost data can be recovered either using Donemax Data Recovery besides recovery through Windows backup file in the File history, system restore point created previously. But, the best method is to take a backup of files by using disk image before reinstalling Windows.
Donemax Data Recovery is a free and user-friendly data recovery tool, which can easily recover lost files, pictures, documents and videos, after deleting, formatting, partition loss, OS crash, virus attack, and other data loss scenarios. No matter it is an HDD, SSD, SD Card, Memory Card, Flash Drive and USB Drive, Donemax Data Recovery can find what you want and won't let you down.
Donemax Data Recovery
Recover lost data after reinstalling Windows 11.
Recover all types of lost files from HDD, SSD, memory card, USB flash drive, digital camera, RAID, Server, etc.