If you've accidentally deleted a file or deleted the contents of a file, you know how frustrating it can be, especially when it's something you've been working on for days, weeks, or even months. Fortunately, deleting a file does not necessarily mean the world's end. In fact, the file is often hidden in the hard drive and can be easily retrieved even you have emptied it from recycle bin.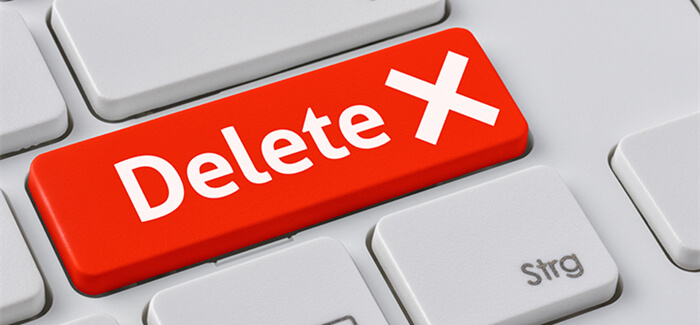 What happens when you delete a file?
Windows/Mac OS (and other operating systems) use "pointers" to track where files are on a hard drive. Each file and folder on your hard drive has a pointer that indicates to OS where the data in the file begins and ends.
When you delete a file, Windows removes the pointer and marks the sectors that contain the file's data as free. The file is no longer present on your hard drive, according to the file system, and the sectors containing its data are considered free space.
However, the file is still recoverable until Windows or macOS writes new data over the sectors containing the file's contents. A file recovery program can search for and restore deleted files on a hard drive. The file recovery program can only recover a portion of the data if the file has been partially overwritten.
Why are deleted files not erased immediately?
The answer is quite simple if you're wondering why your computer doesn't simply delete files when you delete them. Deleting a file's pointer and marking its space as available is extremely fast. In comparison, erasing a file by overwriting its data takes much longer. For example, deleting a 10 GB file would be nearly instantaneous. It may take several minutes to erase the file's contents, just as if you were composing 10 gigabytes of data on your hard drive.
Windows and other operating systems do not erase a file's contents when deleted to improve performance and save time. If you want to delete a file's contents, you can use a "file-shredding" tool.
Solid-State Drives Operate in a Distinctive Way: None of this applies to solid-state drives (SSDs). TRIM-enabled SSDs (all modern SSDs support TRIM) remove deleted files immediately and cannot be recovered. Essentially, data cannot be overwritten onto flash cells; instead, the contents of the flash memory must be canceled before new data can be written. Your operating system erases files immediately to improve future write performance; if it does not wipe out the file data promptly, the flash memory would have to be erased before it could be written in the future. This would slow down SSD writing over time.
Recover the deleted files [Three Methods]
#1 Look in the Recycle Bin
You can see everything inside the Recycle Bin or trashcan by double-clicking on it. Did you recover what you thought you'd deleted? Drag it back to your desktop, and you're done. If it isn't in your trashcan, there are a few other options for recovering a deleted file.
Hopefully, you've been performing backups. If this is the case, you can recover an earlier version of your file using the backup recovery service. It may be a day old, but losing a day is preferable to losing everything.
#2 How to Recover Deleted Files Using File History?
You should have enabled File History Backup if you are not performing backups. If you're using Windows 10, go to Settings > Update & security > Backup > Add a drive, and then select an external drive or network site for your backups.
To Recover That Critical Missing File or Folder:
1. In the taskbar's search box, type Restore files and select Restore your files with File History.
2. Please find the file you want, then use the arrows to see all its versions.
3. When you've located the desired version, click Restore to save it in its original location. Hold down (or right-click) Restore to save it somewhere else, select Restore to, and then enter a new location.
#3 Recover Deleted Files Using Data Recovery Software
If you don't have any backups and your file isn't in the trash, you could try one of the numerous file recovery programs possible, either free or paid, such as Donemax Data Recovery.
Donemax Data Recovery is a powerful data recovery program which is able to recover deleted, formatted or lost files from any device or system. If you delete a file and have emptied recycle bin, you can run this software to scan the drive where you delete the file, then it could quickly find the lost file.
Donemax Data Recovery
Recover permanently deleted files, recover recycle bin.
Recover lost files from formatted or erased hard drive.
Recover inaccessible, corrupted or hidden data.
Donemax Data Recovery is an easy-to-use data recovery tool. It takes only a few steps to help you recover deleted or lost files.
Step 1. Select the hard drive where you delete the files.
Donemax Data Recovery supports to recover all types of lost files from HDD, SSD, memory card, camera, USB drive, etc. Now, just select the hard drive where you delete your files to start data recovery.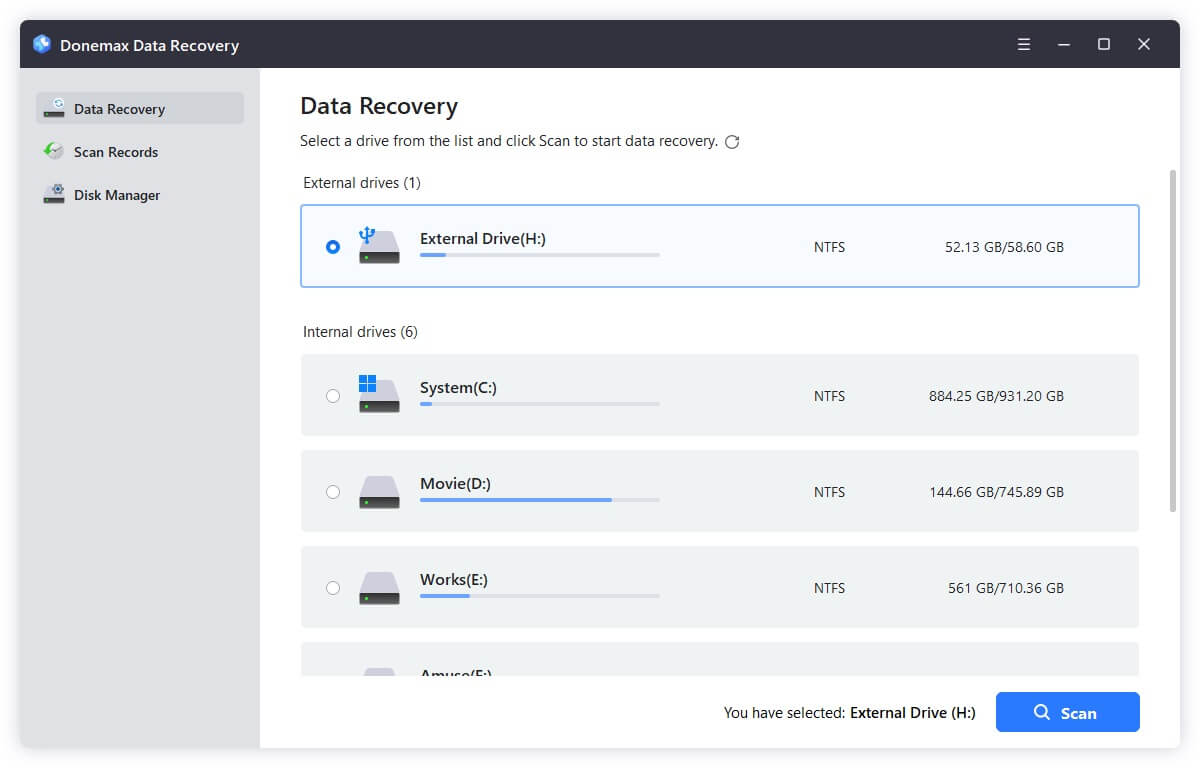 Step 1. Scan the hard drive to find deleted/lost files.
Now, click on Scan button. Donemax Data Recovery will deeply scan the hard drive and find all deleted/lost files.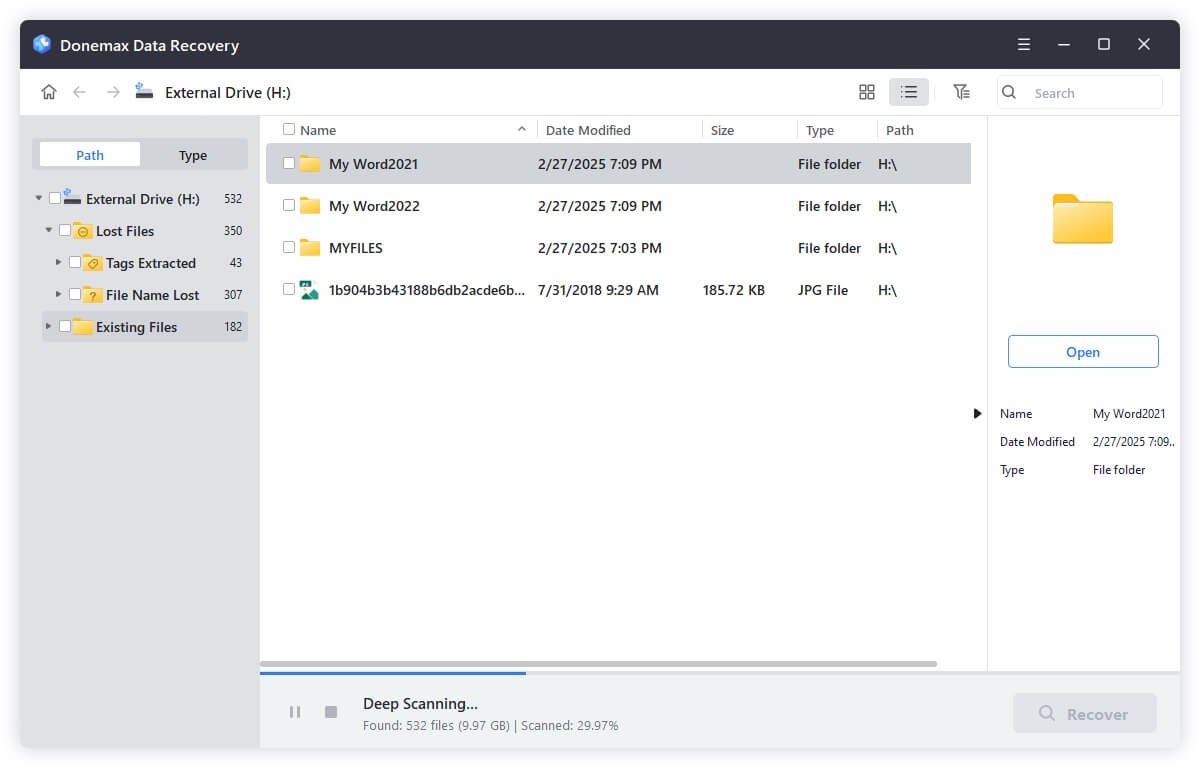 Step 3. Preview and recover lost files.
Once the scan is completed, you can preview all recoverable files. Then select the wanted files and save them.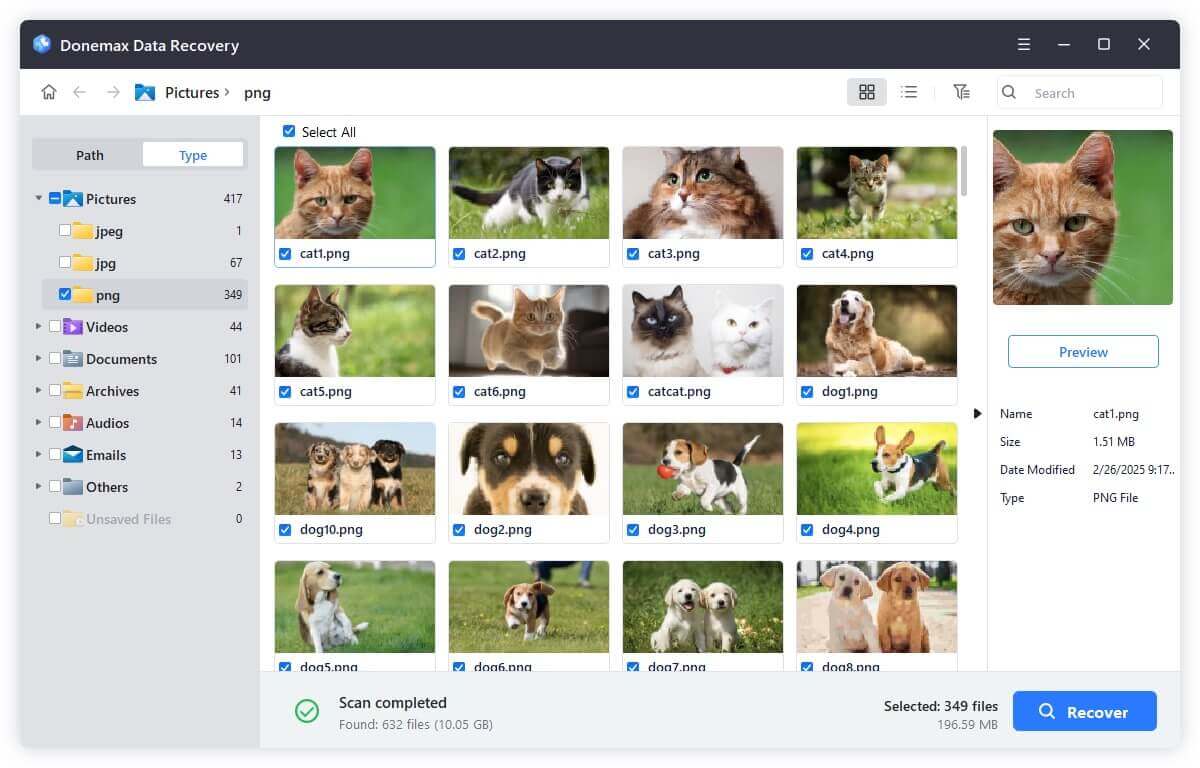 Conclusion: Recovering Deleted Files
If you've accidentally deleted a file and need to recover it, keep the following tips in mind:
You should get the file back as soon as possible: As Windows/macOS continues to write files to your hard drive, the possibility of overwriting deleted files grows. If you want to be sure you can recover the file, you should do so immediately.
You should make every effort to use the hard drive as little as possible: Powering down the computer immediately after the file is deleted, inserting the hard drive into another computer, and using an operating system running on another hard drive to recover it is the best way to retrieve a deleted file from a hard drive. If you attempt to recover a file by installing a file-recovery program on the same hard drive, the installation process and regular hard drive usage may overwrite the file.
Hopefully, after reading this comprehensive guide, you have learned everything about you can recover deleted files. You have also learned the methods to recover deleted files.