An Apple disk image file greatly assists in making a backup or clone of a Mac drive or volume. The compact image file makes it simple to save and quick to send over the web. It is also possible to encrypt the image file for extra safety. To
make a disk image after upgrading to macOS Sonoma
, you can use the built-in Disk Utility or third-party
disk clone software
.
PAGE CONTENT:
The disk image file can also be mounted as a volume in Finder, providing access to the contents like a virtual drive. The .dmg or .zip file extension is commonly associated with the native disk image format of Mac OS. Furthermore, the Disk image file can salvage data from a failed, damaged, or otherwise inaccessible source drive.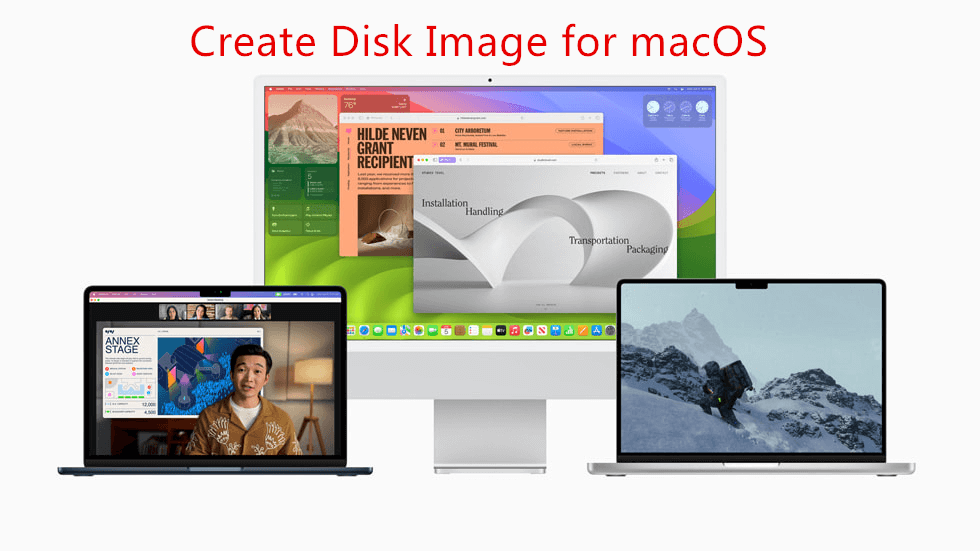 📑Advantages of disk imaging:
The primary benefit of imaging is that it allows you to build a single reference system optimized for your specific environment and then record that configuration for use in other places. This technology allows you to "bake in" preconfigured programs and settings for easier rollouts.
If an image is delivered to many computers, all of those computers will retain the original device's settings, applications, and customizations. The IT department won't have to spend as much time on mundane tasks like software setup, printer configuration, file duplication, etc.
Create A Disk Image for macOS Sonoma Using Disk Utility?
Disk Utility is an application available on Mac computers included in macOS Sonoma. For Mac users, it serves as a means to wipe, format, and access storage media. In addition to its primary use as a disk management tool, it may also be used to make disk images for your Mac.
The first step is to fire up Disk Utility. Navigate to File > New Image > Blank Image.
In the second step, you'll give the disk image a name, add tags if they're relevant, and decide where to store it. This name will show in the Finder, where the disk image file is stored before being opened.

Third, give the disk image a name by typing it into the Name area. When you launch the disk image, this will be the name that appears on your computer's desktop and in the Finder's sidebar.
Fourth, give the disk image a size by typing a number into the Size area.
Select the disk format from the Format pop-up menu.
Click Save, when it completes, click Done.
Create A Disk Image for macOS Sonoma Using Donemax Disk Clone
Another method to create a DMG or ZIP disk image for macOS Sonoma is to use a third-party disk cloning application - such as Donemax Disk Clone for Mac. It can help you quickly create a disk image for Mac startup disk. Now, just connect an external hard drive to your Mac, and make a disk image for your Mac.
Step 1. Download and install Donemax Disk Clone for Mac, then open it from Launchpad.
Step 2. Choose disk clone mode - Disk Image. Then select the Mac startup disk as the source disk and select the external hard drive as the destination disk.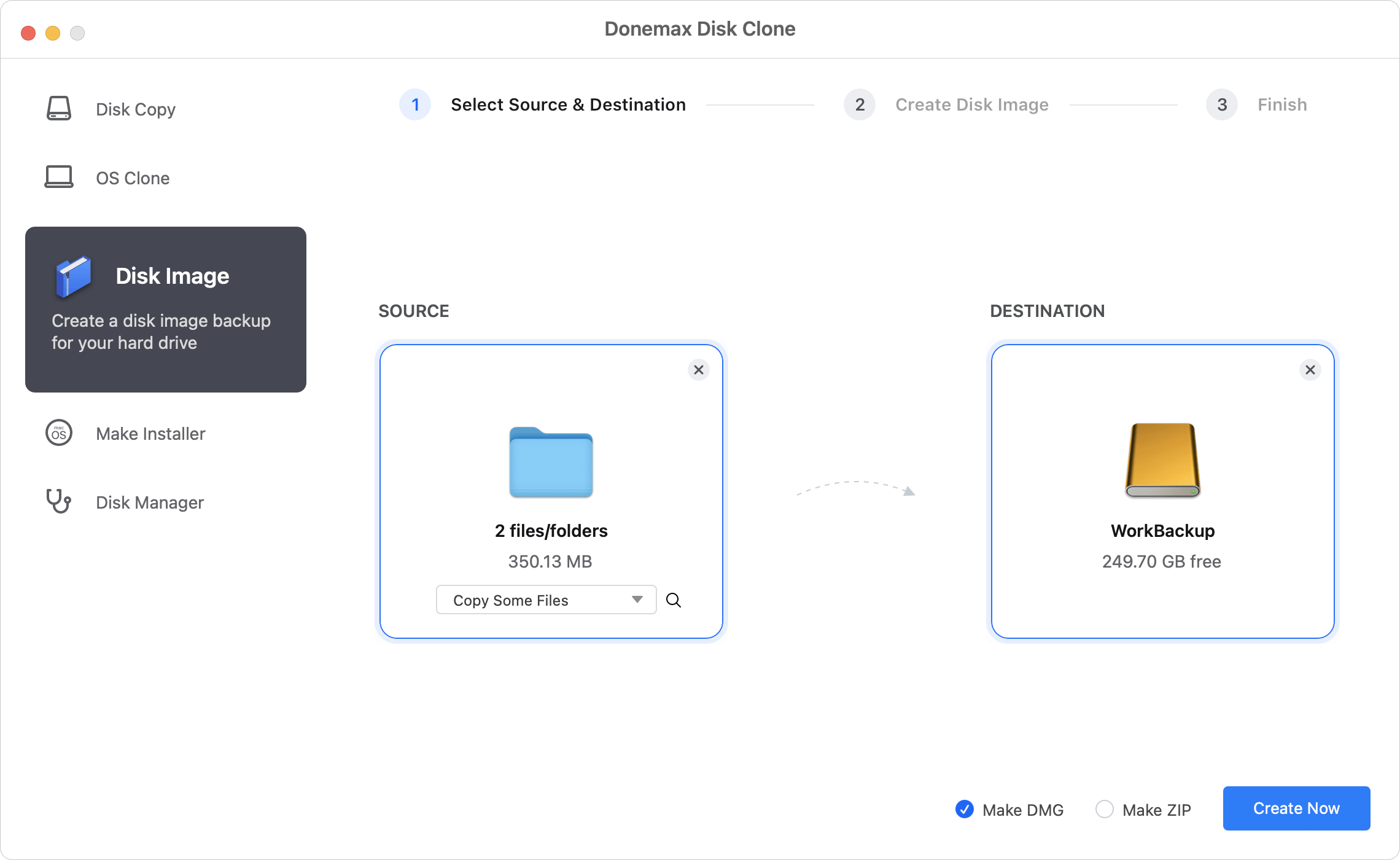 Step 3. Select DMG or ZIP, then click on Create Now button to create a disk image of the Mac startup disk and save it to the external hard drive.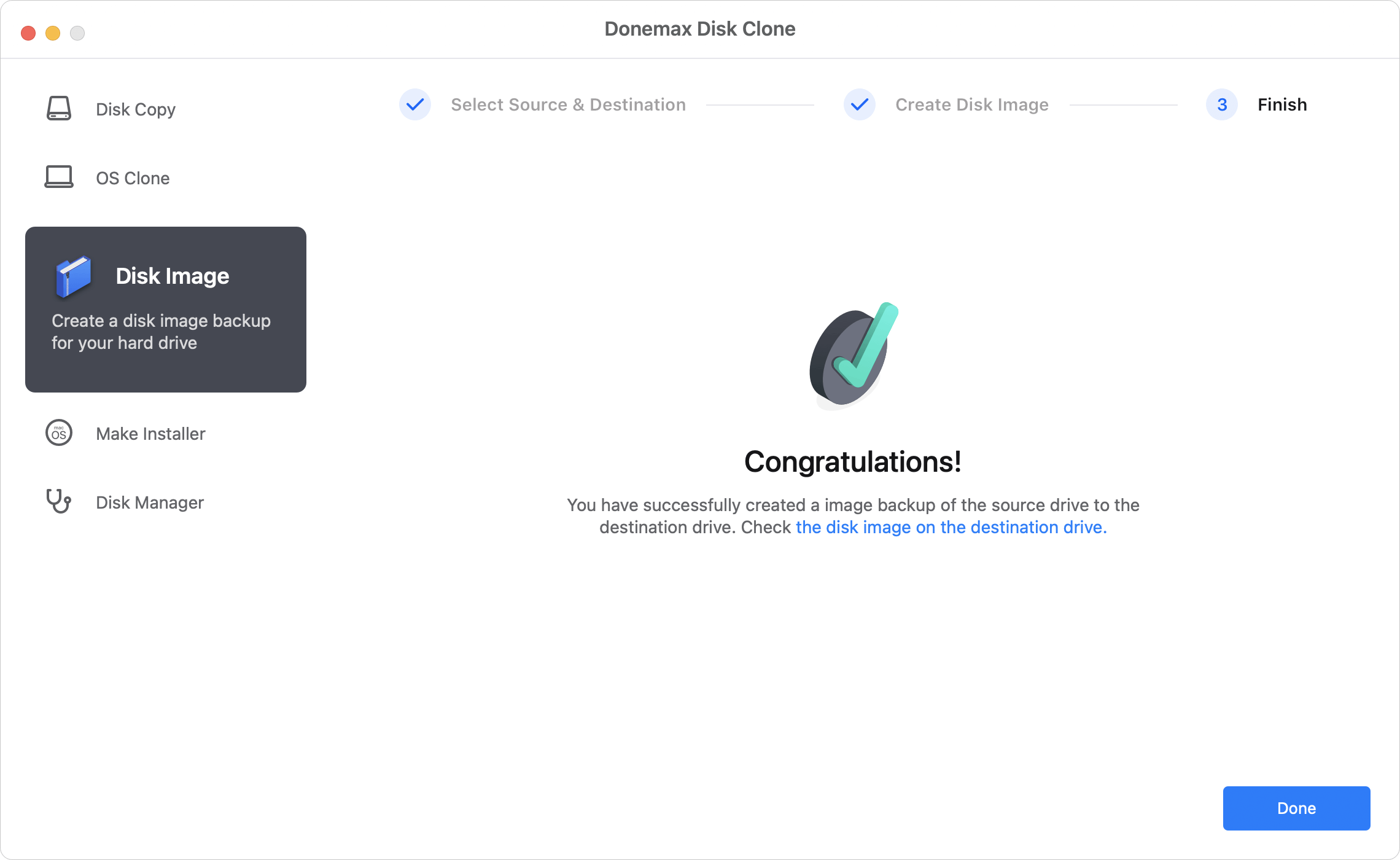 FAQs About Creating Disk Image on macOS Sonoma
1.How to restore a bootable disk image?
An image file of your startup disk can be restored to the actual startup disk. But before you erase your starting disk, you should back up any irreplaceable information and folders to another volume or storage drive.
Here are the measures to restore a disk image file to the starting disk:
Launch Disk Utility in macOS Recovery.
Click the Restore button after choosing the startup disk (Macintosh HD) from the sidebar. Warning: Your boot disk will be formatted to look exactly like the image file.
Third, select the Image button and then the image file for the boot drive.
Then, after selecting Open, select Restore.
2.How to create a bootable clone for macOS Sonoma?
Donemax Disk Clone for Mac can help you create a bootable clone for Mac. The OS Clone mode is able to clone everything of the Mac to an external hard drive and make it be bootable.
3.How to recover deleted files from the Disk Image?
Just connect the external hard drive on where you save the disk image backup. Then open the external hard drive and find the disk image backup. Open the disk image backup, find the deleted files and copy them to your Mac.
Conclusion:
If you're using a Mac, we hope this article clarifies the steps necessary to build a disk image of your Mac's starting drive. Disk Utility, a graphical user interface app that makes making disk images easy, is the most reliable and secure option. The Terminal method of making and managing a starting disk image is an option for more experienced users. The article also covered how to use Disk Utility to revert a backup of a startup disk to a working disk.
Before attempting any major troubleshooting steps, such as restoring from an image file to the starting drive, you should always back up your Mac. Data loss is possible if the source and target drives are selected incorrectly. A Mac data recovery program can save the day in such a precarious scenario. If you've accidentally deleted some crucial files or experienced logical data loss, this program can help you retrieve them.
Related Articles

Contributing Writer
Christina is the senior editor of Donemax software who has worked in the company for 4+ years. She mainly writes the guides and solutions about data erasure, data transferring, data recovery and disk cloning to help users get the most out of their Windows and Mac. She likes to travel, enjoy country music and play games in her spare time.

Editor in chief
In order to effectively solve the problems for our customers, every article and troubleshooting solution published on our website has been strictly tested and practiced. Our editors love researching and using computers and testing software, and are willing to help computer users with their problems