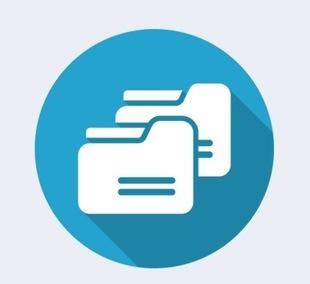 Mac OS is different from Windows. The backup method or software you are used to on Windows may not be suitable for Mac. Although Mac OS comes with a time machine backup/restore tool, its functions are relatively limited, and the operation is too complicated, which cannot fully meet the needs of MAC users. The following are the recommended five best Mac backup and cloning software, which has more powerful functions and are more convenient.
What Can Disk Backup and Cloning Software Do for Mac Users?
Backup software allows you to copy or clone documents, folders, partitions, disk cloning, compressed file making, etc., from Mac.
When you initiate a backup, it creates exact copies of your system files so you can have a usable copy if something goes wrong with your Mac. In file corruption, accidental deletion, or a complete disaster, backup software solutions provide a direct restore path. The best backup software solutions compress your data to reduce the space required while maintaining different versions. This structure ensures that you have complete control over the initial results.
1.DMclone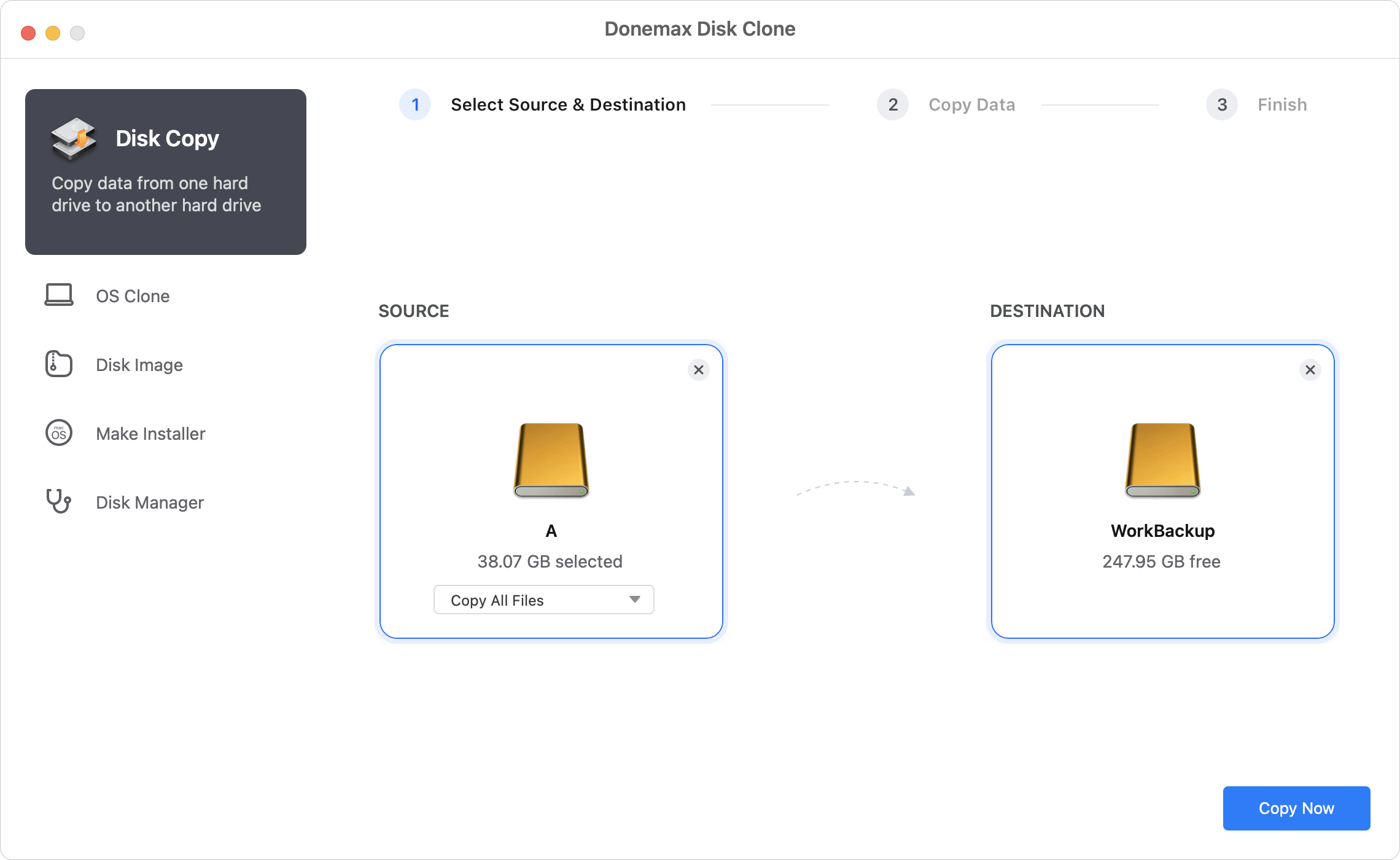 This Mac disk cloning software is currently the most convenient one, providing simple interaction and enabling you to get started directly without too much learning. Various functions meet your different needs, such as file backup, compressed file creation (dmg, zip), System cloning, and disk management.
Advantage:
DMclone has an intuitive interface that makes it easy to get started and complete your work. The system cloning feature can create macOS system image and backup all important data.
Shortcoming:
Backups of large files can be slower, although they are usually faster than what Time Machine provides.
2.SuperDuper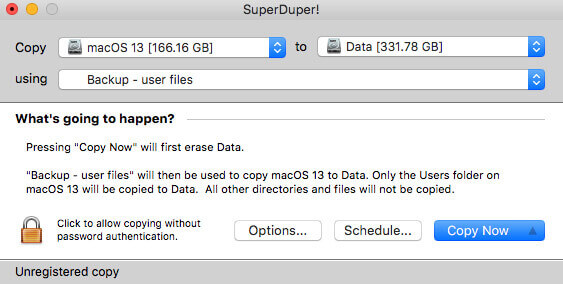 This backup application supports incremental or legacy options to get the desired bootable clone. You can create a mac boot drive, which Time Machine doesn't offer. Although there is a paid version of this service, not everyone needs automatic backups or incremental clones.
Advantage:
A more detailed but hands-on process that makes finding and retrieving files easy to understand. You can create a bootable drive of the disk to restore.
Shortcoming:
Too professional interface, so many users do not know how to operate. Selecting specific files or folders for the backup process is not allowed.
Some free basic services are available, but most features require unlocking to use and currently cost $27.95.
3.Disk Drill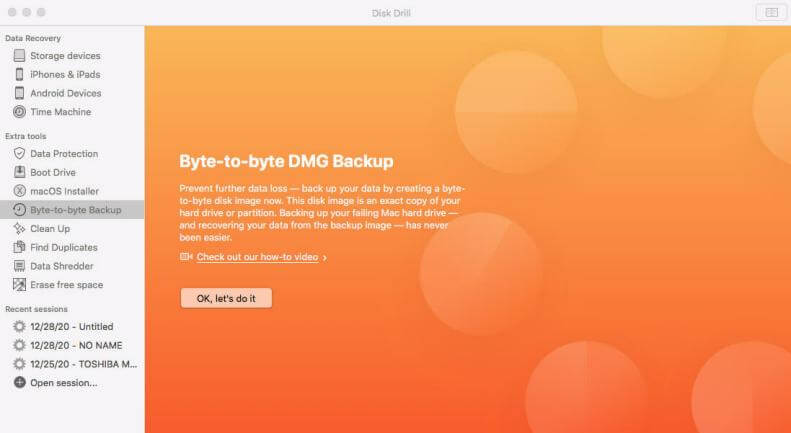 Disk Drill supports mac backup and supports some additional functions such as mac data recovery. It also integrates Time Machine.
Advantage:
Disk Drill has a cutting-edge interface design that makes it easy to start the backup process.
The software comes with some additional services, and you will be charged for using similar tools from other providers. You can use it to recover data from different formatting systems.
Shortcoming:
You can use it to search for or preview specific files that you want to keep.
There's no free trial option when you need a macOS solution to back up your information.
Backups of large files may be slower.
The plethora of features also make it prohibitively expensive.
You can access the full functionality of Disk Drill for $89. Enterprise-grade solutions for large organizations are also available.
4.Carbon Copy Cloner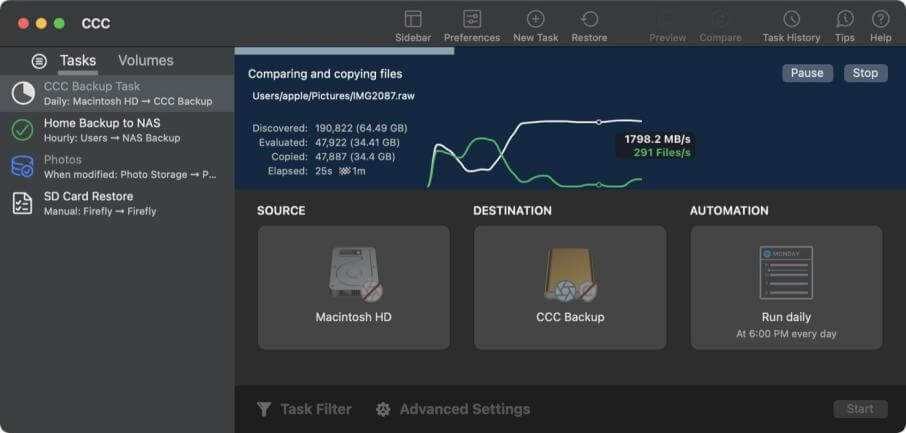 If you want a system clone of your Mac for emergency boot backup, this tool provides a better experience.
Users can schedule backup tasks to be grouped and run simultaneously or individually. If you need a comprehensive Time Machine alternative, this one offers filters and a history window to help you find previous versions.
Advantage:
It uses a safety feature to keep a copy of previously backed data when files are overwritten. When the backup space is insufficient, the oldest backup files are deleted first.
Shortcoming:
If you need a backup solution in addition to cloning, the tool can be a bit of a hassle. It provides an overactive prompt function that results in the fluidity of use. The interface design is more complex, making it more challenging to achieve the desired results.
5.Carbonite Safe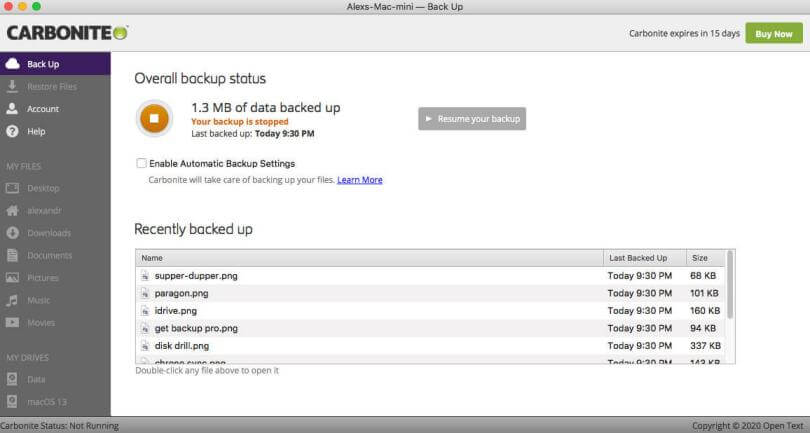 Carbonite Safe can backup your Mac to a remote server. You can also use this resource to find and recover lost files in any situation. The premise is that you need to register an account to use the service, and the required data will be downloaded automatically after logging in. This service defaults to 128-bit encryption. It doesn't have the option to add a password, and all data recovery happens online through the app.
Advantage:
It doesn't back up your system files or apps to help you save space.
You can choose to use basic or advanced features to suit your needs.
It runs in the background, reducing lag or performance issues when using the software.
Shortcoming:
Basic functionality does not provide an automatic backup of the contents of the Movies folder.
Using this tool will not support external HDD or SDD.
After running a backup, you can only access files that are accessible for 30 days.
You can only use one encryption option.
The interface is currently not optimized for Mac Retina displays.
Carbonite Safe's basic features are currently priced at $71.99 per year. If you want to use Plus's new additions, you'll need to pay $111.99 per year.
Conclusion
Although DMclone is the first choice for most users, it is also one of the best Mac backup/clone software.
Whether you're using free or paid backup software for your Mac, these are all Time Machine alternatives. After comparing the pros and cons of each software package with the price you pay to achieve the result, you will choose the most suitable solution for you.