Hi, I am trying to drag some files from my Mac to a Seagate external SSD, but it failed. I can't copy files or drag files from my Mac to the external SSD, why? Is there any way to solve this issue
- Jason
PAGE CONTENT:
An external SSD provides additional storage space when attached to a computer. It's a convenient way to store data that would otherwise take up too much space on your computer's primary hard drive.
You can use an external SSD to back up your data, move information from one computer to another, or increase your computer's storage capacity. They can range in size from a few gigabytes to several terabytes and can be either solid-state drives (SSDs) or hard disk drives (HDDs).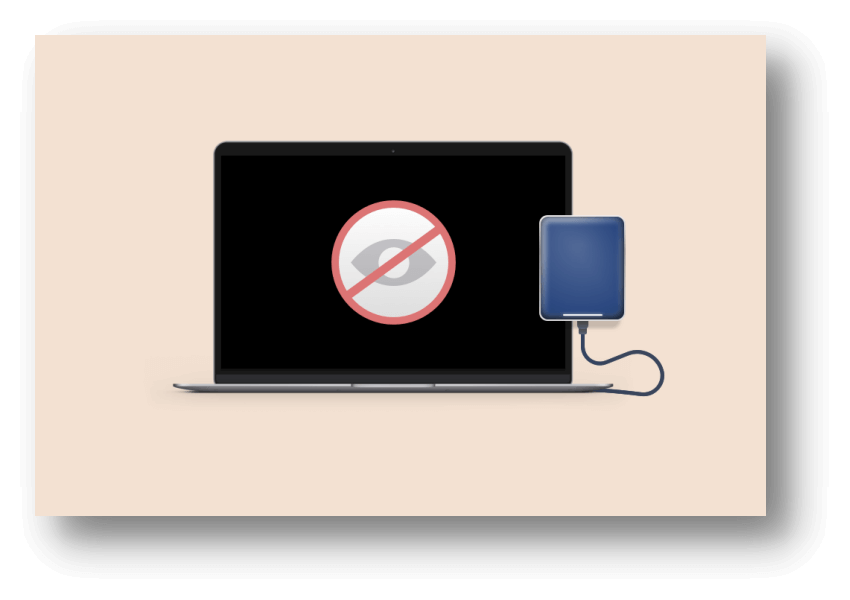 After connecting an external SSD with a Mac, the drive should be recognized and visible, making it simple to transfer files from the Mac to the external drive. However, there are situations when you won't be able to copy data from your Mac to the external SSD.
Macs Cannot Copy Files to External SSD. Why?
You might be unable to transfer files from your Mac to an external SSD for several reasons. In this part, we discuss some of the reasons for this.
🌐 Problems with connections:Your Mac and the external SSD have a shaky connection because of the improper connection.
🗂️ Full disk space:There may not be enough room on the external SSD to save the files.
✍️ Read-only file system:The New Technology File System (NTFS) file system, created by Microsoft, could be used to format the external SSD. Your external SSD will only be accessible to Mac OS in read-only mode because of the lack of native support for the system.
🔒 Permission issue:File transfers between a Mac and an external SSD are hampered by the read-only permission option.
Methods to Fix Can Not Copy Files to External SSD or External SSD Read-only on Mac
Actually, when you find you can not copy files from your Mac to the external SSD, you will reconnect the external SSD, restart your Mac, update software, etc, then check again if you can write data to the external SSD. It it still does not work, you can check the file system and the write permission.
🔖#1 Install an NTFS driver to get read-write support
NTFS is a Windows-based file system. If the external SSD is an NTFS drive, you can read it on your Mac but can't write anything to it. To solve this issue without formatting the external SSD, you can install a NTFS for Mac tool to enable NTFS read-write.
Donemax NTFS for Mac is a safe, easy-to-use and powerful NTFS for Mac tool. With this software, you can quickly enable read-write for NTFS drives on Mac. If your external SSD is read-only on Mac, you want to solve this issue and don't want to format the external SSD, you can open Donemax NTFS for Mac to enable writable for it.
Step 1. Download and install Donemax NTFS for Mac. Then Go to Launchpad > Donemax NTFS for Mac, open it.
Step 2. Connect the external SSD to your Mac via USB hub, then Donemax NTFS for Mac will recognize it automatically. Click on Enable Writable button. Then the external SSD will become read-write. You can write data to it or modify contents on it without any limitation.
Tips: Donemax NTFS for Mac also provides disk management solutions. It can mount or unmount external SSD, format external SSD, repair damaged external SSD, etc.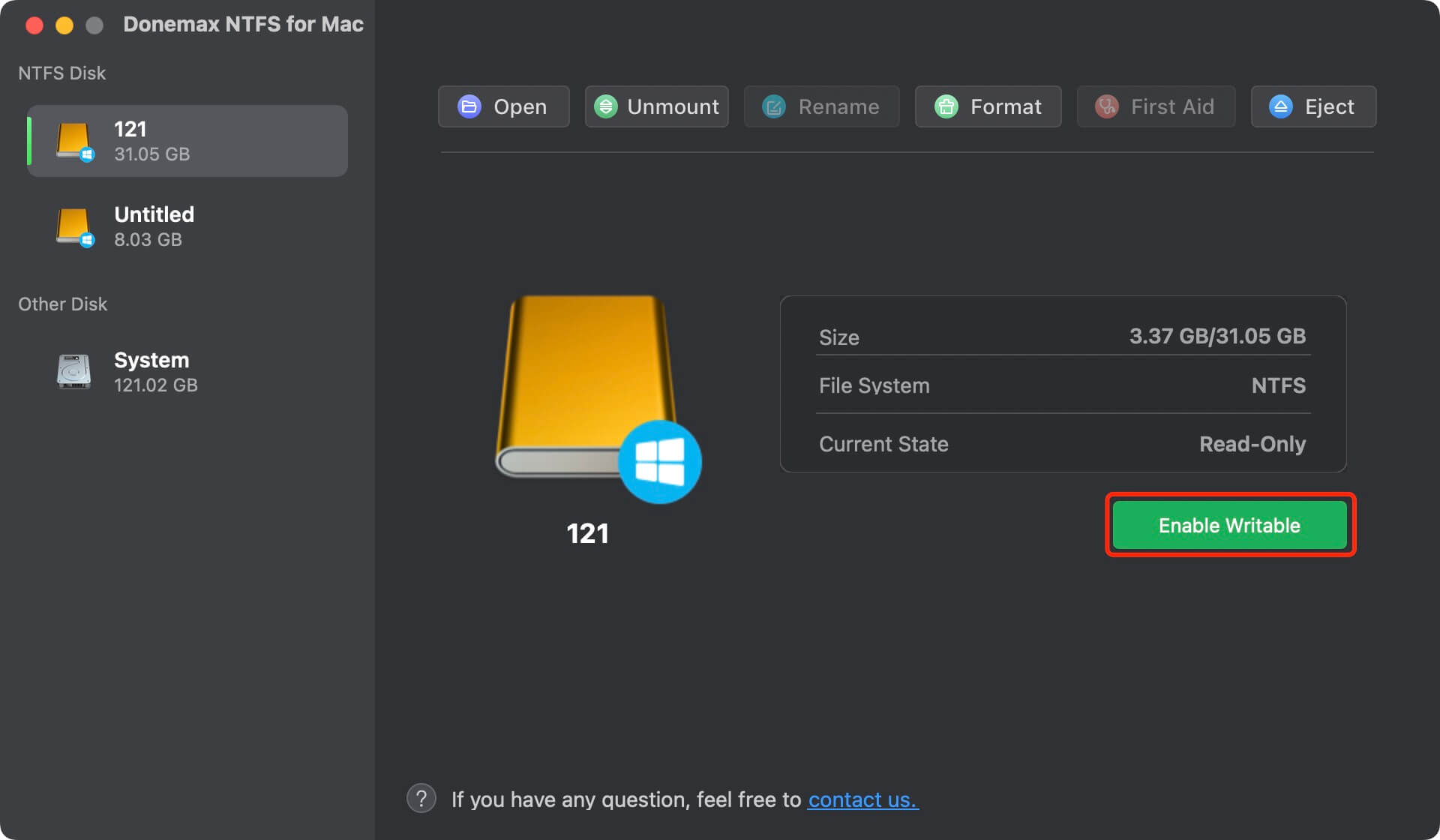 🔖#2 Check the read-write permission of the external SSD
The permission settings of the drive should be checked if you can't add folders to it even though the disk's format is compatible with macOS. The account you use to access this external disk may be set to read-only mode.
Here's how to check:
Select "Get Info" by right-clicking the external SSD.
To view which users can access which parts of the disk, scroll to the Sharing & Permissions section at the bottom of the information pane.
If the status is read-only, try to change it to read-write.
Fix External SSD Not Working on Mac
A missing external disk drive (including SSD) can be frustrating, but there are tried-and-true troubleshooting techniques that can help you get things back on track. Let's run through the tally:
🔖#1 Check the Drive's Formatting
Launch Disk Utility from your computer's Applications menu. To select a drive, click its name in the window's left-hand list of drives. Then, look for "Partition Map Scheme" in the window's footer. Disks formatted on the Windows-standard NTFS file system cannot be written to on a Mac running macOS. It is simpler to copy all files off the NTFS-formatted disk, reformat it for Macintosh use, and then copy the files back than to use one of the many methods that either cost money or involve technical expertise to enable this feature.
🔖#2 Erase or repair external SSD using Disk Utility
If the external SSD is not compatible with your Mac or it gets crashed, you can erase or run first aid on it. But, you'd better back up your data before you erase it.
Open Disk Utility.
Select the external SSD.
Select the external SSD, click Erase.
Select a file system, click Erase again. Then click Done.
Note: If the external SSD gets crashed, you can click Mount, then click on First Aid to repair the crashed external SSD.
🔖#3 Restart your Mac
Temporary issues can prevent your Mac from copying data to an external device. If you're having trouble copying files from your Mac to an external disk, try restarting it (through the Apple menu > Restart) to clear any system issues.
Conclusion:
If your Mac is having trouble reading-writing an external SSD, you should know that there may be a few options to try. In most cases, the external SSD is read-only on Mac is caused by in-compatible file system - NTFS. Just download and install an NTFS for Mac tool, it can quickly enable read-write for NTFS drives on Mac. You also can reformat the external SSD to APFS, ExFAT, FAT32, Mac OS Extended, etc. But it will erase all data stored on the external SSD.

Contributing Writer
Steven has been a senior writer & editor of Donemax software since 2020. He's a super nerd and can't imagine the life without a computer. Over 6 years of experience of writing technical solutions and software tesing, he is passionate about providing solutions and tips for Windows and Mac users.

Editor in chief
In order to effectively solve the problems for our customers, every article and troubleshooting solution published on our website has been strictly tested and practiced. Our editors love researching and using computers and testing software, and are willing to help computer users with their problems