Finding out that an external hard drive has been formatted and you can no longer access its data is a very frustrating experience. A hard disk could have been formatted inadvertently, or you could have chosen to do so to make some changes to the file system or to free up some space.
Even after formatting, retrieving data from an external hard drive accidentally deleted is possible. When all hope seems lost, skilled data recovery software can often restore lost information. There is still a chance that erased files can be recovered, even if the drive has been formatted and the operating system reinstalled. This guide is able to help you unformat external hard drive on Windows or macOS.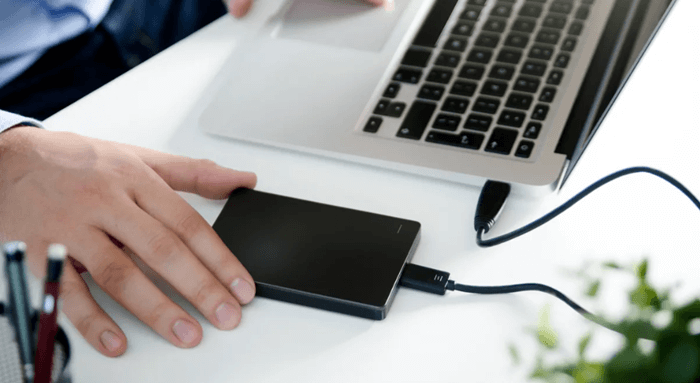 All recovery efforts will be more successful if people know what they're getting into and take the necessary precautions. The thing you need to do is force the machine or gadget to power down. Because the operating system is continually writing data to the drive, this is crucial.
Does formatting erase external hard drive's data?
Although formatting can magically hide data from users, it does not permanently delete it from the external HDD or SSD. A competent program can recover hidden information.
Since some files might be corrupted after recovery due to the random arrangement of data saving on disk blocks, data is only permanently deleted when fresh data overwrite.

Recover formatted data from the external hard drive
In case you have formatted your external hard drive and need to retrieve any files that you accidentally deleted, you have various options. However, the difficulty of recovering data from a formatted external hard drive depends on several factors.
Do not immediately begin saving information to the formatted external hard drive, as doing so will result in losing all previously saved information. That's because even after being designated as deleted, files still take up space on the hard disk until they're overwritten.
Some data recovery programs for unformatting external hard drives are listed below.
1. Donemax Data Recovery Software
Data recovery from a formatted drive or partition is possible with the help of Donemax Data Recovery, a data recovery program that is simple to use. It supports to recover lost data from any type of external hard drive such as WD, Seagate, Samsung, Toshiba, etc.
Since the Windows and Mac OS implementations of the utility differ slightly in their respective processes, we shall examine them independently. You shouldn't use the formatted external drive to get the software. You should restore the information to a new storage media, so you don't overwrite the files you want to keep.
Simply double-clicking the downloaded file will start the setup process. The utility will request the administrator's password before making any changes to the system. Donemax Data Recovery requires this level of access to scan and retrieve any lost data thoroughly. In other words, you may feel safe giving the app access to your details because it won't do anything malicious with them.
Donemax Data Recovery
Unformat external hard drive.
Recover deleted, formatted and lost data.
Recovery corrupted or inaccessible data.
Now, follow the steps below to recover lost data from an formatted external hard drive:
Step 1. Open Donemax Data Recovery on your computer, then connect the external hard drive to your computer. Select the formatted external hard drive to start data recovery.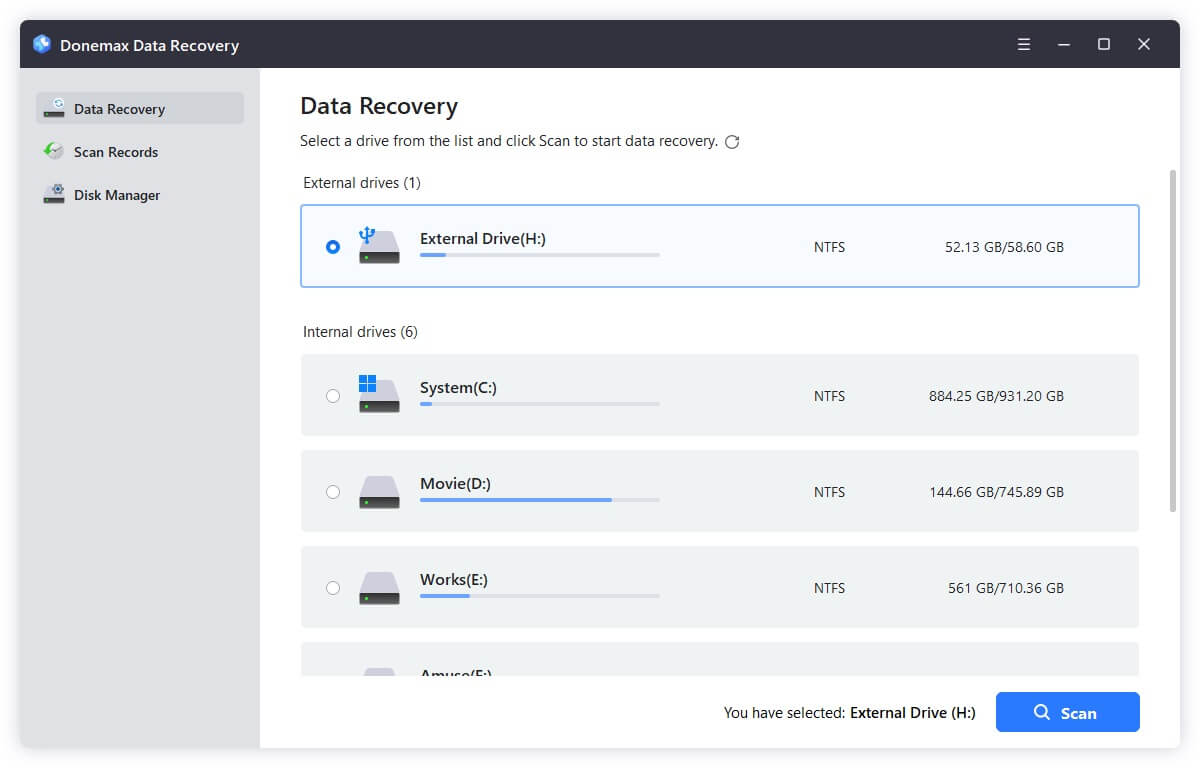 Step 2. Click on Scan button. Donemax Data Recovery will deeply scan the formatted external hard drive and find all files including deleted files, formatted files, etc.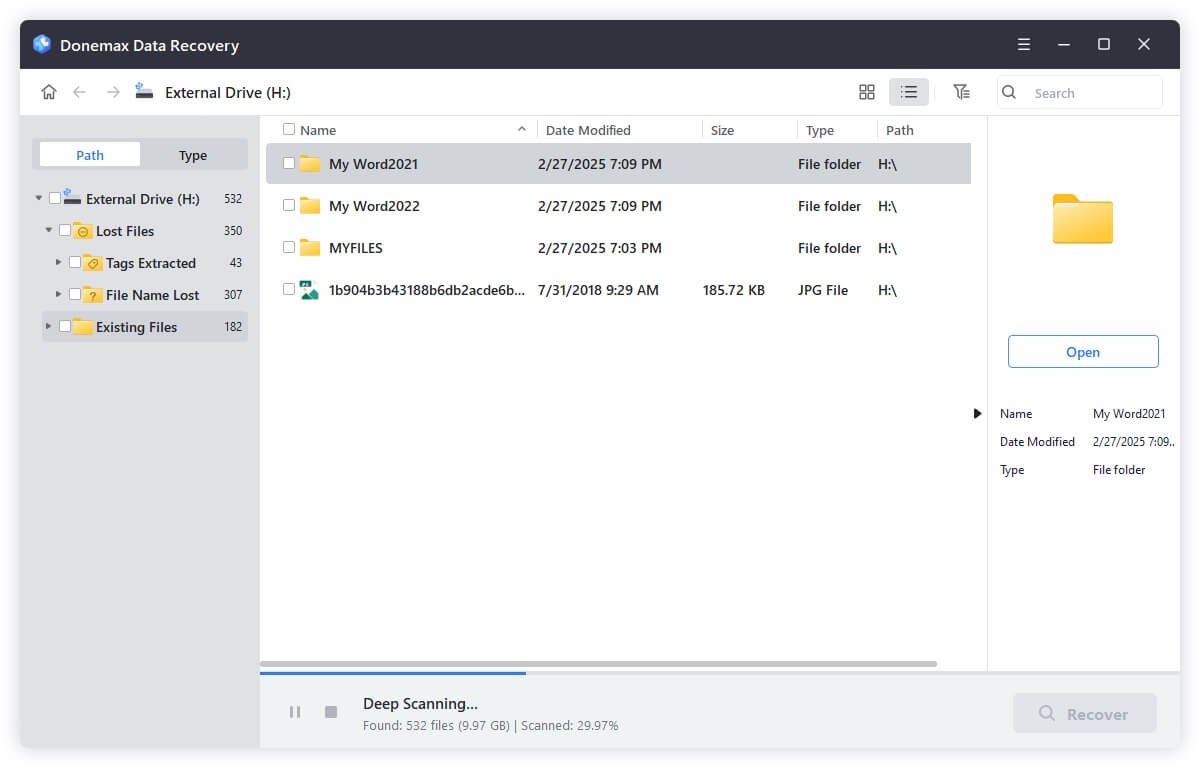 Step 3. Once the scan is completed, you can preview all recoverable files. Then select the wanted files and save them.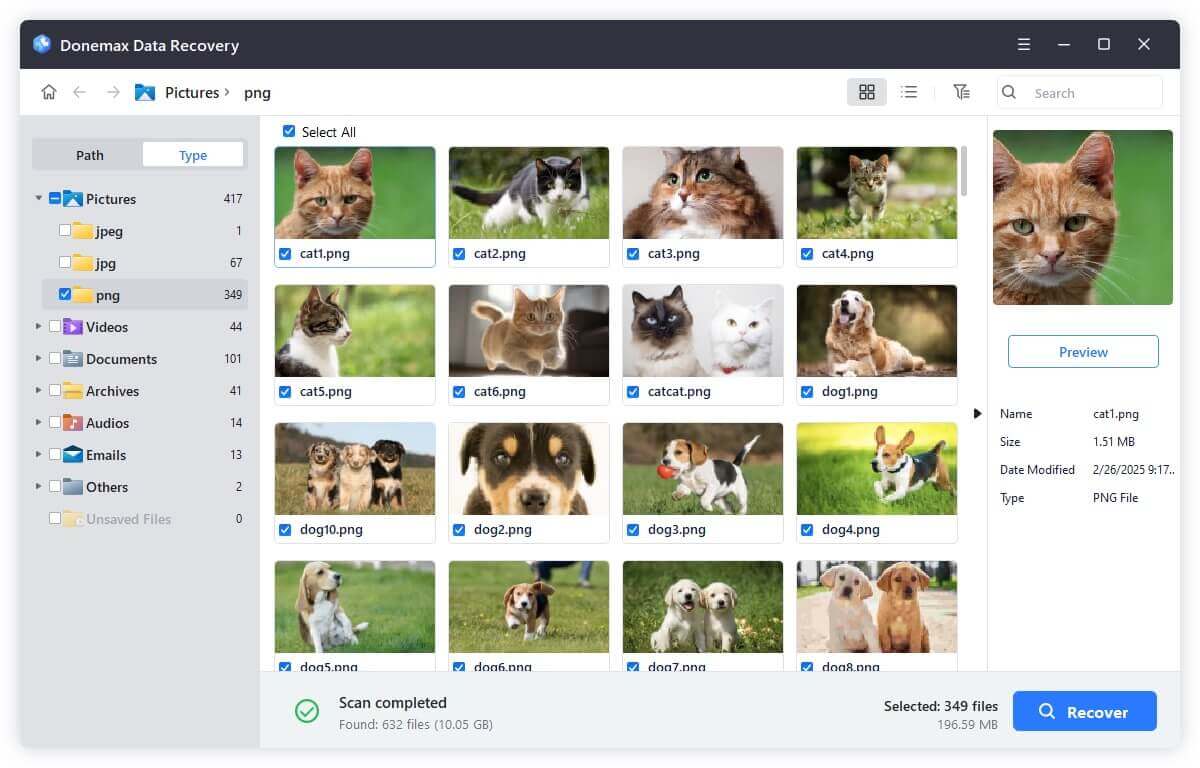 2. DiskGenius data recovery software
Disk formatting software can be removed with dedicated disk formatting removal tools. The unformat utility will examine your hard disk and guide you through retrieving your lost data. The post suggests using DiskGenius, which is unformatted software. This unformatted for hard drives is a top contender. Recovering data from an external hard drive, memory card, digital device, etc., is possible.
In reality, DiskGenius is a comprehensive solution for disk recovery and administration. It provides a robust solution to the problem of retrieving data from a hard drive that has been formatted, no matter how many times that formatting has occurred. The software has everything you need to restore your data on your own. Any novice can get data back from a formatted hard drive. Download and run the program to use it on your computer to undelete a formatted hard disk.
Choose the formatted hard drive.
When you launch DiskGenius, it will show the list of all the available drives. The formatted hard drive is the one you should select. Then pick "File Recovery" from the menu.
Check the formatted drive for any traces of the deleted data.
When you click the "Start" button, DiskGenius will thoroughly scan the reformatted hard drive and recover any accidentally deleted files.
Files on a formatted drive can be viewed in advance and recovered.
When DiskGenius finishes scanning, it will display a list of all recoverable data. You can have a sneak peek at the data that can be retrieved.
Conclusion:
When you format an external hard drive, it is easy to panic and worry that you have permanently lost all of your data. The data on a hard disk will be erased during the formatting procedure, although that information can be recovered.
All data on a formatted external hard drive can be recovered with the help of the proper unformat tool. This article taught you a quick and simple method to restore data from a previously formatted external hard drive.
Note: if you want to permanently wipe data from an external hard drive before you sell or donate your external hard drive, just try data erasure software. Guide: wipe data from external hard drive >>