With the rapid development of IT, data loss has become an everyday occurrence. Users of the system only need lost data recovery in the event of accidental deletion of data. Now imagine this: you've got your Windows laptop on your desk, and you're having a productive day.
You continue to work quietly despite being interrupted by a phone call. When you return to your job, you find that you have deleted a folder that is essential to your work. What can you do to fix this mistake? The good news is that recovering lost folders is just as simple if you are familiar with the procedures outlined in this article.
When A Folder Is Deleted, What Exactly Happens?
You removed the folder entirely, including from the Recycle Bin. Surely that means it's entirely gone now, right? Actually, no.
When you delete a folder or file, it's only removed as a pointer on the hard disk; it's not really gone. After you delete the reference, the operating system can no longer use them. The folder and its contents are still there on the hard disk, though.
Everything you delete will remain on your hard disk until you have created so much new data that you require the space formerly occupied by the deleted folder. The hard disk will begin to wipe previously saved information now.
You can no longer access the deleted folder since it has been overwritten. However, it may be recovered if the data is still on the hard disk.
How to Recover Deleted Folders on Windows?
Deleted folders on Windows may be recovered in various ways, although some procedures are more successful than others. First, let's examine the tried-and-true approaches we constantly advise readers to use.
#1 Verify The Recycle Bin
Windows keeps deleted files in a special Recycle Bin folder until they may be permanently removed. Until the Recycle Bin is emptied, data is only temporarily lost and may be restored using appropriate software.
You may get back a lost folder by following these steps:
You may double-click the trash can icon to bring up the Recycle Bin.
Locate the files and folders you want to retrieve, then choose them.
Remember where you stored the data before you tried to restore it.
To undo your selection, right-click on it and pick Restore from the menu.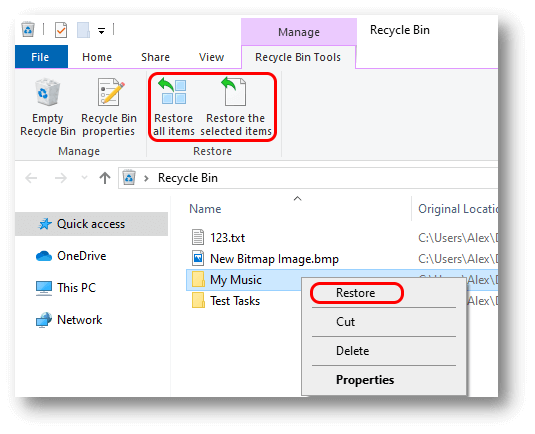 Just give it some time, and then double-check that the files ended up where you wanted them to.
#2 Using Previous Version
Perhaps an earlier version of the folder can be restored. Here are the measures you should take to implement this strategy.
Open File Explorer.
Proceed to the location of the lost data folder.
When you right-click an item, choose "Restore Previous Versions" from the menu.
From the list of available Windows versions, choose the one you want to restore to.
Select your folder and then click the Restore option to get back.
This strategy will only work if Windows maintains a restore point that includes the prior version of the folder.
#3 Using Backup And Restore
An essential tool for each Windows user is the built-in ability to back up and restore their system. It is highly suggested that you initiate Windows backup immediately upon beginning the computer. If that's the case, let's examine how to restore a previously deleted or lost folder using the system's built-in Backup and Restore.
Simply enter "Control Panel" into the search bar.
If you're using Windows 7, choose "Backup and Restore" and then "Restore my files."
To get back your lost folder on a Windows PC, just stick to the on-screen prompts of the recovery procedure.
You may continue with the following method for recovering deleted folders if you haven't already made backups of the lost data.
#4 Using Donemax Data Recovery
If you're looking for free data recovery software that looks and performs like the paid versions, go no further than Donemax Data Recovery. It's compatible with Windows, macOS, and Linux, provides several options for data recovery.Using Donemax Data Recovery, you can easily recover a deleted folder.
Donemax Data Recovery
Recover data from local disk and external hard drive.
Unformat a hard drive.
Step 1. Open Donemax Data Recovery, then select the hard drive where you delete the folder.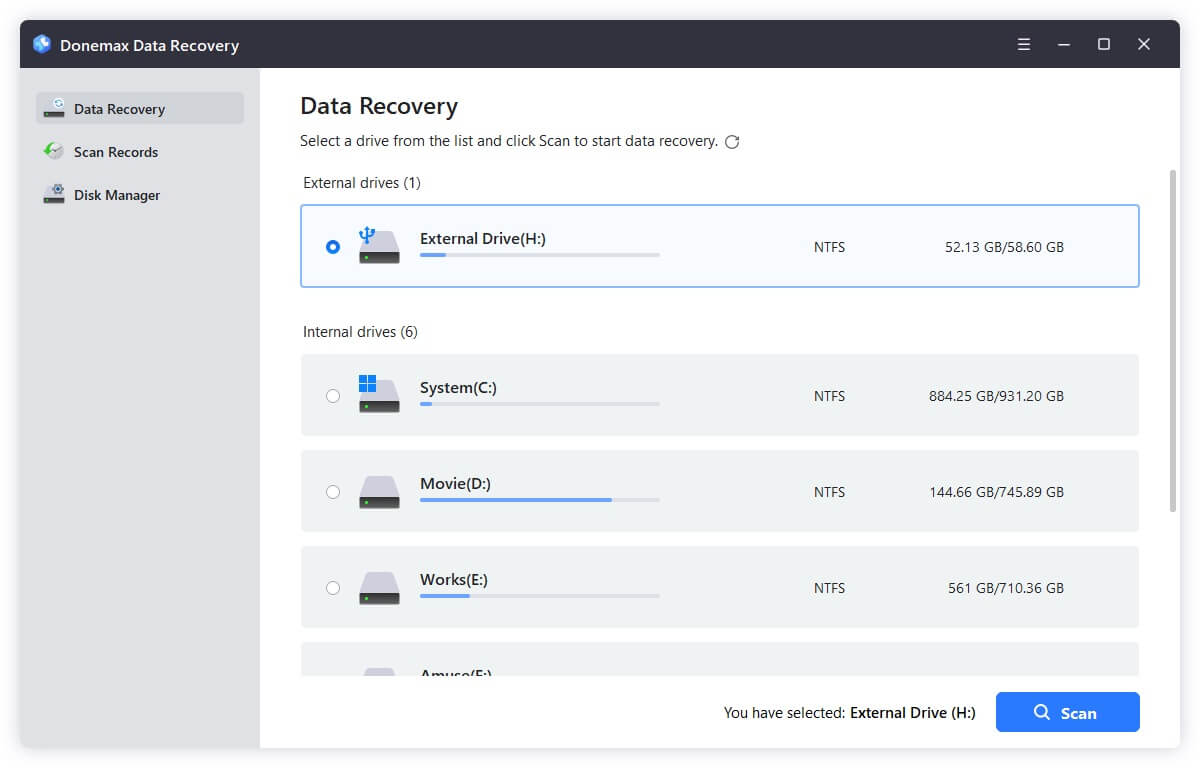 Step 2. Click on Scan button to search for lost files and folders.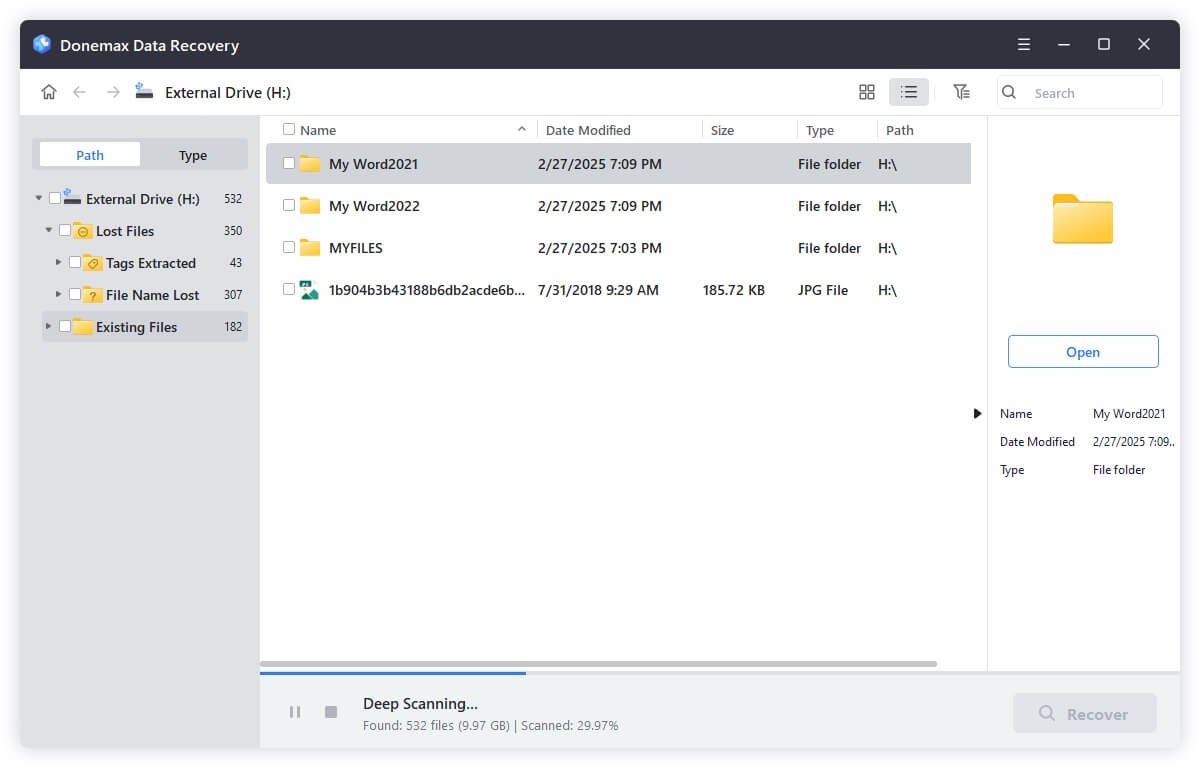 Step 3. Select the lost folder and click on Recover button to save the folder.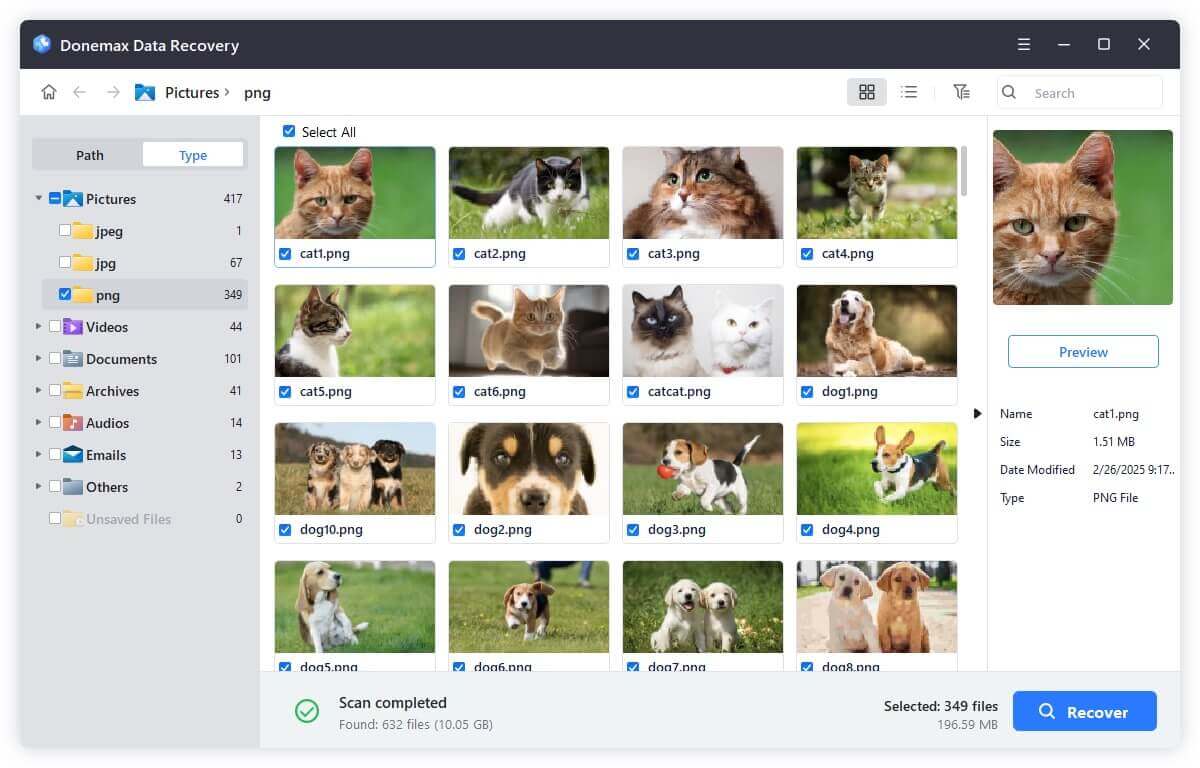 Conclusion
Recovering deleted files and folders in Windows looks to be a little problem. Nevertheless, if you use the appropriate approaches, you won't need special knowledge or expertise to succeed. To recover deleted files on flash, you may use either the built-in utilities in your Windows installation or a third-party program, such as Donemax Data Recovery.