It is very easy – far too easy – to delete the required files. You may accidentally select an extra file or two or press the Delete key at the wrong time. However, there is no need to panic. Just because you've deleted a file doesn't mean it's gone forever. This article will look at the various methods for recovering deleted files in Windows 8 and 8.1.
If you've ever wondered how to restore deleted files in Windows 8 (or 8.1), we've got good news: you have several options. It doesn't matter if you accidentally deleted data or emptied the Recycle Bin to erase them. All is not lost, even if you used Shift + Delete to skip the Recycle Bin. Continue reading to find out how to retrieve lost data on Windows 8 or 8.1.
Is It Possible to Recover Permanently Deleted Files?
If you delete a file with the Shift + Delete shortcut, you can recover it even if it is no longer in the Recycle Bin. You can recover your lost files using a variety of user-friendly methods. Check out the rest of this article to learn how to use those techniques. You even can recover formatted or overwritten data on a Windows PC.
How Do I Recover Lost Data in Windows 8/8.1?
When you accidentally delete a file or folder and realize you need it back, you can frequently undo the deletion in the Recycle Bin. When deleting files with Shift + Delete or emptying the Recycle Bin, some solutions involve using backups to recover permanently deleted data in Windows 8/8.1. Furthermore, a third-party recovery tool enables the recovery of missing files without backups.
1. Recycle Bin in Windows 8/8.1
After quickly deleting certain items, you frequently wish to recover lost papers, photos, movies, etc. Thankfully, Microsoft saw the light and added a Recycle Bin to the desktop, from which Windows 8/8.1 computers can restore a deleted file or folder.
Double-click the Recycle Bin icon to open it.
Choose whether to restore all the files or just the deleted file(s) you require.
To restore deleted Windows 8 files, right-click on the files you want to restore, then choose Restore.
If you want to put the files or folders shown in the Recycle Bin window back where they were before being deleted, you can also click "Restore all items" or "Restore the selected items" at the top.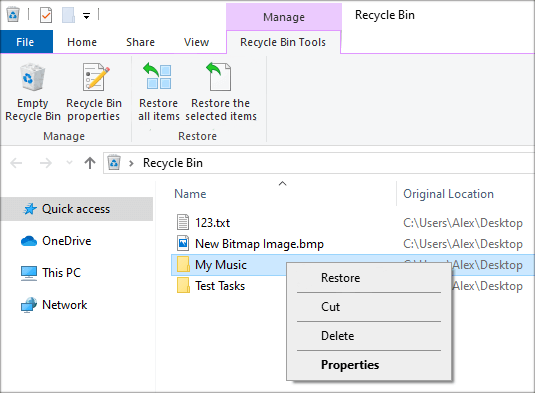 2. From Windows Backups
Users can use the Backup and Restore mechanism in Windows 8 to back up files and documents for recovery. If you use this Windows backups feature, you can recover the files that were deleted automatically after a Windows 8 reset from a backup.
Select Control Panel > System and Maintenance > Backup and Restore from the menu when you right-click the Start button.
Select Restore my files in the "Restore" section.
Follow the prompts to undo the permanent deletion and restore lost files from a Windows 8 computer.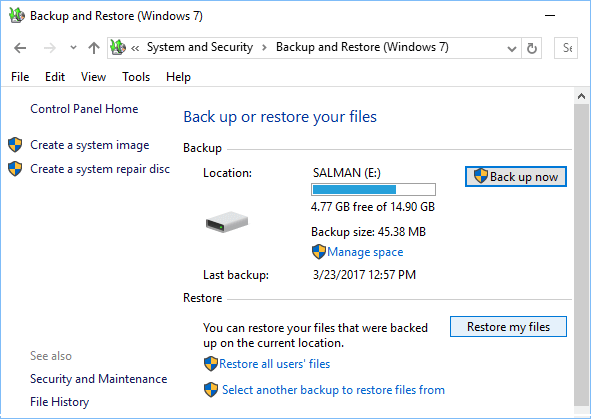 3. Try File History
In other common data loss scenarios, such as deleting a file and removing it from the Recycle Bin or deleting a file during a virus scan, you should use File History to undelete permanently deleted files in a Windows 8 computer free.
Click the Start button and then type Backup into the search bar.
Choose Restore Your Files with File History from the list of options.
Find the backup file for the folder containing the lost files.
Select the backup files you want to restore and click the green Restore button.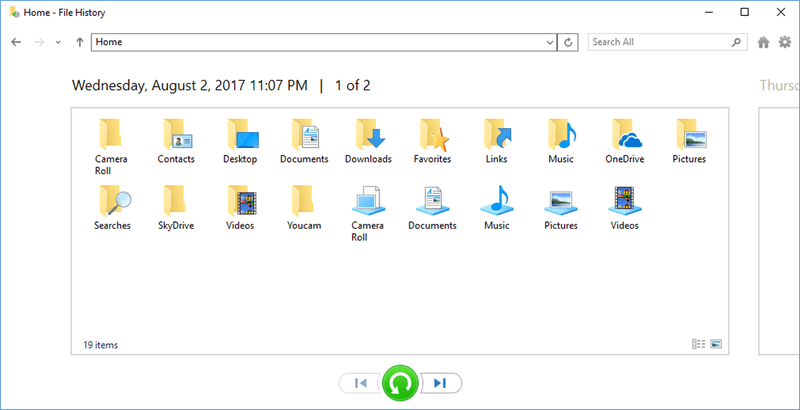 To recover the missing files, you can also use Windows 7 Backup File Recovery on Windows 8:
Go to Control Panel > System and Maintenance > File History after pressing the Start button.
Select Windows 7 File Recovery on the bottom left and then Restored my files.
Then, follow the on-screen instructions to recover lost files from Windows 8 laptops and desktops.
4. Find Data Recovery Tool
If you want to recover many data in Windows 8/8.1, Data Recovery will make the process much easier. Its user-friendly interface allows you to easily customize the file type(s) and disk or media storage that can be recovered from and reconstruct deleted files with the original filename in a single click. All lost or missing files can be easily found and recovered using its powerful search engine, even from an empty Recycle Bin, formatted HDDs/SSDs, or damaged partitions.
Donemax Data Recovery is a famous data recovery program. The Windows version of Donemax Data Recovery allows you to recover lost data on Windows 11/10/8.1/8 or Windows 7 and Vista, etc. With this data recovery tool, you can easily and securely recover lost data on a Windows 8 or Windows 8.1 computer. Download it here:
Donemax Data Recovery
Recover deleted or lost files on Windows 11/10/8.1/8/7 and Mac.
Recover inaccessible or overwritten data.
Steps to recover lost files using Donemax Data Recovery:
Step 1. Download and install Donemax Data Recovery on your Windows 8/8.1 PC, then open it. Select the hard drive where you delete or lose your files.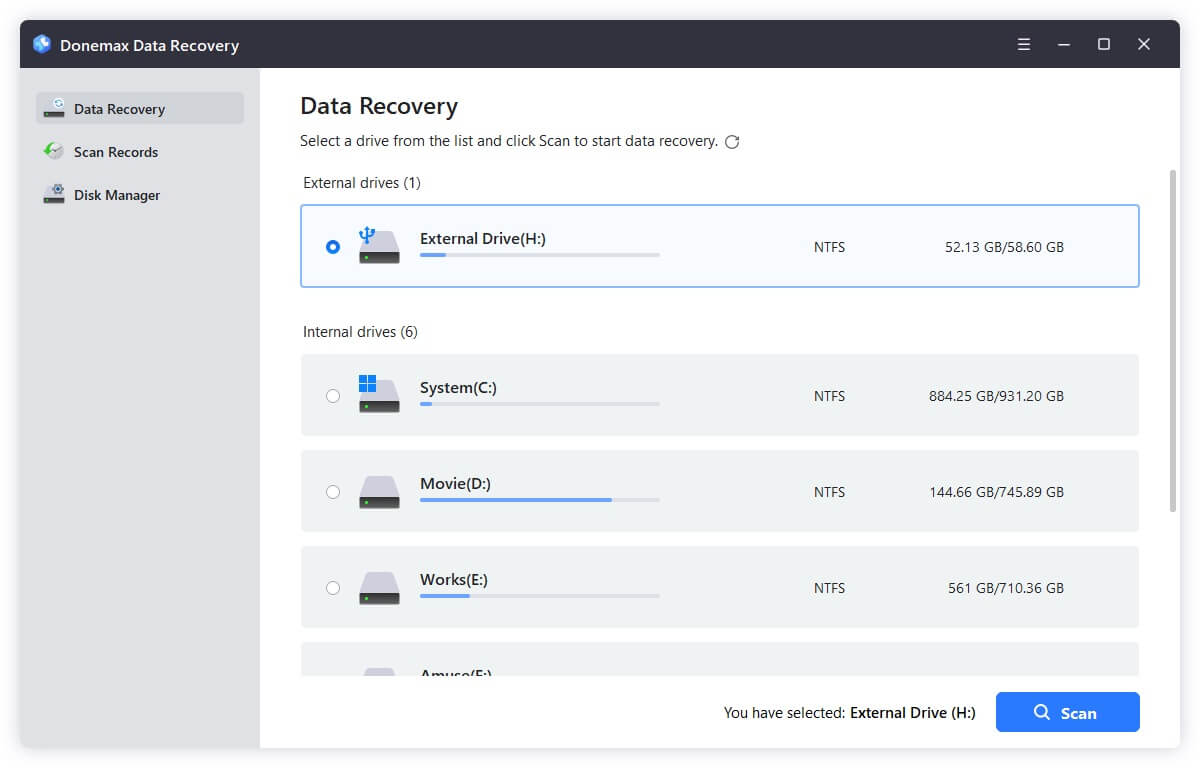 Step 2. Click on Scan button so that Donemax Data Recovery can scan the hard drive and find lost files.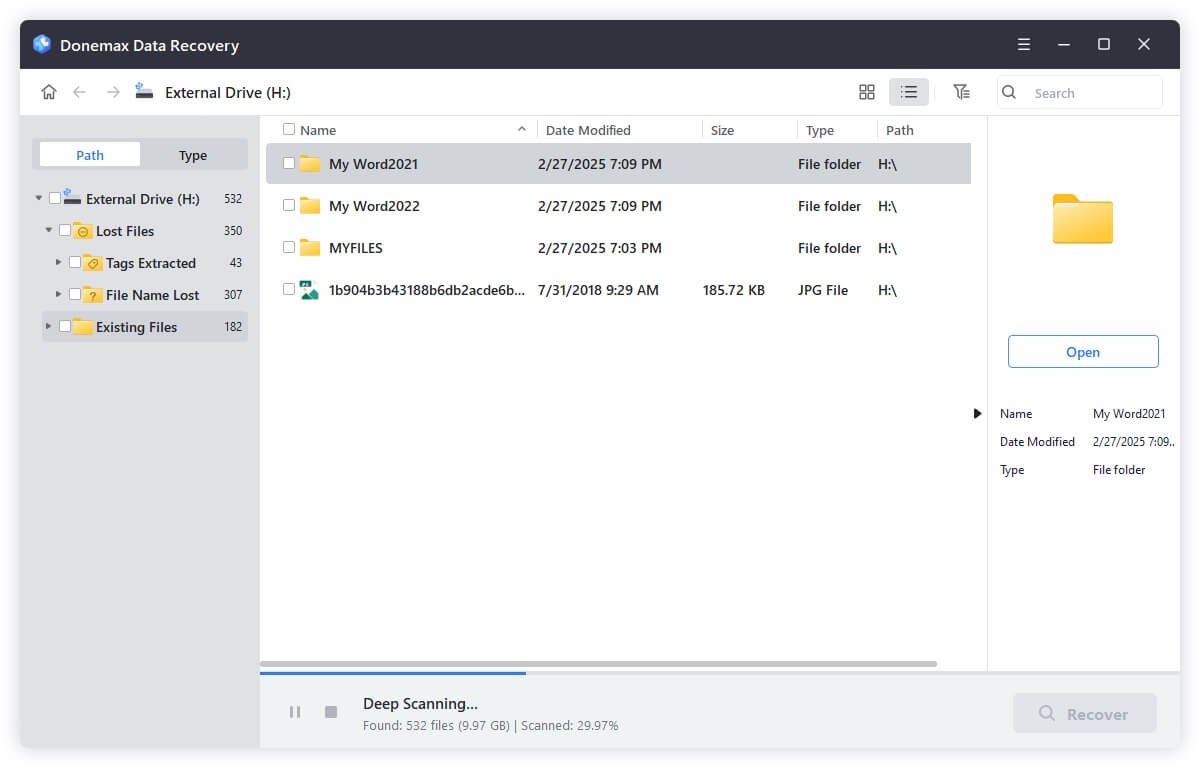 Step 3. Once the scan is completed, you can preview the images, videos and documents. Then select the desirable files, and recover them by clicking on Recover button.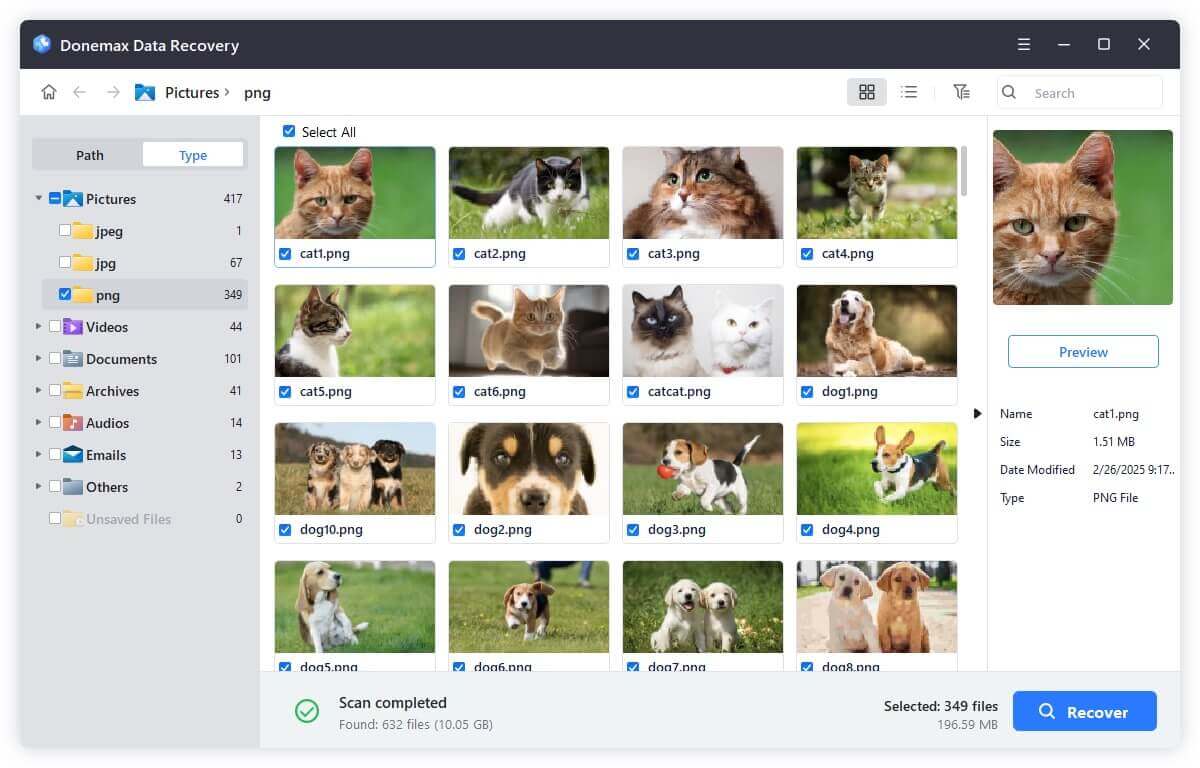 That's all! This wizard is also useful if you accidentally deleted files from an external hard drive in Windows 8/8.1 and want to recover the 20 years' worth of important files that are now permanently lost.
Conclusion
As you can see from the four methods for recovering deleted files on Windows 8 or Windows 8.1 PC, data recovery software is the best option. It not only performs a complete recovery of a specific file format, but it also assists in recovering everything that you have accidentally lost.
The best feature is that it can recover data from any device, including hard drives, USB flash drives, external storage devices, SD cards, and digital cameras.
Frequently Asked Questions
1. Windows 8 has deleted the files in Windows. Old folder. Why?
After 28 days have passed since the installation of a new Windows OS, a Widows. old folder will be automatically erased. It will also be erased when the Windows disc has less than 10% free space.
2. Are deleted files gone forever?
When you delete a file and empty the Recycle Bin, your data is partially erased from your computer. A copy of the file still exists on your hard disc even though you can't find it where it used to be and your operating system no longer recognizes it.
3. Can I recover lost data from a formatted hard drive partition?
Yes, just run Donemax Data Recovery to scan the formatted hard drive partition. it will find all lost files. You also can recover deleted or lost hard drive partition with this software.