Downloading the latest version of macOS, which is brimming with cutting-edge features and updates, is always alluring. Even so, you could find that your system isn't operating correctly following the upgrade.
Fortunately, you may go back to the previous macOS version you were using if necessary. Downgrading, however, is more difficult now than it formerly was. We'll demonstrate how to downgrade from macOS Ventura to Monterey?
Why You Might Want to Downgrade macOS?
Although Apple makes every effort to make its macOS releases backward-compatible, there are always some edge cases. After an update, some hardware and software may no longer operate as intended.
This is especially true for equipment and software used in the audio, video, and graphics industries. As a result, a lot of vendors of this kind of software will give you the advice to never switch your operating system while working on a project. Even so, you can discover that you need to return to a project because the most recent macOS version is incompatible with it.
Back Up Your Data Before You Downgrade!
Whatever method you use to downgrade your macOS version, you will wipe everything on your hard drive. The best technique to make sure you don't lose any crucial data is to back up your whole hard drive.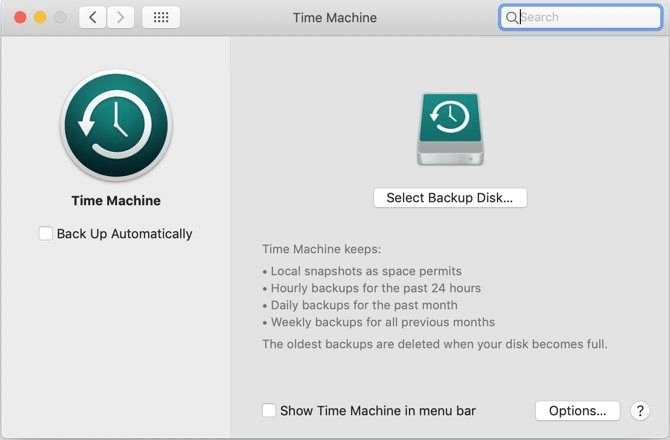 The built-in Time Machine service may be used for backups, but you must exercise caution if you do. To downgrade, you may use a previous Time Machine backup as a backup (if you have one available). If you do this and then decide to restore a recent backup, be sure to just recover your personal data in order to prevent the downgrading from happening.
How to downgrade macOS Ventura to MacOS Monterey?
Here are methods for downgrading your Mac after making a backup.
Downgrading is easy if your Mac came with an earlier version of macOS installed. Use the built-in macOS Recovery software to downgrade. Just make sure you have internet access because the software will download an earlier version of macOS during installation.
The steps are the same as for reinstalling macOS, except that your computer will download the original version of macOS. This will instead download the most recent version that is accessible if your computer is quite old.
Before continuing, make sure you have a complete backup because doing so will destroy your starting disk:
Hold Shift + Option + Cmd + R when turning on your laptop. It will require more time to start than normal as macOS Recovery loads.
Select Reinstall macOS (or Reinstall OS X) and click Continue when the macOS Utilities screen displays.
To choose your beginning disk, adhere to the on-screen instructions. Select Install next.
To finish the installation, adhere to the onscreen instructions.
Use your backup to restore your files when the installation is complete.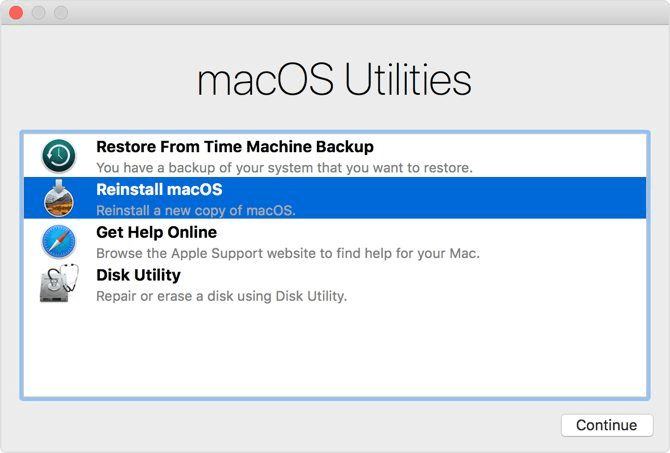 Downgrade making Use of a Time Machine Backup
Utilizing a Time Machine backup is an additional straightforward method for installing an earlier version of macOS. Naturally, this assumes that you created the backup on a previous version of macOS.
Put your Time Machine disk into your Mac and shut it down or restart it to downgrade using an earlier Time Machine backup.
On your Mac, go into recovery mode. On an Intel Mac, press Cmd + R to launch macOS Recovery. Hold down the Power button on Macs with the M1/M2 processor until the message appears. Startup Options are loading. On the main window, select Options to launch Recovery mode.
When the macOS Utilities screen appears, select Restore From Time Machine Backup and then press Continue.
On the following screen, carry on as before.
Select a Restore Source. That would be the backup disk that you previously plugged in.
On the following page, choose the backup you want to restore from. Which version of macOS was used to create the backup will be clear.
Once the reinstallation is complete, follow the on-screen directions to restore your data from the backup you created.
Getting the External Drive Ready
Before building the installation, you must format the disk. If you've already formatted your drive, you may skip this step. Now use the drive in the following manner:
Affix your external drive.
Launch the Disk Utility app. You can find it by using Spotlight (Cmd + Space) or by going to the Applications folder in Finder, selecting the Utilities menu, and double-clicking on the app.
Click the Erase button at the top of the window after selecting your disk from the External list on the left.
Under Format, choose between the HFS+ or APFS file systems. Your demands will determine the best Mac file system to use.
Once the process is complete, click Erase and then Done.
You might not even need to downgrade…
You should think twice if you're thinking about downgrading your macOS Ventura to MacOS Monterey version because your computer is running slowly. Even while this could solve your performance problem, you can go to all of this trouble only to find that your Mac is still slow. To start, decrease the number of beginning programmes on your Mac and tidy up your hard disk.
How to Make A Bootable Clone Backup for Mac?
DMclone for Mac is a powerful disk cloning software. It will help you quickly create a full copy of your Mac and make it be bootable. Before or after downgrading from macOS Ventura to Monterey, you can run this app to clone your Mac startup disk to an external hard drive.
Clone SSD, HDD, external hard drive on Mac.
Create disk image for Mac.
Now, follow the steps below to create a bootable clone for your Mac:
Step 1. Open DMclone for Mac on Mac, connect an external hard drive to your Mac. Choose disk cloning mode - OS Clone. Select the external hard drive as the destination drive.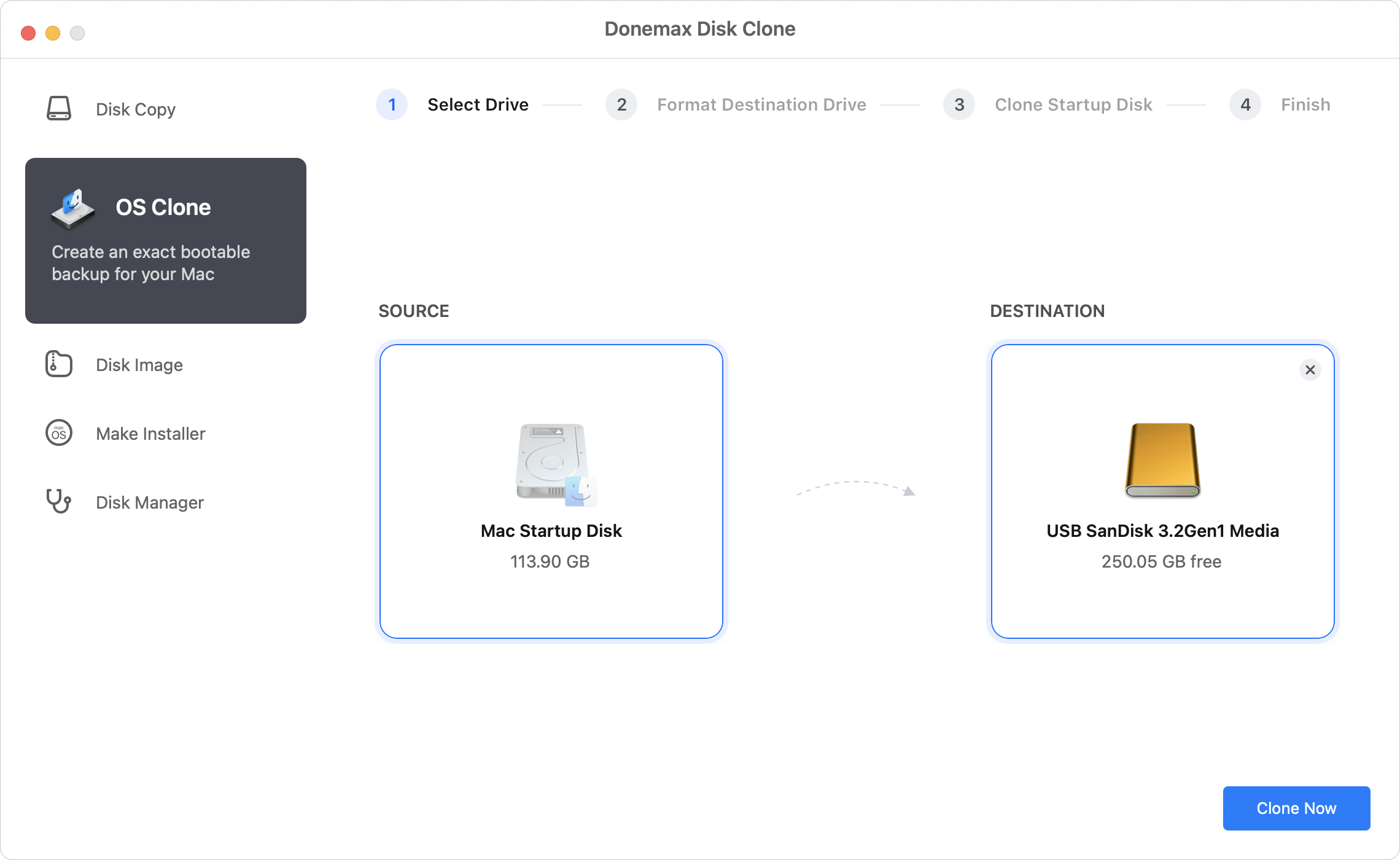 Step 2. Click on Clone Now button to securely and easily clone Mac startup disk to the external hard drive.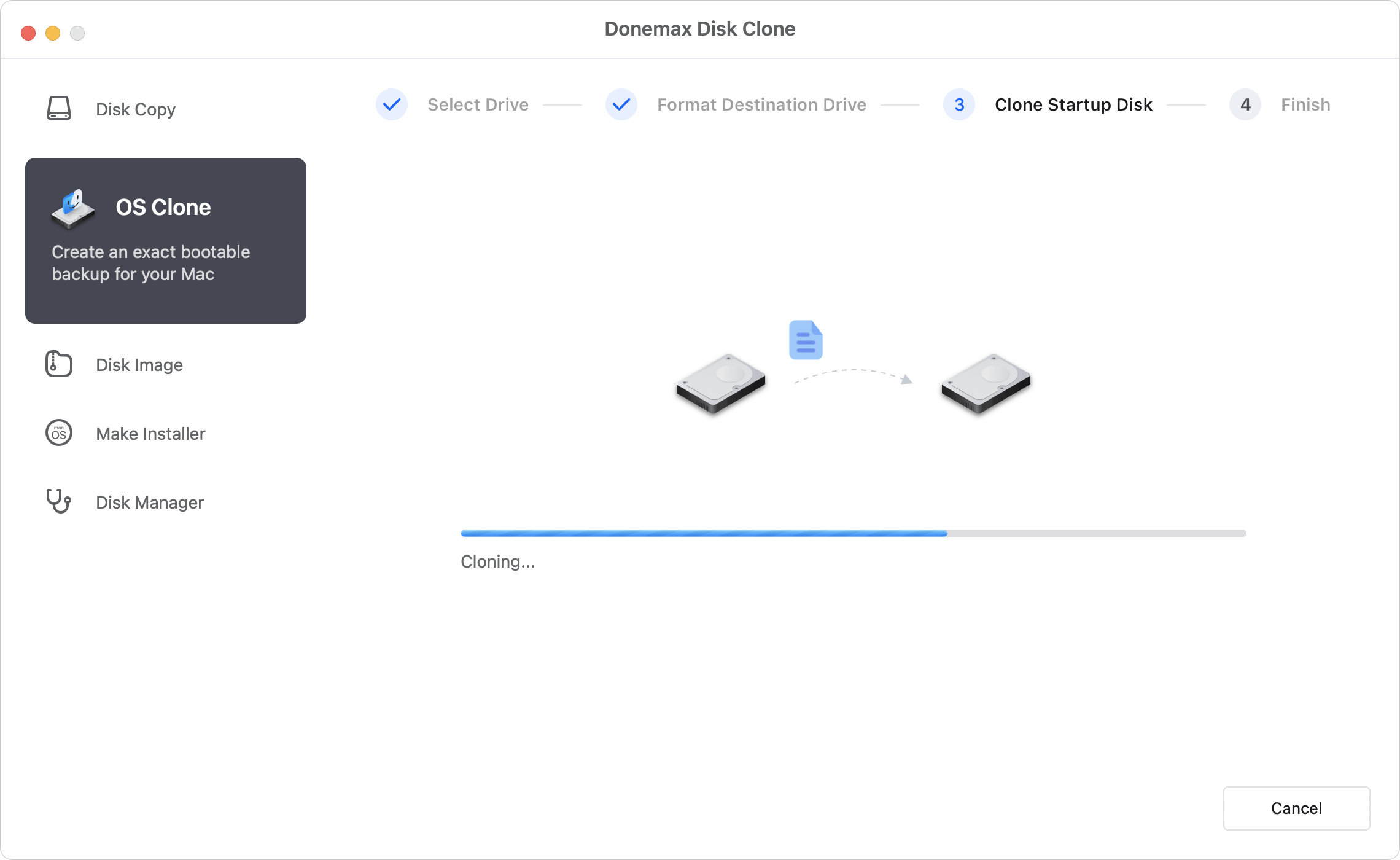 Once the process gets finished, you can use the external hard drive as a bootable disk on any Mac.