People have found that an external startup volume used with an Intel Mac won't boot an Apple silicon M1 or M2-based Mac after acquiring one. For macOS volumes that manage Intel and M1 Macs, Apple has ordered hidden partitions that are a part of the starting process differently. No one has attempted to create a dual Intel/Apple Silicon bootable starter disk, as far as anyone is aware. (If you know differently, please let us know.)
That often isn't a significant issue. When that drive isn't set up as the usual startup drive, most users who aren't system leaders rarely need a way to start up a computer externally. The problem usually arises when you wish to utilize the same external drive to migrate from an Intel Mac to an Apple chip Mac. Still, you didn't buy a Mac with an internal volume big enough to use Migration Assistant to hold the contents of your external startup.
Target Disk Mode, which was previously present on Intel Macs but replaced by Sharing Mode on Apple Silicon Macs, can still be used to transfer data between two Macs. By converting the computer into an SMB file-sharing server through Mac Sharing Mode, another Mac can access user data at the file level.
Using the approach explained below, you may quickly transfer your files from an older Mac to a new Apple Silicon Mac. To find out how to accomplish it, continue reading.
What is Mac Share Mode?
Target Disk Mode's successor, Mac Sharing Mode, looks like that feature. Only Apple Silicon Macs serving as source drives are covered by this configuration.
If you wish to copy your Apple Silicon Mac files to another Mac, you should use this mode. All that matters is that the source Mac has an Apple Silicon chip, such as the M1 or better; the other Mac could be an older Intel Mac.
How to transfer Data from an Intel to an Apple Silicon Chip Mac?
Transferring files from your old Intel Mac to your new Apple Silicon chip Mac laptops is one of the most crucial tasks for folks who have just purchased a new Mac with an Apple Silicon M1 or M2 Mac.
If you learn the proper methods, it can be simple. I separate them into several segments depending on the files you wish to move or migrate, from the Intel Mac to the new Apple Silicon chip Mac.
Sync Apple apps, services, and passwords using iCloud account
The most accessible element to remove is Mac programs (like Mail) and Apple services (like Apple Music), as everything will synchronize once you sign in with the correct account.
For me, as soon as I login in with my iCloud account, my desktop and documents stored in iCloud Drive, as well as the Apple apps I use, including Mail, Contacts, Calendar, Safari, Photos, and Notes, are instantly synced from my old Intel MacBook Air 2017 to my new Apple Silicon chip MacBook Air 2020.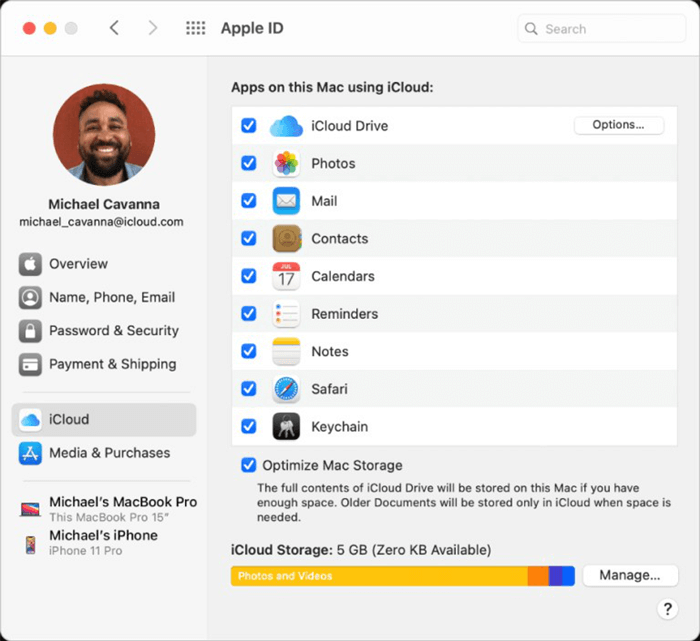 On the Mac with Intel, try these steps:
Choose Apple Account (ID) from the tab menu in System Preferences' upper right corner. It's the iCloud option in System Preferences for operating systems before macOS Catalina.
Check off any features or apps you want to sync with the Apple Silicon chip Mac.
Sign in with the same iCloud account you used on the Intel Mac on your Mac with the Apple Silicon chip, and you're done.
It's an excellent alternative for those who merely want a fresh installation of macOS Big Sur on the Apple Silicon chip Mac based on prior usage.
Transfer files between Intel Mac and Apple Chip Mac using Migrate Assistant
Migrate Assistant is built-in software that may be used to transfer files between Mac computers. It enables you to transfer all data from the source computer to a new Mac, including documents, programs, user accounts, and settings.
Ensure that Migrate Assistant is set up on both Macs, then arrange them close to one another while connected to the same Wi-Fi.
Select Apple menu > System Preferences > Sharing on your previous Mac. Ensure that the Computer Name entry contains the name of your previous computer.
Navigate to Applications > Utilities > Migration Assistant on the new Apple Silicon chip Mac computer, then click Continue.
When Migrate Assistant prompts you with a transfer choice, choose "From a Mac, Time Machine backup, or startup disk" to continue.
Open Migrate Assistant on your old Intel Mac, but this time you must select "To another Mac."
When the new Apple Silicon chip Mac asks you to choose a Mac, Time Machine backup, or other startup drive, choose your Intel Mac.
Then you can move files from the Mac with an Intel processor to your new Apple Silicon chip Mac by following the on-screen directions.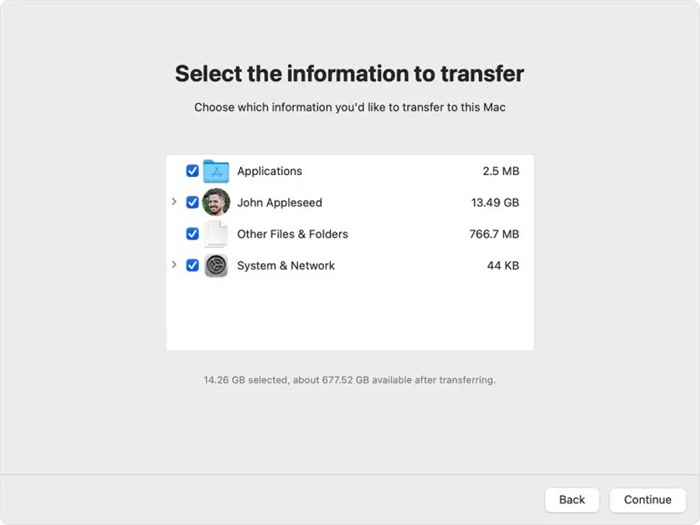 Transfer files between Apple Silicon Mac and another Mac using Target Disk Mode
Target Disk Mode, which makes the Mac with the Apple Silicon chip appears to the Intel Mac as an external hard disk, enables file transfers between two Mac computers.
To be clear, the Target Disk mode on Apple chip Mac is no longer the same as it once was. Instead, "Mac Sharing Mode" is the foundation for converting your Mac into an SMB network file share.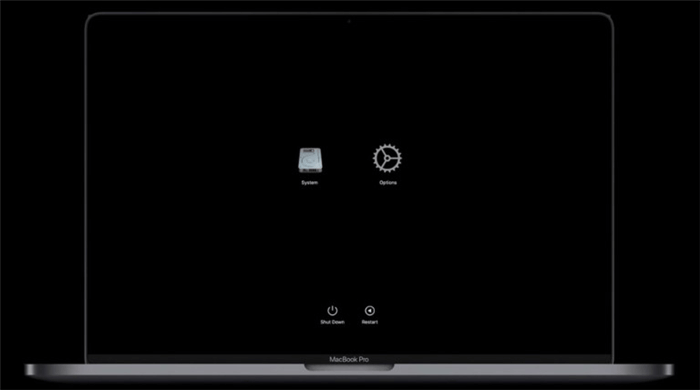 Connect the two computers using a USB, USB-C, or Thunderbolt connection.
After turning off the Apple Silicon Mac, hold the power button until the message "Loading startup options" appears.
Your Apple Silicon Chip Mac enters recovery mode when you select Options and then click Continue while entering your administrator account password.
Choose Share Disk under Utilities.
Click Start Sharing after selecting your Apple chip Mac's initial disk.
Open the Finder on the Intel-based Mac and select Network from the Locations sidebar.
Double-click the shared Apple chip Mac drive in the Network window, choose Guest in the Connect As dialogue and then click Connect.
File transfer between the two.
Right-click to eject the Apple chip's startup disk from the Intel Mac PCs once you have finished copying files from the Intel Mac to its startup drive.
Create bootable clone backup for both Intel Mac and Apple Silicon Mac
If you want to make a bootable clone backup for your Mac, just try DMclone for Mac, a powerful disk cloning application. You can copy data from Intel Mac to an external hard drive, then connect the external hard drive to your Apple Silicon chip Mac and then transfer data from the external hard drive to the Apple Silicon chip Mac.
Clone HDD, SSD and external device on Mac.
Create disk image and copy hard drive on Mac.
Step 1. Open DMclone for Mac on your Mac, then connect an external hard drive to your Mac. Choose disk cloning mode - OS Clone. It will help you clone Mac startup disk to an external hard drive and make it be bootable.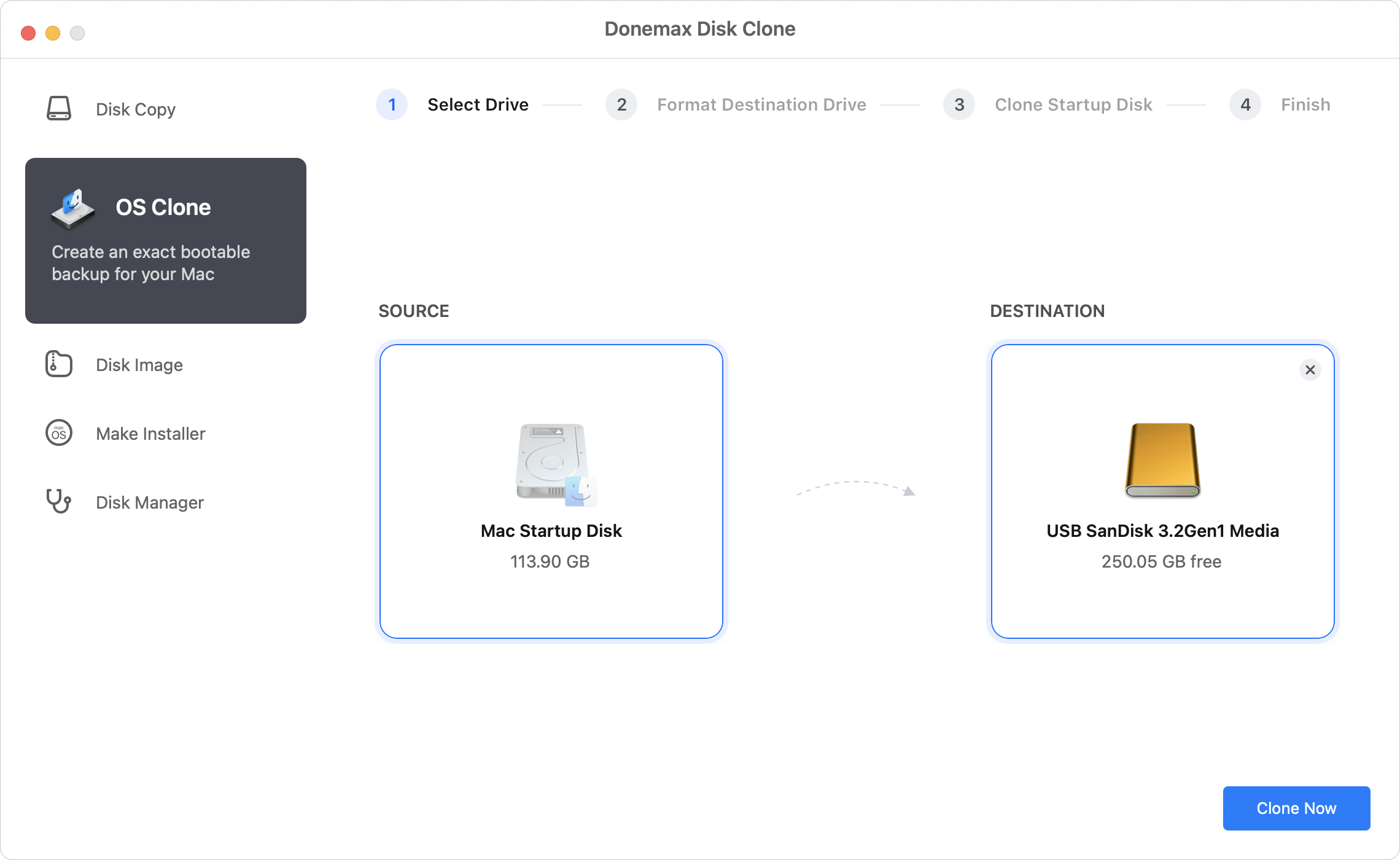 Step 2. Select the external hard drive as the destination drive, then click on Clone Now button to securely clone all data from the Mac startup disk to the external hard drive.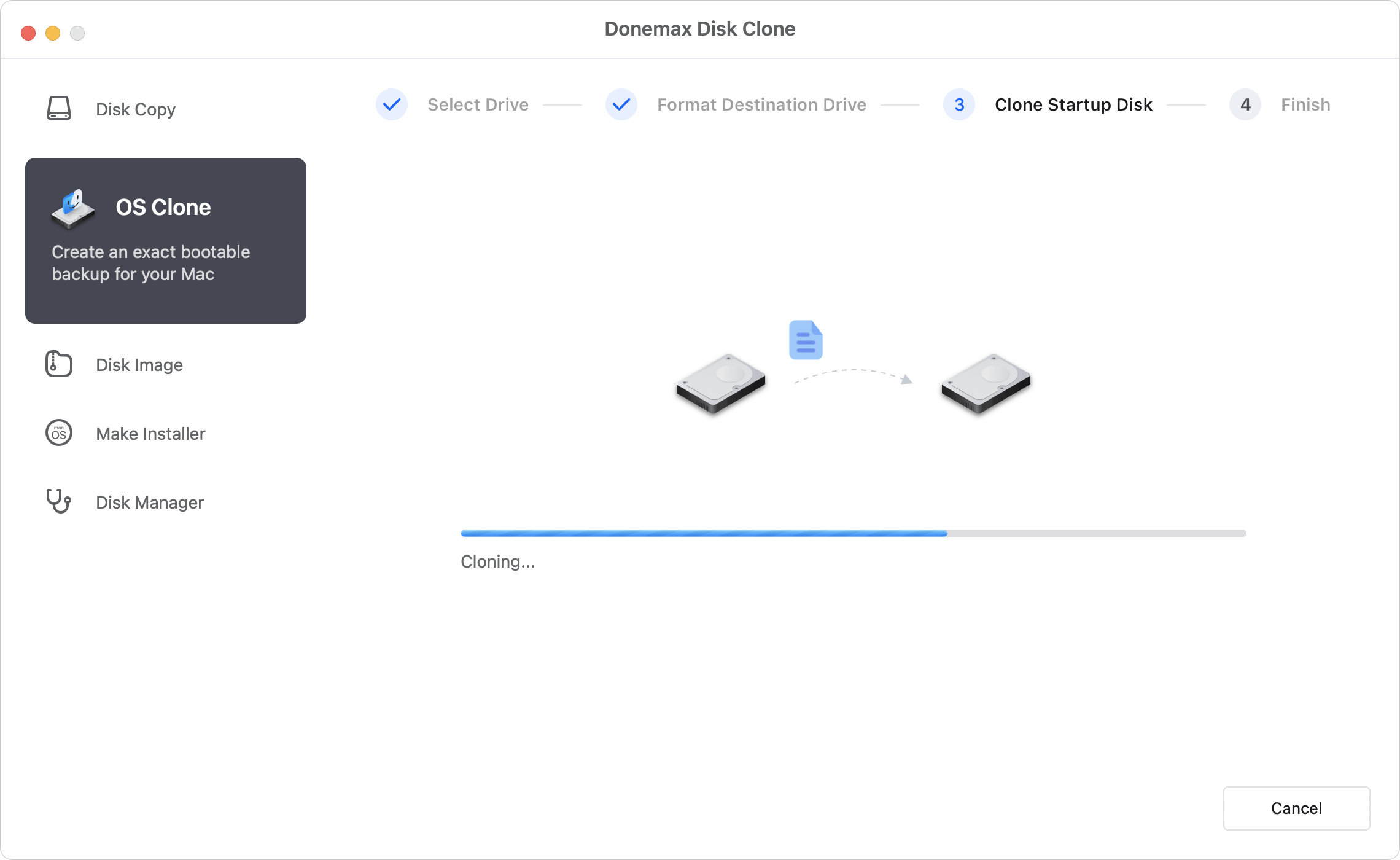 Once the process gets finished, you can use the external hard drive as a bootable disk or backup disk.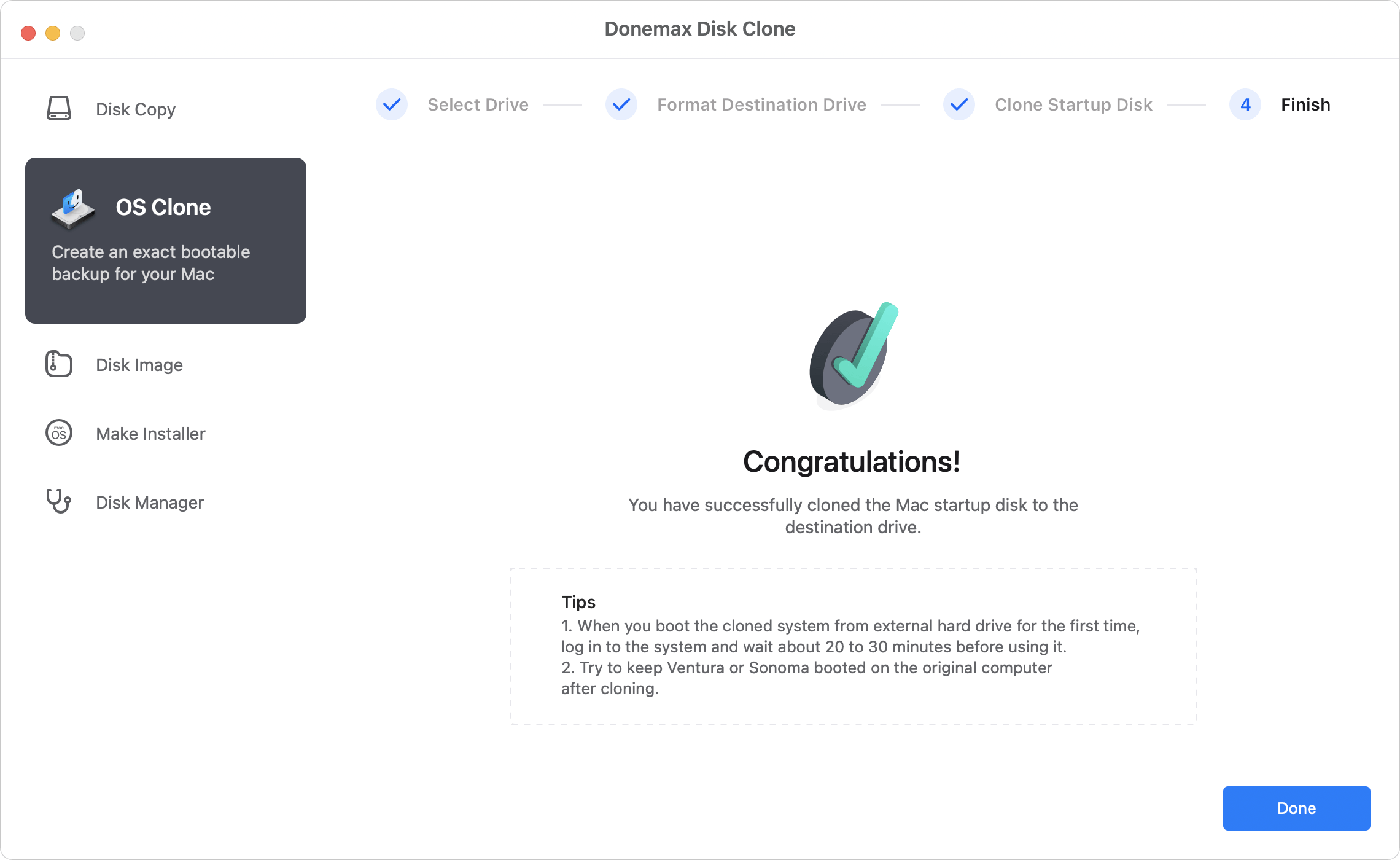 The Final Words
Several methods discussed in this post can be used to migrate the entire system from the old computer to the new one, while others can be used to transfer files from the old Intel Mac to the Apple Silicon chip Mac exclusively.
Enjoy your new computer by using the appropriate method to transfer files between the Apple chip Macs and Intel Macs following your precise demands.