An external, bootable macOS Ventura installer is helpful, but creating one virtually requires fighting Apple. What you must do is as follows.
In Apple's ideal world, you never have to worry about your Mac updating itself with macOS Ventura. But in practice, Macs sometimes break and having a bootable external installer speeds up download time and allows you to reinstall Ventura more quickly when you're stuck.
Additionally, suppose you're installing Ventura on a dozen Macs. In that case, you probably have better things to do with your time than wait for it to download separately on each one if your network doesn't use content caching.
So, as it has always been, having an external drive that you can use to install a brand-new copy of macOS is convenient and valuable.
Apple, however, believes that permitting external boot discs poses a security concern. Long-time Mac users should enable boot drives because the risk is low, and barring them will be very inconvenient.
What do you need?
An external drive
A macOS installer
The external drive can theoretically be any hard disc, SSD, or USB flash drive, though USB-C is definitely what you want. NVMe USB-C or Thunderbolt drives produce the most excellent results and acceptable performance. While a hard disc is an option, the speed will be intolerably slow.
In contrast, speed might not be the issue while using a USB device. You can do nothing about it except try another USB flash drive because many USB flash drives will not boot.
Both drives in a RAID array and any drives attached to a network won't function. It doesn't matter what drive you; it must be formatted as Mac OS Extended and have enough space to hold the macOS installer.
This indicates that it needs to have at least 14GB of space. However, Apple has previously stated that this only applies to installers for macOS Monterey or earlier. Better is more.
Steps to Create macOS Ventura Bootable USB installer
The procedures are the same regardless of the Mac operating system you want to produce a bootable USB installer for (macOS Monterey, macOS Big Sur, macOS Catalina, macOS Mojave, macOS High Sierra, etc.). The macOS installation is necessary for the first stage, after which you must delete the USB and partition it according to your preferences. The installer must be copied into the USB using the Terminal as the last step.
Step 1. Download macOS Ventura Installer
In plain English, macOS Ventura is presently only available in beta form. The App Store has not yet received a stable version of macOS Ventura. So how do you go about downloading the macOS Ventura installer?
The installation for macOS Ventura is available in three different places.
1. Use the Apple beta program to download macOS Ventura (if you have joined).
2. Download the macOS Ventura beta from betaprofiles.com.
3. To obtain the macOS Ventura installer, use gibmacOS.
If you're there, I'd instead use the first approach. I favor it above the other two approaches for a few reasons.
Direct downloads of macOS Ventura are available from Apple servers.
It will take less time to download the installer from the Apple servers than to use the app store or betaprofiles.com.
Even after macOS Ventura's stable release to the public, it will still function.
Furthermore, even if you have not signed up for the Apple beta program, you need not fear since I will send the download URL directly from the Apple servers.
How to install Mac OS X Ventura:
1. Click the link to the article titled Download macOS Ventura ISO, DMG, and VMDK.
2. Find the macOS Ventura Installer by scrolling to the bottom.
3. Select the download button.
4. Watch for the download to complete.
5. After downloading the macOS Ventura Install Assistant, install it on your computer to get the installer.
Step 2. Erase the Pen Drive
It's crucial to format and delete the USB flash drive in the desired partition or format. The Disk utility is used in this situation, and the parameters must be customized to your needs.
1. Connect the computer to the Pen drive.
2. Locate Disk Utility in Spotlight by opening it.
3. Use the Disk utility to view every device.
4. Choose the Pen drive from the left panel.
5. Select Erase from the top-level menu, give the USB a name, choose Mac OS Extended (Journaled) format, and choose GUID Partition Map as the scheme.
6. Select Erase.
Step 3. Create a macOS Ventura Bootable Pen drive
Welcome to the last stage of making a bootable USB disk for MacOS Ventura. The macOS Ventura installer will also be copied to the USB flash drive during this phase, which involves making a bootable USB. And the Terminal will be used for all of these.
How to Make a Bootable USB Installer for Mac OS Ventura:
1. Start the Terminal.
2. Run the command below.
createinstallmedia -volume /Volumes/Ventura -nointeraction sudo /Applications/Install macOS 13 beta.app/Contents/Resources
This is how the command appears; nevertheless, you might encounter a problem, in which case you must learn how to drag the createinstallmedia into the Terminal.
Go to Application, then "Show Package Content" from the context menu when you right-click on the macOS Ventura Installer. Then, "Open Contents Directory" and "Resources" will appear. Find the createinstallmedia file there and drag it to the Terminal.
Type -volume. After that, drag the formatted USB flash drive.
The Samsung Fit Plus is a small, reasonably priced flash drive to use as your macOS Ventura bootable installer if you want a recommendation. The majority of drives 16GB or greater will function; however, for maximum performance, you'll probably want a USB 3.0 or newer disk. Samsung also offers a new USB Type-C flash drive.
Forming a new USB flash drive with Mac OS Extended might be necessary if you buy one. This can be accomplished using the Disk Utility software before attempting to create a bootable installation.
After reading this thorough instruction, perhaps you now completely understand how to construct a macOS Ventura USB installer.
How to Create Bootable Clone Backup for macOS Ventura?
If you want to make a 1:1 bootable copy of macOS Ventura, just try disk cloning application. It will help you clone Mac startup disk to an external hard drive and make it be bootable.
DMclone - reliable disk cloning software
Create disk image backup for Mac.
Clone HDD, SSD, external storage device.
Follow this guide to help you securely and easily create a bootable clone backup for macOS Ventura.
Step 1. Connect an external hard drive to your Mac then open DMclone for Mac. Choose disk cloning mode - OS Clone. It will clone all data from the startup disk to the external hard drive.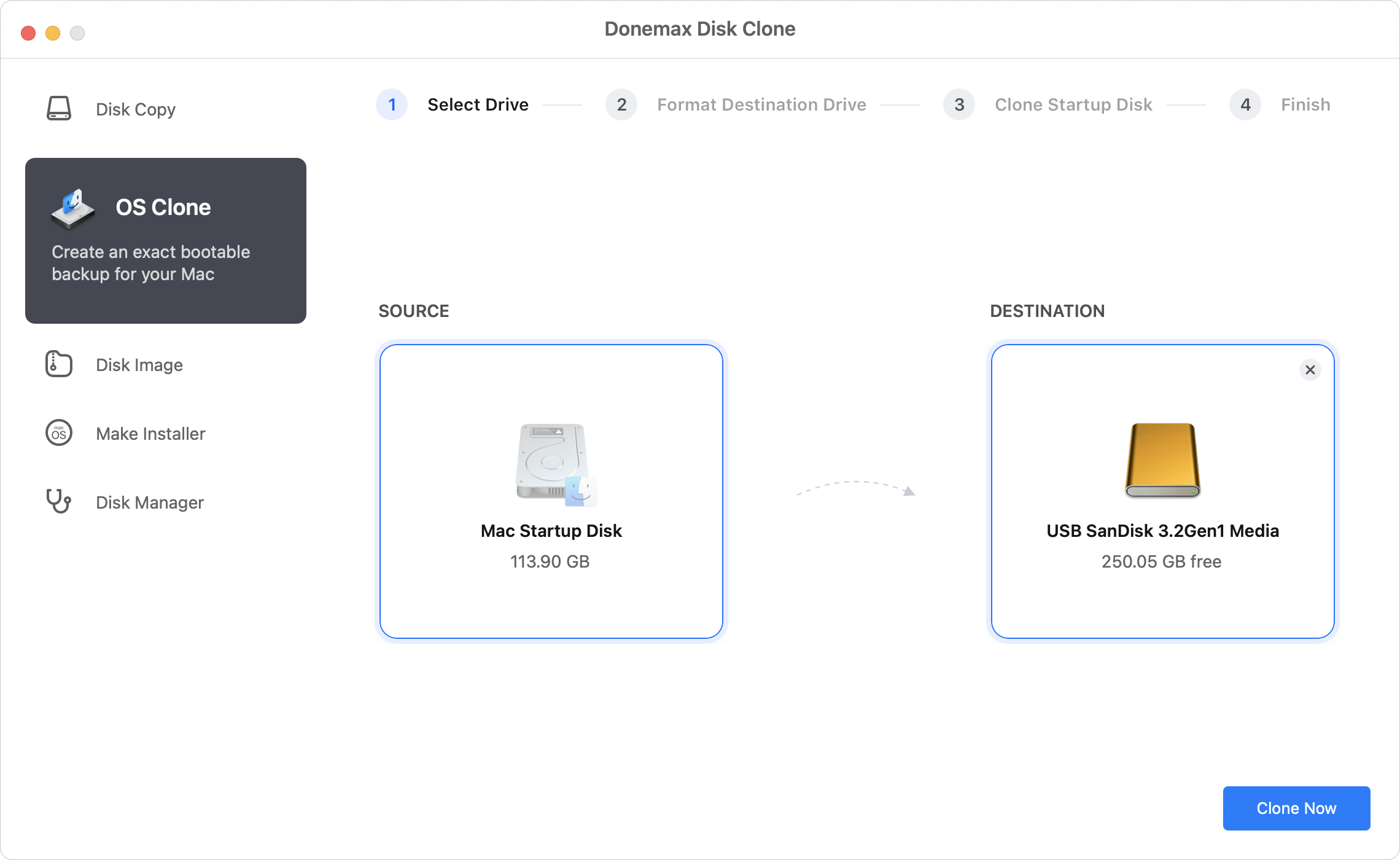 Step 2. Select the external hard drive as the destination drive. Click on Clone Now button to clone all data including macOS Ventura, apps, settings and files to the external hard drive.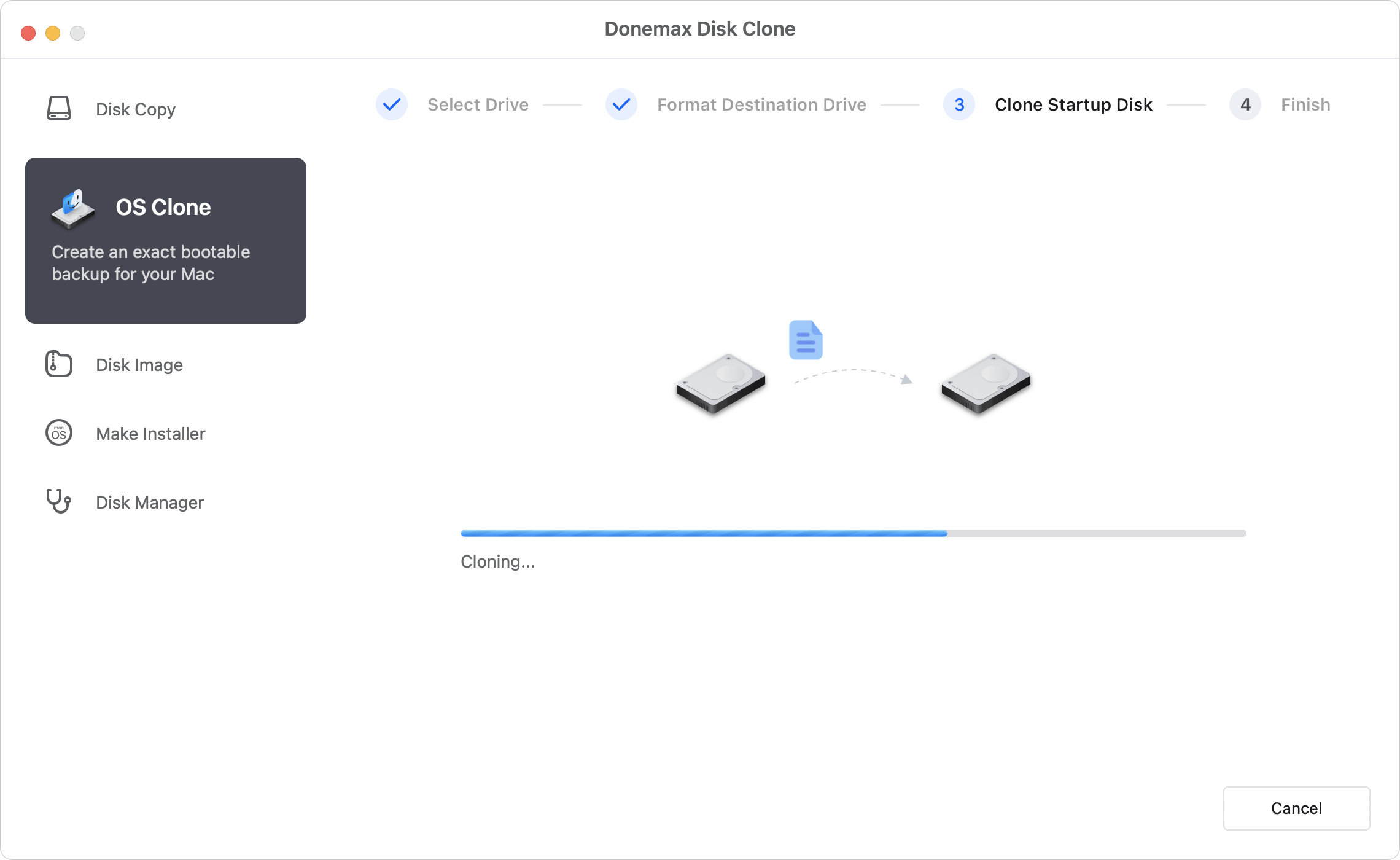 Once the process gets finished, you can use the external hard drive as a bootable disk. Check: how to set the external hard drive as the bootable disk for Mac >>