We all use Windows in some capacity, thus it is common for us to occasionally experience major disk issues. The worst thing is that we can never predict when a crisis may strike, putting our data at danger at any time.
Every issue may, however, be resolved. A hard disk image backup can assist in restoring a computer to a previous state when it functions correctly and has all of your private information and apps. When we must replace an old disk, on the other hand, we may also decide to restore the disk image to a new disk. The ghost disk tool plays a part in this situation.
Understanding the concept of Ghost
Norton Ghost, which used to be the greatest free disk imaging program, is a good example. One disk cloning and backup program, created by Murray Haszard in 1995, was purchased by Symantec in 1998. With the tool, you may backup your entire hard drive or just a few specific folders to a network disk, an external hard drive, or a partition. The situation with other ghost tools is comparable. So, we can say that ghosts are tools that make it easy for you to quickly copy your hard disks.
How to create disk image with Ghost disk utility?
Using a ghost to clone a hard drive is a very simple task and you can clone all your data within a few seconds. All you need to do is choose a relevant and reliable ghost tool and download it from the internet using the official website download link.
We'll explain how to make disk images using Norton Ghost as we're using it as an example. Download the Ghost Disk program from the Symantec website, as previously indicated. Alternatively, you can just search the download page by typing "Norton Ghost 15 download" into your search bar.
The first time you open it, a step-by-step wizard will launch. Finally, you will reach the Easy Setup screen, where you may immediately generate a backup. You may also select Cancel and schedule the backup process for a later time in its Home interface.
To create a backup task, select Define Backup Wizard, Run, or Manage Backups on the Home screen. Here, we may select between Run or Manage Backups.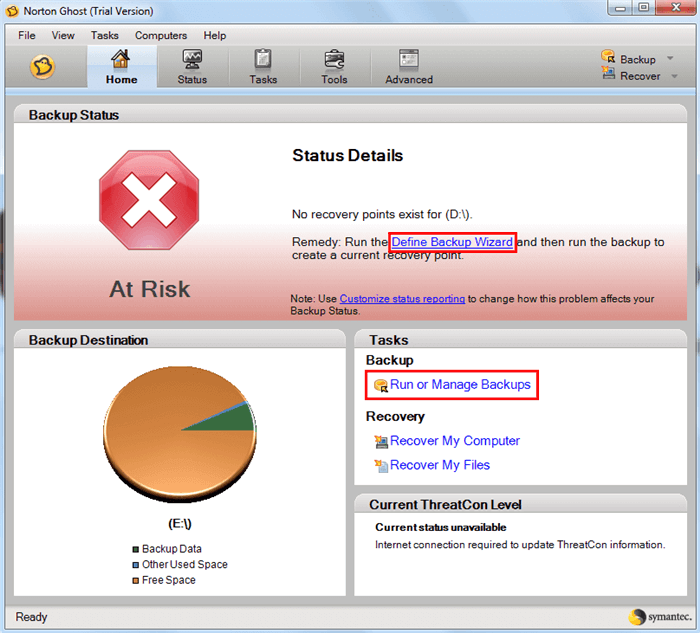 Once more, the Easy Setup display will pop up. The default settings can be accepted by clicking OK, or you can select a setting to change it. Or you can select Custom... to build a backup according to your requirements.
You may decide whether to back up all of your computer's files or just a few. To choose the disks or files you need to backup, the backup location, and the standby duration, choose Next. To verify, select Finish at the end.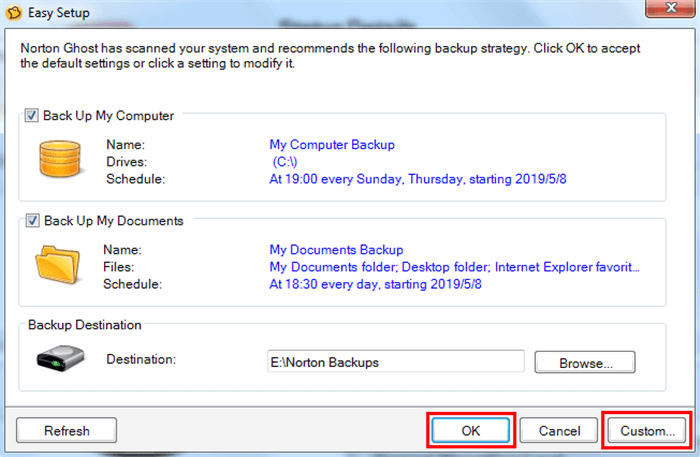 Remember that you have a 30-day free trial of Norton Ghost. Then you must buy it from the Symantec Global Marketplace. Fortunately, there is an alternative to Norton Ghost called DMclone, which can assist with ghost data analysis and hard drive cloning.
Best Alternative to Ghost clone
One all-inclusive backup and restoration program, DMclone, is compatible with all versions of Windows, including Windows 11/10/8/7 and macOS. It offers a variety of clone-related features. Anyone, including non-technical individuals, can safeguard all vital data in a matter of minutes without the assistance of a professional thanks to its straightforward and user-friendly GUI.
DMclone - Disk Cloning Software
Easily create bootable clone for Windows OS and macOS.
Clone HDD, SSD, USB drive and other external device.
Two clone modes: disk clone and partition clone.
Learn how to use DMclone to clone hard drive on PC: Just open DMclone, then select the source disk and the destination disk. Then click on Clone button to clone the source disk to the destination disk.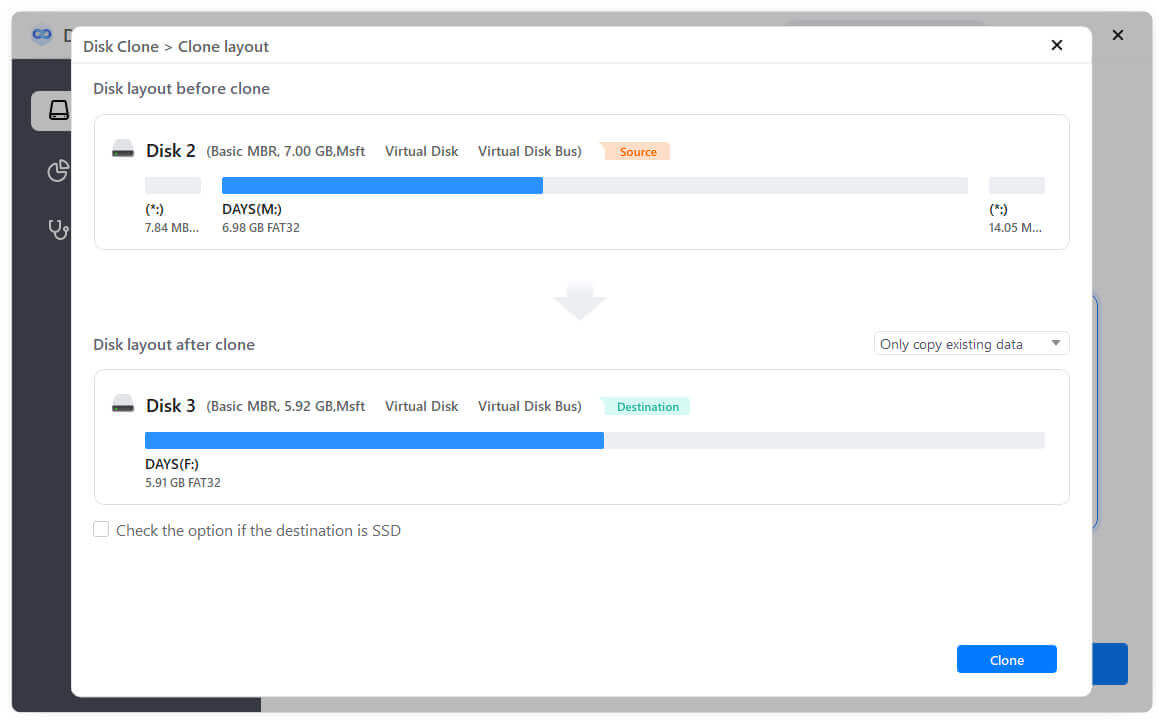 Conclusion
As we have already discussed in this super comprehensive guide that it is quite simple to clone a hard drive with the ghost software. It is up to you to choose any ghost software that is free or is less costly. This approach will help you to save all of your lost data in the hard drive. However, you can also have an alternative to ghost software which is using any other backup tool.
That concludes the section on using the Ghost Disk tool to generate image backups. Although it costs money, Norton Ghost is a program that is worth trying. Or you might ask DMclone for assistance. It provides comprehensive clone solutions to safeguard your data.